Published on: May 14, 2022
Written by Liam Jaxon / Fact-checked by David Rowan
While searching for a button or coin cell battery, if the battery code starts with L, it leads to an Alkaline coin cell. If it starts with P, it means a Zinc-air material made of batteries. Apart from the battery code, AG13/SG13/LR1154/SR44/SR44SW/303/357/A76/LR44 are almost similar in terms of applications and dimensions to fit inside the device to start the engine properly and long-lasting performance.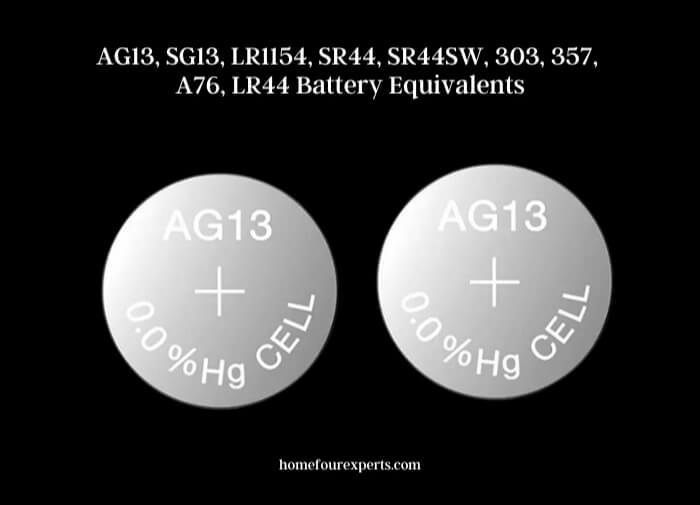 Different chemistry purposes generate different levels of power inside the battery, for example, AA grade batteries have less power and capacity rather than AAA grade batteries. The button cell batteries are cheap and small, yet become the reason for headache while aiming for one appropriate besides following a different battery group size chart.
Even choosing a bad battery cause fuses to blow as if it may be a low-drain battery. For our prospective users, this is our responsibility to lead them on the right path. Let's dive into the depth of well-informed AG13, SG13, LR1154, SR44, SR44SW, 303, 357, A76, LR44 Battery Equivalents blogpost with a genuine FAQ section to overcome your queries as well. 
AG13, SG13, LR1154, SR44, SR44SW, 303, 357, A76, LR44 Battery Dimensions and Features 
The main similarities are that all batteries are available in button or coin cell forms. Moreover, each is supportive or interchangeable with another battery and is common to install in wristwatches, calculators, remotes, and small flashlights. According to the IEC standard, the battery labeled as SR1154  has Silver-Oxide chemistry and LR1154 has Alkaline chemistry in construction. Sometimes shorter code, for instance, SR44 and LR44 respectively for Alkaline chemistry made batteries and Silver-Oxide batteries. 
Since each of the batteries holds different chemistry in their construction, for instance, Mercury-Oxide which is no longer used in batteries nowadays, yet Zinc-air, Alkaline, and Silver-Oxide are still so popular. However, AG13, SG13, LR1154, SR44, SR44SW, 303, 357, A76, LR44 Battery Equivalents hold 11.6 x 5.4 mm dimensions to easily fit into devices. 
A Short Comparison Overview 
| | | | | |
| --- | --- | --- | --- | --- |
| | Silver-Oxide  | Alkaline  | Zinc-Air  | Mercury-Oxide  |
| Typical Labels  | SR44W, SR44, SR44SW, 157, 357, 303, SG13, AG13, S76, A76, SR1154 | LR44, 76A, AG13, LR1154, A76, L1154 | 675, Blue Tab, ZA675, PR44, 7003ZD | MR44, MR1154 |
| Nominal Capacity  | 150-200 mAh | 110-130 mAh | 600-700 mAh | 180-200 mAh |
| Nominal Voltage  | 1.55V | 1.5V | 1.4V | 1.35V |
| Cut-off Voltage  | 1.2V | 1.0V | 1.2V | 1.1V |
| Notes  | Very constant voltage | Voltage drops over time | Slightly lower voltage, large capacity;mostly used as hearing aid batteries | Slightly lower voltage contains mercury;not in use anymore |
| Letter Code  | S | L | P | M |
Silver-Oxide
This provides a high capacity with a higher nominal voltage of around 1.55V compared to Alkaline batteries. However, we experienced no dropping, in fact, a persistent voltage during applications and integrated with an end-point voltage around 1.2V. 
This is a bit more expensive than Alkaline batteries, however, IMHO has declared its price is increasing day by day. But if you are aiming for a larger package, then the price could be negotiable. The applications possibilities you can enjoy after installing inside the small electronic devices, for instance, calculators, powering watches and more. 
Alkaline
Rather cheaper and reliable than Silver-Oxide models while talking about LR44 batteries. The button cell's dimension is almost similar to SR44 batteries, 11.6 x 5.4 mm. Provides a decent capacity range between 110-130 mAh, yet a voltage drop-down may occur at ease which will give a break to your engine all of a sudden. 
Suppose, you have a digital watch and it has SR44 in its installation. If the battery signal reaches the highest point of voltage, this will be a disaster and you should stop using the watch at that moment. 
Zinc Air
Such batteries come in good chemistry holding a large capacity that ranges around 600-700 mAh. Compared to Alkaline, slightly lower voltage, for instance, 1.4-1.5V. While considering the price, we accept the bucks that we have had to spend.
Manufacturers apply to air and wet electrolyte to produce proper Oxygen. The tab, later on, gets removed but the battery does not die out. 
Mercury-Oxide
Apart from other chemistry included batteries, Mercury-Oxide batteries are no longer in use in batteries as if it is the lesser environment-friendly button cell battery. This we can include in the non-rechargeable electrochemical battery. During the period of World War 2, batteries with Mercury-Oxide in construction were popular, yet the power source for transporting batteries turned to toxic content and threat for human and environment basic life during disposal time. 
AG13, SG13, LR1154, SR44, SR44SW, 303, 357, A76, LR44 Battery Equivalents 
This is a big deal from the overwhelming market price and variety of batteries to find the equivalents of AG13, SG13, LR1154, SR44, SR44SW, 303, 357, A76, LR44 Batteries. With no ado, we are delighted to pick out some superior performing battery equivalents to concise your precious time for the bucks. 
1. Duracell 76A/LR44
Click on the Image to >> See on Amazon
Technical specifications 
| | |
| --- | --- |
| Chemical  | Alkaline-Manganese Dioxide (Zn/MnO2) |
| Nominal capacity  | 130 mAh |
| Circuit voltage  | 1.5 V |
| Weight  | 0.9 pound |
| Temperature range  | -10°C to 60°C (14°F to 140°F) |
| Cut-off Voltage  | 1.6 V  |
We are about to start with the most popular LR44 equivalent 76A/LR44, manufactured by the well-established manufacturer Duracell. It weighs less than a pound to make it much more portable. Comes with rigid chemistry Alkaline with the mixture of Manganese Oxide. Whenever we tried to install it in our crew member's baby hearing aid machine, it fit well. 
According to the manual, it has reached ISO 9001 standard to make it better and competitive with other popular lr44 equivalents. Its lower self-discharging rating of <10% after 1 year of storage at + 20 °C makes it stand out from the common crowd, in fact, the entire and exterior side of it is so rigid and no corrosion occurs after 1 year of regular utilization. 
Advantage 
Reliable performance;
High voltage response;
Excellent resistance to corrosion;
Wide operating temperature range;
Rigid construction and portable. 
Disadvantage 
---
2. PGSONIC LR44 AG13 Battery 
Click on the Image to >> See on Amazon
Technical specifications 
| | |
| --- | --- |
| Chemical system  | Silver Oxide  |
| Nominal capacity  | 120 mAh  |
| Nominal voltage  | 1.3V |
| Cut-off voltage  | 1.5V |
| Unit count  | 20  |
Next, we have a PGSONIC Silver Oxide chemical-made battery with super safety features, not only because of the rigid construction but also because of easy storage and long shelf life. Long-lasting performance cannot beat other battery models, why? Because of its super nominal and cut-off voltage, in fact, the nominal capacity is not less at all. 
Speaking of its nominal capacity, 120mA  per hour, as well as the nominal voltage does not cross 1.3V, however, the end-point of voltage is 1.5V to secure the time of your battery service. Leak-proof and mercury-free, sound great, right? Manufactured by applying grade AA material to keep up with the standard. 
Advantage 
Mercury-free and environmental friendly;
Higher nominal capacity and voltage;
Grade AA material made strong construction;
In-built storage and installation are progressive.   
Disadvantage 
---
3. JNKIKI LR44 and SR44 Battery Pack
Click on the Image to >> See on Amazon
Technical specifications 
| | |
| --- | --- |
| Chemical  | Alkaline  |
| Nominal voltage  | 1.5V |
| Capacity  | 160 mAh  |
| Operating Temperature  | 0°C to +60°C |
| Dimension  | 7.48 x 1.18 x 0.24 inches |
Let's speak about a general, not popular AG13 and lr44 equivalent battery made of Alkaline, yet manufactured with super grade AA quality by JNKIKI. Why have we chosen this one? Because of its construction, as well as the high-temperature insulation power to let your watch and other similar small devices operate for longer. 
Rather than nominal voltage, the cut-off voltage is a bit short and that drags us out from the store, however, the nominal capacity raised our interest more and it is about 160mAh. The super quality extends its life without corrosion happening on itself. Similarly, we hope our experience with the 7.48 x 1.18 x 0.24 inches battery should help you further and increase your interest to purchase again after a couple of years. 
Advantage 
Environment-friendly;
Super quality;
High nominal capacity;
Standard operating temperature;
Zero corrosion. 
Disadvantage 
Expensive compared to other batteries;
Short cut-off voltage. 
---
4. Energizer 357/303 LR44 
Click on the Image to >> See on Amazon
Technical specifications 
| | |
| --- | --- |
| Chemical system  | Silver Oxide (Zn/Ag2O) |
| Nominal voltage  | 1.55 V |
| Cut-off voltage  | 1.5V  |
| Capacity  | 150 mAh |
| Capacity test  | 6.8K ohm continuous drain at 21°C |
| Volume  | 0.57 cubic centimeters |
| Operating temperature   | 0°C to +40°C |
| Discharge current  | 0.204 mA @1.39V @21°C |
The next one is made by the well-established manufacturing brand Energizer. Every feature is very amazing and work-friendly which gives you a breeze after the machine installation. However, its operating temperature is not that suitable to work with devices and compelled us to stop using it after a couple of years of applications. 
Yet we find the rest of the features quite good, for instance, chemical system, nominal voltage, and cut-off voltage simulation, huge capacity for installation, and more. Typically, it may drain the battery if it reaches 1.39V but the 5 to 15 ohm will save power. But this is not rechargeable as if compulsory to most of the coin batteries. 
Advantage 
Typical discharge characteristics;
Simulations between nominal voltage and end-point voltage;
Better impedance power;
Work-friendly. 
Disadvantage 
Low operating temperature; 
Expensive. 
---
5. Duracell 675 Battery 
Click on the Image to >> See on Amazon
Technical specifications 
| | |
| --- | --- |
| Chemical system  | Zinc-air  |
| Cut-off voltage  | 1.5V |
| Nominal voltage  | 1.45V  |
| Terminals  | Flat  |
| Capacity  | 625 mAh |
| Volume  | 0.57 cm3  |
| Temperature  | 0°C to 50°C Range (32°F to 122°F) |
Last but not least battery equivalent of AG13, LR115, and SR44SW. Why? Because of the huge nominal capacity in its storage, it not only amazed us but also let the discharge rate limited. According to ANSI and IEC standards and from our experience, we bet nothing can beat this Duracell model of self-discharge superiority. 
For example, per 120 nominal discharge rate is .200mA at 1.3V. Compared to the previous model nominal capacity, the manufacturer has considered around 625mAh. Since a little difference remains between nominal voltage and end-point limit, we prefer it most accurately, like the 3rd LR44 equivalent battery.
However, its constructed Zinc-Air was not usually made us satisfied to go with it in long-term sessions. This is a fact that if the button battery is lightweight does not mean the quality is rigid, still, we hope the manufacturer will take care of that. Apart from a little issue, we have enjoyed applications besides all better features than all. 
Advantage 
Standard features and amount;
Long shield life;
Best rated capacity;
Lightweight and portable. 
Disadvantage 
---
FAQs and Buyer's Guide 
How to Select an lr44 Battery Equivalents? 
We know that lr44 is a battery that is made of Alkaline containing a 1.5V battery. The common equivalent is markets are available with labels as AG13, 157, L1154, LR1154.
However, Silver-Oxide made batteries, for instance, SR44SW, 357, 303, SR44 can be LR44 equivalents too. People become confused while selecting either this chemistry made or that chemistry made ones. But before the selection process starts, a few pinpointed issues include features a prospective user may not overlook.
Size: 
In general, all equivalents of lr44 come in a common 11.6 x 5.4 mm size. There may be a slight difference depending on manufacturing companies. However, Alkaline made batteries are cheaper than Silver-Oxide ones. 
Capacity: 
Compared to the Alkaline equivalent, the Silver-Oxide equivalent better suits a digital caliper to operate well in physics labs and different research labs. However, both of the equivalent categories refer to a nominal capacity range of 150 to 165 mAh.
Voltage: 
According to our experience with different LR44 batteries, 1.35V-1.55V. Here do not forget the cut-off voltage because it will give the alarming notice when to stop using the battery. We have decided to choose a high cut-off voltage limit maintaining the LR44 battery to use it longer rationally.  
Safety Concerns: 
Every electrolyte battery or device must be labeled with "Kids and Pets Safe". If they swallow one of the batteries, it will turn to real harm inside their batteries although the batteries with different materials except for Mercury-Oxide ones are safe and environment-friendly. When swallowed batteries go inside, the body cannot liquify the materials and close the circuit between negative and positive respectively anode and cathode. If we take into account Sodium Hydroxide or caustic soda, it can damage the surrounding body tissue that can cause death. 
Is an LR44 Battery the Same as a 357?
Users often ask if they can utilize a 357 instead of an LR44 battery? Our answer is a strict NO. In terms of LR44 size, it is quite taller in its shape and not suitable to fit inside the battery holder. Since SR44W is similar to 357 shapes, as if it is flat and easy to install, in fact, all 357 batteries have Silver-Oxide chemistry in their construction. 
People often claim that they have done the interchangeable practice a couple of times, but during our test, it failed. So, we disagree that a 357 cannot be the same as an LR44 battery. 
LR44 vs 357 
| | | |
| --- | --- | --- |
| | LR44  | 357  |
| Chemistry  | Alkaline Magazine  | Silver-Oxide  |
| Voltage  | 1.50V | 1.55V |
| Capacity  | 120mAh | 150 mAh |
| Dimension  | 11.6 x 5.4 mm | 10.6 x 5.4 mm |
What Battery Can I Use Instead of LR44?
Roughly we have counted more than 10 equivalent to lr44 batteries, for instance, AG13, 157, L1154, LR1154 which have almost Alkaline material combined with Magnize chemistry often. We found AG13 the best match with LR44. 
A BCI group LR44 battery you can use as a replacement of AG13 battery, the compatibility for lower drain battery cannot compete with a higher drain battery. So, LR44 always matches AG13. 
What Duracell Battery Is the Same as an LR44?
Duracell 76A coin battery is a perfect replacement for LR44 batteries. Why? Because of full features matching as a replacement solution for 1166A, AG1, EPX76, and A76. similar to providing high voltage response reliable performance, wide operating temperature, and RoHS and REACH compliance made it much better as a replacement. 
In terms of typical applications, window, door sensors, measurement instruments, LED lights, and wire bells doorbells. We prefer the rigid construction and -10°C to 60°C operating temperature unlike the rest of the available in markets. 
What Energizer Battery Is LR44?
People often search for Energizer manufacturer-made LR44 batteries. We have found Energizer 357/303 as an equivalent made with Silver-Oxide and a hefty-priced one too. You may find Energizer 675 another lr44 equivalent battery globally. 
Final Words 
We are going to short the long story as if AG13, SG13, LR1154, SR44, SR44SW, 303, 357, A76, LR44 Batteries, all are either interchangeable or universally applicable or can be replaced with other batteries with similar dimensions and features offer. 
If you mix up batteries apart from knowing their labeled features, this can be a great mess. A wide range of models are available and different ones contain different voltages, end-point voltage, drain, capacity, milliamp hours and more features. To help you out, our well-informed blog post regarding AG13/SG13/LR1154/SR44/SR44SW/303/357/A76/LR44 is enough for easy preference. 
 Relevant Resources: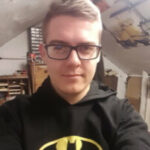 Hi, I am responsible for the 'Homeowners Power Solutions' category. My name is Liam Jaxon and a licensed technician with 7 years of experience in vehicle batteries, electrical gadgets, and home appliances. My working experience in different residential & light commercial electrical sectors and the automobile industry helped to acquire vast knowledge in this industry.