We Dive Deep into Customer Reviews
At Home 4 Experts, analyzing customer reviews is a cornerstone of our research. We recognize the importance of understanding real-world experiences and opinions. By meticulously examining feedback from a wide range of users, we extract valuable insights that reflect the true quality and performance of the product. This involves hours of reading, cross-referencing, and synthesizing the thoughts of actual customers. The process enables us to provide you with an authentic, unbiased view, ensuring that you make the right decisions for your specific needs.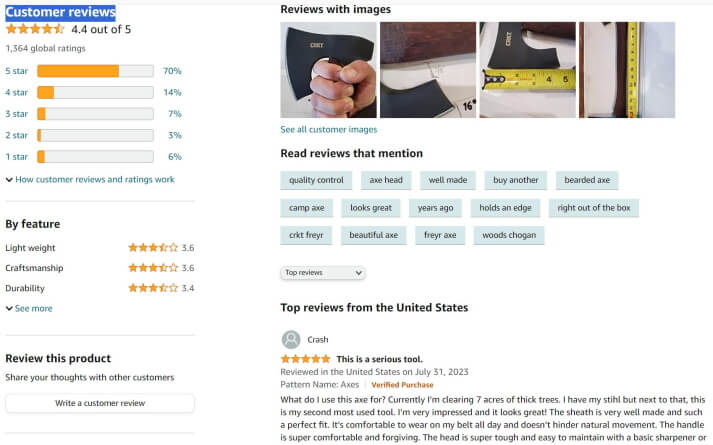 We Examine the Entire Product Range and Its Origins
Understanding a product's lineage is vital to our review process. Our team of experts delves into the history of the brand, the evolution of the product line, and the overall impact of the manufacturer's reputation in the industry. We scrutinize patents, design changes, successes, and even failures over time. This approach ensures that our reviews are not only informed by the present moment but also anchored in the historical context. It helps us gauge the commitment to quality and innovation that the brand exhibits, providing a thorough perspective.
We Analyze Products in Every Possible Context and Setup
The functionality of a product can vary dramatically depending on how and where it is used. We leave no stone unturned in examining every conceivable situation and configuration. From the versatility of home improvement tools to the adaptability of outdoor recreation equipment, we take into account different environments, user skill levels, and unique scenarios. This comprehensive approach ensures that our recommendations are robust and applicable to a broad spectrum of readers, offering solutions that work for everyone.
We Assess the Pricing and Market Alignment Thoroughly
Understanding the economic aspects of a product is as crucial as evaluating its functional attributes. At Home 4 Experts, we delve into the pricing structure, market positioning, and value proposition of the products we review. Our experts assess how products align with competitive offerings, and whether the pricing is justified by the features and benefits provided. We look beyond the price tag to analyze the overall value, considering factors such as durability, customer support, warranty, and brand trust. This multi-dimensional view of pricing ensures that our readers receive recommendations that truly align with their budget and expectations.
We Value and Act on Your Feedback
Your insights and experiences matter greatly to us at Home 4 Experts. We not only welcome but actively seek feedback from our readers. By integrating your observations and comments, we are able to constantly refine our analysis, ensuring that our reviews are tailored to the needs of our community. Your voice helps us remain grounded in the real-world application of products, allowing us to offer information that resonates with our readers. Whether it's a differing opinion or additional insight, we value your participation in our continuous pursuit of excellence.
We Uphold a Commitment to Rigorous Research Before Posting
Quality control is paramount in our review process. We never publish anything without exhaustive research and thorough verification. Our experts, Engineer Eric Devin, Camila Avery, David Rowan, and Engineer Liam Jaxon, employ their specialized skills and vast experience to scrutinize every aspect of a product. From hands-on testing to consultation with other industry experts, we invest significant time and effort to ensure that our reviews are not just informative but also accurate and dependable. Our commitment to rigorous research is a cornerstone that upholds the trust and credibility that our readers place in us.
We Maintain Integrity by Refusing Sponsorships and Paid Promotions
Ethical standards and transparency are non-negotiable at Home 4 Experts. We reject all forms of sponsorship fees, paid endorsements, or any financial incentives that might compromise the integrity of our reviews. Our readers can be assured that our recommendations are free from commercial influence and are driven solely by our desire to provide genuine, unbiased information. By strictly adhering to this principle, we safeguard the trust you place in us, ensuring that our reviews are a reliable source for making informed decisions.
Conclusion
Home 4 Experts stands as a beacon of trust, quality, and commitment in the multifaceted domains of home improvement, outdoor recreation, beauty, tools, and power solutions. Our review guidelines are not just a set of protocols but a reflection of our values and our dedication to serving our readers. Whether you're a do-it-yourself enthusiast or a professional seeking expert advice, you can rely on our comprehensive and unbiased reviews. If you have any inquiries or need further assistance, our team of experts is always here to help. Together, we'll make your home the perfect place for you!