Published on: May 17, 2022
Written by Liam Jaxon / Fact-checked by David Rowan
Non-rechargeable lithium 3.0 volts CR2430 batteries are commonly used in watches, fitness wearable electronics, automobile keys, remote controllers, healthcare devices, backup batteries, and other applications.
Besides, the CR2430 battery equivalent can be used for a similar purpose. But sometimes, these equivalents are obtained in various chemistries, leading to misunderstandings among users. They often ask, "What battery can replace CR2430?" So to clear the doubt, here we briefly discuss different features, equivalents and replacements of the cr2430 battery.
Usually, the CR2430 battery replaces DL2430, BR2430, KL2430, L2430, ECR2430, 5011LC L20, KECR2430, ECR2430, LF1/2W. While certain battery brands (Duracell, Energizer, etc.) employ 'customized' CR2430 labeling, the batteries themselves are ordinary CR2430 batteries.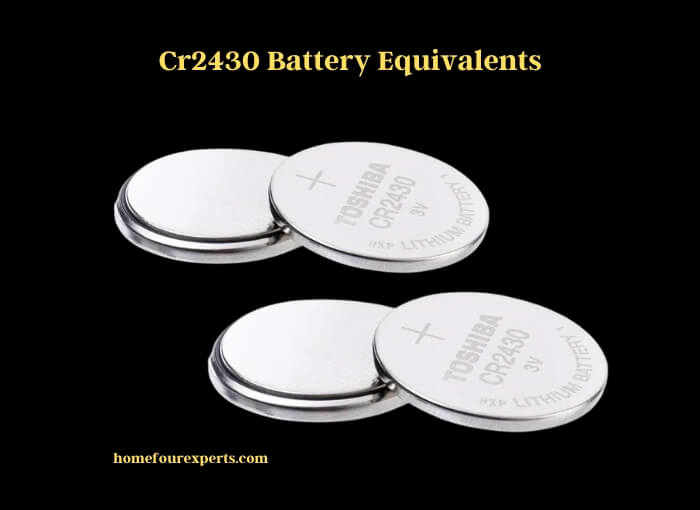 No matter what type of battery you're looking for, you should buy a lithium-ion button CR2430 battery from an established company with good reviews. If you are going to replace the old one and are unsure which battery to choose, then the battery cross reference chart will help you ensure the perfect battery to replace old ones. Also, you can look at CR1216 Battery Equivalents for everyday device uses. We'll go out of our way to make sure you're happy with your purchase.
CR2430 Battery Specifications 
Voltage: 3.0 Volts;
Cutoff voltage: 2.0 volts;
Capacity: 270 to 320 mAh;
Chemistry: Lithium Manganese Dioxide (LiMnO2);
Discharge current: ~0.2 mA;
Type: Non-rechargeable;
Dimensions: (D x H) 24.5 x 3.0 mm;
Operating Temperature Range:-30℃ to 70℃;
Shelf life: 5-10 years.
CR2430 Battery Features
The following are some of the most important characteristics of the CR2430:
High Voltage, Low Weight, and High Energy Density
Compared to typical alkaline or manganese batteries, this battery has a voltage nearly double that of 3 volts. For optimal space and weight savings, this implies halving the number of batteries needed for equipment. In addition, the discharge characteristics are excellent.
The battery's voltage characteristics remain stable even after prolonged discharge, enhancing the battery's overall durability. Additionally, this kind of technology does not require any type of upkeep. For example, LiCB CR2430  is a Zero Mercury, safe and compatible battery.
Better Leakage Resistance 
Improved battery construction and electrolyte ensure long-term leakage resistance. Duracell coin batteries are designed to provide leakage resistance and reliable performance over an extended period.
Long-term Reliability
The electrolyte and the active material of these batteries are made from carefully selected active ingredients. So those are questions about How long does a 2430 battery last? Now be relaxed by knowing the breakthrough technology seals these materials to reduce battery self-discharge and last longer. 
But keep in mind, one percent of the nominal capacity is lost annually to self-discharge at room temperature and average humidity. Most brands have a shelf life of 5-10 years, like Toshiba CR2430; however, as the storage temperature rises, so does the self-discharge rate.
Risk-free
Most of the CR2430 battery is free of mercury (Hg), cadmium (Cd), and lead (Pb) and complies with EC regulations. Also, it is free from the use of certain hazardous chemicals. But always keep these tiny batteries from children and pets, which they might swallow.
Various Compatibility
This product is equivalent to various brand models, such as the DL2430, BR2430, KL2430, ECR2430, 5011LC, L20, KCR2430, ECR2430, KECR2430, and works perfectly for remote control devices, watches, calculators, electronic notebooks, thermometers, and mobile games. 
Equivalents Batteries of CR2430 Battery
Those who want to know what battery is the same as CR2430 can be knowledgeable enough after reading the features of each category below:
BR2430
The BR2430 batteries have a size of 24.5 x 3.0 mm and use Lithium Carbon Monofluoride chemistry, and they are non-rechargeable. The BR2430 battery has a nominal voltage of 3.0 volts (earlier batteries had 2.8 volts), a cutoff voltage of 2.0 to 2.25 volts, and a capacity slightly less than the CR2430.
They also discharge at a lower current than CR2430 batteries. TIANQIU 5 X Br2430 batteries have a low self-discharge rate, a 10-year shelf life, and a wider temperature range. BR2430 batteries are utilized in low draw devices such as memory backup and CMOS batteries.
ML2430
The ML2430 are rechargeable batteries. They have a lithium manganese oxide positive electrode and a lithium aluminum alloy negative electrode. ML2430 battery has a 3.0-volt nominal voltage, 2.5-volt average discharge voltage, 2.0-volt cutoff, and 3.2-volt charge voltage.
A typical capacity of 100 mAh, a maximum continuous discharge current of 10 mA, and a maximum pulse current of 20 mA are all features of the ML2430 battery. It can sustain many hundred charging or discharging cycles. It has the same voltage as CR2430 batteries but a higher self-discharge rate. The gadgets that use ML2430 batteries generally have built-in battery chargers; therefore, charging a CR2430 battery can be risky.
LiR2430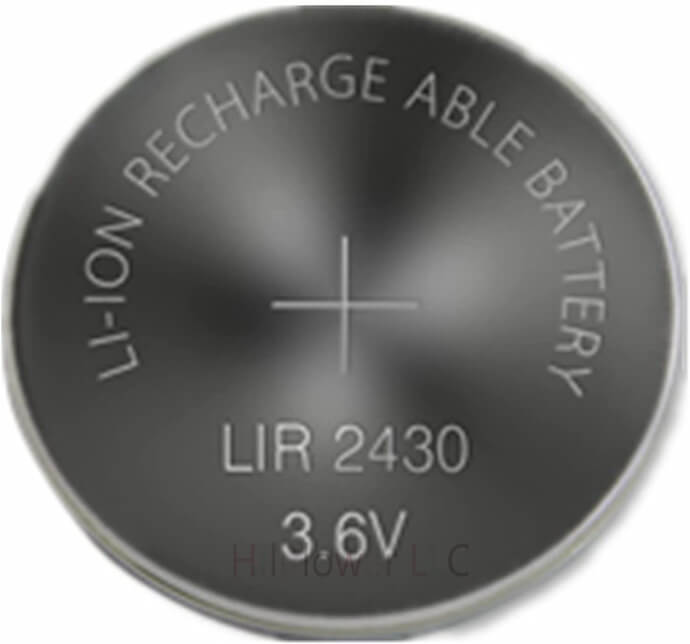 The LiR2430 battery uses lithium-ion chemistry and has a nominal voltage between 3.2 and 3.7 volts. The nominal capacity is 90 to 100 mAh with a 20 mA maximum continuous discharge current (0.2C). Besides, the charging voltage for 3.6 to 3.7V batteries should be 4.2 volts or a little lower.
If appropriately used, LiR2430 batteries can withstand 300 to 500 charging or discharging cycles even when nearly drained. Hillflower LIR2430 is one of them. The voltage difference between CR2430 and LiR2430 batteries is small, yet it might cause specific devices to malfunction or even damage sensitive electronics.
DL2430 and KL2430
The DL2430 and KL2430, 3 Volt lithium coin battery is the equivalent of CR2430, and it comes with a high life span. Devices such as heart-rate monitors, keyless access, glucose monitors, games, and toys use these batteries for consistent performance. Besides, these types of batteries have a storage life of 8 years. The most popular Murata DL2430 exemplifies Japan's long tradition of producing high-performance, dependable micro-batteries.
ECR2430
These batteries are commonly used in watches, sensors, and calculators like CR2430 because they easily fit into small battery compartments. When comparing batteries of similar size, look at their capacity in milliampere-hours, and more mA-hr means more battery life. Skoanbe ECR2430  lithium batteries are the lightest and longest-lasting button cells.
5011LC
It's hard to beat the 5011LC, a replacement battery of CR2430 when it comes to 3v lithium coin cell batteries since it gives you the power you need when you need it. The 
Eunicell 5011LC is constructed with just the highest-quality materials to ensure its durability, and they are particularly well suited for products that require a reliable power source, such as remote controls and wristwatches, among others.
Compare Chart of CR2430 Batteries
Here's a list of some of the most popular CR2430 and equivalent batteries, along with their most notable features and specifications:
| | | | | | | |
| --- | --- | --- | --- | --- | --- | --- |
| Amazon Link | Nominal Voltage | Cut-Off Voltage | Nominal Capacity | Operating Temperature | Annual Self-Discharge Rate | Standard Discharge Current |
| Energizer ECR2430BP | 3.0V | 2.0V | 320 mAh, 15kΩ, down to 2.0V, @21°C | -30°C to +60°C | ~1% | 0.19 mA |
| Duracell - 2430 3V | 3.0V | 2.0V | 270 mAh, 15kΩ, down to 2.0V | -20°C to +60°C | – | – |
| Renata CR2430 | 3.0V | 2.0V | 285 mAh | -40°C to +85°C | <1% | 0.5 mA |
| | 3.0V | 2.0V | 300 mAh, 5k6Ω, down to 2.0V, @20°C320 mAh, 15kΩ, down to 2.0V | -20°C to +70°C | <1% | ~0.5 mA |
| EUKEPUI CR2430 Battery | 3.0V | 2.0V | 100 mAh | -20°C to +60°C | – | 0.5 mA |
What to Look for When You Buy CR2430 and Equivalents
When making a decision, it's essential to consider the product's technical specifications. The higher they are compared to other models, the better off they are. Below are the factors that should keep in mind while purchasing:
Capacity rating;
New product's voltage;
The temperature of work;
Casing material (corrosion-resistant types are preferable);
A galvanic cell's property;
The voltage energy density should not be less than 3v;
Use and storage timeframes.
The country where it was made doesn't play a significant role in which is better. So you can buy high-quality products made in China, the United States, and other countries as well.
FAQS
What Are 2430 Batteries Used for?
Watches, fitness wearables, auto keys, remote controllers, medical gadgets, dog collars, backup batteries, and similar items all use 2430 batteries.
Is a CR2430 battery the Same as a CR2450?
Yes, the dimension of CR2430 and CR50 is similar, but connections may cause complications. Decreased capacity and drain currents of CR2430 may cause device malfunction. So it is suggested to use it only in emergencies.
What Takes a CR2430 Battery?
The CR2430 offers various advantages over other solutions for appliances that cannot use ordinary batteries. They can be used in calculators, digital watches, car keys, laser pens, fitness equipment, and medical equipment like tensiometers.
Can a CR2032 Replace a CR2430?
No. The CR2430 batteries are wider than the CR2025 and CR2032 cells and cannot be interchanged. There is no viable equivalent for a CR2430 battery, and they are pretty unusual in size.
Are CR2430 and CR1216 Battery Equivalents the Same?
No, the dimensions of both batteries are not the same.
You can easily read the post to know more about CR1216 battery equivalents.
Is it Possible to Recharge the CR2430 Battery?
The cr2430 battery cannot be recharged, and this is due to the manufacturing process and the materials used.
Conclusion
As electronic gadgets become smaller and more portable, the usage of cr2430 batteries equivalent to power them for everyday tasks is becoming increasingly popular. I hope these suggestions will assist you in avoiding overpaying for a product that does not live up to its promise and will not last. Ultimately, everyone wants good value.
Choose CR2450 batteries from well-known brands with a shelf life of at least five years if you are in the market for a replacement battery. Remember to keep batteries out of reach from children and pets at all times.
Featured image credit: Amazon.com
Relevant Resources: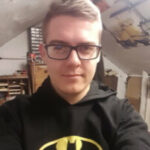 Hi, I am responsible for the 'Homeowners Power Solutions' category. My name is Liam Jaxon and a licensed technician with 7 years of experience in vehicle batteries, electrical gadgets, and home appliances. My working experience in different residential & light commercial electrical sectors and the automobile industry helped to acquire vast knowledge in this industry.