Published on: May 11, 2022
Written by Liam Jaxon / Fact-checked by David Rowan
This article includes affiliate links, which means we may earn a commission if you make a purchase following our link. Please refer to our review guidelines.
The group 94R car battery is a popular group size that provides outstanding performance in various vehicle models. When it comes to replacing group 94r batteries for your car, you have a wide range of options to select from. BCI Group 94R batteries are widespread in passenger and light large vehicles. H7, L4, and LN4 are other names for BCI Group 94R batteries. 
Here in this article, I try to help you understand why it is critical to get the group 94r batteries for your vehicle. After installing group 94r batteries, you will no longer have to be concerned about your car failing to start on those cold or rainy mornings anymore.
It could also save you a lot of money by preventing you from having to replace it as frequently. If you are not assured which battery to install in your car, you may have a look at Battery Group Size Chart to ensure before getting one.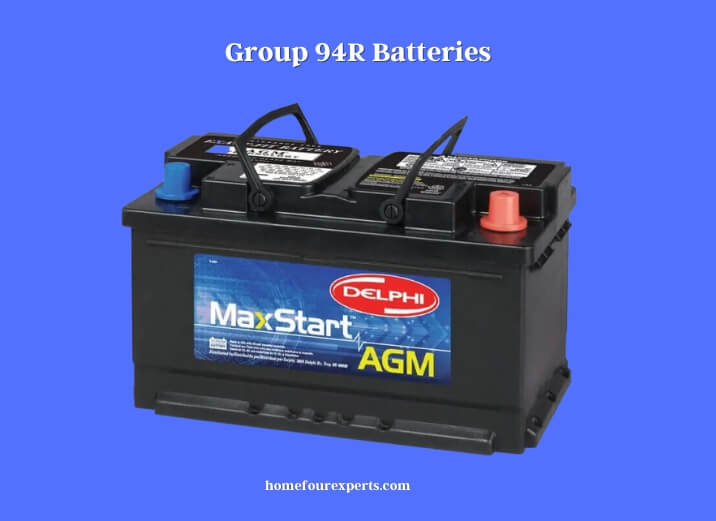 What Is Battery Group Size 94R?
The Battery Council International (BCI) assigns a group number to each battery. These are the different battery casing dimensions and applications. Group Size 94r is one of them.
There are other group sizes as well, such as Group 24 Batteries, Group 34 Batteries, Group 48 (H6, L3, 66L3) Batteries, Group 65 Batteries and many more. Among them, Group 94R batteries are intended to be maintenance-free and provide a high starting current even in freezing conditions.
You might be thinking, What does 94R battery mean? BCI Group 94R batteries have a serial number of 94 on the BCI size chart and an 'R' on the label, indicating that the positive terminal is on the right side of the battery (reversed).
It powers a wide range of onboard equipment, charges quickly, and survives automatic start-stop operations. They're commonly found on BMW, Mercedes, Audi, Volkswagen, and other manufacturers' automobiles.
Group 94R Batteries Specifications
Battery type: Dual-purpose and Absorbent Glass Mat (AGM);
AH Capacity: Ranging from 60 to 76 amp-hours (Ah);
Cold Cranking Amp: 750 to 840 CCA;
Reserve capacities: 130 RC to 158 RC;
Physical measurements: L 12.40 x W 6.90 x H 7.50 inches;
Weight on average: 23.6 – 25.8 kg.
Group 94R Batteries Features-To Consider When Buying
When considering the purchase of a Group 94R battery, a few factors should be taken into consideration.
RC Score
If you need 25 amps of electricity for a specified period, this rating tells you how long it will last. Most of the Group 94R batteries have an RC rating of roughly 140 minutes. Delphi BU9094R MaxStart 94R AGM Battery is one of them. When purchasing one of these batteries, this rating is critical. It lays out just how much more weight they can tolerate.
CCA Score
The CCA rating of the battery tells you how much current it can deliver. 94R batteries have a CCA rating of average 620 to 950 amps, respectively. But the average 94r battery has 800 CCA, such as ACDelco Gold 94RAGM have.
A CCA rating of 1000 may give you excellent backup, but it will add to the overall cost of the battery. But it has a longer cycle life and better performance. Opt for a battery that has a CCA rating similar to your existing one. 
Size
It's important to remember; there is an insufficient amount of space available for the battery. As a result, you'll need to select a model that's easy to fit into the available area. If it doesn't, you'll have to shell out cash to fix it. The dimensions of a standard 94R battery are L 12.40 x W 6.90 x H 7.50 inches.
Capacity in Nominal
The nominal capacity of Group 94R batteries is typically between 70 and 80 Ah. Anything that happens to be located along that line is more than capable of supplying power to onboard systems for several weeks. Nonetheless, looking at this number may put you at ease.
Cost
Battery specialists would always advise you to choose the more expensive solutions available to you if your budget allows it. The rationale for this is that more costly batteries represent better value and more lasting construction materials. ACDelco Gold 94RAGM is the cheapest one I found, providing better service.
In addition, more expensive choices like Powertex Batteries Lithium-Ion LiFePO4, are typically accompanied by a warranty that can last for three or four years. As a result, you will save money over the long term.
Our Recommended BCI Group 94R Battery
Check the following features to make sure you have the correct one for your vehicle to improve your car's longevity. 
ACDelco Group 94R AGM Professional Battery
Click on the Image to >> See on Amazon
ACDelco's 94R AGM is at the top of my list. Like all ACDelco products, this battery is reasonably priced without sacrificing features like spill-proofing and high CCA. The AGM design is excellent for a battery of this budget. An AGM battery is not only spill-proof but also has nearly double the life of a conventional battery. 
Only ACDelco uses a calcium-lead plate design that improves battery efficiency by improving conductivity and decreasing resistance. This battery is ideal for expensive cars like Porsche, Audi, etc. Due to its good CCA of 800, this battery can be utilized in adverse weather situations without concern. If the battery has a manufacturing issue, it will be replaced without charge.
---
Delphi BU9094R MaxStart AGM Premium Battery
Click on the Image to >> See on Amazon
Delphi's battery is ranked second on my list. This battery is ideal for light trucks and cars with manual transmission. The Delphi BU9094R, like ACDelco, is an AGM battery, meaning it charges faster and discharges slower than flooded batteries.
The manufacturer also included two venting ports for any harmful gasses that may build up while the battery is in use. The battery has 850 CCA, the highest on our list. So, you don't have to bother about the battery dying in high heat or cold because it works just as dependably at room temperature.
---
Exide Edge FP-AGML4/94R Flat Plate AGM Battery
Click on the Image to >> See on Amazon
This Exide battery is designed to perform in conditions when other batteries fail. The battery is spill-proof to safeguard other parts. It works well in both cold and hot conditions.
The Exide flat plate is the battery to choose when you need your car to start in any weather. It is utilized by emergency vehicles in other circumstances that require dependability. It's tough case can endure shocks and road vibrations. This battery is said to last a long time.
---
Comparison Chart of Group 94R Batteries
| | | | | | | |
| --- | --- | --- | --- | --- | --- | --- |
| Model | Battery Type | Chemistry | Ah | CCA | RC | Weight (lbs/kg) |
| ACDelco 94RAGM | Dual Purpose | AGM | 80 | 850 | 140 | 51.6 lbs; 23.4 kg |
| Delphi BU9094R | Dual Purpose | AGM | 80 | 800 | 140 | 52 lbs; 23.6 kg |
| Exide Edge FP-AGML4/94R | Dual Purpose | AGM | 80 | 800 | 140 | 53.3 lbs; 24.1 kg |
FAQs
Is the H7 Battery the Same as 94R?
The Group H7 and 94R batteries are identical in their capacity, but they are the same. Their other names are also known as L4 and LN4. 
What Vehicles Use a 94R?
Many vehicles, mainly cars and light trucks employ the 94R group battery. It is often found on Audi, BMW, Mercedes-Benz, Porsche, and Volkswagen. 
Can You Use Another Group Size Battery With Group 94R?
The 94R battery can be replaced with a new Group number but with the same size. You may need to change the battery box if it is not exact. Also, the replacement battery should have the same CCA and RC ratings as the old one. 
Final Verdict
The Group 94R batteries are the flashiest and most powerful on the market. For vehicles compatible with this battery, ensure a high power supply. Your owner's manual will tell you which battery type is ideal for your car. I hope this article will help you to choose the perfect group 94r batteries for your car.
The batteries aren't only for cars. They can be employed in industrial and maritime settings. But remember, these batteries can deliver a powerful energy burst that can hurt, injure or kill. If doubtful, seeking professional help will be a wise decision. Thanks for reading this article!
Read more: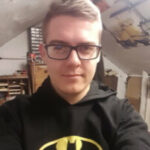 Hi, I am responsible for the 'Homeowners Power Solutions' category. My name is Liam Jaxon and a licensed technician with 7 years of experience in vehicle batteries, electrical gadgets, and home appliances. My working experience in different residential & light commercial electrical sectors and the automobile industry helped to acquire vast knowledge in this industry.