This article includes affiliate links, which means we may earn a commission if you make a purchase following our link. Please refer to our review guidelines.
The Group 48 batteries are the most notable and perfect for enjoying high-performance from the vehicle. Since many renowned brands come with different grades of Group 48 batteries, still suitable for usage in modern vehicles. The fitting ability is also better than other batteries.  
Want to learn every essential thing on this topic? Or, are you looking for the best quality & perfect Group 48 battery? But, you don't know what to choose from available BCI Group 48 batteries. 
Our goal is to submit everything that you expect to comprehend and resolve all confusions about these batteries. Once you read the top to the bottom article, you find basic info, dimensions, important features, and some awesome models.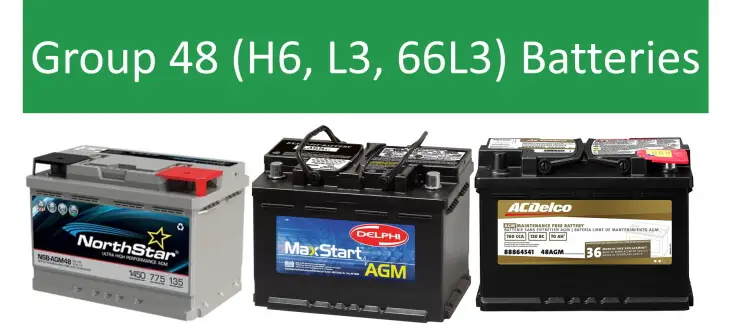 Basis of Group 48 (H6, L3, 66L3) Batteries 
Group 48 is a prominent BCI group size of batteries highly used in marine, automotive, and other light industries. Surprisingly, group 34 batteries are also good for the Marine industry. 
There are two types of Group 48 like starting batteries and dual-purpose batteries. They are used in several electronic devices when the main power or engine is turned off. 
Group 48 is also known as H6, L3, and 66L3. Most of the BCI Group 48 batteries come with many remarkable features. If you move through the maintenance-free and spill-proof 48 AGM batteries, you can get extra benefits. High-quality products protect mechanical shocks and excess vibrations rather than low-grade batteries. 
The 48 AGM battery ranges between 60 amp-hour (Ah) and 70Ah, 680 cold-cranking amps (CCA), and 775 CCA along with 100 reserve capacity (RC) and 135 RC. The most widespread vehicles using BCI Group 48 batteries stand ACURA – MDX, RDX, TLX. AUDI – A3, A4, A5, Q3, R8, S3. BMW – 128i, 135is, 328xi, Z3.
Dimensions and Features 
Dimensions and features are very important to understand any battery's performance or perfectness. Precept BCI Group 48 batteries come with pretty similar dimensions to the DIN H6 battery and EN 66L3 battery. Dimensions mean length, height, weight, and height. However, the physical dimensions of the BCI Group 48 battery are 306 x 175 x 192 mm  (L x W x H). Or, 12.0625 x 6.875 x 7.5625 inches. 
Want to know similar battery dimensions?
See the below table-
| | |
| --- | --- |
| Models | Dimensions (L x W x H) |
| BCI Group 48 | 306 x 175 x 192 mm |
| BCI Group 98R | 283 x 175 x 190 mm. |
| H6, L3, 66L3 | 278 x 175 x 190 mm |
Here H6 or L3 is labeled as DIN Standard and 66L3 is the EN standard battery. Interestingly, they are equivalent to the BCI Group 48 just because of similar sizes. 
The features of the Group 48 battery are very common and similar to the H6, L3, 66L3 Batteries. So, the average nominal capacity is 60 to 72 Ah, the CCA (cold-cranking amps) rate is 720-800 Amps, and the MCA rate is 800-930 Amps. Its weight capacity is also good like 45 – 54 pounds (20 – 24 kg). Plus, the RC (reserve capacity) value is 120-140 minutes.
Some Amazing Group 48/H6 Batteries
At present, many well-remarkable brands manufacture several BCI Group 48 or H6 Batteries. When you keep the battery in front of you, you notice the positive terminal placed on the right side of the Group 48 batteries.
We accumulate here most familiar as well as amazing BCI Group 48 batteries from our research. The following comparison chart helps you compare their features. Starting and dual-purpose both types are presented here. 
| | | | | | | | | |
| --- | --- | --- | --- | --- | --- | --- | --- | --- |
| Product Name | Types of Battery | Chemistry | Ah | CCA | MCA | RC | Weight(Ibs) | Weight(kg) |
| ACDelco 48AGM Professional | Starting | AGM | 70 | 760 |  – | 120 | 45.5 lbs | 20.6 kg |
| Delphi BU9048 MaxStart | Starting | AGM | 70 | 760 | – | 120 | 45.5 lbs | 20.6 kg |
| NorthStar NSB-AGM48 | Dual Purpose | AGM | 69 | 775 | 880 | 135 | 48 lbs | 21.8 kg |
| Odyssey Battery 48-720 Battery | Dual Purpose | AGM | 69 | 723 | 842 | 130 | 48 lbs | 21.8 kg |
| XS Power D4800  | Dual Purpose | AGM | 60 | — | 815 | 120 | 47.6 lbs | 21.6 kg |
| Optima Batteries DH6 YellowTop | Dual Purpose | AGM | 72 | 800 | 928 | 140 | 54 lbs | 24.5 kg |
Here all of the Group 48 batteries use AGM chemistry. Dual-purpose AGM Group 48 batteries are quite heavier than the starting batteries. Because starting batteries have thinner lead plates.
These batteries are suitable for use in cars and other lighter vehicles. The starting battery is designed to charge as soon as well. Some of them are perfect for high-demanding 'Stop&Go' applications. They don't allow deep discharge cycle applications. 
Our Selection
From a lot of Group 48 (H6, L3, 66L3) batteries, we recommend only the three best products. Our first selected product is ACDelco 48AGM Professional battery that is the original General Motors Original Equipment parts brand in today's market.
This, however, is a professional grade battery offering great value & high quality at a competitive price. The specialty is its exceptional applications that support increasing performance as well.
The warranty of this product is also great. Plus, it is easy to fit any vehicle. Alternative features of this starting battery are the best nominal capacity, and standard CCA, MCA, and RC values.
Secondly, we recommend the Optima Batteries DH6 YellowTop. This battery is a high-powered as well as dual-purpose AGM Group 48 battery. This versatile battery is perfect for most vehicles and other purposes.
The main feature is that it can withstand the deep discharge applications offering more starting currents. Also, enough for starting or cranking requisitions, a broad size of applications. 
Other highlighted features are the highest nominal capacity, standard weight, and best CCA. You can utilize the AGM Group 48 batteries as a sump pump backup battery, in medical and security systems, trolling motor battery, various off-the-grid applications, and related.
By the way, the is another great one of those Group 48 batteries, suitable for use on general basis works. This is a dual-purpose AGM high-end battery. You can also use it for industrial applications.
Since the XS Power battery has no superficial vents, it allows you to fix it below a seat, in a passenger compartment, or inside of a glove box. There is no concern for the leakage problem. XS Power D4800 battery offers up to 3000 maximum amps and includes a capacity of 74 amp-hours. 
What Are the Benefits of Using Group 48 (H6, L3, 66l3) Batteries
1. Durability: Group 48 Batteries are designed to withstand extreme temperatures and vibrations, making them more durable than other battery types.
2. Reliability: Group 48 Batteries are designed to last longer, providing a reliable source of power.
3. Efficiency: Group 48 Batteries offer more energy per unit of weight and volume, making them more efficient than other battery types.
4. Cost: Group 48 Batteries are typically less expensive than other battery types, making them a more cost-effective option.
5. Environmentally Friendly: Group 48 Batteries are recyclable, making them a more environmentally friendly choice.
Frequently Asked Questions 
1. Is Group 48 the Same as H6?
The Group 48 and H6 batteries are relatively synonymous. H6 is a DIN battery size that is the same as the BCI Group 48 battery. But, Group 48 batteries are 2 mm higher and 28 mm larger than the H6 batteries. Also, H6 batteries are 5 mm lower than the 98R batteries. 
2. How to Charge Group 48/H6 Battery?
When you need to charge the Group 48/H6 battery separately, you should use the intelligent AGM battery charger. Check the battery circumstance and temperature then plugin. Wait until the battery is charged fully. Don't use other low-quality chargers to charge your battery.
3. What Do Battery Group Numbers Mean?
Battery group number means the size e of the battery together with physical dimensions, type requiring the vehicle, engine type, or terminal location. 
How Much Do Group 48 (H6, L3, 66l3) Batteries Typically Cost
The cost of Group 48 (H6, L3, 66L3) Batteries typically varies depending on the retailer and the type of battery. Generally, the cost for these types of batteries ranges from $60 to $200.
Conclusion
Ultimately, Group 48, H6, L3, and 66L3 batteries are entirely similar and well-known batteries. Already, we have focused on all information and some popular models of the BCI Group 48 batteries. Be sure this lot of information is enough to understand the main topic.
Relevant Resources: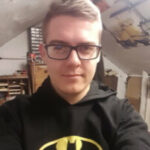 Hi, I am responsible for the 'Homeowners Power Solutions' category. My name is Liam Jaxon and a licensed technician with 7 years of experience in vehicle batteries, electrical gadgets, and home appliances. My working experience in different residential & light commercial electrical sectors and the automobile industry helped to acquire vast knowledge in this industry.