Our world is evolving at a breakneck pace, and with it, our approach to housing and infrastructure. Among the many innovative ideas springing up is the concept of self-sustainability, particularly in home design. How to build a self-sustaining tool shed? Let's break ground on this project together.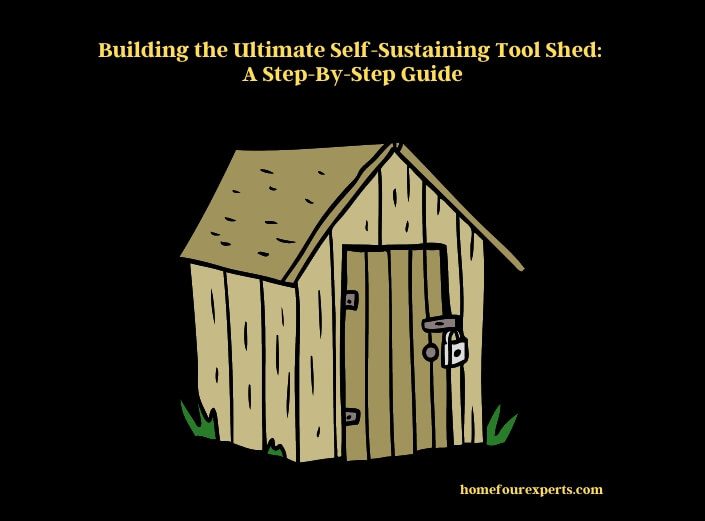 Understanding Self-Sustainability in Shed Design
Self-sustainability might sound like a complex term, but in reality, it's a straightforward concept with a wealth of benefits.
Defining Self-Sustainability
In the context of a tool shed, self-sustainability refers to a structure that operates independently from any external infrastructure. It utilizes renewable resources, like sunlight or rainwater, and often integrates recycling systems.
Benefits of a Self-Sustaining Tool Shed
The advantages of having a self-sustaining tool shed are numerous. You reduce your carbon footprint, save on utilities, and gain a sense of independence. Plus, it's a fantastic conversation starter!
How to Build a Self-Sustaining Tool Shed
Building a self-sustaining tool shed might seem like a daunting task at first, but it doesn't have to be. The process can be broken down into manageable steps. So, let's dive in.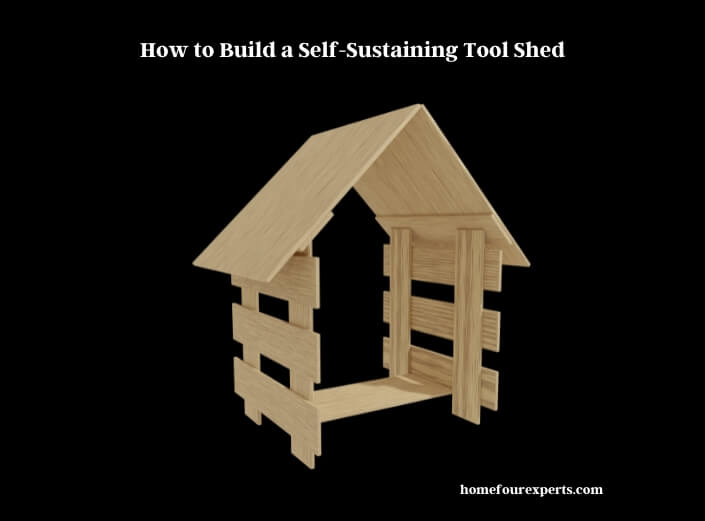 Choosing the Right Location
The first step to building a self-sustaining tool shed is selecting the perfect spot. Since a self-sustaining tool shed will rely on renewable resources, the location is of paramount importance. You'll want a place with ample sunlight for solar panels and good rainfall for water harvesting.
The ideal location will have a clear, unobstructed path to the south (in the northern hemisphere) or north (in the southern hemisphere) for maximum sun exposure. This allows the solar panels to harness as much sunlight as possible throughout the year.
Efficient Design for Sustainability
Now, it's time to create a design for your shed. The design should not only be functional but also efficient to make the most out of the renewable resources. You'll need to factor in space for solar panels and a water collection system, as well as a layout that maximizes natural light and airflow.
For instance, installing skylights can provide ample daytime lighting, reducing the need for artificial lights. You can also design the shed with large, insulated windows that can be opened to encourage airflow, reducing the need for electric fans or air conditioning.
Sustainable Materials for Building
Once you have the design in place, the next step is to select sustainable materials. Using recycled or reclaimed materials is a great way to reduce the environmental impact of your shed.
Reclaimed wood, for instance, has a rustic charm and is usually cheaper than new timber. Recycled metal, on the other hand, is durable and low maintenance, making it an excellent choice for siding or roofing. Using these materials not only contributes to sustainability but also adds a unique aesthetic touch to your tool shed.
Installing Renewable Energy Systems
The heart of a self-sustaining tool shed is its renewable energy systems. The two most common systems are solar panels for electricity and a rainwater collection system for water supply.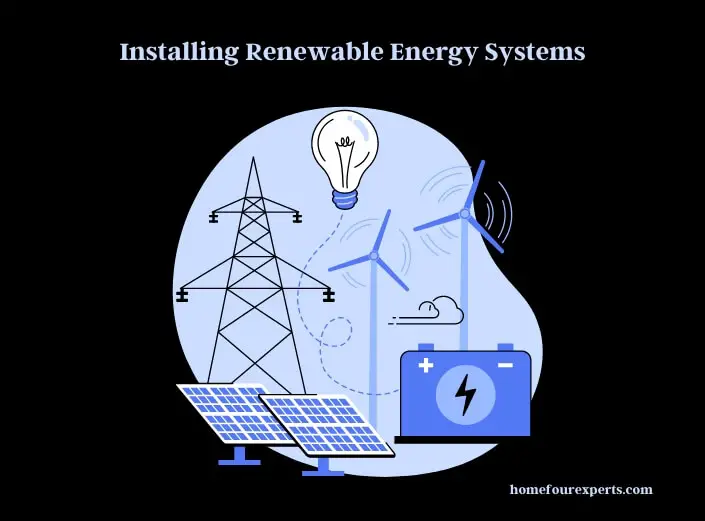 To install solar panels, you'll need to create a sturdy mount on the roof of the shed that's angled correctly to receive sunlight. The energy generated can be stored in batteries for use when the sun isn't shining.
A rainwater collection system, on the other hand, is relatively simple. A basic system involves guttering to direct rainwater into a storage barrel. For a more complex system, you could incorporate a filtration system and a pump to utilize the rainwater more effectively.
Final Touches: Greening Your Tool Collection
Lastly, consider the tools you'll be storing in your shed. To maintain the ethos of sustainability, opt for eco-friendly tools. These could be hand tools, which require no power, or electric tools powered by your new solar energy system. There's a wide range of eco-friendly garden tools available on the market, from solar-powered lawnmowers to tools made from sustainable materials.
Building a self-sustaining tool shed requires a fair bit of planning and work, but the rewards are well worth it. You'll end up with a functional space that operates independently, saves you money, and contributes to a greener planet. Now, that's a win-win situation!
FAQs: Building a Self-Sustaining Tool Shed
Below are a few commonly asked questions about building a self-sustaining tool shed.
How much does it cost to build a self-sustaining tool shed?
The cost varies based on the size, materials, and systems installed in your shed. However, the upfront cost is often offset by long-term savings on utilities.
Do I need a permit to build a self-sustaining tool shed?
This depends on local zoning laws and the size of the shed. Always check with your local municipality before starting construction.
Can I convert my existing shed into a self-sustaining one?
Absolutely! With a few modifications like installing solar panels and a rainwater collection system, your existing shed can become a green powerhouse.
How long does it take to build a self-sustaining tool shed?
The timeline can vary based on the complexity of your design and your DIY skills. But typically, it can take anywhere from a few weeks to a few months.
How do I maintain a self-sustaining tool shed?
Regular maintenance involves cleaning the solar panels, checking the rainwater collection system, and keeping the shed well-insulated. Always use eco-friendly cleaning products.
Is a self-sustaining tool shed worth it?
Given the benefits of lower utility bills, reduced carbon footprint, and the satisfaction of independence, most owners would give you a resounding "Yes!"
Conclusion: Embrace the Future with a Self-Sustaining Tool Shed
Building a self-sustaining tool shed is more than just a project—it's a step towards a greener future. It offers countless benefits, not just for the environment, but also for your wallet. So why wait? Get your tools ready, and let's start building!
Read more: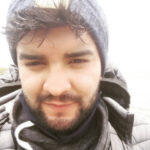 Hi, I am Eric Devin and I am a professional interior architect. Since childhood, I've always enjoyed DIY projects! And, I have loved to solve simple household problems using essential tools and equipment. I have also acquired a lot of information about basic household tools settings by working with contractors.