This article includes affiliate links, which means we may earn a commission if you make a purchase following our link. Please refer to our review guidelines.
Given the fact that there are multiple variations of wagons with different power needs and there are also different types of car batteries. That is why you need to consider the battery group size and fitting ability before replacing one. One such group size is BCI group 49 battery.
Whether you desire to get a battery for your high-performance AWD, everyday car or hope to make your off-roading trip extra exciting, the group 49 & group H8 battery is such a battery that will move beyond your expectations.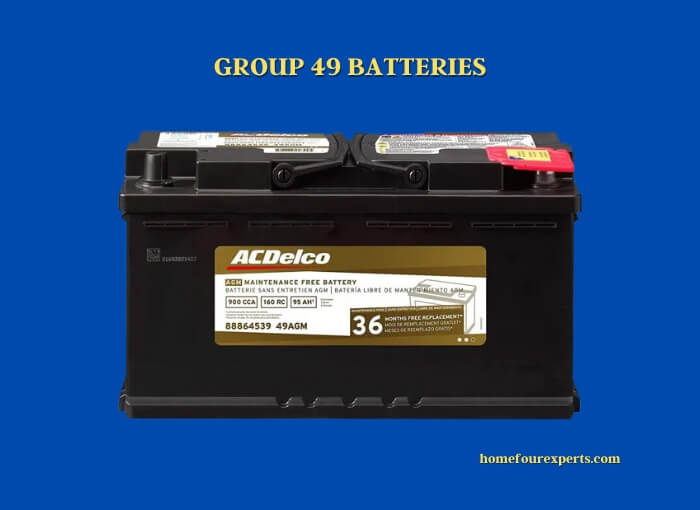 It features physical dimensions of the group 49 batteries 381 x 175 x 192 mm and group H8 batteries 354 x 175 x 190 mm. So, both have relatively similar features and dimensions. 
Our goal is to deliver you every inch and outs of the Group 49 batteries along with Group H8 batteries information and their differences in this article. Anyway, don't miss reading our reviews and recommendations of the three best products. 
Let's get started with this blog post. 
What is a Group Size 49 Battery?
Batteries in the Group size 48 and 49 series are constructed to fit modern cars and light commercial vehicles, especially European and American vehicles such as Audi, BMW, Buick, Cadillac, Chevrolet, or more. BCI Group 49 like Group H8 is fitted as standard equipment to most cars and trucks. 
They are also well-known as starting or cranking batteries and dual-purpose batteries. The important thing, group 49 batteries are popular for powering a lot of loads including various winches, pumps, multimedia devices, etc. This work continues even though the main engine is not active. Ultimately, BCI Group 49 and Group H8 or Group L5 or Group 88L5 are interchangeable although they have some differences.
Group 49 & Group H8 (L5, 88L5) Batteries Specifications and Differences
Group 49 and Group H8 battery features are pretty similar physical dimensions. According to the Battery Council International (BCI), the maximum dimensions are 15 x 6.875 x 7.1875 inches or 381 x 175 x 192 mm. 
Where, 354 x 175 x 190 mm is the dimensions of the DIN/EN codes batteries. DIN code means the H8 or L5 batteries and EN code means 88L5 batteries. So, the length difference between the BCI Group 49 and Group H8 batteries is probably 1.063 inches or 27 mm. The width and height are the same for all these H8, 49, L5, and 88L5 batteries. 
So, the 27 mm is not a major fact in the battery replacement works. You can try DIN or EN batteries instead of group 49 batteries. Remember, groups 51 and 51R batteries are also good for cars or similar vehicles. But, you don't replace them with the group H8 batteries. 
Do you know that BCI group 93 batteries' length and width are the same as H8 batteries? Yes, the physical dimensions of the group 93 batteries are 354 x 175 x 175 mm or 15 x 6 7/8 x 6 7/8 inches. So, the difference is only 15 mm or 0.59 inches in height. So, group 93 and H8 battery's length and width are the same. 
Cross-Reference Chart 
In this point, we highlight some of the most well-known BCI Group 49 and EN/DIN H8 (L5, 88L5) batteries in a cross-reference chart. The following table helps you to know the lists within a short moment. 
| | | | | | | | | | |
| --- | --- | --- | --- | --- | --- | --- | --- | --- | --- |
| Name  | Brands  | Battery Type  | Cell Type  | Ah | CCA | MCA | RC | WeightIbs | Weight kg |
| ACDelco 49AGM Professional | ACDelco | Starting  | AGM | 95 | 900 | 160 | — | 58.6 lbs | 26.6 kg |
| Bosch S6588B S6 Flat Plate AGM Battery | Bosch Automotive  | Starting  | AGM | 92 | 850 | — | 160  | 61.9 lbs | 28.1 kg |
| Deka 9AGM49 AGM Intimidator Battery | Deka | Starting  | AGM | 92 | 850 | 975 | 170 | 58.5 lbs | 26.5 kg |
| Duracell AGM49 Battery | Duracell | Starting  | AGM | 92 | 850 | 975 | 170 | 57.8 lbs | 26.2 kg |
| Exide Edge FP-AGML5/49 Flat Plate AGM | Exide  | Dual Purpose | AGM | 92 | 850  | — | 160  | 59.8 lbs | 27.1 kg |
| Odyssey 49-950 Performance | Odyssey Battery  | Dual Purpose | AGM | 94 | 950 | 1150 | 160 | 62.8 lbs | 28.5 kg |
| XS Power D4900 | XS Power | Dual Purpose | AGM | 80 | — | 1075 | 168 | 59 lbs | 26.8 kg |
| XS Power D7500 12V AGM Battery | XS Power | Dual Purpose  | AGM | 140 | 1700 | — | — | 99.8 lbs | 45.2 kg |
According to the table, the most common and popular group 49 and H8 batteries are AGM, which means Absorbent Glass Mat batteries. These AGM batteries are spill-proof and maintenance-free high-power batteries in the market today. Starting and dual-purpose, both types of group 49 AGM batteries are presented. Generally, they have no major difference. 
Plus, the average capacity of the group 49 batteries is a maximum of 95 Ah and a minimum of 90 Ah. The rate of the CCA is between 850 Amps and 950 Amps. Other features are MCA on average 975 to 1150 Amps, RC value of 160-170 minutes, and the average weight of 57 to 63 pounds.
Luckily, group 49 battery construction is so much better than others. They are vibration resistance and mechanical impact-free as well as ensure well recovery while deeply discharged. 
Best Group 49 Batteries Reviews & Recommendations 
Here are the three best group 49 & group H8 batteries reviews. Our recommended products are tested by authentic users.
Odyssey Battery 49-950 Performance Automotive Battery
Click on the Image to >> See on Amazon
Presenting the king of this list- Odyssey Battery 49-950 Performance Automotive Battery. It has beaten every 49 batteries in terms of every feature. Well almost! We loved and recommended it due to its powerful and long-lasting features. But, there's more to it. So, let's begin with it- 
The unique thing about the 49-950 lead-acid battery comes with one of the highest rating cold-cranking amps like 950A. The reserve capacity is 160 minutes, which is undoubtedly remarkable. On average, the Odyssey has 400 charge cycles and an 80% discharge depth without any impact. It is also designed to remove the extra risk of acid spills. 
This group 49 battery contains thin plates on top of that. For this reason, it provides a massive surface area for delivering the most current. Additionally, the 49-950 lead-acid battery features high performance, maintenance-free, and spill-proof design for safe use. The negative thing is that some users think it is a bit bulky. 
ACDelco 49AGM Professional AGM Automotive Battery
Second, but not bad from the first selected product. One significant aspect of the ACDelco 49AGM Professional AGM Automotive Battery is budget-friendly. Yes, it comes with an affordable price but the company doesn't sacrifice its quality. But, that's not the only reason we recommend it. Other features are spill-proof, maintenance-free, durable, etc. 
Likewise, the ACDelco battery has 900A cold-cranking amps. As for the reserve capacity minutes, the battery comes with a 90 rating. This rate is enough to control mechanical emergencies. It is also constructed to optimize the oxygen's recombination. As a result, the electrode mass keeps simple and you get the same performance throughout the year. 
Another unique thing about the ACDelco battery has a corrosion-proof frame so that it survives unbroken under all circumstances. The two simple downsides to this lead-acid AGM battery might be the installation system and the weight. The installation process is a little tough, and it takes some time. And, the weight is heavy when you compare it with other brands. 
3. Deka 9AGM49 AGM Intimidator Battery
Another great group 49 battery is Deka 9AGM49 AGM Intimidator Battery. It is suitable for use in a wide array of applications like automotive, industrial, marine, and recreational. It is designed to use absorbent glass mat technology. That means it is protected from vibrations and severe conditions along with consuming the acid to avoid leaking. 
Compared to the ACDelco 49AGM Professional battery, it is very easy to install and you don't waste more time installing the Deka 9AGM49 battery. You don't have to worry about the maintenance. Due to its oxygen recombination technology, it works great for lessening water loss. You can use this battery long-time with confidence. The only downside, it is sensitive to the matter of overcharging. 
FAQs of the Group 49 Batteries
1. How to Charge the Group 49 and Group H8 Batteries? 
It is an extremely simple process of charging the group 49 (H8, L5, 88L5) battery. Just use the appropriate battery charger and connect it to the vehicle's electrical system to charge them. If you use the smart or intelligent AGM battery charger, it allows you to charge wet/flooded, Gel-Cell, or AGM batteries. 
2. Is a Group 49 Battery the Same as an H8 Battery?
It is possible to use the group H8 battery instead of group 49 batteries. But, remember, you don't replace group 49 batteries instead of H8 batteries. 
Outer 
The bottom line? So, the Group 49 & group H8 (L5, 88L5) batteries are well known for powering the number of loads. There is a little length difference between the two types of groups. We have already explained that in this writing.
Maximum Group H8 batteries might approve group 49 batteries, but not forever.
We also posted some popular brands of group 49 & group H8 batteries. Among those Odyssey Battery 49-950 Performance Automotive Battery is our best collection of today's market.
Related Posts: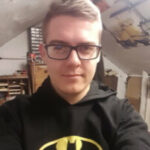 Hi, I am responsible for the 'Homeowners Power Solutions' category. My name is Liam Jaxon and a licensed technician with 7 years of experience in vehicle batteries, electrical gadgets, and home appliances. My working experience in different residential & light commercial electrical sectors and the automobile industry helped to acquire vast knowledge in this industry.