This article may contain affiliate links, which means if you make a purchase following our links won't cost you extra, but we may earn a commission. Learn more
Hair extensions are the magic strands that let us style our hair as we want without visiting the salon. No matter how bad our hair is or having a bad hair day, the right kind of hair extension can lift the look and prepare us for any big event.
Picking blonde shades are different compared to purchasing darker hair shades for extensions. There are numerous shades in the blonde category and two or three of them can be mixed and matched to create a different style. So, choosing a blonde hair extension of a particular shade of dye or texture and length can be very confusing.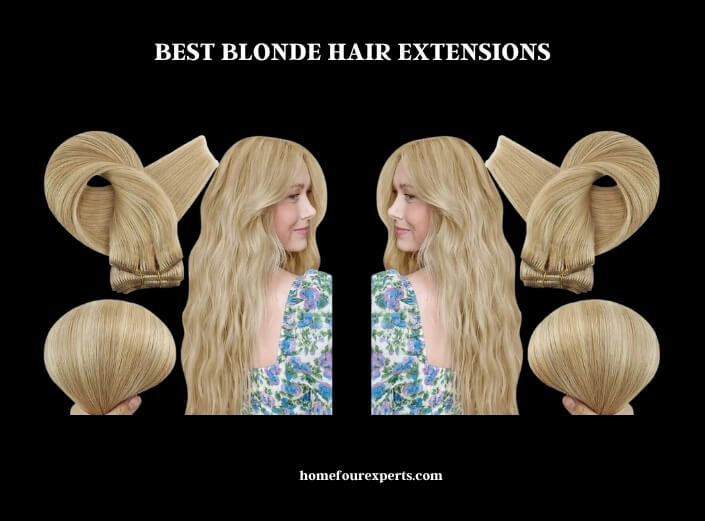 We are here to help you find the right hair extension in any blonde shade. We have incorporated blonde extensions from each hair extension category and in different dying styles. You will also get ideas about how to style that particular extension, how to take care of hair extensions, and which type of extension will suit you most. Besides, you will also find hairpieces in blonde shades for making hair updos easy.
Types of Blonde Hair Extension
Hair extensions of any color are categorized in broad three or four categories. We will cover each of those pros and cons so that you can decide which one suits you well.
Clip-in Blonde Shades
These are basically pieces of wefts with clips attached. You can wear it and remove it every day. Blonde ladies with thin hair on the front can get an instant voluminous look with clip-in extensions.
You have to wash these once a month with the proper type of shampoo and conditioner and let them air dry.
Tape-in Blonde Shades
These are the most expensive kind of extensions and are the most natural-looking. Women with short blonde hair can get added length and thickness for months using this extension. Small strands of hair are sold in packs and attached to the real hair at the roots using seamless tapes or glue. Once it is set, it needs to be replaced in a month using a glue remover solvent and extra tapes.
Caring for these extensions is very crucial. Shampoo, conditioner, even combs should be a special kind when someone is wearing these extensions.
Halo Hair Blonde Shades
It is the easiest cheapest option for hair extensions. It is like a headband made of fishing wire with hair at the backside. The wire is placed like a headband and the entire hairpiece including the wire remains hidden under the natural hair.
For added length at the back, this hair extension is unbelievably helpful. Taking care of this hairpiece is also easy.
How to Choose Customize Blonde Extensions
Choosing a blonde extension online is tricky. First, you have to determine whether you want volume, length, or just a styled look.
For added volume, choose extensions with a mix of blonde shades. The shades should be very close to each other. This way, the extension will create depth for its variety of colors.
For added length, choose the extension of the shade you have on your hair tips. Often the hair tips are lighter than the roots. So, extensions with that shade will blend well.
For a styled look, it is better to choose blonde extensions with highlight or ombre dying. If you already dyed your hair from dark to blonde, then the extensions with a dark color on the roots will blend better.
All the hair extension brands have customized services. It is simpler than choosing a shade by yourself. Just contact the seller, tell the desired length, texture, and color of the hair you want. Send a photo of your hair under natural light if necessary. This is the best way to get what you want. Because all the extensions are easy to return if not damaged and do not suit you even after all the effort.
11 Most Popular Blonde Hair Extensions
1. Full Shine -Dark Brown to Bleach Blonde Straight Hair Extensions
Click on the Image >> See on Amazon
16 Inches;
10 Pcs 100 Gram;
7B Dark Brown Roots Fading To 613 Bleach Blonde.
These are awesome add-ons for girls with dark hair but dyed blonde. The problem of dark roots showing up diminishes when you choose an extension of dark to blonde shading.  The dark roots of this extension will add depth to the hair and will make the hair look thick.
However, these are 16 inches clip-in type extensions. You can find more size and texture of this particular shade on Full Shine's website. Moreover, you can also order customized hair extensions for you. They are accommodating in this regard. The hair is real human hair, so you won't regret buying them. Style as you want whenever you want; this hair holds any style flawlessly.
---
2. LacerHair Hair Extensions
Click on the Image >> See on Amazon
Human hair material;
Installation type:Clip-In;
Color natural Blonde.
The natural blonde shade will not only look natural, but the hair will also feel soft and silky like natural hair and blend in effortlessly because real human hair is used to make these extensions. Unlike other clip-in extensions, there are good quality clips attached to the wefts to make the extension secure as you wear it. Besides, the length guide and additional instruction from Hairro is also helpful to pick the right length.
All the extensions of this brand are made a little longer than claimed so that the hair does not fall short if it needs to be cut to match with your hairstyle. I see it is a plus for a hair extension brand. However, you have to take good care of this extension to make them last for years. The guide to caring for the extension is also included in the Hairro site and in this article. Please read through the entire part to ensure that the hair gets good care from you.
---
3. Hetto Natural Wavy Clip in Hair Extensions
Click on the Image >> See on Amazon
24 Inches, Kinky Curly texture;
7 Pcs 100 Gram;
Color #12 Golden Blonde and #613 Blonde.
The best thing about kinky curly hair is, it is super voluminous. Only one pack is enough to create a thick and bouncy look. This blonde extension is a mix of two shades. These types are ideal for adding depth compared to single colored extensions. However, this clip in extension is great to create volume to general curled hair.
Generally, curly hair does not grow very long for its wave. Why be upset for not having luscious long hair? With these extensions, you can achieve that length in minutes and create any hairstyle that looks good on curly hair. Braid, bun or ponytails will be more alluring when you add extensions to your own curly hair. Don't panic if the hair loses its texture when wet. It will bounce back to its curl when it is dry.
---
4. Ugeat Silky Straight Light Blonde Hair Extensions with Double Weft
Click on the Image >> See on Amazon
24-inches, silky straight texture;
7 Pcs 120 Gram, Clip in;
Clip-In installation type;
Color #60 Platinum Blonde.
Though the advertisement says that you can style this hair up to a certain temperature, I recommend otherwise. Undoubtedly, these are budget-friendly and easy solutions for adding volume to hair; but don't use heating tools often on these. If you have natural silky straight hair, this extension will blend in very well, and you won't need any styling.
For occasional curling or waving, take caution to use the tools on their lowest setting only. Despite the natural look and feel, there is synthetic hair mixed in the extensions. So, high temperatures can burn off the fake strands.
However, for ladies with silky hair and on budget, this is a great deal for you. The hair feels light and soft on the hair. You will not feel uncomfortable pulling due to the clips.
---
5. Moresoo Platinum Blonde Body Wave Extension
Click on the Image >> See on Amazon
18 Inches;
20 Pcs 50 Gram;
Platinum Blonde, color #60.
These are 18-inch extensions with double-sided tape. Here you will find extensions ranging from  14-inch to 28 inches. Among all brands, Moreso is the most promising one because of its unconditional return offer, which lasts up to 90 days from the day of purchase. So, even after receiving a customized hair extension, you don't like it; if you don't like it, you can return it within a long time frame. It is an ample opportunity for ladies who are firstly trying tape-ins in the blonde shade and unsure about the color matching.
The good thing about platinum blonde tape is that the tape becomes seamless because of the light color. Besides, tape-in extensions blend and feel just like natural hair. The texture is slightly wavy so that it will fit best for girls with naturally wavy hair.
---
6. LaaVoo Platinum Blonde Straight Grade 7A Hair Extensions
Click on the Image >> See on Amazon
30-inches, straight hair;
20 Pcs 50 Gram, Tape in;
Color #60 Platinum Blonde.
There are very few manufacturers available who offer to sell 30 inches extensions. In Laavoo, you will get extensions as short as 14 inches to as long as 30 inches. In tape-in hair, the extensions get a little bit heavy for their weight. So, the extensions are separated into 20 pieces and weigh merely 2.5 grams. Besides, the double-sided tape used in these is of high quality, with no possibility of hair fall. You won't even feel that you are wearing any extensions. This is what makes the best choice for platinum blonde extensions.
If the platinum blonde is not the perfect match for you, you can dye it in the desired color. As the extension is very light in color, dying it will be easy. But make sure to remove the tape before dying to get a uniform color top to bottom.
---
7. Full Shine Ash Brown Fading to 60 Platinum and Blonde Hair Extensions
Click on the Image >> See on Amazon
14-22-inches, silky straight texture;
7 Pieces;
Color #8 ash brown fading to #60 Platinum Blonde and #18 blonde.
For a glamorous look, there is no alternative to an ombre hair extension. The advantage is that as there are multiple colors in one extension, it will suit a variety of hair shades. Matching will not be an issue in this case. Moreover, it will look salon-styled. Whereas the amount you are paying for one pack of the extension will cost as much as you pay for dying at the saloon. From all perspectives, buying these extensions will be beneficial.
Please note, as the hair is not synthetic, it is the best quality blonde hair you will ever find. So, it will need a lot of care during installation, afterward and during reapplication. Never ever use a general shampoo to wash the hair if you want these to last long.
---
8. VeSunny Blonde with Ash Blonde Highlight Fish Wire Hairpiece
Click on the Image >> See on Amazon
12-inches, straight texture;
10-inch width;
Weight: 6.35 Ounces;
Color 613 Blonde Highlighted 18 Ash Blonde.
The fastest and easiest form of extension is halo extension. The shades of blondes will mix with both ash blonde and golden blonde perfectly. As the extension will be hidden under your own hair, there is no hassle of hiding it out or blending it in. Besides, in an instance, it will add length and thickness.
You can get any shade you want in any length. They generally offer 12 to 20 inches, which is pretty long. However, if you want to style it, you are totally free to style the hair however you want! Just remember not to wear this near the beach. The color and texture will be ruined if soaked in saltwater.
---
9. SARLA Ash Blonde Balayage Natural Blonde Halo Secret Hairpiece
Click on the Image >> See on Amazon
14-inches, wavy synthetic hair;
11-inch width, 80 Gram;
Color Ash Blonde Balayage Natural Blonde.
So far, Sarla is the best at giving instructions to adjust halo hair and tips on how to choose and blend a hairpiece with natural hair. If you are a beginner, hurry and visit the site. Like any other extension sellers, they also offer customized services, and they are beneficial for their clients.
With halo extensions, you can create a modern look in seconds. Without dying the hair or the extension, you can create a highlighted or ombre look just by picking a darker or lighter shade of extension. There are other amazing tips and tricks for halo hair. You will be amazed when you try one yourself.
---
10. Lelinta Ash Blonde Mixed Bleach Blonde Messy Bun Hairpiece Extension
Click on the Image >> See on Amazon
The messy bun is a hairstyle you can wear almost anywhere you want with any outfit for a casual, carefree look. But not all ladies are lucky enough to have hair long and thick enough to create the bun with their own hair.
For all of them, here is a scrunchie, mimicking a messy bun hairstyle. If your hair is not long enough to make a bun, then wearing this hairpiece around your tiny ponytail can save you from wearing a full extension altogether. The mixed shades of blonde will help you to get a dyed effect without dying your own hair.
For ladies with long hair, wearing this scrunchie will add volume to your own bun. Without teasing and pulling your hair and the bun, you can achieve a messy look by wearing this cheap hairpiece.
---
11. PRETTY SHOP Mixed Blonde Wavy Voluminous Ponytail Hair Piece
Click on the Image >> See on Amazon
12-inches, synthetic hair;
135 grams, claw attached;
Color mixed Blonde.
A ponytail is that type of style thatch goes in every event, whether casual or formal. Unfortunately, we can't get a voluminous ponytail without teasing and spraying. These are damaging for hair. On the other hand, pulling the hair into a ponytail becomes challenging with extensions on. So, wearing just a ponytail hairpiece can solve the problem instantly.
This extension has a claw underneath. If your hair is merely a few inches long and can be tied with a rubber band, then you will be able to wear this extension to achieve a sexy ponytail. The fiber used in it is synthetic, but no one can tell because of the mixed shades.
You can also use heat to straighten or curl on low heat. The good side of wearing synthetic hair is, it needs almost no maintenance like the Remy extensions.
---
Conclusion
The charm of blonde hair will only be seen when the hair looks all-natural. No one needs to know the hair you have is not yours as long as you feel confident in it. Choosing the right hair extension type and color does not need to be bothersome when you can take help from us.
I believe, now you are more confident than ever about hair extensions for yourself. Even if you are not a blonde girl, you can be anytime you want just by wearing the right extension like a queen wearing the crown.
Please remember that no matter which hair extension you wear, it is always necessary to use and maintain it properly to last longer. Otherwise, no matter how expensive or good quality the extension you have purchased, it won't be good for you for long.
Read more: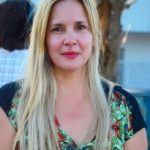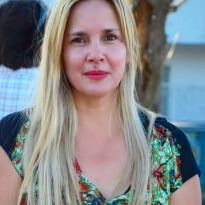 Guys, I am Camila Avery and I love to help my mom to do indoor & outdoor activities. As a lady, I have passed my time on gardening, home improvement, and personal or self-care. I have acquired some degrees in outdoor recreation, beauty, and hair care. It is not easy to work with top-level professional beauty experts. But, I got that opportunity and experimented with different hair extensions, hair colors, and cuts.