This article includes affiliate links, which means we may earn a commission if you make a purchase following our link. Please refer to our review guidelines.
A great golf cart battery is able to provide you an extreme performance and allows you to have a pretty good experience while on the golf court. Additionally, a good battery allows you low maintenance, less serving cost, longer service, and many more facilities. Golf cart batteries are not only for golf carts, but also you can use this for many purposes, such as batteries for solar panels, smart converter chargers, RV batteries, and many more.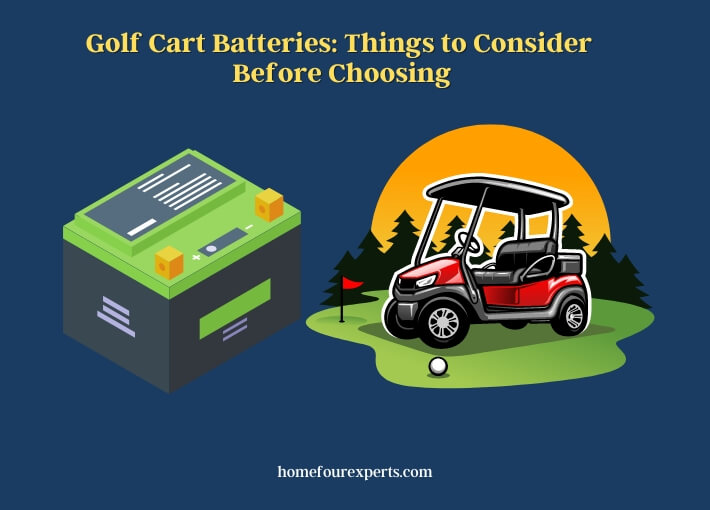 After reading this entire article, you will learn about which one is the best, which is the longest lasting, or which one will fit most with your golf cart. As well as, we have some tips about how can you extend the battery life and keep the performance and how can you check a battery. So, if you want to buy a new one, let's start reading this detailed guide.
Things to Consider Before Choosing A Golf Cart Battery
You need to consider some things before purchasing your battery. Choose a battery for your needs. Think carefully, if your battery is really able to fulfill your needs. Only the price consideration is not enough. You need to consider some other factors like battery type, energy rate, capacity, dimension & weight, terminal type, etc. here are some things you must consider before buying.
Capacity
Capacity plays an important role in the battery. Note that, the capacity can be increased by creating a parallel connection. For example, you can connect 2 Trojan T-605 deep cycle flooded 6-volt 210 Ah rated batteries with a parallel connection. It will provide you with 420 Ah capacities. But remember, the voltage won't increase.
Voltage
You need to know about the system voltage before selecting one. It depends on which and how many batteries are you using. Golf carts generally run on 6, 8, 12, or 24 volts batteries. You can use 8x 6-volt batteries, 6x 8-volt batteries, 4x 12-volt batteries, or 2x 24-volt batteries that fulfill the requirement of 48 volts. In this case, you need to consider the battery pack cost, size, type of battery section, etc.
Battery Type
Golf cart batteries are of mainly 3 classified types. They are as followed-
AGM lead acid battery
Flooded lead acid battery
Gel lead acid battery
 Before buying a battery, be sure this will suit you the most.
Connection & Terminal
Finally, before buying a new one, you need to look after the connection & terminals of the battery. Figure out which terminal option will be best for your golf cart energy need. Check the terminal numbers in the selected battery and ensure your cart run perfectly with the right cable. The right cable is important as they prevent overheating of the battery.
Weight
This is one element that the vast majority will generally disregard notwithstanding its significance. Weight isn't generally equivalent to driving. At the point when you pick a heavier battery, this can be a weight for the golf cart. 
This implies that the motor needs to apply more power and it burdens the truck. It is ideal to pick a lightweight battery while ensuring that it doesn't think twice about it.
Cycles
Probably the greatest issue with a wide range of batteries is that every one of them loses their all-out limit and even execution after you have involved them for a lengthy timeframe. This is because of the explanation that all batteries have a predetermined number of re-energized cycles. 
Subsequently, while purchasing golf cart batteries, it is really smart to go with the choices which highlight countless charge cycles. While not all cart batteries might offer a re-energized cycle rating, you can cart down batteries with up to 1000, 2000, or 4000 charging cycles where a higher rating is better all of the time.
Some Key Features of Golf Cart Batteries
Here are some key features of golf cart batteries are mentioned. Check out why they are different from other batteries.
Rebust Construction
These types of batteries are designed for high-density components for ensuring longevity as well as the protection of the short circuit system. This feature also protects power-generating components.
Deep Cycle Service
These types of batteries are made with thin and high-density fasted lead plates. For this reason, the battery reinforced more power and ability to hold up the power against the long cycle of continuous discharge and recharge cycle.
Life
Enhancing the battery life means more deep cycling and more cycle number. Most batteries for golf carts have the best deep cycling technology that is able to generate 800-1500 discharge cycles to around 50% capacity.
Power Distribution & Control:
Golf cart batteries are made for better current flow and maximum power delivery with an optimized design.
Vibration Resistance
These types of batteries contain fitted partition connectors with a cast-on strap which is for better and more effective electrical conductivity as well as helps to reduce the vibration.
Less Maintenance
These types of batteries need very low maintenance that can be considered maintenance-free. The batteries have heavy-duty capabilities casing which weathers the storm and helps to resist breakage for safeguarding the equipment along with increasing the longevity.
How to Taste A Golf Cart Battery
To check your battery, you can follow the following steps that mentioned below-
Step: 01
First, disconnect the battery from your golf cart or other places where you're using it. Now place the battery into the charger and charge it fully.
Step: 02
After removing the battery from the charger, allow the battery about 12 hours to sit. This method will prevent any surface charge which can give an inaccurate reading while measuring. Until you finish the test, do not reconnect it to the golf cart.
Step: 03
Well, now remove the cell caps of the battery. Cell caps are plastic caps that are situated at the top of the battery. Now, insert the Hydrometer probe into the 1st cell. For a syringe-type Hydrometer, pull up on the plunger in order to draw up fluid into the hydrometer. For the Squeeze bulb hydrometer, you need to squeeze the bulb and release this to draw fluid into the hydrometer. 
Step: 04
It's time for the results. Now read the specific gravity from the indicator of the hydrometer. Let the fluid to return the cell. You need to repeat "step 03" for each cell of the battery. If the indicator indicates 1.265 of specific gravity, then it means 100% charge. And 1.12 or less specific gravity reading indicates that the battery is fully discharged & won't accept any charge. And the most important thing is if a cell varies by 0.05 or more specific gravity reading from other cells, it might be a dead cell.
Top 6 Golf Cart Batteries Reviews
1. Vmaxtanks Vmaxslr125 SLA Rechargeable Battery
The Vmaxtanks Vmaxslr125 is a 125 Ah 12-volt deep cycle battery. As it is a heavy-duty battery so it can be used for smart chargers, Pv solar panels, inverters, and wind turbines. Also, this battery can be used as an RV battery. The battery has high capacity and high quality of power and this is an SLA rechargeable battery. That's why this battery is too popular with users.
The most wonderful feature is, the battery is made using military-grade alloy and it provides a long life battery or long battery cycle. For this reason, you can recharge and use the battery again and again. Additionally, the battery has a very low self-discharging rate. So, it's able to back up for more power when you keep the battery stand-by or as a power backup.
The battery provides 125 Ah at 20 hours discharge rate. This heavy-duty battery has a float service life span of 8-10 years and that is too good. On the other hand, the battery is designed for 99% recombination capabilities and the battery is highly safe from dangerous fumes of gases.
As we said before, this battery can be used as solar panel power storage or wind turbine power storage. The battery is suitable for 175W-450W-rated solar panels. Generally, we use solar panels or wind turbines for this power output. So we can say that the battery is suitable for almost every solar panel and wind turbine. The dimension of the battery is 12.9×6.8×8.7″ (LxWxH). This is a group 31 battery. People who used this battery found it very user-friendly and professional as well as workable.
What we liked
8-10 years of float service life span;
Group 31 heavy-duty deep cycle battery;
12 Volt 125 Ah battery;
Military-grade custom plates;
99% recombination capability.
What we didn't like
---
2. Odyssey PC925 Automotive and LTV Battery
The Odyssey PC925 is a multi-purpose battery. Along with the golf carts, the battery is also suitable for Racing bikes, Snowmobiles, ATVs, Motorcycles, Car audio, etc. The perfect combination of power and performance has made the battery excellent for a huge range of commercial, racing, applications, marine, auto/LTV, and power sports.
The battery is able to deliver twice the overall power and 3X times of the other conventional batteries. As well as the battery is specially designed for providing high current by maintaining stable voltage, isn't it great? That does happen because of very low internal resistance.
He Robust connection of inter-cell for resisting the vibration and eliminating the internal sparking. For extreme vibration resistance, the battery has plate separators of compressed TPPL. And the battery is made with pure lead plates in order to provide more power. The lead of the battery is 99.9% pure and extremely thin. That means more plates can be fit into the battery. And more plates mean more power. And the battery has 330 cold crank AMP (CCA) which means the battery is extremely workable in any temperature of -45 degrees to 45 degrees Celsius.
The battery has a longer service life. The battery also has AGM (Absorbed Glass Mat) technology so the battery is able to characteristics of 2 separate batteries. Besides providing enormous cranking power, the battery can also be used as a deep-cycle battery. Additionally, the battery can be mounted very easily and anywhere with its flexible mounting capability feature. The nonspill able design reduces the vibrations. The dimension of the battery is 11.2×10.5×8.3 inches (LxWxH).
The battery is capable to provide engine cranking pulses of more than 2250A for 5 seconds. Also, the battery has 400 cycles at 80% depth of discharge (DOD). That's why it can be used as a jump starter too.
What we liked
Extreme temperature tolerant battery (-40 degrees to 45 degrees Celsius);
Vibrate-resistant, flexible mounting capability;
Cold crank AMP of (CCA) 330;
Longer service life;
Made with pure Lead plates;
Robust Inter-cell Connections.
What we didn't like
No major disadvantage with this battery.
---
3. Trojan 6 Volt Battery T-105
Trojan T-105 is a very compact battery. The dimension of the battery is only 10.3 inches in length by 7.1 inches in width by 10.8 inches in height.  This one is a flooded lead acid battery of 6 volts and 225 Ah amperage.
Trojan T-105 is made for performance and it does it great. With the compact packs of these batteries in your golf cart, you will feel confident as they are highly able to take your golf cart through each game. And they are able to do it again and again. Trojan makes golf cart batteries since 1852. The Trojan T-105 is their flagship golf cart battery model and these batteries are keeping the customer satisfied from a long time ago until now.
This battery has Trojan's advanced proprietary Maxguard® design separator. Along with that, it also has an Alpha Plus® paste formulation that extends the battery run time, increases battery life, and decreases battery maintenance. This battery also has reliability, durability, and proven technology so you can completely depend on Trojan batteries. The batteries will present you with consistent performance day in & day out.
The battery's cells are specially designed for deep cycling for less susceptibility to degradation due to deep cycling. In this battery, Trojan used thick plates so that it can provide fewer peaks current. This awesome battery is suitable for multi purposes uses such as electric vehicles, photovoltaic systems, and uninterruptible power supplies.
What we liked
Flooded lead acid battery;
Trojan's proprietary advanced design;
Alpha Plus® paste formula;
Reliable, durable, and proven technology;
Great performance;
Thicker plates that deliver less peak power.
What we didn't like
Less volt so you need more of them to run the cart.
---
4. Universal Power Group UPG UB12350 (Group U1)
The UPG UB 12350 is from the manufacturer named Universal Power Group. This is a lightweight, small and compact battery full of power. The weight of the battery is only 46 pounds. That's why this is perfect for an inflatable. This is an SLA battery with 35 Ah and 12 volts. This sealed lead acid battery offers premium quality AGM (Absorbed Glass Mat) technology. This battery is ideal for motorcycles, personal watercraft, snowmobiles, or ATVs.
This battery is designed for more than performance. This battery is designed for the enthusiast along with more cranking power than other batteries of the same categories. Another advantage of the battery is that battery is completely leakproof and spillproof. So, you don't need to worry about it. Additionally, this battery offers low maintenance.
The battery comes with key technology named Porous microfiber separators which trap and absorb the electrolyte completely. The advanced molded side & top connection terminals are for providing durability, increased strength, and versatility. This battery is made for providing the best value to primary applications such as Emergency Lighting, Medical mobility, Solar, Security, Gate opener, ATVs, Lawn & Garden, and Surge protector/ UPS. This battery has been highly admired by the users and they're satisfied with the performance of this excellent battery.
What we liked
35 Ah 12 Volts replacement battery;
SLA types battery;
Suitable for multi-purpose uses;
Completely leak proof & spill proof;
Porous microfiber separators technology;
Durable, versatile, and strong.
What we didn't like
No major cons, just you need more of them.
---
5. Exide Battery 58C Battery
The Exide 58 C is a compact and lightweight golf cart battery. The weight of the battery is only 32 pounds and the width is 9-13/16 Inches in length by 7-3/16 Inches in width by 7 inches in height. This battery is dual-purpose and uses a battery that is combined with deep cycle capability along with enough power.
It is highly able to start an engine of 540 Amp and 635 Amp reserve capacity, 12 Volts draw for 8 hours. The SAE posts and stainless steel threaded provide an easy installation. This battery also has pretty good permission for uncluttered electrical connections and wiring harnesses.
This battery has Lead/ Antimony based construction. The enveloped separator is great for surrounding the plates. The positive balance performance of the battery has added extra value to the battery. The SureLife Graphite technology is applied in this battery which maximizes the available energy capacity. This also helps the battery to perform at a higher level and longer.
The special valve system helps with a water recombination reaction that reduces water loss and prevents the batteries from drying out. Special-engineered alloy ensures maximum life, even under extreme operating conditions. Thick positive radial grids are present in the battery in order to perform a balanced cycling/ starting. The robust poly case reduces distortion and provides stability.
This battery is made for providing the best value to primary applications such as Surge protector/ UPS, Marine uses, Golf carts, Emergency lighting, ATVs, Medical Mobility, Solar, Security, Lawn & Garden. This battery has been admired by previous users and they're satisfied with the great performance of this battery pack.
What we liked
Compact in size, lightweight;
Lead/ Antimony construction;
Reserve capacity of 80 minutes at 635 AMPs;
Performs Positive balance.
What we didn't like
No noticeable disadvantage.
---
6. Milady 12V 20Ah Golf Cart Battery
This is the main lithium-particle battery in this rundown with a power limit of just under 20Ah. The nice thing is that it will ensure fast charging from 0 – to 100 in the most limited conceivable time.
For the most part, Milady is a deep-rooted manufacturer of batteries, and they are known for having exceptionally decent models.
Although this battery has a lower limit, it actually results in a consistent voltage of 12 volts.
Due to its small size, the weight is completely low, making it easy to mount. This unit can be charged and re-energized without any gamble of losing the limit. 
The unit is similarly developed using ABS, which ensures a rigid build that will not be released even after swinging or dropping. 
It can withstand up to 2000 charge cycles before it needs to be re-energized or replaced.
What we liked
Maintenance-free;
The battery voltage of 12 volts;
Use for golf carts, boats, solar systems, and UPS.
What we didn't like
---
How to Maintain Golf Cart Battery for Longer Service
If you maintain your golf cart battery and take proper care, then your battery will serve you longer with continuous performance. To maintain your battery, here are some tips. Follow them, you will get better performance.
Water the Battery:
Check your battery regularly and use distilled water. But remember, use only up to ¼ inch over the lead plate. Do not overfill. Overfill can cause damage and lead corrosion which will harm the battery badly.
Charge as Directed:
Most golf cart batteries require charging after each use. So try to recharge your battery after each use. And don't forget to keep the tickle charge ongoing while the battery is left idle. And don't use a smaller charger than recommended. Also, wet battery recharging can be harmful to the battery, so ignore it.
Keep Connection Clean: 
The connection and the terminal can get dirty easily as you use them in the golf cart. So you need to clean this after a regular period. For this work, a wire brush or brush terminal cleaner will do this job easily. But remember; use it for removing only dust or dirt. If you notice any acid on the surface then spray a little baking soda on it and then clean it with water.
Prevent Sulfation:
80% of the batteries become a failure because of lead sulfate buildup. So, in order to prevent this problem, desulfation is a great way. Additionally, this keeps the charging time short.
Storing:
Store your battery in a safe place that is not so cold or hot and away from direct sunlight. Proper storage can increase the life of the battery. And use a battery maintainer after a regular period. But don't forget to use it when your battery is fully charged appropriately.
Frequently Asked Questions
What Is A Battery Strap Used for?
There are a couple of things that you will require when you put new batteries in the cart. One of them is a battery strap. Assuming you read our audits of the customary lead corrosive 6, 8, and 12V batteries, you realize that they are normally at least 70 pounds each.
The battery sits in a bogie on the golf cart and is exceptionally placed next to different batteries. They are fully integrated with the links to make it easier for them to work within a unit. The problem with this is that there is no decent way to take out the battery.
How Long Do Golf Cart Batteries Last?
The life expectancy of a golf cart battery will rely upon the amount it is utilized and the way that it is really focused on. Assuming that you take great consideration of the cart batteries and utilize the cart occasionally, then you ought to get around 4 to 6 years out of battery.
A lithium-particle battery could last at least ten years. Assuming that you end up buying something like a Trojan battery, you may likewise get somewhat additional time before you need to supplant it.
It is smarter to buy a top-notch battery for a few dollars than a decent battery. Whenever you think you'll get many years in return, it's really hard to cry over a little extra cash.
Might Batteries From Various Organizations at Any Point Be Utilized to Control a Golf Cart?
Actually, yes. Every battery needs to have similar particulars (Amp/h.) So they bite the dust simultaneously and can be supplanted all the while.
What Is the Average Lifespan of a Golf Car Battery?
It relies upon the brand, the item, and its use. Typically, a golf car battery will keep going for five years. You can supplant the old battery with another one by sufficiently reusing it.
Is It Conceivable or Safe to Change the 6-volt Golf Car Battery and Turn on the 12-volt?
Indeed, it is very conceivable. It depends on the type of golf truck. For example, if you have a 36-volt golf truck and you need to carry a 12-volt battery, instead of six 6-volt batteries, you can introduce a 3 12-volt battery. It is completely safe to do this type.
Conclusion
Well, after reading this complete guideline for golf cart batteries, we hope you can now find the best one that suits you most. But remember, finding the right one is a little bit tough, but taking proper care is harder. Proper care lets you get the best service from your battery as well as lengthen the battery life.
Additionally, it reduces the cost of the golf cart. So, it's not only important to buy the best one but also proper maintenance is important. Hope you will gain the best performance from your battery. Good luck!
Read More: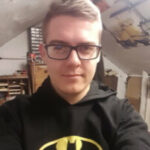 Hi, I am responsible for the 'Homeowners Power Solutions' category. My name is Liam Jaxon and a licensed technician with 7 years of experience in vehicle batteries, electrical gadgets, and home appliances. My working experience in different residential & light commercial electrical sectors and the automobile industry helped to acquire vast knowledge in this industry.