This article may contain affiliate links, which means if you make a purchase following our links won't cost you extra, but we may earn a commission. Learn more
TOTAL READING TIME: 5 MINUTES
A standard jigsaw is a powerful and versatile tool to do all kinds of woodcutting work more accessible for you. We bring this little guide to help you buy the accurate jigsaw for your next woodwork.
An electric motor manufactures a jigsaw, and a reciprocating saw blade for detail cutting offers a more massive and faster curve or odd shape cut.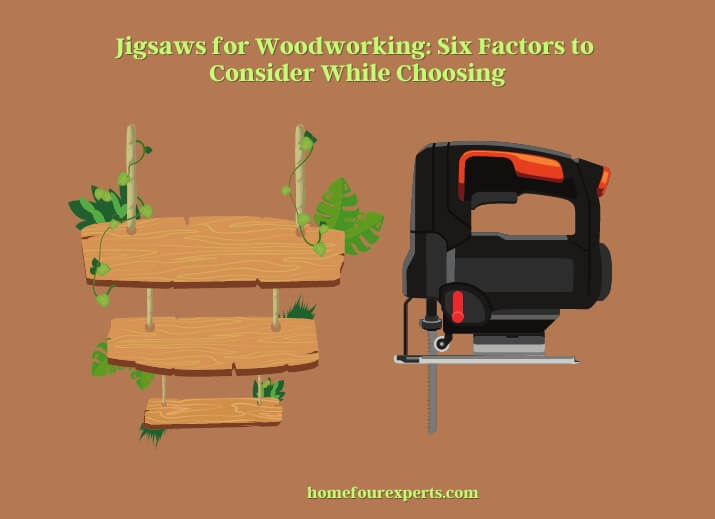 This versatile, portable, and easy-to-use jigsaw tool is essential for those who need a smooth cut without shaking their arms.
Before you select one, we suggest following our reviews to compare the features of ten types of jigsaws to choose your desired one.
How to Choose a Perfect Jigsaw for Woodworking
Whether you are a pro or a new user of a jigsaw, you always need to consider your budget, woodworking skills, and the task at hand before choosing a new one.
Let's look over the list of features that  matter when picking a jigsaw:
Read more: 10 Best Jigsaws Ever Made!
Power Delivery:
The most significant thing is the motor power of the jigsaw. The more power, the more considerable cut you will get. It usually runs between 350 to 850 Watts.
For usual projects, 350w is a low yield, but a cutting depth of 100mm in wood or 10mm in steel requires 850w for comfortable usage.
Variable Cutting Speed:
The cutting speed depends on different motor capacities and control types. Sometimes the unit itself controls the pace, and other times it is controlled by the user. Variable trigger speed will allow you to change the speed with the trigger. So check the trigger features too at the time of purchasing.
Sharp Blade:
A jigsaw blade varies depending on the material and the type of cut needed. Different kinds of modules are the wood blade, the metal blade, the inverted tooting wood blade, and the coping blade. 
Another component related to a blade is a 'blade guide bearing.' This keeps the edge aligned and keeps your cuts from wandering. This is a must-have feature you should look for. Different types of blades are needed for different uses. A better idea is to know about different jigsaw blades and their use. You can follow this informative article.
Lightweight:
Obviously, weight is a vital feature to consider most because a heavy saw will leave you fatigued if you are working with it too long. Weight depends on maneuverability and the type of jigsaw.
Dust Blower:
Another must-have feature is a dust blower designed to keep your line clean and your visibility high. The top power models usually have better success with dust blowers than other small, less powerful models.
Built-in LED Light:
The LED headlight option will light the path as you cut and keep your line highly visible at working time. This is a helpful feature, especially if your work area is not very bright. But if the dust blower does not correctly clear the line, it won't help with the LED light.
View Our Recommended Jigsaws for Woodworking, Below
Dewalt DCS331B 20V Max Woodworking Jigsaw
Weight: 5.84 pounds;
Speed: Up to 3000 strokes per minute;
Stroke length: 26mm;
Operate: Cordless 20v battery.
Dewalt DCS331B is a robust jigsaw with a powerful motor that is even more powerful than many corded versions of its class.
This cordless jigsaw makes the woodworking task much more comfortable with its 0-3000 SPM blade speed, and the 20v battery ensures uninterrupted cutting power. It has an LED light on the battery meter to indicate a low battery charge.
Four uniquely positioned orbital settings allow the user more curve cuts flexibility, and the changeable speed control helps cut fast or slow according to user preferences.
This jigsaw has a keyless metal shoe bevel with a variety of detents ranging from 0, 15, 30, and 45 degrees. There is also an anti-slip comfort handle for users' comfort. The keyless blade model also assures that you can change the blades easily.
Pros:
All-metal lever-action keyless blade;
Four-position orbital action;
Adjustable dust blower;
An LED light on the battery meter;
Anti-slip comfort grip.
Cons:
This jigsaw only uses T-shank blades;
This tool comes without a battery and charger.
---
Makita 4329K Top Handle Woodworking Jig Saw
Weight: 4.18 pounds;
Speed varies from 500-3,100 SPM;
Stroke length: 11/16-inches;
Motor capacity: 3.9 amp.
The Makita 4329K holds the second top position because of its positive review from users. This variable-speed top-handle jigsaw mixes a powerful 3.9 amp motor with three orbital settings. With this setting, a variety of straight cuts can be possible within a minute.
The saw motor is dynamically balanced for less tool vibration by up to 40 percent and less sound than other jigsaws in the market.
A die-cast aluminum base adjusts right or left up to 45 degrees and positive stops at 90 degrees for reliable cutting completion. It has an 11/16-inch stroke length with a wood cutting capacity of 2-9/16 inches and a steel cutting capacity of 1/4 inches at 90 degrees angle. 
The rubberized grip and large trigger with a lock-on button switch give more control and comfort to you. You can cut a variety of stuff with different speed settings from 500 to 3100 SPM.
To keep in mind dust, this jigsaw has an excellent dust management system using a clear dust cover and vacuum. The counterweight balancing system reduces vibration to enhance the user experience.  
Pros:
Lock-on button for extended operation;
Straight cut in a variety of materials;
Counterweight balancing system;
Three orbital settings; 
Rubberized grip ensures extra comfort;
Variable speed control;
Lightweight tool easy to carry;
Reasonable price afforded by all sector users.
Cons:
Doesn't have any laser light option;
The dust blower is not adjustable.
---
BOSCH JS470E  Power Tools Jig Saws 
Weight: 10 pounds;
Speed varies: up to 3,100 SPM;
Motor capacity: 7 amp;
Cutting capacity: 5 to 8 inches;
4 orbital-action settings.
Bosch is one of the famous brands in the wood industry. Their product is used in various industrial work. When it is the fact of the jigsaw they also place. BOSCH JS470E jigsaw is a perfect combination of a good quality tool. No matter your experience this tool plays high duty. 
 The jigsaw would still be a reliable companion for woodworking in your workshop. It has a sturdy 7 amp motor that can go 500 to 3,100 strokes per minute (SPM). Even with such speeds, it allows its users to get more commands on the tool. 
The jigsaw comes with a four-position orbital cut control and a variable speed trigger to help creative minds work. Also, the speed trigger lock system is intended to keep the blade's velocity within the desired limits.
It comes with a low-vibration design that ensures easy and accurate cutting smoothly. Cutting capacity is 5 to 8 inches on Wood. The jigsaw can also do this in reverse directions, which is even more impressive.
Pros:
Low Vibration mode;
Powerful 7 Amp motor for heavy-duty;
4-speed orbital action system;
 Adjustable dust blower included with this device;
Easy blade changing process;
Includes the blade, anti-splinter insert, plastic overshoe, bevel wrench, and carrying case.
Cons:
Some user claims that this tool creates issues with square cutting;
Expensive tools are not affordable for all. 
---
Black+Decker BDEJS600C Smart Select Jig Saw
Weight: 4.6 pounds;
Speed varies: up to 3,000 SPM;
Compatible blades: U-shank or T-shank;
Motor capacity: 5 amp;
Stroke Lenght: 3/4 Inch.
If you need a smooth and versatile jigsaw for custom cuts, then Black+Decker BDEJS600C smart select jigsaw is easily the best jigsaw for the money with some fantastic features. 
It has a 5 amp variable speed motor that delivers up to 3000 SPM of cutting energy. The significant part of this jigsaw is that the curve control technology allows the user to adjust the saw's orbit in 4 customized settings. The trigger-operated variable speed makes the jigsaw so much easier to control for woodworking.
The double-rotating flexible and adjustable shoe allows you to make 45-degree bevel cuts in both directions for stability. So that sturdy metal base keeps the saw firmly planted down into thick wood to avoid a sloppy cut.
 Another useful feature we want to mention is the blade release lever lifting down. Easy removable and changeable blades save a whole lot of time in the workshop. The new and improved front wire guard helps reduce the chances of bumping, but it is more useful for aiming your cuts. The built-in dust blower manages dirt at working time.
Pros:
The Bevel shoe allows the angel to cut in both directions;
Keyless blade clamp for tool-free blade change;
Can cut a variety of materials;
Dust blower to clear path;
New and improved wire guard;
Reasonable price device;
A two-year limited warranty was added.
Cons:
Can't lock the trigger at prolonged speeds;
Comes with one blade. 
---
Porter-Cable PCE345 Orbital Jig Saw for Woodworking
Weight: 6 pounds;
Speed: up to 3200 SPM;
Stroke length: 13/16 inches;
Motor capacity: 6 AMP;
Operation: Corded.
If you are searching for a powerful, well-designed corded jigsaw then Porter Cable PCE345 can be purchased at an affordable price. This potent tool is one of the best options when facing difficulties in cutting thick wood.
This jigsaw is powered by a 6 amp motor capable of producing a no-load speed of up to 3,200 SPM. To get an optimal cutting result in a multiple-speed setting with seven different positions, this jigsaw is a masterpiece.
It is coupled with 4 orbital settings that allow you to cut any material. This powerful jigsaw accommodates large, grips on the front and top handles and an easy lock-on button, which reduces user fatigue.
To speed up work, it has a tool-free blade-changing system. Simply raise the old blade out and snap a new one to get back to work.
Pros:
Very speedy up to 3,200 SPM;
Strong 6-amp motor;
4 orbital setting adjustments;
Variable speed setting;
Bottom lock system;
Keyless blade change clamp for east and fast blade replacements;
Affordable price range.
Cons:
No dust port to manage dust;
The trigger isn't variable.
---
6. Goplus Jigsaw with Laser & LED
Weight: 6.5 pounds;
Speed varies by 3,000 SPM;
Stroke length: 7/8 inches;
Bevel range: 45 degrees;
Cutting capacity: 3.15 inches.
Another affordable jigsaw we want to mention is the Goplus Jigsaw  Tacklife comes with some smart features including Laser & LED, a pure copper motor, and a carrying case. Anyone can use it comfortably, especially professional users who can take advantage of multiple functions.
The motor can continuously rotate up to 3000 SPM, which offers a 5-variable speed control to make a quick, accurate adjustment for cutting various materials such as plastic, steel plate, stainless steel, aluminum, or wood. But woodworking projects are especially suitable for it. 
The motor also produces less heat to ensure the longevity of the product. Again, the four-position orbital action allows you to cut different cutting needs. 
Additionally, the blade allows making bevel cuts in both directions up to 45 degrees angle. The front air outlet blows dust to prevent chip splatter and makes cutting safer, and the rear air outlet adsorbs debris to enhance cutting performance.
Pros:
Make straight cuts with rip fence metal guide;
Laser & LED light switch in 4 model lines;
Bevel angle adjustment;
Come with 6 blades;
Lightweight easy to move and carry;
Easy use methods;
Reasonable price with smart features and quality. 
Anti-skip ergonomic handle.
Cons:
No noticeable negative issues are claimed by users yet.
---
7.  Ryobi One+ P523 Cordless Jig Saw
Weight: 4.9 pounds;
Speed:  3,000 SPM;
Blade:  "T" shape blade;
Materials: High-carbon steel
Operation: Cordless 18v battery.
Ryobi is also a popular brand. Most of the products of this brand this good quality. Ryobione+ p523 wireless jigsaw is known for its smart and efficient performance for cutting hardwood and plywood and its soft and ergonomic handle grip. You can work longer without any fatigue and getting tired of this lightweight jigsaw. Led light is added with this device so you can cut smooth plain lines easily. 
4 orbital settings are included with a tool. These higher settings are ideal for making straight cuts into lumber. A built-in dust blower is another feature of the device. it ensures a clean hassle-free workplace. 
A trigger lock system is an exclusive feature. It helps to pull the trigger and press on the button side until the locking system is active. 
Another great facility is its battery is compatible with all Lithium-Ion batteries, so finding the power you need is easy enough. Less weight and 3x the total battery life of traditional NiCd batteries enhance the saw's longevity.
A tool-free blade changing system allows for quick replacements and a soft-grip handle for improved comfort and less fatigue. To facilitate user visibility, it has an LED light, and three modes of orbital action allow the cutting of different materials.
Pros:
45 Degree cutting angle;
Built-in LED light;
Tool-less blade changing system;
Soft grip handle;
Build-in dust collector;
Compatible with other batteries.
Cons:
The battery is not included with the buying;
Only "T" shape blade work;
---
8. Bosch JS470E Corded Top-Handle Jigsaw
Weight: 10.1 lbs;
Speed varies from 500-3,100 SPM;
Motor capacity: 7 amp;
Cutting capability: 5-7/8 inches;
Bevel cuts at 45 degrees.
Bosch JS470E is the best jigsaw built by Bosch for people who appreciate high quality and maximum professionalism in woodwork. Most professionals and DIY contractors want this tool for its industrial style within a budget price.
The powerful 7.0 AMP motor delivers no-load SMP ranges from 500 to 3100 and has up to 60 hertz for a precise cutting result. It can cut different materials in various depths in wood it cut up to 7/8 inches, on aluminum max 7/8-inch, and in mild steel 3/8-inch. The highest bevel cut angle is 45 degrees. 
Besides, you can adjust between four different orbital-action settings to find the right blade strokes for smooth to aggressive cuts. A toolless blade changing system saves lots of time, and the ambidextrous lock-on button with a sturdy die-cast foot avoids accidents. 
Pros:
Easy to replace the t-shank blades;
Suitable for professional use;
A powerful 7 Amp motor;
Excellent quality and low vibration;
Anti-splinter insert help work smoothly;
Variable speed depends on the amount of trigger pressure.
Cons:
It doesn't fit with U-shank blades;
It does not come with LED Lights;
The price is a little higher than the similar models.
---
9. Milwaukee 6268-21 Top-Handle Jig Saw
Weight: 6.4 lbs;
Speed: 0 to 3000 SPM;
Stroke length: 1 inch;
Motor capacity: 6.5 amp;
Blade: T-shank.
This Milwaukee 6268-21 Jigsaw opens up with a wide range of applications. It is powered by a 6.5 amp motor, a 1-inch stroke with 3000 SPM, four-position orbital cutting action, and tachometer feedback that gets the job done fast even in the hardest materials. 
The saw has an LED light to improve sightlines' visibility and an accuracy roller blade guide that produces the most accurate cuts of any shape. A cushion grip handle and balanced counter mechanism for low vibration provide optimal user comfort.
The Quik-lok™ blade clamp, keyless shoe adjustment of up to 45° in both directions, and extra-long 12 ft cord provide ultimate freedom.
Pros:
LED light for improved sightline;
Orbital action with 4 adjustment levels;
Quik-lok™ blade change system;
Keyless shoe adjustment – 45°;
Cushion grip for superior gripping and control.
Cons:
It doesn't have a tight locking miter;
Sometimes shoe slips at 15-30 degrees.
---
10. Ryobi ZRJS481LG Variable-Speed Jigsaw
Weight: 5.59 pounds;
Bevel adjustment: 45 degrees left and right;
Motor capacity: 4.8 amp;
4 position speed.
Ryobi ZRJS481LG has a potent 4.8 amp motor with excellent cutting ability, which delivers a straight and curved line within a minute. The comfortable grip and perfect positioning of the trigger make it popular among users.
Also, a high-intensity LED light on every work surface and a powerful built-in dust blower give maximum accuracy. Variable speed dial and four-position orbital action further sharpen its accurate cutting capabilities.
We think this jigsaw is best for woodworkers and craftsmen, but poorly suited to heavy-duty construction jobs.
Pros:
Super bright LED light;
Extra powerful dust blower;
Lightweight tool easy to manage and move;
Variable speed and orbital settings;
Tool-free blade clamp for fast changes;
Comfortable grip design.
Cons:
It doesn't come with a tube for dust collection;
Not suitable for hard materials.
---
Frequently Asked Questions 
What Is the Best Jigsaw for Cutting Wood?
With its interesting barrel-hold plan, this BOSCH jigsaw is exact, controllable, and extraordinary for cutting wood and delicate metal. The jigsaw utilizes an advantageous apparatus less cutting-edge change framework and a strong, seven-amp engine to convey exact cuts effortlessly.
What Is the Difference Between an Orbital Jigsaw and a Standard Jigsaw?
A standard activity jigsaw moves the edge of the jigs exclusively in an all-over movement, while in an orbital-activity jigsaw the edge moves slightly forward and into the augmentation workpiece, then, at that point, a slightly reverse cut on the downstroke for the following strokes.
Conclusion
From the above discussion now, you can understand which jigsaw will be best suited for woodworking. Before choosing a model, consider the frequency of use and the materials to be cut. Based on overall facilities and advantages Dewalt DCS331B 20V Max is a good selection. If you have budget issues then you can buy a Porter-Cable PCE345 jigsaw. This jigsaw is a budget-friendly tool for all-level users. 
Jigsaw is an essential element t of the woodwork. It's a huge mistake in work if any user picks the wrong jigsaw for their projects. We just try to solve these issues. Some users like to use a corded jigsaw and some like a cordless jigsaw. If you are a corded jigsaw lover, find out the best jigsaw according to present trends. Some users use a DIY jigsaw for their die work. Don't worry we also try to help you to find out the DIY jigsaw.  
We think of these reviews not only as a set of particular recommendations but also as a guide to making better-informed decisions. Through this review article, we are trying to save you time. Hope that this will help you to find the right one. Hope for the best. 
Related Posts: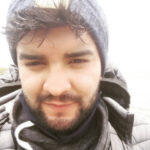 Hi, I am Eric Devin and I am a professional interior architect. Since childhood, I've always enjoyed DIY projects! And, I have loved to solve simple household problems using essential tools and equipment. I have also acquired a lot of information about basic household tools settings by working with contractors.