Maybe you already own a long ladder in the house, and you think it's usable for painting too. But to use a ladder for painting should meet some criteria as painting jobs need a long time to get done and involve sanding, priming, painting, and sometimes varnishing too. This takes time and multiple efforts to be flawless. The user also needs to stand on the ladder for hours in one position. 
For these reasons, it is best to get a comfortable ladder to use for a long time, safe to stand on a high reach area, durable enough to take heavy loads, and vice versa. Is your ladder capable of providing all these? If not, you need a ladder that is useful for painting, especially. Yes, you can also use it for almost any other job that needs stepping on a long ladder. 
But for now, we will only focus on those ladders that homeowners, professionals, and beginners can use for painting walls, roofs, or any other parts of their house or any other establishment.
How to Select Ladders for Easy Painting
Ladders used by professionals for house painting may not be convenient or budget-friendly for DIYers. So, there are some issues one needs to consider before selecting a ladder that is good to use for painting. Mostly, commoners prefer multipurpose ladders whilst professionals prefer purpose-specific ladders. So, let's see how to get a ladder of your preference. 
Ladder Height
Ladders of 12 to 15 ft long are enough to paint the exterior of a one-story house. For a two-story house, the ladder has to be up to 28 to 34 ft long. There is a rule for selecting ladder height.  For every 4 ft up in height, you move the ladder out 1 ft. so, the ladder would be longer than the building as it will be placed leaning on the walls. 
Weight Capacity
The weight of the user, along with the tools and accessories, should be counted before choosing the ladder. It helps to determine which ladder will be best to carry the weight. Do not go for ladders with unnecessarily high load capacity. Because the high weight capacity ladders weigh more. 
Portability
The compact size for storage and the weight of the ladder determines its portability. We do not want to buy a ladder to paint the house once a year that can not be kept hidden or stored properly. Portability is more important for professionals as their job requires them to carry the ladder in different job sites. Does the ladder fit in the truck, or does it need to be mounted on the roof? Find answers to these questions before getting the ladder. 
Material and Safety Mechanism
Is the material rustproof and durable? Is it lightweight too? What is the safety mechanism of the ladder? Is it non-conductive? How to lock the ladder? Is the lock safe? Are the feet of the ladder non-slip and non-skid? These are the issues that finally determine if you should say yes to the ladder or not. 
Ladders Those Are Convenient for Painting
There are many ladders of different features, quality, and price ranges convenient for painting. But may not all of those seem convenient to you. 
We prepared our list of ladders that are great to use for painting with items of different features, length, and price range so that no one will have a tough time finding one that suits him/her.
1. Little Giant Flip-N-Lite Ladders for Easy Painting (15270-001)
Click on the Image to >> View on Amazon
300 lbs load capacity;
The ladder weighs 14 LBS;
Folded size: 4 ft 3 inch x 1 ft 7 inch x 4 inch;
Open size: 6 ft 3 inch x 1 ft 9 inch x 5.25 inches.
Painting indoor and outdoor requires a lightweight ladder as the job involves climbing up and down the ladder and repositioning it over and over again. When the ladder is easy to flip and carry to a new position, spreading paint over a surface does not seem a big deal anymore.
This flip-n-lite from Little Giant is that kind of ladder that makes working for a long time on a higher position less of a chore. Its aluminum body weighs merely 12-14 pounds yet is highly durable to hold loads up to 330 pounds. 
Moreover, the design is thoughtful too! All the steps are wide, and the top platform has a spacious dimension of 13 " X 13″ inches. This platform reaches 3′ 7″ from the ground. So, anyone with 5 ft height can reach up to 8.5 ft while riding on this ladder. There is a built-in tool tray on the top of the ladder. It helps to keep a paintbrush, paint pot, and other tools at arms reach while working.
There are three sizes for this ladder: 4 ft, 5 ft, and 6 ft. 6 ft ladder is the best for painting; others are good for general chores. Whoever is looking for a comfortable ladder for painting at a reasonable price, I totally recommend this. 
Pros
Wide steps;
Board platform;
Built-in tray for tools and accessories;
Lightweight and durable.
Cons
---
2. Louisville Ladder-Fiberglass Ladder for Painting 2 Story House
Click on the Image to >> View on Amazon
Size: 16 ft, 20 ft, 24 ft, 28 ft, 32 ft, 36 ft and 40 ft available;
300-Pound capacity;
30 pounds ladder weight.
Need to paint the outer walls of a duplex or triplex home or office? Louisville Ladder has telescopic ladders ranging from 16 ft to 40 ft for that purpose. Painting or doing electrical works for two-story to three-story establishments will become easy when those ladders are used.
As the ladders are very long, fiberglass has been used to make it even more durable compared to aluminum ladders. But this makes the ladders a bit heavy too. Handling one ladder may need assistance. 
However, the folding size of the ladder is 8 ft x 7.25 inches. The ladder has a simple rope and pulley system for folding and unfolding. The feet have swivel shoes so that the ladder stands safely no matter how smooth or bumpy the surface is. Likewise, the top of the ladder has no-mar rail ends. That is why the ladder lasts for edges. For professional painting or any other construction or electrical works, this ladder is the safest. 
Pros
Different size for painting 2, 3, and 4 story house;
Non-conductive material;
Swivel shoes for use on any surfaces.
Cons
---
3. Cosco Three Step Folding Ladder for DIY Indoor Painting
Click on the Image to >> View on Amazon
Open size 27.95 x 17.72 x 45.59 inches;
200-pound capacity;
Ladder weighs 13 pounds.
This one is a three-step folding ladder that can be used for DIY rental apartments painting or painting a one-story house indoor and outdoors. The major benefit of this ladder is, it is super space-saving and portable. You can literally fold it and throw it under the bed or behind the sofa.
This ladder is multipurpose as well. Use it for cleaning or reaching the top kitchen shelf or for painting your favorite accent wall by yourself. The platforms are so spacious and texture that even the amateurs will feel comfortable on it during room painting. Moreover, the rubber grip handle on top gives it an even more secure feeling. 
There are other two-step models for this ladder on the site as well, but those are not specifically for painting. We have a separate list for folding ladders, where we have only discussed multipurpose ladders. Other than that, this ladder is an affordable solution for DIY painting projects.
Pros
Easy to store and carry;
Safe and comfortable to use;
Multipurpose;
Inexpensive.
Cons
---
4. Louisville Ladder with Paint Bucket Holder, AS2104
Click on the Image to >> View on Amazon
Minimum reach: 9 ft 5 inches;
250 pounds load capacity;
grooved steps for secure steps.
Need a reliable ladder for indoor painting? Apart from painting, this ladder is widely used for electrical, utility, heavy construction, and residential jobs as well. Thanks to the top shelf that is made of durable non-conductive material.
There are separate slots on that tray for storing paint buckets, brush, magnet, bolts, hammer, and many more. So, this ladder will not be a burden after using it for painting. Rather, you will find it more useful for doing other jobs around the house, including cleaning and repairing. 
The maximum reach for this 4 ft ladder is 9 ft 5 inches for a person over 5 ft. The top platforms are grooved to have a secure hold on it while using the ladder. For a complete paint job in and out of the house or rental apartment, this ladder gives the professional level comfort without costing a fortune. 
Pros
Top tray for keeping tools at arms reach;
Multipurpose use;
Budget-friendly;
Light, Lightweight and sturdy.
Cons
---
5. Xtend & Climb Ladder for Painters to Reach Two-Story Building, Black
Click on the Image to >> View on Amazon
Open height: 16. 5 feet, storage size: 38.5 x 19.75 x 4.5 inches;
Weights 40 lbs, 20 ft maximum reach; 
Weight capacity: 250 pounds.
Safety is the first and foremost matter for anyone, especially those who earn their bread by doing risky jobs. This ladder will never collapse in the middle of the jobs. It is designed so thoughtfully that it takes time to get used to this ladder's opening, locking, and closure system. 
Yet, this ladder is made from airplane grade material and uses aerospace engineering that is super light but very much durable compared to its competitors. The ladder closes to only 38 inches from 17 ft length. That size is compact enough to dump the ladder in the car trunk after use. The integrated handle and closure strap make it even easier to carry around. 
The opening and locking of the ladder will not cause any pinch. The angled positioned thumb release also helps to hold the ladder in place properly. There is nothing one can complain about this ladder except the price. If you ask me for a professional contractor or painter, the price is totally worth it. 
Pros
Suitable for professional painters, contractors, and roofers;
Durable airplane grade material used;
Small storage dimension;
Very safe to use.
Cons
Takes time to get used to the safety locks;
Very expensive.
---
6. Ohuhu One-Button Retraction Telescopic Ladder for DIY Painting
Click on the Image to >> View on Amazon
12.5 ft maximum height, 2.9 ft collapsed height;
25.3 pounds ladder weight, 330 pounds weight capacity.
Long telescopic ladders are hard to control, but not this one. By pressing just one button, this ladder descends gradually and slowly. So that the user doesn't pinch their finger in it. The descending can be controlled with another button to choose not to open the ladder to its full height. The height is 12 ft, but it surprisingly collapses to 3 ft only! No need to mount it on the can roof; it can be placed on the back seat to take somewhere. 
The ladder is sturdy, durable, and provides a high load capacity. For the aluminum alloy material, the ladder itself weighs only 11 kg. For painting a one-story house up to its roof, this ladder is an amazing option to choose; the ladder end has a non-slip can so that it stays put on the place where it is placed.
Ladder steps are wide enough to have room for both feet but not spacious enough for comfortable stepping. I totally recommend this for DIY painting or graffiti or the house's outer walls, but not for professional use.  
Pros
Easy and controlled retraction;
Collapsed to a small compact size;
Lightweight.
Cons
Not spacious enough for professional use.
---
Conclusion
So we are at the end of this list of useful ladders to use for painting one-story and two-story houses. Hopefully, we already know what to look for in a ladder now if used for painting and which one is currently the best for you. 
No matter which ladder you use for painting a wall, always check the ladder carefully before actually stepping on it. If it locks safely, if the ground is safe to place a ladder, if the ladder is properly angled, are you carrying too much load on it? 
By no means, you should use the ladder for painting or any other job if all those issues are not sorted out. Remember to use the right ladder for the right job in the right way.
Related Posts: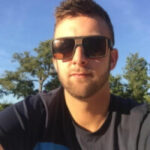 Hello, I am David Rowan. I am a professional contractor with 10 years of experience in home building, different tools used, construction, home remodeling, and other home improvement work. I have already built many custom homes and continued to do several woodworking projects along with how to deal with all categories of tools.