A Pole pruning saw is a must-have for people who live in the countryside or have an orchard or farm of their own. It has also become a need for tenants to overcome awkward situations like interrupted electricity due to overgrown branches and so on. No matter if you are a homeowner or a professional pruner, an efficient pole pruning saw or tree pruner is a part of your life to make tree trimming easier. 
There are a lot of aspects of using a pole pruning saw. In this list of pole pruning saws, we have tried to list out the best quality pruning saw one needs based on their purpose, operating technique preference, ease of use, functionality, and budget. All you have to do is determine the type of pole you are looking for and skim our list to get it from here.
How to Choose a Pruning Saw for Your Needs
Cutting a diseased branch, cutting a branch to free up electric lines, pruning to make trees more symmetrical, or enhancing the growth of fruit trees picking nuts, plums, and dates from high branches and many other issues may lead one to use a pole pruning saw. No matter which one your purpose is, you should get the right saw to do the right job. Otherwise, you may end up investing in one saw that you can't use when it is needed most. 
Height
Some pole saws reach up to 13 ft, and some are able to reach up to 24 ft. if you don't need an unnecessarily long pole saw, then you should not invest in it. Because there is a weight and durability ratio when it comes to pole pruning saw that affects the effectiveness of this tool. 
So, if the trees around your land are not higher than 15 ft, you should take the 13 ft saw. There are different forms of pole saw that can be extended when necessary. But the peak height should match your needs. 
Weight
The longer the saw, the heavier it is. Needless to mention, the heavier pole saw causes more fatigue than the lighter one. In this regard, poles that are detachable are more effective. You don't have to carry an unwanted heavyweight and you also don't need to compromise with quality. Another good option is to choose a pole saw that is not unnecessarily long. 
Sturdiness
All the saw blades are quite the same for pruning, but the pole comes in a variety of qualities. Always go for the durable ones, because those last. Fiberglass and stainless steel poles are more high-quality ones over aluminum and plastic ones. 
Pruning Blade/Pruning Saw
Some poles come with both of these cutting options, and some only have one. With a pruning saw you can do pruning on hard and thick branches and limbs, but for softer and thinner vines, a pruning blade is more effective. Pruning blades work better when you are cutting the branch for more growth on fruits and so on. 
Chain Drive/ Trigger Drive/Manual
The operating system of the pole saw is a matter of preference. It also affects the cutting ability, but if you are not used to the most powerful operating system, that will also affect the cutting performance as well. So, pay attention to the cutting techniques of the pole saw you decided to use. If it suits you, then go for it. 
Telescopic or Detachable Pole
Telescopic poles are easier to change length whereas the detachable poles are lighter in hand. For long-term use on trees of similar height, detachable pole pruning saws are suitable. For doing occasional pruning on a small number of trees within a short period of time, there is no competitor for the telescopic saw. 
Additional Elements
Everybody loves having a couple of additional elements to make things somewhat more straightforward.
At least, you'll need a pole saw with an extendable shaft, and trimmers assuming it's a manual rendition, and that is basically it.
It can incorporate things like programmed chain lube instruments, well-being switches, flexible saw bar points, ergonomic holds, and removable shafts, from there, the sky is the limit.
These deal with explicit benefits that can work on the exactness, well-being, and simplicity of your tree management and pruning.
Length
These saws will have an extended manual pole that will help you reach upwards on trees and branches. There are numerous methods to really expand the pole. 
It can be pieces that protrude from each other or through parts that interface with the creation of more drawn shafts.
All things considered, it's fundamental that you go for a model with offers a length that will permit you easily arrive at where you want to.
Quick Solutions
Can Heavy Pruning Kill a Tree?
Although over-pruned trees and shrubs don't usually die if some of the covers remain, the damage from over-pruning is often extensive. So, although pruning might not kill your plant directly, over-pruned trees and shrubs can die as an extended-term result of the associated stress.
What is the Difference Between Tree Trimming and Pruning?
Pruning is employed to get rid of unnecessary branches. Trimming, on the opposite hand, promotes healthy growth. Both services are executed at separate times of the year, using vastly different kit pieces to supply a far better aesthetic and more restorative landscape.
View Top 9 Pole Pruning Saws, Below
If you are still not sure about what kind of pole pruning saw you are looking for, read ahead of the 'how to choose a saw based on your purpose' before. Below given reviews should help you to get some idea about it.
1. DocaPole Double-Duty Pole Pruning Saw
Multifunctional 6-24 ft long pole;
Weight: 7.63 Pounds;
2X thickness and strength;
13-inch bi-directional saw blade.
A lot of homeowners lack interest in investing in a pruning saw because they rarely use it. But only a few know that the attached pole of the pruning saw is a handy tool not just for trimming small branches and vines here and there, but also for a variety of uses. 
For example, the pole you get with this Docapole is a great accessory to make cleaning windows, changing bulbs, cleaning ceilings and the list goes on. There are a lot of attachments like mittens, dusters, fruit pickers, etc available to do these tasks easily. 
Now, for the pruning saw, you will get a bi-directional 13-tooth saw blade. It is detachable so you can use this blade as a pruning saw with the pole or a manual saw without the pole. 
This tree pruning saw can be used to cut branches of 1 to 2 inches in diameter. The pole is somewhat fragile, so applying pressure while using the saw may cause damage to the pole. 
Pros
Lightweight;
Suitable for small branch pruning;
A saw blade can be used for high or low pruning;
Lightweight, high-quality aluminum;
Comfortable use.
Cons
2. Fiskars Power-Lever Extendable Tree Pruner
15-inch WoodZig saw blade;
Power-Lever technology for enhanced cutting capacity;
1-1/2 inch diameter cutting capacity.
This 14-ft pruning saw is ideal for serious and effective pruning of large and thick branches. Though the advertisement claims that the cutting capacity is limited to 1.5 inches, I find this saw is well effective to cut down branches and limbs as thick as 4-inch diameter. The pole is made of fiberglass and is probably the most durable one you can get for the money. 
There is an equally high-quality blade attached to the pole. It is a long 15-inch low-friction coated blade. The blade won't develop rust or get messed up with sap and debris during the job. In fact, the blade stays intact for years if you know how to take proper care of it. 
Fiskars is very good at making great tools and they really are concerned for their products and customers. On their website, you will get valuable tips on how to maintain gardening tools to make them last longer, how and when to use which tools, and so on. The best advantage of this saw from Fiskars is, it is backed by a lifetime warranty. 
Pros
High-quality blade;
Durable pole;
Promising Lifetime warranty.
Cons
3. HAYAUCHI Pruner Pole Saw with Long Tree Pruner Extendable
Extends from 18 feet;
The shortened length of the pole is 52 inches;
Power Source: battery-powered, manual;
Aluminum alloy material;
6.19 pounds weight.
No matter how easy it seems in photos and video, pruning trees with a pruning saw is never easy. The most difficult part is to control the saw when it is way out of reach. 
The HUNKENR manual pole is an ideal garden tool for high-altitude expansion and manual pruning. You can have better control over your saw blade, even if it is 18 ft away from you. It has the great advantage of determining the direction of the saw blade so that you always know that you are using it in the right direction. 
The saw blade has impressive 2 parts of blades that can cut the toughest wood like a hot knife on butter. This saw is somewhat pricey, but to trim long trees, there is hardly any better option available online compared to this Saw from Silky. Considering the quality, this one is worth every penny!
Pros
Ergonomic design;
Soft PVC rubber handle;
Non-slip and breathable;
Comfortable grip;
Suitable for tough pruning.
Cons
4. Samurai Ichiban 13″ Curved Saw with Scabbard for Pruning
13″ blade;
Includes rubber cushioned handle and sheath.
For those who are not comfortable with pruning poles, this Samurai pruning saw can be your next best friend when it comes to cutting limbs and branches. This saw is entirely made in Japan and the quality is beyond questionable. The saw is equipped with a 13-inch blade with a 4 mm tooth pitch. The tooth of the blade is tapered to eliminate binding during pruning. 
Moreover, the rubber handle has finger grooves. The design is specially made to make the saw non-slip and avoid injuries. However, it comes with a heavy-duty sheath to cover and store the blade safely after use. You can not use this saw with a pole, but the saw is heavy-duty to make large-capacity cutting and pruning on hardwoods. 
Pros
Cuts fast and precise;
Comfortable handle;
Heavy-duty blade;
High-quality sheath included.
Cons
5. Mesoga 2 in-1 Long Reach Pole Saw
5.6-13 feet extendable pole;
saw blade length 12 inches;
1/2 inch cutting capacity.
This pole saw offers two cutting options. One is a pruning blade and the other is a 12-inch pruning saw. Both are made of high-quality and durable materials. The pruning blade is capable of cutting half-inch branches whereas the saw is able to trim thicker limbs. This pole saw offers both of these options; you can replace either of these or use them both at the same time. 
Along with all the attachments, this telescoping pole weighs merely 3.8 pounds. You will barely feel fatigued while operating this pole saw. The advantage of using modern extendable pole saws is, they are rope-free, chain-free, and portable. It gets less tangled with the branches and makes the job simply easier. As this design requires both hands to operate, you will have better control of your pruning jobs. 
Pros
Easy to use;
Telescopic pole;
Two cutting options. 
Cons
Limited cutting capacity.
6. Fiskars Chain Drive Extendable Pole Saw & Pruner
Full length: 7 ft to 16 ft;
Chain-drive design;
Blade Length 15 Inches;
Power Source: hand-powered;
Weight: 5.95 pounds;
Pruner blade and saw included.
We have listed another pruning saw from Fiskars in this list. That one had a power-lever design, and this one has a chain drive design. I can't say which one is better, it's because some just prefer using a chain drive over a power lever and vice versa. However, this chain-drive pole saw is a two-in-one saw that comes with a pruning blade and a hooked pruning saw. I love Fiskers gardening tools because they pay attention to the tiny little details. 
This pruning saw has an over-shaped pole that can be extended up to 16 ft! It has a dual lock mechanism to make it secure on the job. The saw it is equipped with is a 15-inch hook saw to make cutting thicker branches faster and easier. Chain drive really makes this pruning saw more powerful than other trigger-driven designs. 
Pros
Two in one pole saw;
Powerful chain-drive mechanism;
Secured lock;
Lightweight.
Cons
7. Jameson Landscaper Pole Saw Kit
16-inch Barracuda Tri-cut saw blade;
Includes a 6-foot base pole, a 6-foot extension pole, and a 6-foot extension pole with saw head.
So far, this one is the lightest saw design for tree pruning. There are three separate poles to make cutting branches at 6, 12, and 18 ft accordingly. Don't mistake it as a telescopic pole. Using this pole saw kit is easier than using an extendable pruning pole saw. The main advantage is, you don't have to carry all the weight of the pole. Rather, you can separate this 18 ft long pole into three 6 ft pieces. For the lowest height, you only have to carry 1 pound of weight from the saw. 
There are also disadvantages as well. It is more of a primitive pruning saw. There is no way to lock or pull any chain or trigger to make a fast cut. There is only a long pruning saw attached to the end of the pole to make a variety of pruning on different size branches. 
Pros
Affordable;
Lightweight design;
Separate poles for a variety of height use.
Cons
8. Notch Pole Pruning Saw Set
15″ blade;
Three 6 ft fiberglass poles;
Hook included on the saw head.
Altogether the three poles along with the pruning saw this set weigh more than 8 pounds. The weight is a bit higher than other pruning saws with poles, but one should accept this added weight because of the durable construction of the poles. All of these are made of high-quality fiberglass and come with an interlocking design. 
The saw blade is a 15-inch long blade. The teeth are set as a pull-cutting design. There is a hook attached to this saw head to make cut-out limbs hooking and pulling easier. Overall, this set has all the bells and whistles to make pruning on trees of different heights easier. For sturdiness, this pole pruning saw is a must-have for regular tree pruning. 
Pros
Sturdy poles;
Simple and basic design;
Interlocking extendable pole.
Cons
9. Jameson Landscaper Pole Saw Kit with 3 Poles
Low profile saw head;
16-inch Barracuda Tri-cut saw blade.
This set of pole and pruning saw pays off its price very well. Better said, it even lasts longer than more expensive and fancy pruning pole saws on the market. It comes with three attachable poles and a pruning saw. It gets up to 18 ft long when all three poles are attached to one another. 
The saw blade is a low-profile one that puts just the right amount of pressure on branches that you need for a pruning saw. Besides, the blade material is so amazing that it does not bind up with sap and sawdust. As with all other pruning saws, this one also has a hook so that you can pull off the hanging limbs after cutting them off. 
Pros
Easy assembly;
Low profile saw for effective cutting;
High cutting capacity;
high-quality blade material eliminates binding.
Cons
How to Maintain a Pruning Saw
If not maintained properly, even the best quality pruning saw may give out early. It will leave a negative experience on you about using one. Besides, you may need to spend more on the same tool or hire a handyman to do simple pruning throughout the year. However, there are some simple tips that anyone can follow. It will help to make the saw last longer but better for years to come. 
Wash the pruning blade and saw with lukewarm water and soap;
Pat the tools dry with a cotton cloth;
Use rubbing alcohol to disinfect the saw and blade. It prevents the spreading of diseases among trees. 
Wait for the tools to fully air dry;
Coat a thin layer of oil on the blade before storing them. 
Keep it in a toolbox to avoid dust and friction with other tools.
Conclusion 
I suppose you don't intend to spend on a pruning saw or pole saw every year, even if it is a compulsory item to make your life get going. So, I request you to pay attention while choosing your pole saw and look for the details I have described earlier. 
Moreover, it is important to take proper maintenance before and after using a pole saw. The way you care for your tools, the more they will pay off. Make sure to use adequate protective gear while using one to avoid injuries and unfavorable circumstances.
You Might Also Like: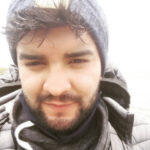 Hi, I am Eric Devin and I am a professional interior architect. Since childhood, I've always enjoyed DIY projects! And, I have loved to solve simple household problems using essential tools and equipment. I have also acquired a lot of information about basic household tools settings by working with contractors.