Published on: April 11, 2022
Written by David Rowan / Fact-checked by Eric Devin
This article may contain affiliate links, which means if you make a purchase following our links won't cost you extra, but we may earn a commission. Learn more
Lacquer is probably the most convenient form of paint nowadays. Rattles cans of lacquer are the cheapest way to apply it but only works fine for school crafting projects. For the more matured level application of lacquer on walls, cabinets, plastic, or any other surface from medium to a large level, a spray gun is a must.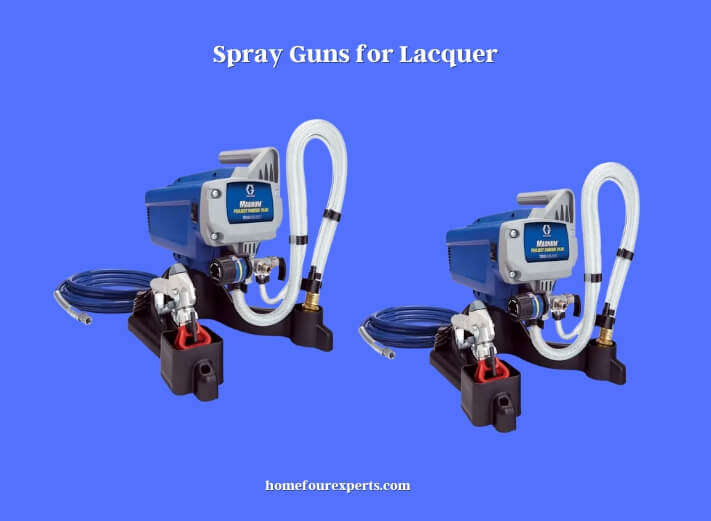 Thankfully, spray guns of awesome features and adjustments are available in the local and online stores to apply lacquer in different patterns, volume, and thickness. Here is a small list of popular and widely used spray guns that are proven to be best for applying lacquer. Some prefer applying primer before painting and some projects require multiple coats of paints. All the issues are discussed in the adjacent product description for better understanding. 
Which One to Select for Lacquer? HVLP or Airless? 
You must have noticed that spray guns for lacquer can be categorized as HVLP and airless guns. There are some basic differences between the two spray systems which are discussed here. This should help you decide which one is better for your projects. 
Airless Spray Gun
Airless guns are great for large projects or covering a large surface with thick paint. It has a large overspray and the flow can not be controlled as an HVLP system. So, these types of guns are used to paint exterior walls, large vehicles, and so on. 
HVLP Spray Gun
On the other hand, HVLP has more control over its flow so that the overspray is minimum. It is used for fine detailing on smaller projects. For example, to cover up hands to reach spaces, trims, and frames if cabinets, and so on. 
So, professionals usually keep both in their collection and use both as required. Homeowners and beginners may not always need both of those. If you love to change the cabinet color with trends as a homeowner, then an airless gun will suit you. For DIY enthusiasts who work with finer pieces with tiny details, an HVLP gun will be more convenient. 
Editor's Speech
Using lacquer paint is quite easy; hence, it is widely used by commoners. With proper cleaning and maintenance, all the spray guns reviewed here can be used for years to come to apply any other paints and stains including lacquer. Read the manual carefully and follow the aftercare instructions of the spray guns. 
I suggest not to use paints or stains that are not meant for the gun you have chosen. It may cause clogged nozzles or ruin the finish. Rather, use the paint as it is preferred for the model you have bought. If it requires thinning and filtering, then do this for every batch. Trust me it saves time and hassle of dealing with a clogged sprayer in the middle of the project. 
Our Top 7 Spray Guns to Be Used for Lacquer
To be honest, all the spray guns are versatile and can be used with a variety of paints and stains. Some are good at working with thin paint only and some are meant for thick paints. However, to use lacquer in a controlled way, all these guns are very easy to control. So, we primarily considered the adjustment features of those spray guns to choose from. 
1. AVID POWER HVLP Electric Spray Gun with Container Lacquer
Click on the Image >> See on Amazon
200ml container, 3*copper spray nozzles, viscosity cup, user manual, 1*shoulder strap, 1*clean brush;
3 copper nozzle sizes at 1.0mm/1.8mm/2.5mm.
Get the professional finish of lacquer paint with the most convenient features. No more pouring into the cup multiple times. This is possible due to its 50 ft. of paint hose. This also makes it easier to reach higher walls and hard-to-reach places. Even a two-story building can be painted in one go easily. 
However, the nozzle barrel arrangement is revolutionary. If it clogs, just reverse the nozzle, the paint will still flow and the clog will be released as well. With this paint sprayer, you can do horizontal or vertical painting on any surface. 
Though it is recommended to use up to 50 gallons annually, with proper maintenance and cleaning, the capacity can be stretched. This magnificent sprayer can use paints unthinned. Meaning, along with the lacquer, it can accept slightly thicker stains and paints too. 
This unit is so cheap that even homeowners and weekend warriors can afford it. Painting with lacquer becomes effortless and flawless with this gun from Graco Magnum. 
Pros
Bright LED light, nozzle storage box & shoulder strap;
Professional finish;
Easy maintenance;
Non-clogging tip;
Cheap. 
Cons
2. Fuji 2203G Gravity HVLP Spray System for Lacquer
Click on the Image >> See on Amazon
400cc Gravity Cup;
25ft Hose. 
What makes this unit unique is its air control valve on the air hose. It drastically reduces the bounce back and also lets you control the overspray. This is something we all look for while working with lacquer. 
Also, this model includes a metal housing for the turbine and a gun holder. Together, it is quite handy on the job site. This gun is virtually non-bleeding and has a fan control to decide the spray pattern. You have the freedom to choose from a smaller circle to a wider one. 
Some put the gun closer or further to control the spray pattern, but I recommend otherwise. This unit from Fuji needs to be held approx 3 to 4 inches from the surface. If it is filled with lacquer, then the paint will place as tiny droplets but evens out as it dries. If the gun is closed, then it will form bubbles and if it is placed further, then the paint will dry leaving an unpleasant texture. 
However, even with metal housing and the spray gun, this unit is quite light and portable. The control it gives to the user to decide how they want their paint to be is unimaginable. That is why this unit is almost twice the price of a regular lacquer spray gun. But, for perfect paint on tricky pieces like furniture pieces, cabinets, and wooden walls, ceilings, doors, fences, shutters, etc, this unit is the first choice of professionals. 
Pros
Controls overspray;
Lightweight;
Professional quality;
Non-bleeding. 
Cons
3. Ingersoll Rand 210G Edge Series Lacquer Spray Gun 
Click on the Image >> See on Amazon
Cup size: 20 ¼ ounces;
Required CFM: 10.5, Operating PSI: 50;
Included Nozzles Size (mm): 1.4. 
This package includes the gun and nozzle only; you must own an air compressor of at least 50 PSI to operate the spray gun with lacquer. There is a plastic paint cup also included in this package, which is practically non-dripping. Yes, I know even the giant brands can't even promise on their paint cups not to drip, but this affordable paint gun will serve the feature and make less mess with drippings. 
It has a suspension hook so that the user can hand the gun when not in use. This gun is compatible with most of the thin paints like lacquer, stains, and so on. But it is especially great to work with small projects. 
Painting small items like vehicles, benches, home decor items, or crafting items is more fun with a light and small spray gun. If you also agree with me, then this spray gun is what you have been looking for to use lacquer successfully. 
Pros
Budget-friendly price;
Adjustments for air, flow, and pattern;
Non-drip cup. 
Cons
Requires compressor to run;
No instruction manual. 
4. Wagner 0518080 Spraytech Stain Sprayer 
Click on the Image >> See on Amazon
20 ft hose;
Easy adjustability for air and pattern control. 
Countless times I had to deal with a broken nozzle and cup of spray guns. To be honest, there is not much to do when this happens other than replacing the unit. So, this time we decided to give this Spraytech a try as it claims to have the most durable nozzle in the industry. Surprisingly, not only the nozzle but also the cup is also of good quality compared to its competitors here. 
This one is a 1 qt. Cup and another one is a ½ qt plastic cup. This unit is meant for thin paints and stains. If properly thinned, then thick stains like latex can also be poured into the cup. However, this works great with lacquer on small to medium projects including decks, cabinets, furniture, woodworking, and so on. 
With the patterns of circular, vertical, and horizontal category, DIY projects will be more fun and dynamic. With proper adjustment, the air pressure can be controlled to use with lacquer. No matter what the pressure is, it stays put throughout the project. No one needs to be a pro to work with this, the easy features and satin finish speak it all. 
Pros
Versatile spray gun;
Durable, long-lasting nozzle;
Consistent air pressure;
Wide variety of patterns with adjustment. 
Cons
Can't be used with thick paints. 
Not powerful enough for large projects. 
5. TCP Global Brand HVLP Spray Gun with Air Regulator
Click on the Image >> See on Amazon
Includes a 2.5 mm Fluid Tip and 1 Liter Aluminum Cup. 
Do I need to mention why using a high paint capacity spray gun is more useful? Because it can work with a lot of paint at a time and reduces the downtime for thinning, filtering, and refilling of paints several times. So, this TCP spray gun is ideal for use in large projects. 
The next best thing about this spray gun is, it can use a thick primer too. Even the highest-rated spray guns do not always allow using thick liquid in their cup. If you are thinking about using a primer prior to using the lacquer, then this one gun can do both smoothly. 
Other features are quite basic. There is an air regulator to control the air pressure and pattern and a fluid controller to control the spray pattern and thickness. Another matter I want to add up is, with this unit, spraying thick paint like latex, metal flakes, gel coats are as convenient as spraying thin paints like lacquer, stain, and varnish. The key lies in the cleaning and maintenance of this unit. Do these chores spiritually and you can pour and spray anything anywhere you want. 
Pros
Large capacity cup;
Uses thick paints and primer as well. 
Cons
The large filled cup may raise the weight. 
6. Astro Pneumatic Tool 4008 Spray Gun to Paint with Lacquer
Click on the Image >> See on Amazon
7-12CFM / 3HP compressor needed;
1.8 mm nozzle and 1-quart cup. 
The feature you will love about this Astro spray gun is, it can be used in a tilted position. Use it straight as it is or tilts when required, the result will always be perfect. To operate this gun, all you will need is a pneumatic compressor of 3 HP. It works around 50-60 psi and accepts paints of any thickness. 
This unit has a 1.8 mm nozzle. The wider nozzle works excellent to work with heavy materials like a primer, glue, and thick coatings. The finished result is a smooth, even surface. Unlike most other competitors, this one has a steel cup that lasts long without any rupture.
To use with lacquer, this spray gun has to be positioned 8 inches from the surface. There is a fan control to adjust the pattern and an air valve to set the pressure. Once these settings are done, painting with this gun becomes child's play. Astro Pneumatic sprayer is super easy to clean and maintain. This is why even after spraying it lasts longer than other one-time spray machines. 
Pros
Durable unit;
Easy maintenance;
Anti-spill canister;
Adjustable fan, flow rate, and airflow;
Can be used at any angle. 
Cons
Cup has to be quite full for perfect spraying. 
7. Fuji 2904-T70 Mini-Mite HVLP Spray Unit for Professionals
Click on the Image >> See on Amazon
Includes mini-mite 4 PLATINUM turbine, 25 ft hi-flex hose, spray gun with a 1-quart cup, viscosity cup, cleaning brush, wrench, and user manual;
Produces 6.5 to 9.5 PSI;
Heat dissipating chamber. 
This is what a professional level spray system looks like. It has got a noise reduction cover for silent spraying and a heat-dissipating chamber to keep the unit cool for the working time. These features are important when one makes their living by spray painting. This is a complete unit that has a 4-stage motor turbine to produce up to 9.5 PSI; so that any type of paint materials can be used with it. 
Some may find this model very expensive. When you try it for the first time, the performance of this gun will amaze you. It is the best gun to spray lacquer on wood pieces. Furniture making, cabinetry, carpentry, trim working, and DIY crafting with wood will come out as professionally done. 
Pros
For professionals;
Lightweight gun;
Excellent heat dissipation;
Low noise. 
Cons
People Also Ask
Though lacquer is the easiest and most convenient way of getting a flawless finish at the cheapest price, there are still some questions I keep getting from newbies. So, here are some questions I have answered to clear out your doubts about spray painting lacquer. 
Can You Put Lacquer in a Paint Sprayer?
Obviously! Because there is no other way to apply lacquer. But one thing I need to clear is that you must use a fine finish tip to apply thin materials like lacquer. Meaning, to apply varnish, stains, etc also requires a fine finish tip. It helps the product to atomize better and make an even finish. To apply thick material like latex a fine finish tip is not important. 
Can You Spray Lacquer with an Airless Sprayer?
Yes, airless spray guns are also fine to use in a thin paint group such as varnish, lacquer, and stains. But it requires a little practice on scrap material before actually applying it to your workpieces. Airless sprayers are used to apply lacquer on woodworking, doors, and cabinetry. 
Should I Sand Between Coats of Lacquer?
Usually, lacquer does not need any sanding due to its perfect 'melted' finish on any surface. That is the reason behind using lacquer after all. But still, if there is any imperfection on the surface or the finished result does not satisfy you, then use a 320 sandpaper. Gently sand out the imperfection, wipe or vacuum it and then reapply the lacquer, 
What Are the Differences Between Lacquer and Varnish?
A varnish forms a reflexive, straightforward, and hard covering on the surface. It has three coatings which are dissolvable, drying oil, and gum. Veneers, then again, are dissolvable based containing Volatile organic compounds (VOC) broken up nitrocellulose, plasticizers, and shades.
How Often Should Hvlp Sprayers Be Cleaned?
Always clean the HVLP sprayer thoroughly after each use.
You May Like These Resources: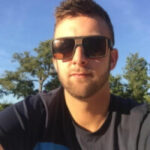 Hello, I am David Rowan. I am a professional contractor with 10 years of experience in home building, different tools used, construction, home remodeling, and other home improvement work. I have already built many custom homes and continued to do several woodworking projects along with how to deal with all categories of tools.