Tree felling axe is a compulsory tool for homeowners and gardeners who live close to nature and professional woodworkers. Though it is a necessary tool, most people complete the job with just about any axe they own without concerning its purpose. As a result, the axe dulls away soon and may get damaged.
On the other hand, the task takes more effort than it requires. The necessity of a tree-felling axe is often ignored because of the high price. 
But a thoughtfully chosen tree-felling axe pays off for generations if properly used and maintained. For your convenience, we have conducted a list of best quality axes for tree felling that have been used for decades and are highly recommended. These are hand-forged and stocks out pretty soon.
Besides, these are hard to find in the local stores. Read ahead to know more about these and get ready to get amazed. 
What is the Felling Axe?
There are basically three types of axes available to do serious woodworking: splitting, tree felling, and all-purpose. The splitting axes are made specially to cut the wood parallel to the grain. On the other hand, the tree felling works against the grain pattern to cut the trees or their branches. 
There are slight differences in the construction of the head of these two types of hatchets. Tree felling axes have a larger cutting age to cut the grain to the maximum with every single shot. 
Do You Need a Tree-Felling Axe?
The answer is simple, and you need it for tree felling. A splitting or outdoor or forest axe may do the job just fine for a while, but it will affect the performance and the axe blade's longevity. So, it is okay to use other types of axes for this purpose, if you are not doing this frequently. 
But, it is best to keep one tree felling axe handy for felling large trees or climbing thick branches every day. It will be easier to do it and also quicker. 
Features to Look for in a Tree-Felling Axe
Material
A tree-felling axe should have an American hickory handle and a Swedish-made head. These are the best material and should be hand-forged to make the tool. There are major differences between a factory-made axe and a hand-made axe. The handmade one will have nicks and imperfections on the head.
However, there are hatchets available that are made of fiberglass handles or a high-carbon steelhead. You can get that too, but don't expect the same performance as using an original handcrafted axe from it. 
Handle length
The handle length of a tree felling axe ranges from 16 to 32 inches. It should be chosen based on your comfort and usage. If you prefer to take your axe to camp, then a small one is better and more suitable. On the other hand, a long handle eliminates the need to put in the extra effort while cutting thick logs. 
Balance
The center of gravity of a tree's felling axe is usually placed closer to the head. The closer the center of gravity towards the axe head, the better it sinks into the wood with each strike. You should pay attention to this detail. That is why a long handle of a tree-felling axe is more appreciated. 
Sharpness
Most of the axe arrives dull due to safety during shipment. You should not be annoyed if one does not arrive razor-sharp. But you should get one axe for a feeling that retains the sharpness long. 
Manufacturer
Finally, the axes that are made by century-old manufacturers are the best ones. It is because the skill it takes to hand forge an axe is not easily found or formed. So, rely on the name brands to choose your axe if you don't have a restricted budget. 
Now View the Top 6 Tree Felling Axes, Below
1. Hults Bruk Kalix Axe for Felling Small to Medium Trees
Weighs 3.6 pounds
2.25 pounds Solid Swedish steelhead and 28 inches American Hickory handle.
The first axe to review as one of the best felling axes for small to medium trees is Bruk Kalix from Hults. It is handcrafted and made in a traditional way. The rough texture of the head and the little marks of imperfection are enough evidence to prove that. 
The long handle and heavy head provide the perfect balance to use this axe horizontally for felling and limbing. All you have to do is to sharpen it before use. The size is a bit large, so I am not recommending this for backpacking.
Rather, it is more suitable for use around the yard and outdoors. The price is reasonable for this handmade beauty. Want to know more about this axe? Simply contact customer service, they are always eager to help.          
Pros
Small to medium-sized trees;
Curved handle for a comfortable grip;
Superior customer service;
Also used as a splitting axe.
Cons
Needs sharpening before use. 
---
2. Greenland Pattern Axe by Condor Tool & Knife
1045 High Carbon Steelhead and 16 inches handle;
Blade Finish: Condor Classic.
This axe has a rare combination of long cutting age and a small handle. It is a space-saving and easy-to-carry hatchet that can be used for outdoor jobs and can be taken to camping for chopping firewood, backpacking, or clearing forest trails. 
With Condor Axe, the good thing is you don't have to pay a fortune to get a high-quality, durable hatchet. You will get this at a reasonable price.
The axe arrives pre-sharpened and needs not be sharpened frequently. HCS steel and hickory handles rarely weather out or wear out due to heavy use. The only concern is that you will have to put a little effort to chop or cut trees for the short handle. 
Pros
Factory sharped;
Long cutting edge;
Small handle;
Suitable for tree felling and camping.
Cons
---
3. Hults Bruk Jonaker Hatchet
1. 5 pounds of overall weight;
9. 4-inch handle.
A large and heavy tree felling is not a suitable one for camping. If you don't need to use a specialized axe for tree felling frequently, then an all-purpose hatchet is better. Just like high-quality felling axes, Hults and Bruk also have some all-purpose axes in their collection. Almike hatchet is one of those. 
It is lightweight, small, and durable. Other than felling small trees for firewood during camping, you can also use this for limbing and splitting logs. The handle is small, but the 3 inches cutting age makes this hatchet a useful one to do all the things a large hatchet does. With the Swedish steelhead and American Hickory handle, you won't ever regret buying it. 
Pros
Lighter than most others;
Versatile;
Suitable for camping;
Cons
Small size, not for felling large trees.
---
4. Hultafors Hand-forged Swedish Felling Axe with American Hickory Handle
3.3lb weight;
28 inches handle.
The advantage of using a large felling axe is, it makes the job done quicker. For the heavyweight and long handle, this type of axe cuts deeper into the wood and takes minimal effort as the hatchet's weight adds on. For all these reasons, Hulafors is one of my favorites for felling large trees. 
The overall weight is 3.3 pounds, which is not much for light jobs. But don't consider taking this camping because it is way too big to carry around safely. The only problem is, the price is very high for this axe. The reason is, handcrafted quality tools don't come cheap. This is the oldest axe-making company in business in Sweden, so the quality is beyond question. 
Pros
Well balanced;
Superior performance;
Large head and handle;
Supportive customer service.
Cons
Expensive;
Large and heavy, not for camping.
---
5. Hults Bruk Tarnaby Axe
2.06 lbs weight. 
18″ long curved handle.
For light use in the garden like kindling, clearing or for felling small to medium trees, a small axe is all you need. It is light, small, and easy to maneuver for small jobs. For such regular and low-effort jobs, Hunts Bruk has made this Tarnaby Axe. It has an 18-inch long handle, curved in the right places to fit in the fists. The head is hand struck-just like other Hults Bruks Axe to make its sharpness last long. 
This axe arrives dull, so be prepared with a sharpening stone or disk to make it ready for work. It comes with a leather sheath, which is not very impressive. However, the quality and performance of this axe are quite satisfactory for the price. It is a must-have for trouble-free gardening. 
Pros
Small, easy to maneuver;
Highly dense iron head;
All-purpose use.
Cons
---
6. Council Tool Dayton Pattern Single Bit Axe for Felling and Cutting
36 Inch Curved Handle;
Weighs 3.5 pounds.
Council tools have offered the largest handle for their tree-felling axe. This axe comes with a 36 inches long curved handle and weighs more than 3 pounds. Together, these features make this axe a beast to cut down large trees within a short time. The joint of the head and handle is hydraulically secured with an aluminum wedge.
No matter how long it has been used, the join is less likely to come off due to overuse. 
However, I really don't recommend this one for heavy use. It is basically a versatile axe that you can use to solve many problems, but it gets dull fast. So, if you plan to cut down large trees using this hatchet for hours, it may disappoint you. The quality is not suitable for heavy jobs. 
Pros
Secured joints;
Extra-large handle for comfortable use;
For cutting and splitting;
Cons
Not for constant heavy use. 
---
Final Verdict
You should keep in mind that these axes are totally handmade. So, don't expect the same performance or construction of two axes of the same model. It can happen that one is perfect, and another is crap. However, you can always claim a replacement for any defect as long as the axe is not worn out due to overuse. 
It is very less likely to happen with the models we have mentioned in our list of tree-felling axes. Because these are in the market by makers who are in this business for generations. Another thing is, you should take care of your tools to get a lasting performance for years to come.
You Might Also Like: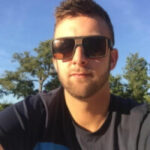 Hello, I am David Rowan. I am a professional contractor with 10 years of experience in home building, different tools used, construction, home remodeling, and other home improvement work. I have already built many custom homes and continued to do several woodworking projects along with how to deal with all categories of tools.