Published on: June 16, 2023
Written by Eric Devin / Fact-checked by David Rowan
In the hustle and bustle of the modern world, the appeal of an eco-friendly and self-sustainable home is stronger than ever. But the question that keeps floating around is, "Can you build a fully self-sustainable eco-home on a budget?" The short and sweet answer is, "Yes, you can!" Strap in for a green journey where we'll explore cost-effective options to make this dream a reality.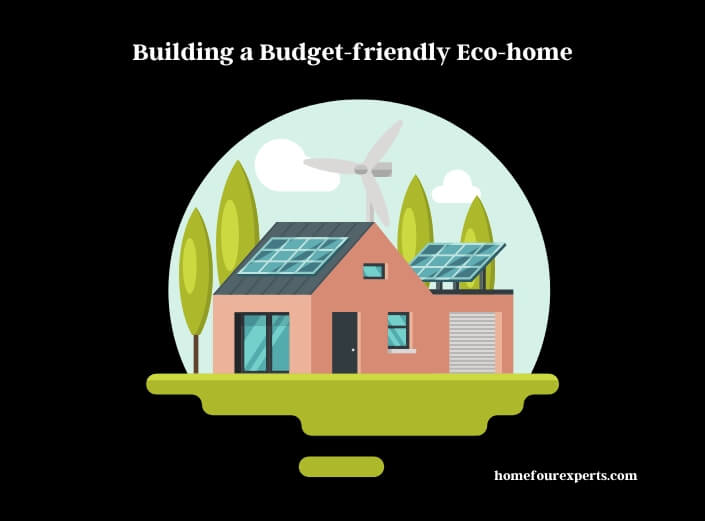 Can you build a fully self-sustainable eco-home on a budget?
Yes, it's quite feasible to create a green, self-sustaining home without breaking the bank. It's all about being resourceful, innovative, and open to alternatives. The key is to embrace materials and technologies that promote energy efficiency, reduce waste, and harness renewable resources. But where do you start? Let's dive in!
1. Choosing the Right Location
The first order of business in our eco-adventure is selecting the perfect location. Not just any old spot will do. To maximize sunlight for solar energy, consider a location with a south-facing exposure. Remember, every little bit of sun counts when you're on a budget!
2. Picking Eco-friendly Building Materials
When it comes to building materials, you have more green choices than you might think. From repurposed wood to straw bales and recycled metal, the possibilities are endless and cost-effective.
3. Designing for Energy Efficiency
In designing your eco-home, energy efficiency should be your mantra. Prioritize elements like insulation, natural light utilization, and passive solar design. Not only do these features reduce energy costs, they can also add up to significant savings in the long run.
Affordable Renewable Energy Solutions
Believe it or not, renewable energy solutions need not cost the earth. Solar panels, wind turbines, and hydro power systems have become more affordable over time. We've come a long way from the days when going green meant emptying your wallet.
1. Solar Energy: A Bright Idea
Solar energy is a no-brainer for eco-friendly homes. And with the declining cost of solar panels, this renewable energy source is more accessible than ever.
2. Wind Energy: Harness the Breeze
Depending on your location, wind energy can be another economical renewable option. Small wind turbines, suitable for residential use, are now within the reach of budget-minded homeowners.
3. Hydro Power: A Drop in the Bucket
If you have access to a running water source, a micro hydro power system could be a viable and economical solution.
Eco-Friendly Water and Waste Systems
When building a self-sustainable home, how you handle water and waste is a major consideration. There are various economical systems that can ensure you manage these resources responsibly.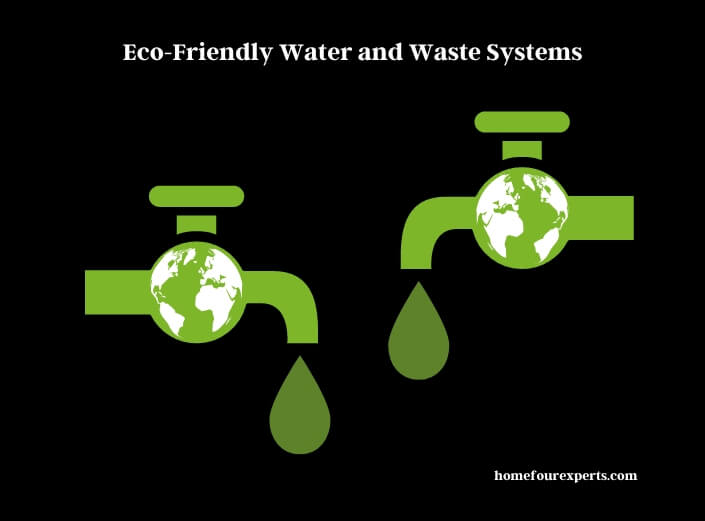 1. Rainwater Harvesting
Rainwater harvesting systems can range from simple rain barrels to more complex storage solutions. But one thing is certain – it's an affordable way to secure a water supply.
2. Greywater Systems
Installing a greywater system can greatly reduce your water consumption. Reusing water from sinks, showers, and washing machines can save you a pretty penny, too!
3. Composting Toilets
For a truly sustainable waste solution, consider a composting toilet. While the thought might take a bit of getting used to, composting toilets are far cheaper and more eco-friendly than traditional systems. Plus, they generate compost that can enrich your garden soil!
Making the Most of Your Eco-Home's Outdoor Space
Don't overlook the value of the outdoor space surrounding your eco-home. With a bit of planning, it can become an extension of your living space, offer food sources, and enhance your home's sustainability.
1. Permaculture Gardening
Permaculture isn't just a gardening technique—it's a lifestyle. It involves working with nature to create sustainable and self-sufficient ecosystems. Plus, growing your own food can be a real budget saver!
2. Planting Native Species
Native plants are not only low maintenance but also play a crucial role in local ecosystems. They provide food and habitat for local wildlife and are more resilient to local weather conditions.
3. Building a Greenhouse
A DIY greenhouse can be built on a shoestring budget and provides the perfect environment for growing your own vegetables and herbs year-round. Talk about fresh and budget-friendly!
Frequently Asked Questions
Can you build a fully self-sustainable eco-home on a budget?
Yes, with a bit of resourcefulness and planning, it's entirely possible to build a fully self-sustainable eco-home without breaking the bank.
What are the most affordable renewable energy options?
Solar and wind energy are typically the most accessible and cost-effective renewable energy options for homes.
What are some cost-effective eco-friendly building materials?
Some affordable eco-friendly building materials include repurposed wood, recycled metal, and straw bales.
How can I make my eco-home more energy efficient?
Incorporating energy-efficient design elements such as insulation, natural light utilization, and passive solar design can greatly improve your home's energy efficiency.
How can I responsibly manage water and waste in my eco-home?
Rainwater harvesting, greywater systems, and composting toilets are all affordable and sustainable options for managing water and waste.
What are some budget-friendly ways to utilize my eco-home's outdoor space?
Permaculture gardening, planting native species, and building a DIY greenhouse are all cost-effective ways to make the most of your outdoor space.
Conclusion
Building a fully self-sustainable eco-home on a budget isn't just a pipe dream—it's a realistic goal. With a bit of planning and resourcefulness, you can create a home that is not only environmentally friendly but also kind on your wallet. So, why not take the plunge? Your wallet, and the planet, will thank you!
Read more: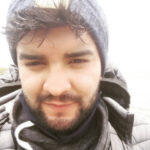 Hi, I am Eric Devin and I am a professional interior architect. Since childhood, I've always enjoyed DIY projects! And, I have loved to solve simple household problems using essential tools and equipment. I have also acquired a lot of information about basic household tools settings by working with contractors.