Wood workmanship and butchery don't quite go along. But, did you know that both these jobs are tied to each other by a single machine? Yes, we're talking about the band saw.
It has a continuous blade that is equipped with multitudinous metal teeth. Now, you might ask how a band saw is related to butchery. I mean, we see bandsaws being used to cut wood. But, "can I use a bandsaw to cut meat as well?".
Well, it turns out that you can. The band saw can easily cut through meat and bone thanks to the continuous blade assembly. Not only that, band saws are perfect tools to use for professional butchery jobs.
But, to fully grasp how a bandsaw is fit to cut meat, you have to understand the topic in detail. And, that's why you need to read this discussion till the end.
Need to Cut Meat: Can I Use the Bandsaw to Do This?
As we have mentioned already, you definitely can. But, to use a bandsaw to cut meat, you will need to modify your band saw a bit. Namely, you'll have to disassemble the wood cutting blade and install a butcher blade in your bandsaw.
Now, It's worth noting that a band saw has enough mechanical power to cut through lumber, wood, cardboard, particleboard, meat, bone, etc. Also, because the band saw uses a continuous blade, it is the perfect tool for bulk cutting jobs.
But why do you need to change the blade to cut meat? Well, It's because a wood cutting blade will have larger teeth that are perfect for cutting through solid objects. 
However, if you want to cut meat with your band saw, you'll have to use a type of blade that has smaller teeth. If you use a continuous blade with smaller and sharper teeth, it will provide a cutting job with better precision. And, in the case of cutting meat, precision is indeed what we need. 
Therefore, if you replace the blade of your band saw with a butcher blade, you can easily use your band saw to cut meat.
Is It Possible to Cut Frozen Meat with a Band Saw?
Yes, with the band saw, you can cut frozen meat too. As you may already know, a band saw has a very powerful blade. As a result, it is fully fitted to cut meat and cut through bones. That's why it is safe to say that bandsaws can also cut through frozen meat.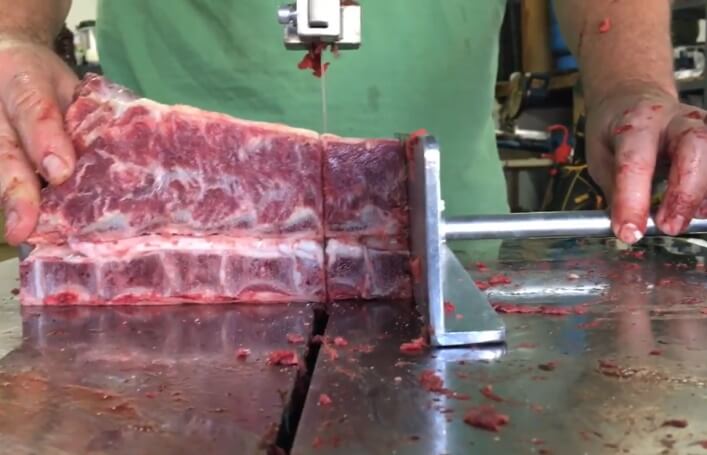 Cutting through frozen meat is much more convenient than cutting soft meat. It's because if you freeze a particular amount of meat, it stabilizes the structure of the meat and makes it easier to handle(at the time of cutting). On the other hand, if the meat is still soft, it reacts to mechanical vibration and thrust. 
As a result, a precision cut is much more difficult in cutting raw meat rather than frozen meat. Therefore, we can say that band saws are not only fully suited to cut through frozen meat, but they also do an excellent job at it.
What Kind of Cuts Can a Band Saw Make?
The best feature of a band saw is that it is equipped with a continuous blade. And, the blade is usually not very broad. That's why it can make various types of precision cuts. Also, depending on the user's need, a band saw is perfectly able to impart long and short-length cuts.
Furthermore, you can also perform tricky cuts like cutting curves with a band saw. To create furniture out of food, woodwork men always use band saws to perform curvy and other types of custom cuts on the woods. Not only that, a band saw has no practical limit to which extent of thickness it can get through. 
Meaning no matter how thick the object is, a band saw can cut through it without suffering from performance drop. You might ask, how does it do that?. Well, it's all thanks to the continuous blade. 
Whereas other circular blades have a certain limit of cutting width, a band saw doesn't. Moreover, a band saw can cut through any irregular-shaped object as well. Put, if you want to cut a large object into small pieces, a band saw is a perfect tool to do it.
To elaborate further, if you have a band saw at your disposal, you can easily perform various cuts like carved cuts, straight cuts, resowing cuts, veneer cuts, etc. 
Although you wouldn't have to use these custom cuts to cut meat into small pieces, you will need to take advantage of these cutting capabilities to make furniture out of wood. That's why bandsaws are widely used in wood cutting workshops.
Conclusion
So, the bottom line is that you can perfectly use a bandsaw to cut meat. It is fully recommended if you run a meat business or something. 
Although you can take full advantage of a band, saw in meat cutting jobs. But, you will also need to be mindful of the collateral damage. For example, if you get meat with your band saw, the saw blade will get quickly damaged and blunt (because of the fat from the meat). 
Also, if you don't clean the bandsaw blade after cutting meat, it might accumulate bacteria due to the decomposition of meat particles. That's why, if you have no prior expertise in using a bandsaw to cut meat, we recommend that you seek help from a professional. Best of luck to you!!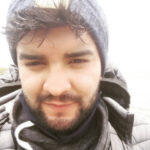 Hi, I am Eric Devin and I am a professional interior architect. Since childhood, I've always enjoyed DIY projects! And, I have loved to solve simple household problems using essential tools and equipment. I have also acquired a lot of information about basic household tools settings by working with contractors.