This article includes affiliate links, which means we may earn a commission if you make a purchase following our link. Please refer to our review guidelines.
Hand sanders or hand-held sanders are the most versatile kind of electric sander nowadays. There are different types of sanders for different sizes and features.
The hand sander is the most widely used among belt sanders, pole sanders, and bench sanders. It is lighter and portable. Besides, no matter how big the surface area is, a handheld sander makes sure that the entire surface is well-tuned.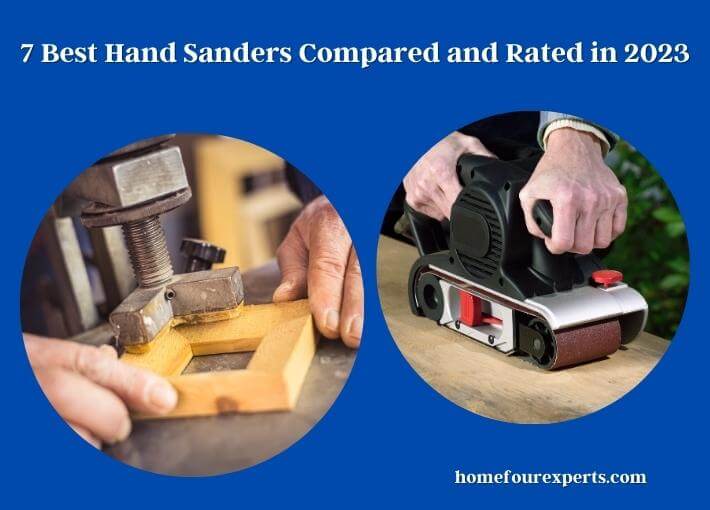 Hand sanders are also available in different kinds. Some create orbital strokes, and some create oscillation. Hand sanders can be a palm sander, random orbital sander, and small sheet sander depending on the use. Let's discover the basic features, usability, and pros and cons of different top-notch hand sanders from our list.
Main Features of the Best Hand Sanders Available on the Market in 2023
1. Ergonomic design – Look for a sander that is lightweight and has an ergonomic handle for comfortable use.
2. Variable speed control – Look for a sander that allows you to adjust the speed of the motor to match the job at hand.
3. Dust collection system – Look for a sander that comes with an effective dust collection system to minimize the mess.
4. Hook and loop sandpaper attachment – Look for a sander that allows you to quickly and easily attach sandpaper with a hook and loop system.
5. Multi-functional – Look for a sander that can be used for a variety of tasks, such as sanding, polishing, and buffing.
6. Durable construction – Look for a sander that is made of durable materials and has a long lifespan.
How to Pick Hand Sander
Your head must be spinning after going through our list of the best handheld sanders. To be honest, hand sanders are classified into more typologies, and it became hard to keep track of all of those. However, we tried to cover up basic hand sander types in this article to become easier to pick for you. 
Stroke Type
The main difference among different hand sanders lies in the sanding strokes. We create different strokes on different surfaces using these sanders. For fine finishing, circular strokes from a random orbital sander work better.
On the other hand, oscillation motion is also needed while sanding a workpiece. It especially requires removing large materials fast. For example, to remove paint or stains and a palm sander is a better option. 
Pad Size and Paper Types
You may take the sanding machine, but you will need the right papers to work with it. So, while buying a handheld sander, make sure the sandpaper size and type he uses are available at local stores. 
Noise and Vibration
We get distracted when a hand sander makes noise or/and vibration. It also affects the finish we were expecting from the sander. So, it is mandatory to get a noise and vibration-free hand sander. 
Ergonomics and Comfort
The ergonomics change among different machines. The machines that required added pressure to work powerfully should have to be a heavy hand sander. On the other hand, a palm hand sander and belt sander does not need added pressure to operate. Besides, the handle of a hand sander has to be comfortable to hold for prolonged use. 
View Top 7 Hand Sanders Analysis, Below
1. Makita Cordless 5″ Hand Sander with Random Orbit Motion (XOB01Z)
7,000, 9,500, and 11,000 OPM speed;
5″ cordless random orbit sander;
2.9 Pounds.
XOB01Z from Makita is the best for cordless options as a hand sander. Used in off-grid locations and cable-free applications, this one is the most reliable for its long battery life. With one charge, it runs up to 40 minutes straight. You just have to insert a high-quality lithium-ion battery to make it work. 
You can choose from three-speed settings for using different materials or for different tasks. It is a 5-inch sander and takes only hook-and-loop abrasive papers with 8 holes. The dust is extracted through the holes, and the performance is quite satisfactory. It delivers a virtually swirl-free finish because of its large ⅛" (3mm) sanding stroke. 
Now, the negative side of this model is its added weight. Of the added weight front the batteries seem slower and heavier to operate. It only bothers operators with small body frames. However, the final result you will get from it will be a smooth and seamless surface. The apparently slow speed does not impact its cutting power. 
Advantages
Portable;
Suitable for off-grid use;
Long battery life; 
Large stroke for a swirl-free finish.
Disadvantage
---
2. DEWALT Palm Grip Hand Sander, DWE6411K
1/4 Sheet Palm Grip Sander;
14,000 OPM;
4-1/4 square pad.
Either you get a Dewalt vacuum or rely on the attached dust bag of this palm sander. In both ways, it works like a charm. You won't need to use duct tape to attach your vacuum hose to the flimsy dust port of any poorly designed sander as long as you have this Dewalt sander. You can also attach this to any shop vac with a proper adapter, easily found in Dewalt stores. 
You can see, this is actually the drawback of this amazing palm sander. You have to purchase an adapter or the entire shop vac from the same brand to make this sander work for heavy use. However, this one only delivers a single speed of 14000 Opm, which is enough for finishing a job. 
You will get this tool with a bunch of revolutionary washable mesh sandpaper. If you haven't tried it yet, please do. The experience will be different than using regular sandpaper that is prone to clog. 
Advantages
Affordable;
Low vibration;
Dustproof for long life;
Locking dust port for effective dust collection.
Disadvantages
Takes only Dewalt vacuum;
Single-speed.
---
3. BLACK+DECKER Random Orbit Hand Sander, BDERO100
Weighs 3.16 pounds;
5-Inch orbital sander with hook and loop design.
The mechanism of this BLACK+DECKER orbital sander is quite basic and simple. You just stick the paper and run the machine on any surface. From fiberglass, metal, and wood, any rusty or bumpy surface can be scraped off from paint, smooth out and buffer for polishing using this one little beast. The best part is, it is super cheap compared to hand sanders from renowned brands.
To work with this cheap orbital hand sander, you have to deal with its substandard dust collection. I mean, if you are using it for a small to a medium DIY project, then the included dust bag is enough, and the produced mess will not bother you. But don't expect any more than that while using this in a large project because it is not meant to attach to any shop vac to ensure a cleaner workplace.  
Advantages
Budget-friendly price;
Suitable for wet sanding;
Easy to use for beginners.
Disadvantages
---
4. SKIL Hand Sander with Pressure Control, 7292-02
¼ Sheet palm Sander;
Built-in vacuum adapter.
Most beginners and homeowners break their hand sander by applying unusual pressure while the machine is still running on a surface. Different hand sanders work differently, but added pressure steals the life out of those.
However, to save the life of this palm sander, SKIL has incorporated a pressure control technology that warns the user when high pressure is applied. So, you are always assured that the pressure you are applying is just the right amount. 
Its clear dust canister is a clever design as it eliminates the need for the repeated pause-and-check job for emptying the dust container. You can tell when it's full from the outside and deposit the content when needed. It also is equipped with a built-in adapter to attach to any universal vacuum. 
As this one is always saved from high pressure applied by hands, I can't recommend it for aggressive hand sanding like removing paint or so on. For fine polishing and finishing, it works just right. 
Advantages
Transparent canister;
Pressure control technology for longer machine life
Great for fine sanding;
Easy to maneuver.
Disadvantages
Flimsy clamp for paper attachment;
Not for heavy use.
---
5. Cubitron Hand Sander for Automotive Use, ­60440236564
Pneumatic random orbital sander;
Requires 90 psi with an airflow rate of 22 SCFM;
Pistol Grip design;
Normal orbital or palm sanders are useless on curved surfaces of automobiles. Among countless automotive hand sanders, Cubitron is the best in class. It has three features rotary, buffing, and random orbital motions to complete all your automotive sanding needs. You can clean up weld marks, blend edges, do feathering, paint finishing, buffing, and everything you can dream of. 
The low profile design and compact grip easily reach narrow spaces like door jambs, bumpers, and headlights. It runs on air pressure and requires a compressor that can generate at least 90 PSI. 
This unit costs a bit higher than other hand sanders, but the investment is worth it. Investing in it will save you bucks you are going to pay at the repair store for decades to come. 
Advantages
Lightweight;
Suitable for spot repair;
Compact and low profile reaches corners easily.
Disadvantages
---
6. Metabo HPT Belt Oriented Hand Sander, SB8V2
Speed 820-1475 ft/min;
3-Inch x 21-Inch belt sander;
Weighs 9.5 pounds.
This one is heavy, rough, and beautiful. There is hardly any competitor for this one at this price point for aggressive material removal at a fast speed. The speed limit produced by the 9 amp motor is just right for doing any sanding job on any wooden surface. But as I said earlier, it is way too powerful, and one needs practice to use it on sensitive projects. 
Without any added accessories, it can be attached to any dust collector. It has a good balance and the right ergonomics to use its weight and power correctly. Besides, it is also comfortable to use for a prolonged time without straining your hands. 
The main problem associated with belt sanders is tracking and adjusting the belt. Luckily, there is a tracking window to help to do the nasty job of adjusting and checking the belt. I highly recommend using a high-quality belt with this model. Because a tiny sharp object is enough to ruin the paper while the belt sander is sunning with full force. 
Advantages
Powerful 9 amp motor;
Excellent ergonomics;
The belt is easy to adjust and track.
Disadvantage
Can not reach tight spots. 
---
7. Makita D-Handle Hand Sander, BO5041
4000-12000 OPM;
5-inch random orbit hand sander.
Here is a secret of successfully using this Makita hand sander. Use the universal corrugated dishwasher hose to attach the unit to any dust collector. This hose is easily available in the local stores, and it will save you purchasing an adapted for dust collection. This cheat code works like a miracle. 
Now, let's look at the speed range. The high-speed range makes it versatile. You can use this machine for any level of sanding-from primary scraping to finishing on any material. All the strokes will be large and will make the surface entirely swirl-free. 
It uses a 5-inch hook and loop system to attach sandpapers. This model of orbital sander from Makita arrives with a removable D handle. With both handles, you can claim better control and pressure on the hand sander. 
Advantages
Wider speed range;
Better control due to dual handle;
Efficient dust collection;
Large orbit action for a smooth finish.
Disadvantages
---
Final Verdict
My recommendation is not to purchase every model of hand sanders from the above list if you are not sure about what you were looking for here. First, make a plan for your current and upcoming projects. Then, decide which sanding stroke is needed to complete the task. Then it will get easier to determine whether you need one or two hand sanders from the list. 
All the sanders listed here never compromised with quality and performance. Keep in mind regular maintenance and cleaning of the hand sander and vacuum. It will keep the area mess-free and ensure long years of constant use of the sander.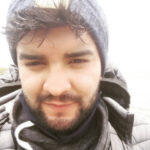 Hi, I am Eric Devin and I am a professional interior architect. Since childhood, I've always enjoyed DIY projects! And, I have loved to solve simple household problems using essential tools and equipment. I have also acquired a lot of information about basic household tools settings by working with contractors.