Published on: May 26, 2022
Written by Liam Jaxon / Fact-checked by David Rowan
The marine battery is a DC power source. It works on the same principle of a conventional rechargeable electrolytic battery. However, the marine battery also has qualities that make it a powerful power source, which adapts well to the requirements of the user and the constraints of marine navigation. Today we are learning about: Marine batteries: properties and how does it work…
How Does a Marine Battery Work?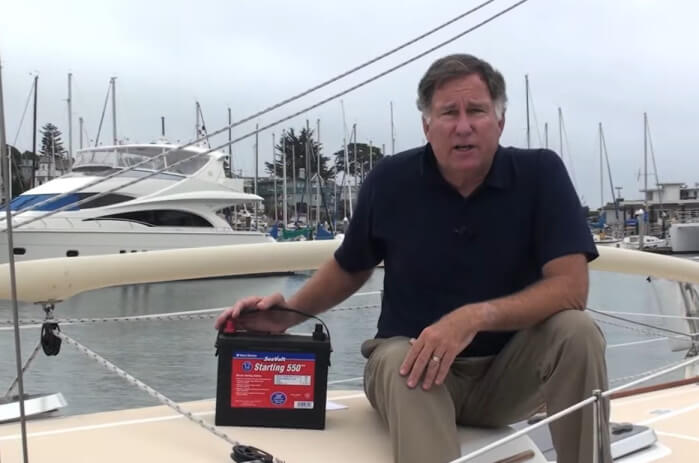 A conventional battery is an assembly formed by two electrodes of different chemical nature, which dip into an appropriate electrolyte. When these electrodes are connected to an electrical receiver, an electric current flows from the pole () towards the (-) pole of the battery.
This current results from a chemical oxidation-reduction reaction, between the electrolyte and the electrodes. The discharge of the battery is then started. Using a battery charger will recharge the battery. The marine battery also works on the same principle of the classic battery. However, the marine battery is designed using advanced technologies to meet other requirements. It must support the marine environment. Like.
Waterproof and free from any discharge.
Have an adjustable electrolyte level
Have a low level of gassing
Have a suitable lifetime.
Have good vibration resistance.
To be able to serve at the same time the servitude and start if it is necessary.
The choice of a marine battery depends on its technology. Three main families of marine batteries are:
Liquid marine battery
Marine battery AGM
Marine battery GEL
How Can I Ensure Proper Functioning of Marine Batteries?
To ensure the proper functioning of marine batteries, it is crucial to understand the benefits of using marine batteries. These specialized batteries are designed to withstand harsh marine environments, providing reliable power for various marine applications. Regular maintenance, such as keeping the batteries clean, checking connections, and monitoring charge levels, ensures optimal performance and extends their lifespan. By using marine batteries, boaters can have peace of mind and enjoy uninterrupted power supply on their aquatic adventures.
Properties of Marine Batteries
The marine battery is characterized as durable and slow discharge. It can undergo several discharge-recharge cycles, unlike a conventional starter battery. Marine batteries have much longer battery life and durability when properly maintained, especially when they are carefully recharged with a suitable charger such as the Minn Kota charger for example.
The AGM battery is perfectly waterproof. It has the advantage of accepting large charging and discharging currents. It has a better value for money and in the long term, its cost is amortized compared to a conventional liquid battery.
The Gel battery has the ability to discharge at 100% without recharging it immediately. It is resistant to a greater number of cycles, this difference is marked when the discharge depth is high. The performances of the AGM and GEL marine batteries are comparable considering that technology differs.
Benefits of Using a Marine Battery
Marine batteries are specifically designed for use in boats and other watercraft. They offer several benefits, such as:
Enhanced durability: Marine batteries are built to withstand the harsh marine environment, including exposure to saltwater and vibration.
Improved performance: Marine batteries are designed to deliver consistent power in a variety of conditions, including high temperatures and high loads.
Increased safety: Marine batteries are designed with safety features such as sealed cases, which help prevent leaks and spills.
Longer life: Marine batteries are designed to last longer than standard automotive batteries, which can save you money in the long run.
Variety of types: There are different types of marine batteries, such as deep cycle, starting, and dual-purpose batteries, each tailored to specific needs and applications on boats.
Reliability: Marine batteries are built to perform well in harsh environments, and provide reliable performance even under extreme conditions.
Conclusion
Marine batteries are used to power boats and other watercraft. They work by converting chemical energy into electrical energy. The most common type of marine battery is a lead-acid battery, which consists of lead plates submerged in an electrolyte solution of sulfuric acid. When the battery is in use, a chemical reaction takes place between the lead plates and the electrolyte, producing electrical energy that can be used to power the boat's electrical systems. Marine batteries are available in a variety of sizes and types, including deep-cycle batteries and starting batteries, to meet the specific needs of different watercraft. It is important to maintain marine batteries correctly by keeping them clean and charged and replacing them when they no longer hold a charge.
Read more: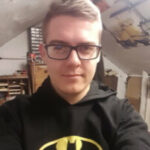 Hi, I am responsible for the 'Homeowners Power Solutions' category. My name is Liam Jaxon and a licensed technician with 7 years of experience in vehicle batteries, electrical gadgets, and home appliances. My working experience in different residential & light commercial electrical sectors and the automobile industry helped to acquire vast knowledge in this industry.