If you're looking for a creative and unique way to display your book collection, turning a ladder into a bookshelf may just be the perfect solution. Not only is it a practical and functional use of an old ladder, but it can also add a touch of style and personality to any room in your home. Plus, it's an eco-friendly option for repurposing materials that might otherwise go to waste.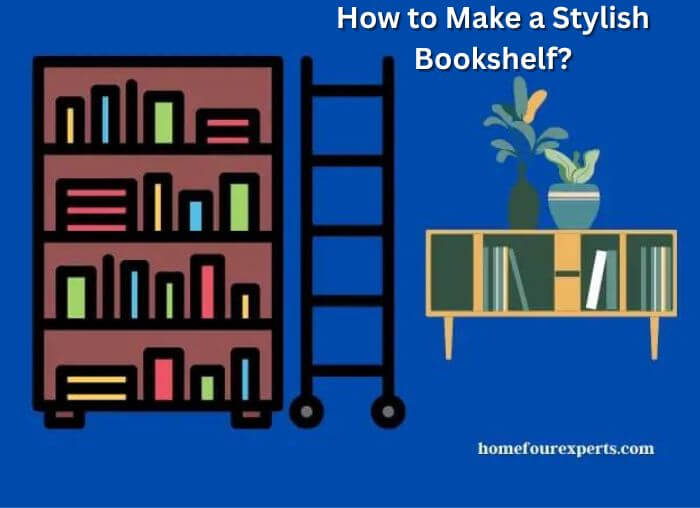 Materials Needed
Before we get started, you'll need to gather a few materials:
A ladder
Sandpaper
Wood sealer
Paint or stain (optional)
Shelves or boards
Screws or brackets
Level
Drill
Wall anchors
How to Choosing the Right Ladder?
Before you can start turning your ladder into a bookshelf, it's important to choose the right ladder for the job.
Height
Consider the height of the ceiling in the room where you'll be placing the bookshelf. You'll want to choose a ladder that is tall enough to reach the ceiling, but not so tall that it becomes unstable.
Size
The size of the ladder will depend on the amount of space you have available and the size of your book collection. Make sure to measure the space where you'll be placing the bookshelf to ensure that the ladder will fit.
Material
Ladders can be made from a variety of materials, including wood, metal, and fiberglass. Consider the style of your home and the look you're trying to achieve when selecting the material for your ladder.
Condition
It's important to choose a ladder that is in good condition and structurally sound. Avoid using ladders that are damaged or rusted, as they may not be safe for use.
Step-by-Step Guide for Making It
Measure and Cut the Shelves
Using a measuring tape, measure the width of the ladder rungs. Cut pieces of wood to fit between the rungs, leaving a little extra space on each end for the shelf supports. Use a saw or jigsaw to make the cuts.
Sand the Shelves
Using sandpaper or an electric sander, sand the edges and surfaces of the shelves to remove any rough spots and create a smooth finish.
Attach the Shelf Supports
Attach the shelf supports to the ladder rungs using wood screws and a drill or screwdriver. Make sure to space the supports evenly and align them properly.
Install the Shelves
Slide the shelves onto the supports and adjust them to the desired height. Use wood screws to secure the shelves to the supports, making sure to pre-drill the holes to prevent splitting.
Optional
Paint or Stain If desired, you can paint or stain the ladder and shelves to match your decor or add a pop of color.
Display Your Books
Once the ladder bookshelf is complete, arrange your books on the shelves and enjoy your new stylish and functional piece of furniture!
How Much Weight Can a Ladder Bookshelf Hold?
The weight capacity of a ladder bookshelf will depend on several factors, including the size and material of the ladder, the thickness and strength of the shelves, and how securely the shelves are attached to the ladder.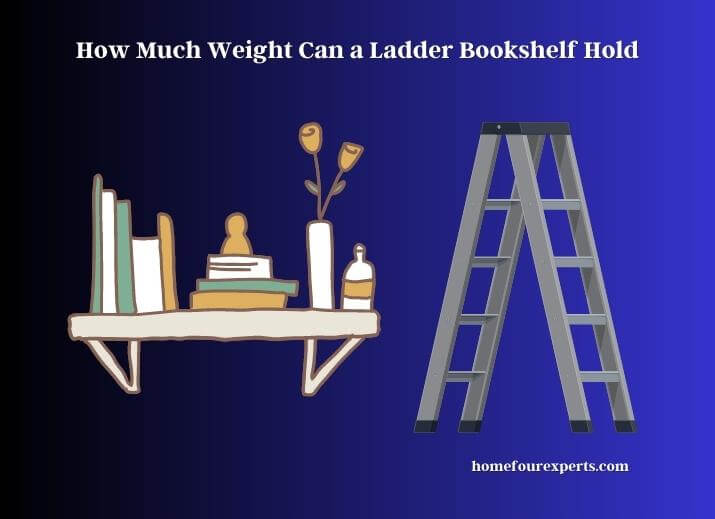 In general, a well-constructed ladder bookshelf made from sturdy materials such as wood or metal can typically hold between 50 and 100 pounds per shelf. However, it's important to note that the weight capacity can vary depending on the specific design and construction of the bookshelf.
To ensure that your ladder bookshelf is safe and able to support the weight of your books and other items, it's important to follow the manufacturer's weight capacity guidelines and take care not to overload the shelves. If you're unsure about the weight capacity of your ladder bookshelf, consult with a professional or consider reinforcing the shelves with additional support brackets or thicker materials.
Safety Considerations for Alternative Designs
When it comes to alternative designs for ladder bookshelves, there are a few important safety considerations to keep in mind. While a ladder bookshelf can be a beautiful and functional addition to your home, it's important to ensure that it is constructed safely and securely to avoid accidents or injuries.
Stability
The ladder bookshelf should be stable and able to support the weight of the books and other items placed on the shelves. Ensure that the ladder is securely anchored to the wall or floor, and that the shelves are properly attached to the ladder to prevent tipping.
Weight Capacity
Be sure to follow weight capacity guidelines and avoid overloading the shelves with too many books or heavy items. It's also a good idea to periodically check the shelves for signs of wear or weakness.
Height
Consider the height of the ladder bookshelf and make sure it is appropriate for the room and its intended use. Avoid placing the bookshelf in areas where it could potentially block doors or windows.
Material
Consider the materials used in the construction of the ladder bookshelf, including the ladder and shelves. Make sure they are sturdy and able to withstand the weight of the items placed on the shelves.
Installation
Proper installation is key to ensuring the safety and stability of the ladder bookshelf. Follow manufacturer instructions carefully, and consider seeking professional assistance if needed.
Tips and Tricks for Maintenance
Maintaining a ladder bookshelf is essential to ensure its longevity and safety.
Dust regularly – To prevent a build-up of dust and debris on your ladder bookshelf, dust it regularly using a soft cloth or duster. You can also use a vacuum with a soft brush attachment to remove dust from hard-to-reach areas.
Avoid overloading shelves – Overloading the shelves can cause them to sag or bend over time. Be mindful of the weight capacity of your ladder bookshelf and avoid placing too many heavy items on the shelves.
Clean spills promptly – If you spill liquid on your ladder bookshelf, clean it up promptly to prevent the liquid from damaging the wood or metal. Use a clean, damp cloth to wipe up spills, and dry the area thoroughly to prevent moisture damage.
Repair damage promptly – If you notice any damage to your ladder bookshelf, such as a cracked shelf or loose ladder rung, repair it promptly to prevent further damage or safety hazards.
Protect from sunlight – Direct sunlight can cause wood to fade and metal to warp over time. To prevent damage from sunlight, avoid placing your ladder bookshelf in direct sunlight and use curtains or blinds to filter sunlight.
Store books properly – To prevent damage to your books and your ladder bookshelf, store books upright and avoid stacking them on top of each other.
Wrapping Up a Conclusion
Turning a ladder into a stylish bookshelf is a great way to add a unique and functional piece of furniture to your home. By selecting the right ladder and following a simple step-by-step process, you can create a beautiful and practical bookshelf that will showcase your favorite books and decorative items.
When choosing a ladder for your bookshelf project, make sure to consider the height, size, material, and condition of the ladder. Additionally, be sure to follow proper weight capacity guidelines and take care not to overload the shelves to ensure the safety and stability of your ladder bookshelf.
With a little creativity and effort, you can transform an old ladder into a beautiful and functional piece of furniture that will add charm and character to any room in your home.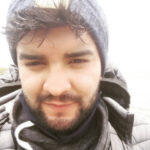 Hi, I am Eric Devin and I am a professional interior architect. Since childhood, I've always enjoyed DIY projects! And, I have loved to solve simple household problems using essential tools and equipment. I have also acquired a lot of information about basic household tools settings by working with contractors.