Various types of coats, including lacquer, varnish, shellac, and other finishes are applied to wooden furniture or wood surfaces to protect them from damage, including worn-out varnish, scuff marks, stains, etc.
These coats ensure the durability of wooden products. But if these coats get sticky for prolonged use, then what next to resolve the problem? The only solution is the removal of the sticky coats, including varnish, through some verified applications.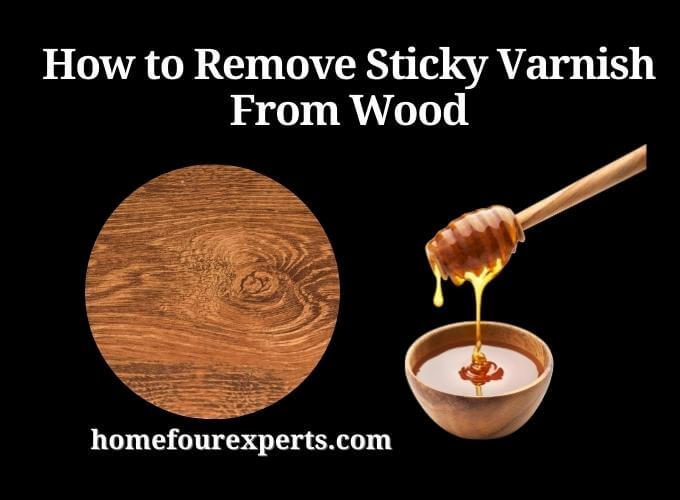 Some methods are described that will help to remove sticky varnish from wood. Follow some of them, cleaning with vinegar and rubbing with a brush and so on.
When we talk about removing sticky varnish from wood, the most common question arises how it develops. There are a few reasons which constantly contribute to the wood varnish getting sticky.
The most common observation by the professionals is that the sticky or gummy varnish develops mainly from a constant accumulation of dirt or grime over a period. 
Another possibility could be waxy residue, which develops from the wax or oil containing furniture polish. In some cases, cleaning wooden materials with chemical solutions containing ammonia or bleach may cause softening varnish and give a gummy texture over time. 
Considering the above reasons, professionals recommend a few methods to clean up and remove the sticky varnish or other wood residues. This task is a little tricky as it deals with the chemical solution for removing the sticky substances from wood. 
Besides, sanding is another option in some cases if the sticky stuff does not go off completely from the wood. 
However, this article is designed to discuss how to remove sticky varnish from wood so that the knowledge guides you to deal with the removal of sticky varnish from wood efficiently. 
Removing Sticky Varnish From Wood
As discussed in the introduction, due to the prolonged use of the wooden items, they get worn out and lose their stunning look. Besides, a humid or cold environment also impacts the wooden surface to continue to damage and develop gumminess.
This sticky varnish leads the wood to develop scratches and other stains over time. However, there are few methods you can apply to remove the sticky varnish from your wood surface. Let's discuss the detailed procedure for better understanding. 
Method 1 to Remove Lighter Residue With a Solution 
Cleaning With Vinegar
​The simplest step is first to clean all the debris from your wood surface. Then thoroughly clean it up with white vinegar, which would help clean the worn-out varnish and sticky residue from the surface to some extent. 
Preparing and Applying Solution​​​​
Then prepare a solution mix of fifty-fifty warm water and white vinegar or little acidic cleaner and spread it all over the wood surface, 
Rubbing With a Brush
After spreading the solution on the surface, rub it gently around. Avoid putting too much pressure while rubbing to protect your workpiece as smooth as it was before. 
Washing With Clean Water
After rubbing, wash the surface with clean water and wipe off with a soft microfiber towel. Then, leave the wood surface for an hour to dry off completely and ready to reuse.   
Method 2 to Remove Tougher Sticky Varnish With Murphy Soap
Water-mixed Murphy Soap
It's experienced by the professionals that Murphy oil soap works great in removing tougher varnish. It's recommended to dilute the murphy soap with water and try this solution to remove lighter residue. 
Removing Through Direct Application of Murphy Soap
For denser varnish, wipe down the wood with a piece of cloth containing murphy soap, rinse all over the surface and wipe off the surface with a wet towel to remove the sticky substance. Continue the method until you get the result.     
Finishing Touch With Wood Wax
​After removing the sticky varnish with the murphy soap, leave the wood for an hour to dry off completely. Then, apply wood wax over the wood to protect your workpiece from damage and stain. 
Method 3 to Remove Sticky Varnish by Sanding
Using Sandpaper of Variable Grit
​If the above two methods failed to remove the stickiness, then sanding the varnish with the sandpaper starting from 80-grit to 220-grit as appropriate, you might need to do.  However, as recommended, you can start sanding down the sticky varnish with 80-grit, then 180-grit, and finally 220-grit for producing a smooth finish on your workpiece.
After that, stain and finish your wood piece, maybe with a lacquer finish, to achieve the desired result. Take care of all aspects while applying the sanding method to prevent any kind of damage.  
Adhere to User's Instructions Manual
Read the user's instruction manual carefully while applying the solutions to fix your workpiece. Prepare a solution as per guidelines to achieve the best result. Try to purchase the materials from the registered stores. 
If needed, consult with professionals to accomplish your project effectively. 
Wear goggles and hand gloves, and other gear as appropriate to prevent workplace hazards and injuries. 
Keep your workplace well ventilated to avoid a soggy environment that might affect your work. Take care of the aspects while applying the mix of chemical solutions to prevent any damage to your workpiece, penetration to wood grains, or environmental hazards. 
I would feel honored to give your feedback and comments that would help us optimize our clients' services to the next level. I would be highly appreciative if you could share this article with your friends and relatives that would allow us to offer our expert services to more people who might need our consultation.
Concluding Notes
Hopefully, you find this article beneficial while struggling with sticky varnish on your wood or wooden materials to remove. This general knowledge would guide you to consider the core aspects of removing sticky varnish and help you efficiently deal with your project to achieve the desired results. 
However, there is no end to learning to become an expert. You may consult with professionals and visit relevant websites, and get enrolled in academic institutions to upgrade your knowledge from time to time. 
Relevant Resources: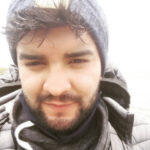 Hi, I am Eric Devin and I am a professional interior architect. Since childhood, I've always enjoyed DIY projects! And, I have loved to solve simple household problems using essential tools and equipment. I have also acquired a lot of information about basic household tools settings by working with contractors.