Misting fans are the best summer favorites. In other seasons, the same fan can also be favorite with or without the misting functionality. The problem is, there are different types of misting fans used in different places to perform different jobs. You will be amazed how varied the use has become of a misting fan, but it's true.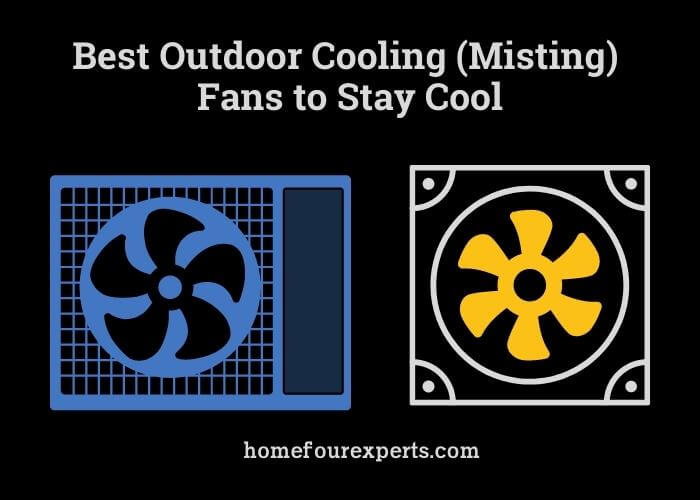 However, this article will help you to find a fan that suits your lifestyle. Who knows you may end up purchasing more than one fan to match your needs.
Factors to Consider for Outdoor Cooling (Misting) Fans
Check for Safety Measures
Overload Protection
Fans are left running for hours on hot days. So, it is best to choose one that has an overload-protected motor. The good news is that almost every fan in the market offers this feature, but you should still check this before investing in one.
Waterproof
As misting fans are mostly used with water and placed outdoors, near the pool; so it is obvious that the fan has to be waterproof. Otherwise, it won't take a second to turn a happy summer holiday into a day of grievance. 
GFCI Circuit
It is an amazing mechanism that shuts off the fan when there is an incident of a ground fault. So, you won't have any electric shock accidentally. But this feature is not maintained by all the fans. Only portable ones are designed with it. 
Size
The head size of the fan determines the area it is going to cover. To cover a large area, look for a large fan. There is no point in purchasing a large fan if it is going to be used indoors in a small closed space. The area covered by the fan is included with every product review to make it easier to choose. 
Weatherproof
These fans are used mostly under the direct sun. so, the more durable the material in contact with it, the better. The metal fans are best in this regard, but they are often bulky and heavy. Besides, there is a risk of building rust if the metal is not stainless. On the other hand, plastic fans have better portability but crack if the plastic is not a high-grade one. So, for plastic fans, the material should be of top heat-resistant quality. 
Misting Quality
Misting varies from subtle to coarse. Not everyone likes the same kind of mist every day. So, the best is to buy a fan with adjustable flow. These are generally the pricey ones. Otherwise, look for pleasing mist fans if you wish to use this function indoors. For outdoor use, there is no problem with coarse mist. Just set the fan in the distance.
Portability
All the heavy pedestal misting fans with buckets have wheels for better portability. Some models run exclusively with the garden hose. Usually, those are heavier, but one can lift and carry them. For campaigns and likewise activities, small portable fans are the best choice.
There are also stationary fans available which are great to use in industry and coffee shops. So, the fan you are buying should be considered based on its usability.
Refund
You always look for these offers to make sure that your investments are safe and hassle-free. So, I don't have to remind you how important it is to purchase misting fans.
Adjustable Features
All misting fans have adjustable speed features. Some even have an adjustable mist feature too. Some models of pedestal fans have an adjustable height. This enlarges the useability of the fan. But a stagnant height fan is also fine as those are easier to use. You just have to use a stool to give it a preferred height.
Benefits of Using a Misting Fan for Outdoor Cooling
Misting fans provide outdoor cooling by releasing a fine mist of water into the air. The benefits of using a misting fan for outdoor cooling include:
Temperature reduction: The misting process evaporates the water, which cools the air around the fan. This can lower the temperature by up to 30 degrees Fahrenheit.
Humidity reduction: Evaporating water also reduces humidity in the air, making it feel cooler and more comfortable.
Mosquito control: Misting fans can also be used to control mosquitoes and other flying insects, as the fine mist can kill or repel them.
Low water usage: Misting fans use very little water, making them a more environmentally friendly option for outdoor cooling.
Cost-effective: Misting fans are an affordable option for outdoor cooling, especially when compared to air conditioning units.
Versatile: Misting fans can be used for outdoor spaces like patios, decks, and backyards, as well as for commercial and industrial settings such as warehouse, factories, construction sites, and event venues.
Quick Solutions
How do I Keep My Outdoor Patio Cool?
Even on the most well-liked days of the year, you'll enjoy your patio by creating your outdoor cooling system using the strategies below.
Install a pool. 
Use a patio umbrella;
Install a patio system;
Get a Pergola;
Use a Retractable screen;
Build an outside bar;
Utilize a Retractable awning;
Try an external cooling system.
Is it Wrong to Roll in the Hay the Fan on?
The fan may be cost-effective, thanks to keeping you cool during the recent and humid summer nights. But sleeping with the fan on might trigger congestion, dryness, sore muscles, or allergies in some people. If you've got allergies but sleep hot, try using air filters and humidifiers to scale back allergy symptoms.
Can You Use a Misting Fan Inside?
It's safe to use these fans indoors if you've got to supply a correct ventilation source. Misting fans aren't only useful for dropping the temperature in large outdoor spaces, but they will also significantly change the temperature while using little or no energy.
Are Misting Fans Safe to Use Outdoors?
Misting fans are generally safe to use outdoors, but it is important to follow the manufacturer's instructions and guidelines for proper use. It's also important to make sure the fan is rated for outdoor use and that the electrical connections are properly protected from the elements. Additionally, the misting fan should not be placed near any open flames or other sources of ignition.
The Way Misting Fan Works
Misting fans are essentially the mixture of a strong fan and a misting system. A high-pressure pump conducts water from a water source and blows it through with multiple nozzles into a fine mist.
Now, this mist works in two different ways to offer you a much-needed respite on hot summer days. Many fine droplets get evaporated into hot air, thus bringing the air temperature down eventually. Others travel with the airflow to offer you a pleasant, refreshed feeling.
Misting fans works not only by providing a pleasant cooling effect but also effectively keeping flies and mosquitoes away. Additionally, the mist also helps to calm down the dust particles and keep the air clean.
A single misting fan can bring the air temperature down by the maximum amount from 25 degrees to 30 degrees, counting on the humidity level. Therefore, the fan's desigfan'sile its evaporative cooling effect works best in low humidity conditions; many sorts of misting fans work great in high humidity too.
View Our Recommended 10 Outdoor Cooling (Misting) Fans-
Whether you're trying to find an honest mister fan for your backyard pool party or want one to require for your camping trip, we are confident you'll find your perfect match right here.
1. Lasko Portable Outdoor Fan for Camping, Patios, and Picnics
Model: 7050 Misto;
72-inch cord;
350 CFM;
Suitable for outdoor use.
The best misting fan for a person who loves traveling will be this model. Just dump it in the back seat with other supplies and drive the car for a picnic, camping, or even a romantic date in the meadow. This is so light and small, and you can put it on a poolside table during the pool party. Placing it on a summer cabin's wooden deck is also convenient because it does not rattle or vibrate. 
This tiny little fan is so amazing that it is able to reduce the air temperature up to 25 Degrees on the highest setting. Yes, like any other misting fan, there are three settings. It does not oscillate. Rather, its head can be placed up and downward to get the mist in the right direction. It is suitable if the fan is set close by. It can be bothersome in using the fan in a small space or by a huge group.  
It is entirely made of high-quality plastic. So, it has no chance to fade or crack from the high summer heat. However, this fan is just fine for a small space and few people to keep you comfortable. It gives you the freedom to enjoy the summer literally wherever you want!
Pros
Portable;
Arrives assembled;
Long-lasting;
Rustproof.
Cons
---
2. Sunneday 80007BK Outdoor Misting Fan
USB rechargeable;
Silencer high speed;
3 levels of wind speed;
Water tank capacity: 40ml;
10.4 ounces.
This fan has countless flexibility. You can use the mister outdoors in the nasty summer or remove the mister and use it indoors during the night. It is great either way. As the stand is long and adjustable, you can place it in a comfortable location near or far. The head is quite big and good to serve a huge group of people. 
However, if you don't want to have a shower by the mist of this fan, you must have a large patio or backyard where you can put it far to stay dry yet cool.
The main material of this is plastic of good quality. There are advantages and disadvantages of using plastic in a misting fan. It becomes rustproof, lightweight, and easy to clean and maintain. On the other hand, the plastic material cracks if left under the sun for a long. Or it may break if ever tipped over. So, you get the idea that it will serve you best until you stop taking care of it. 
This kind of fan is a must-have for every homeowner as it is good to use both indoors and outdoors. 
Pros
Once the battery is dead simply plug it in & recharge it;
3 Speed USB rechargeable misting fan;
An easy-fill cap to fill & hold water.
Cons
---
3. Luma Comfort-High PowerMisting (Cooling) Fan with 5 Gal Tank and Wheels
Suitable for up to 1000 sq ft area;
5-gallon capacity; 
Lowers temperature 30-45 degrees.
The MF26B oscillating fan from Luma Comfort is large and heavy. Its wheels and large tank give it unmatched portability. When the tank is filled up, you can set it anywhere you want! You don't always have to look for a garden hose. 
The pool and backyard parties will be even more enjoyable with this fan. Impress the guests with its adjustable flow. Other fans have only a speed setting to control the wind flow. This one lets you control the mist flow as well. Everyone will get a cool breeze without getting wet. 
It is an oscillating metal fan. It is a big one, so you must have a big house to really make it useful. Otherwise, you will end up bringing home a fan that you don't need. On the other hand, the price you have to pay for it is relatively high compared to other variations I have discussed here. The functionality of this fan is so amazing that it makes the price totally worth it.
Pros
Adjustable flow and speed;
Wheels for better portability;
Sturdy and durable.
Cons
---
4. Dynamic Collections Art Deco Floor Fan with Weighted Base
27 pounds;
40-51 inch adjustable height; 
900, 1100, and 1280 rpm speed.
Contrary to other misting fans, its removable misting system can be used whether the fan is running or not. I find the copper color with rope detailing at the base of this model. It brings a vintage atmosphere to the house. It will match more with a vintage style interior compared to a modern style one. 
The speed, height, and misting functions are all adjustable. There is a hose included with this unit. All you have to do is assemble the fan, which is quite easy. Attach the misting kit and plug in the cord. The fan has a big 19 inches oscillating and tilting head. It makes it perfect to use in large indoor and outdoor areas. 
By the look of the fan, you can tell that it is super sturdy. There is less chance of wobble or tipping the fan over by chance. It is neither too light (because it is all-metal) and not too heavy to lift up and move from one point to another. For an easy and hassle-free basic misting fan, this can be a safe choice.
Pros 
Vintage style;
Sturdy base
Easy to assemble and use.
Cons
---
5. Cool-Off Island Breeze Oscillating Misting Fan – 12 Gallon Capacity
27 pounds;
Covers up to 1600 square feet; 
Height 78 inches.
This fan has several flaws that make it less desirable to use as a misting fan indoors and outdoors. I would say those are the features that make this more suitable to use for other purposes. For example, it makes a humming noise, which is ignorable but not good to run for long. Besides, the mist is more like fog or water droplets in some cases, which no one expects from a misting fan. 
However, if you live in the dry part of the world and want to enjoy all the luscious vegetables of the tropical regions, you must rely on a greenhouse. This misting fan will create the perfect humid environment inside the greenhouse to help the plants grow well. 
Another fair use of misting fans is on the farm and stables. No one says that these fans are just for human beings. The animals also have feelings, right? On hot summer days, leave the fan in the poultry or herd to keep the birds and cattle comfortable throughout the night. It has a vast 12-gallon tank, enough to make mist for 10 to 12 hours straight. 
This unit is inexpensive. So, you can give it a try for yourself before setting it on the farm. I confess that there are a considerable number of negative reviews online about it, but recently it has improved. So, give it a try; if you don't like it, you can make it useful for other beings anytime.
Pros
A long-running time;
Suitable to use in greenhouses and stables;
Easy to move.
Cons
Not suitable for indoor use;
No return/refund policy.
---
6. NewAir Portable Indoor Outdoor Evaporative Air Fan and Humidifier
Model: AF-310;
Weights: 11.6 pounds;
Covers up to 100 square feet.
First of all, this is a refurbished fan and has a refurbishment certificate. However, this is the cheapest fan you will find online, which can be relied upon. And why not? It has a refund or replacement policy covered for a long time. So, I have incorporated this list despite being refurbished because of its super reasonable price.
In dry climates, the NewAir AF-310 evaporative tower cooling fan may be cost-effective thanks to staying cool. Using the natural power of evaporation to chill the air, the AF-310 can lower the temperature within the surrounding area by a maximum amount of 20 degrees at a fraction of the air-con value.
The fashionable high-rise tower fan features an easy-access cistern with a gel ice pack. Select your ideal cooling mode with three fan speeds, 60-degree oscillation, and a Nature Mode that automatically varies the fan speed to duplicate a natural breeze. Sleep mode and a 7.5-hour timer allow you to customize cooling to your schedule.
This evaporative cooling system features a germ-free pump circle system and cloth curtain materials to supply moisturized cool air. The AF-310 is a swamp cooler, humidifier, fan, and air purifier. Includes a full-featured remote.
Pros
Budget-friendly price;
Money-back guarantee;
Durable construction.
Cons
---
7. Geek Aire Battery Operated Outdoor Misting Fan
Weights 23.1 pounds;
A full charge provides continuous airflow for 3-23 hours;
Arrives with battery & power bank to the charger;
2-speed settings.
Geek Aire misting portable fans literally let you carry it WHEREVER you go! It runs on a battery, so you get an idea of how portable it is. Portability does not always come from the lighter weight. It also comes with items that have no strings attached. So, this one is the best option for you if you love to spend holidays at the beach, campaign, picnic or sports. 
It is anything other than a hard and separable metal section, which is not difficult to collect and disassemble and will not take up extra room in your car's storage compartment. With a dense cover, your open-air fan is IPX4 water-safe, UV safe. Ideal for outdoor use whenever.
I recommend purchasing the bucket for this fan with it. It also runs on a garden hose, even without it. So, you can enjoy it both ways. With a proper battery, it will save your back for up to 3-23 hours! If you have extra batteries, then the run time can be lengthened even more (which I strongly recommend). This fan is not a pricey one. So, even if you are looking for a stand fan for the house, you should still consider it as an option to use out of the home.
Pros
Cordless;
Can be used with or without a bucket;
Noise-free.
Cons
---
8. CoolZone by Sunheat Misting Fan with Bluetooth Technology
Ultrasonic Dry Misting;
Remote control;
3-speed settings.
Who does not love music? Especially in leisure hours on holidays? To make your holidays and weekends comfortable and enjoyable, this fan is made in a complete package. It has a built-in sound system that runs on Bluetooth. So, you can call every day a DJ party day with this CZ500 model of a misting fan. 
When it comes to the mist, it is called a dry misting fan because of its fine mist. You are supposed to feel the temperature 15 to 20 degrees lower without feeling the wetness. There is a built-in water bucket with this fan, but the 4 wheels at the end just make rolling this fan down from one room to another a breeze. 
For me, the best feature of this fan is not the mist or the sound system. The remote control operation makes this fan stand out from other misting fan models on this list. You can adjust the speed without even lifting a finger. 
Pros
Built-in sound system;
Refund policy offered;
Fine mist.
Cons
---
9. Mistcooling Outdoor Mist Fan for Commercial, Restaurant, & Industrial Applications
Nickel-plated;
Wall-mount design;
Adjustable spray direction;
UV treated
Temp. Range: 35 – 100 F.
The better misting fan option to use in a restaurant, shop, or factory is to use wall mounting styles. There is no option of moving it often, so you don't have to hear any complaints from anyone. Besides, this model was particularly made for industrial purposes. So, it delivers a lot of air and covers a larger area than other regular stand fans. 
This one is 18 in head size. As there is no stand or bucket to be used with this fan, it arrives pre-assembled. No hassle of putting together a fan out of puzzling pieces. Besides, this kind of stationary fan is also the best choice to use in households with pets and kids. No one will try to touch it if it is placed out of reach.
As stationary wall-mounted misting fans are quite new in the market. So, people are still confused about its usability. One thing is assured that it is a good one to use in a place where you want to retain your authority.
Pros
Rustproof;
High-quality stainless steel;
Can instantly create cool zones;
Stylish;
Safe to use around children.
Cons
---
10. Pelonis Oscillating Pedestal Outdoor Misting Fan
10.73 pounds;
3 Speed settings and 3 modes;
Tower Fan + AC;
Bright LED light indicators feature.
Meet the lightest pedestal fan on this list. With its metal and plastic body, the weight only reaches 10.73 pounds! Just lift it up, carry it with one hand and place it wherever you want. The 40-inch head is enough to cover a large space, whereas the adjustable height lets you determine precisely where you want the mist to feel.
The 15-hour programmable clock as well as the 50cm air outlet with 90 ° silent oscillation takes the experience to a whole new level. Additionally, a rear handle makes it much easier to move. Its lightweight fan is ideal for the home, kitchen, lounge, and home office.
Some have complained about the misting being too wet. Some have liked it! So, I will suggest using your brain if the area you live in is not that hot and you won't need the misting function very often, and then there is no harm with its mist. On other days this fan is impressive as it is, without the mist. 
Pros
Lightweight;
Easy-to-use tower fan;
Child safety;
Adjustable height.
Cons
---
Conclusion
Misting fans always carry good memories with them. You just have to make sure that the purchase is right. Otherwise, your time spent outdoors can be memorized as a nightmare for a lifetime. To give you the best fan your money can buy, this list and buying guide is created. Take your time to go through all the models on this list. Cause, you may realize that one fan may not be enough for all kinds of outdoor activities.
They are resources, cool air generators in the most suitable environment in the best environment of water. Among the notable items in the list is the cool-off misting fan winning our list. The 12 hours run-time implies that you have run out of this compact misting fan juice and you will not need to put pressure on the barking bar.
Also, read through the buying guide. It will help you to realize exactly what features you are looking for in a fan and help you to choose one.
You Might Also Like: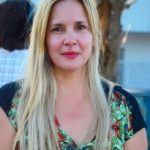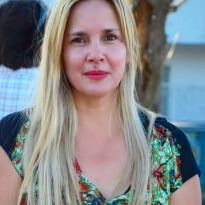 Guys, I am Camila Avery and I love to help my mom to do indoor & outdoor activities. As a lady, I have passed my time on gardening, home improvement, and personal or self-care. I have acquired some degrees in outdoor recreation, beauty, and hair care. It is not easy to work with top-level professional beauty experts. But, I got that opportunity and experimented with different hair extensions, hair colors, and cuts.