Published on: June 14, 2022
Written by David Rowan / Fact-checked by Eric Devin
A common confusion most beginners face is whether to use a paint sprayer or roller because spraying paint not only requires masking off edges and trim but a roller is needed. Paint sprayer VS paint roller: what is the difference? To know the answer, there are a few things you need to consider if you have decided to paint your walls by yourself.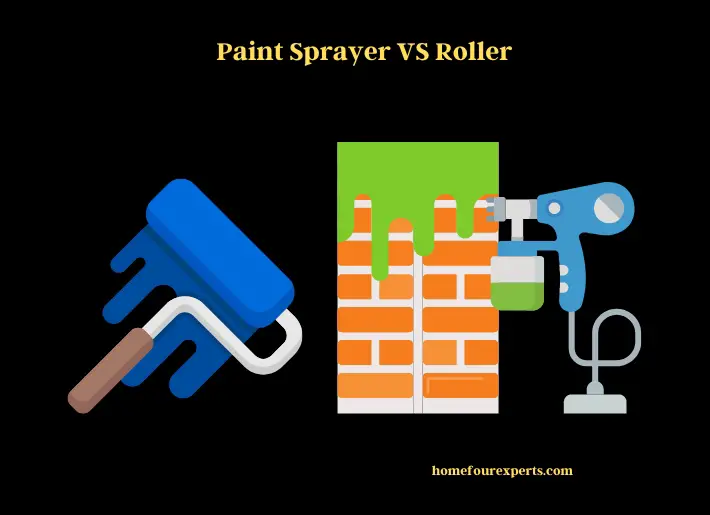 It is essential to mask off windows, floors, and ceilings with film or a drop cloth if you do not want to be touched by overspray. On the other hand, a sprayer may cover surfaces in a fine mist.
If you have accurate knowledge, exact preparation, and a higher skill level about how to use a paint sprayer, you can easily eliminate many annoying things about a roller.
Paint Sprayer VS Paint Roller
Knowing the differences between painting sprayer and roller makes things much easier before starting painting your project as a beginner. To make things more clear. Below, we highlight the comparison between these two things.

Paint Sprayer
A paint sprayer is an excellent option if you want to paint a new build or bare space. With a paint spray, you can accomplish the smoothest and most beautiful finish on your project. It is best to use surfaces like cabinets, doors, or other millwork.
But painting through a sprayer, you will need perfect knowledge, accurate preparation, and requirements.
More importantly, before using it try to use it before painting on your desired space. It will be more preferable if you use a wood plank or other scraps for practicing to get adjusted as a beginner.
PROS
A sprayer does the best job covering large areas fast. Using it, you can cover much more ground with one swipe of a spray. But you need to be sure before using it to know the exact width of the sprayer. It will help you ensure that you do not paint any unexpected things.
Best to give a smooth and squeaky-clean finish that you cannot get through a roller because the device has complete control of the balance of its spray. 
It can perfectly fill the gaps in textured exteriors. Sprayers can easily handle any tricky surfaces and small cracks. Also, help perfectly coat any space with a thin layer.
You can get a more pleasing finish on non-flat surfaces. Using a sprayer, you can paint on rounded surfaces. It is quite a challenging job for non-experience painters. 

CONS
A sprayer is a powerful tool, so it will require higher-level experience getting to know important things about it like spray width, thickness, etc. Knowing these things in advance using a sprayer is essential before you begin painting your walls.
You will need extensive masking and preparation before painting because there is a risk you might overspray your belongings with a sprayer. So you should need to mask your entire space and cover precisely everything properly. 
After using the paint sprayer, it is essential to clean the hoses, nozzles, pumps, and other parts. It can clog and make cleaning painful. 
The actual paint sprayer is more expensive than a roller. 
Paint Roller
When it comes to using a roller, we can assure you it is the best applicator you can use for the vast majority of your basic household paint projects. By using a 9-inch paint roller, you can cover large surface areas such as walls or ceilings. You can use a 4 and a 1/2-inch roller to cover smaller surface areas and to increase accuracy. There are five types of roller you can get,
Manual Rollers
Pad Rollers
Textured Rollers
Specialty Rollers
Power Rollers
Also, you do not need to be experienced before using it. Use a high-quality roller because the paint will be evenly-painted on your walls. Try to avoid using a low-quality roller because the covers will shed hairs, leaving fuzzy lint to dry and ruin the finish.
PROS
A roller is an ideal tool for beginners who have no experience in painting because of its simplest use system.  
For using it, you can be paired with a roller with an extension pole so you can easily reach and have a less strained painting experience.
A roller does not need any maintenance, and the cleaning is quite simple just wash it with soap and plain water.
If you compare a roller with another painting tool, then it's relatively budget-friendly. 

CONS
You cannot use a roller on textured surfaces, like a popcorn ceiling, and are ineffective in filling in small nooks or bumps.
It is also a time-consuming task in large spaces, which means you will have to roll over every inch of your walls at least two times to get the final finish. 
If you do not want to create any gaps in paint or thicker areas than others, it is essential to be more careful and take your time to complete the job.
A roller easily makes a mess. Paint can drip, so you will need to be careful. Try to avoid hitting anything which you do not want to paint.
Is Using a Paint Sprayer Better Than Roller?
It's hard to answer the question in between paint sprayers VS rollers debate what to choose because both have advantages and disadvantages but a few factors you need to consider. 
If you want to paint expansive flat areas such as ceilings and walls, then using a roller is a suitable choice, and it is comparatively cheaper than a sprayer. It can perfectly cover round surfaces or artistic patterns. 
On the other hand, a sprayer is more durable than a roller and gives a smooth and textured finish. If you have uneven surfaces that aren't flat and uniform paint sprayer work, there like magic.
For coating, your roller can dispense any paint medium, but a sprayer must need to be the correct spray tip that needs to be fitted for the paint you are using.
What Type of Surface is Better Suited for a Paint Sprayer Versus a Roller?
A paint sprayer is better suited for a smooth, non-porous surface such as metal, glass, or plastic, while a roller is better suited for more porous surfaces such as drywall, wood, or concrete.
Advantages and Disadvantages of Using a Paint Sprayer Versus a Roller
Advantages of a Paint Sprayer:
– Faster coverage than a roller; you can cover a large area quickly.
– More precise painting; you can reach into corners and crevices with a sprayer.
– Even coverage; the sprayer ensures a more uniform application of paint.
– Flexibility; you can use a sprayer for both interior and exterior painting.
– More durable finish; the thin layers of paint created by the sprayer create a more durable finish.
Disadvantages of a Paint Sprayer:
– Higher cost; a sprayer will cost more than a roller.
– More mess; you will have to clean up overspray and use drop cloths.
– Not suitable for all surfaces; a sprayer may not be the best option for textured surfaces or uneven surfaces.
– More difficult to use; a sprayer requires more skill and practice to get the best results.
Is It Worth Getting a Paint Sprayer?
If you want to know the advantages of a paint sprayer, then there are uncountable benefits you will get. A sprayer can spread paint, stains, and transparent finishes. You can do these jobs better than any brush or roller.
More importantly, sprayers can crush the liquid into fine moisture to create a mirror finish on cabinets or furniture, which a minor brush cannot do. 
On the other hand, you can use it as an even coating to uneven surfaces like your window shutters and stair balusters.
But for small surfaces, using a paint sprayer is not an ideal choice, and for these tasks, it is wiser to use a brush to get better control where neatness counts. To use a sprayer, you need to know exact knowledge and master a few techniques. Many vital things you should consider before using it, like what you are spraying and finishing. 
Because sprayers can cover a vast level of thickness to the finish, they can handle it.
There are two categories of sprayer paint you will get, and both have advantages and disadvantages.
Air powered Sprayers; 
Airless Paint Sprayers. 
Does Spraying Paint Give a Better Finish?
The answer is obviously yes. Using spray paint, you can achieve a faster result than brush painting. It is because most spray paint is oil-based. Oil-based paint is the best to provide a more durable finish than latex paint. Surfaces like wood, metal, wicker, plastic, and resin spray paint do a fantastic job of giving a smooth and beautiful finish. It dries much faster than brushed-on paint.
FAQs
Should I Need to Thin Latex Paint for Spraying?
Yes, the latex paint does need to be thinned before spraying it. Even though latex paint is water-based and thicker than oil-based paint varieties so you must have to thin it to spray a fine mist of paint.

A Gallon of Paint How Many Square Feet of a Wall Can Cover?
You can use one gallon of paint because it is enough to cover about 150 to 200 square feet of wall. To estimate more like a 1:3 ratio you need to be careful.
Which Paint Sprayer Is the Best for Beginners to Use?
As a beginner, you can use pneumatic sprayers because it is the best paint sprayer since they are simple to use. Pneumatic sprayers are cheaper to buy. But you will find it less versatile than the airless sprayer. Besides being easy to use, not you do not need to use a lot of paint.
Final Thought
If you read this complete article, you might now understand the differences between a paint sprayers VS paint roller. You can use both sprayers and rollers, but each tool is designed for specific projects. Professional painters use top-quality and expensive sprayers for their projects.
As a beginner, you can use pneumatic sprayers, which are inexpensive. On the other hand, for artistic patterns, a roller does a mind-blowing job to get perfect results that you cannot get from a sprayer. 
Above, we mention both similarities and dissimilarities of each product to make things clear for you. 
Read more: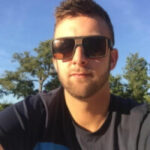 Hello, I am David Rowan. I am a professional contractor with 10 years of experience in home building, different tools used, construction, home remodeling, and other home improvement work. I have already built many custom homes and continued to do several woodworking projects along with how to deal with all categories of tools.