When you deal with power tools, you need to take care of some basic aspects so that you can achieve professional-grade performance. There are various types of models with a wide range of features the power tools available in the market. Sometimes you may get overwhelmed thinking about which to choose for your project and why.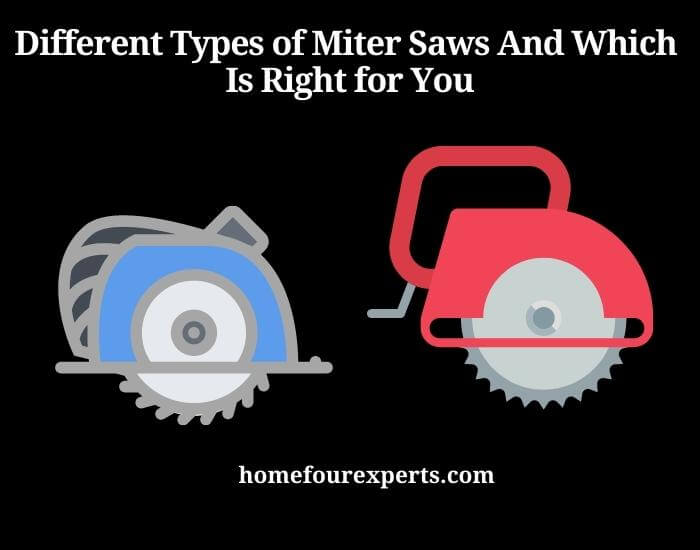 Naturally, you need to give a close look at the basic aspects so that you can make the right decision before buying them. However, it's not only the issue of the power tool's feature. It's also associated with the type of projects you are going to accomplish.   
Similarly, the same concerns arise when you talk about a miter saw as various types and qualities are available in the market. So as a professional or DIYer, a few aspects about a miter saw you should look at before choosing the right one for your project. 
Therefore, today's article is designed to talk about different types of miter saws and which is right for you so that you are able to choose the right one for your project. 
Different Types of Miter Saws
Miter saw is basically combined with a miter table that allows you to rotate the saw to either the right or left-hand side to produce a crosscut from a different angle as desired. As per Wikipedia "a miter or miter saw is a saw used to make accurate crosscuts and miters in a workpiece by positioning a mounted blade onto a board." 
The depth of the cut fully depends on the blade's diameter meaning how far the depth of board you can cut through with the blade.  However, if a cut is made against the back of the fence, you may exceed the blade's radius.  You can get different corner pieces for your project with the miter saw. Most miter saws are now compound in design. 
The original form of the miter saw consisted of a back saw and miter box while the modern version consisted of a powered circular saw which has the ability to position the saw at different angles and lowered onto a board placed against the backstop. Miter saw also is referred to as a chop saw though there are some basic differences between these two.  
However, the power miter saw was first invented by Ed Niehaus, the Chief Engineer in the Power tool Division for Rockwell International in 1964. Later, this miter saw was successively developed with more advanced versions including radial arc spring action, blade breaking, and dust collection which still exist. A large number of manufacturers came with various modern designs as Rockwell did not patent the design. 
There are six types of miter saws available in the market with various features. Let's talk about the types of miter saw to have a clear insight. 
Standard Miter Saw
This power-actuated saw is designed generally to make a straight crosscut on a board at a variety of angles. The key feature of this saw is to produce a straight cut at a 45-degree angle for framing as opposed to an abrasive saw which is designed only to cut a 90-degree angle through the board. 
Compound-miter Saw
Compound miter saw with little more advanced features has the ability to tilt the blade to produce both miter and bevel cut on your board vertically and horizontally from different angles. The bevel cut is mainly used in trimming for homes. You can pick this saw if you need to cut wood rather than metal. However, most miter saws are now compound in design. 
Dual Compound-miter Saw
The dual-action system of the compound-miter saw can rotate the head when angled on both the right and left-hand side and cuts from all angles are possible without repositioning the board.  
Sliding Miter Saw
Sliding miter saw combined with rails allows the saw head to slide back and forth through the board. The design of the saw also allows you to make straight or pull-down cuts by locking the rail similar to a chop saw. It offers you a greater depth of cut unlike the same-size miter saw without rails.
The blade's width and sliding depth determine the total thickness of the board you can cut at a time. You can make this size double by flipping the board around. Most models of the sliding miter saw also have the ability to produce compound cuts. If you need a more compact saw for more portability, you may ignore the sliding saw.
Compound Sliding Miter Saw
This model is worldwide recognized for its best features. This model combined with rail has increased capacity of crosscut and its left bevel enables it to make a compound cut.  It offers you more flexibility of compound cut with added depth managed by the slide. You can go for it if a deeper cut is required like a board with 1×12 or 2×12 width.  
Dual Compound Sliding Miter Saw
This model comes with a miter table, sliding rails, and beveling that rotates both at the right or left-hand side. Its left bevel allows you to make a compound cut at the reverse side of your workpiece around without flipping over. It saves your time and allows business continuity. Also, it gets you rid of hassles when you prefer bevel-cut crown and base molding to cut flat in both directions, particularly for longer pieces of board. If you occasionally need bevel cut in both directions, you may opt for a cheaper saw instead. 
The Advantages of Using a Sliding Miter Saw
1. Precision
Sliding miter saws offer more accuracy than traditional miter saws, allowing for more precise cuts.
2. Versatility
Sliding miter saws are able to make a wider range of cuts than traditional miter saws, allowing you to make cuts at a variety of angles and depths.
3. Capacity
Sliding miter saws can cut larger pieces of material than traditional miter saws, making them ideal for larger projects.
4. Convenience
Sliding miter saws are easier to use than traditional miter saws as they feature improved ergonomics, an adjustable cutting base, and a dust collector.
5. Power
Sliding miter saws are more powerful than traditional miter saws, making them ideal for tougher materials.
Considerable Aspects to Choose a Right Saw
As discussed earlier, miter saws combined with miter tables and blades replaced the original chop saws with more advanced features to produce a precise cut including crosscut, bevel cut, and compound cut at a variety of angles as desired. They ranked top for creating angle joints and making decorative pieces. However, you need to consider a number of aspects while planning to buy them for your project. Below are a few basic aspects explained for you to choose the right one. 
Angle's Measurement
Angle's measurement is to determine the size of the board your saw can cut. Miter saws with maximum angles measurement are available in the market. A single-action compound miter saw can tilt in one direction and you have no option but to make a cut at the desired angle by flipping over the board and cutting it backward.   
Usually, a miter saw produces a vertical cut at 90 degrees.  This value determines the maximum angle of the specific saw as to how far a saw can rotate in either direction. The simple equation is the higher the miter angle, the more versatile the cut will be.  
However, a dual-action compound miter saw can resolve your issue as your board does not require flipping over to make a cut at different angles for its dual-action system. Also, this dual design will save you time and prevent you from potential mistakes as you don't need to determine a new angle before another cut. 
Angle Stop for Accurate Cut
Another important aspect to consider is its angle stops. The angle stop, also called detent, is preset in different positions around the saw keeping in mind commonly used cutting angles. Usually, angle stops are preset at regular intervals which would help you to quickly set your angle by adjusting your angle stop to produce a precise cut.    
Angle stop also has a system to lock the place where you have set your angle before making a cut. This lock system will allow you to have a series of the same cut accurately at specified angles as you desire.  It speeds up the cuts to repeat the same with a single pass. Compound miter also comes with both miter and bevel stops. You can position the miter at your desired angle without setting stops when you need to have unspecified cuts. 
Its laser guide will show you where the blade is set to cut. Some saws come with LEDs to illuminate the cutting area which would allow you to set your blade along with cutting marks. It would save you time from further setting up your blade before making another cut. LED light also will allow you to see whether your board has moved since you started working with the saw. 
Another important aspect is that the miter saw with regular angle stops and a laser guide will allow you to set your saw to a correct bevel or miter angle at no time and you can have a correct length of cut after lining up your workpiece. It's ideal for large projects since the features save time as you won't need to bother with the repeated placing of workpieces against the fence and chopping. 
Size of the Miter Saw Really Matters
It's found that 8-1/2 sliding compound miter can perform 85% of the jobs or more. However, for vertical base and crown cuts, you may prefer a 10-inch or 12-inch saw. On the other hand, you can choose an 8-1/2 inch saw in case the majority of your cuts are flat on the base. Let's look at the measurement below to consider the size before buying. 
12 Inch Saw for Thicker Material:
​A 12-inch miter saw is ideal for cutting thicker material like 1×12. This size also suits you best in case you intend to use a stand. This saw size is also helpful for cutting vertical crowns tall. 
10-Inch Saw for Capacity and Portability:
10 inches miter saw is a good combination of capacity and portability
Below is 10 Inch Saw for Portability and a Smaller Base:
Go with less than 10 inches miter saw if portability is a priority and in case you need to cut a smaller base, crown, and door trim.
Capacity Features
This article also has touched up the capacity issue in terms of blade quality, corded and cordless features, motor capacity, and a few other things which also greatly impact professional-grade performance. Let's look at those below.
Blade's Capacity
Blade size and sharpness really matter to perform your task accurately. Always take care of this aspect before choosing your saw. A trusted brand's miter saw would give you the guarantee of a quality blade. Don't tend to compromise with the blade quality just to save some money. Always remember quality products count for value for money. 
A larger miter saw comes with a larger blade which ensures faster work and cut thicker pieces. Carbide blades exceedingly have a longer life span. Different miter saws come with different spindles and the replacement of your blades depends on these spindle types.  Some saws come with a spindle wrench which would save you from purchasing another spindle while replacing your blades
Corded Vs Cordless Miter Saw
A cordless miter saw is another fascinating feature alongside corded models. You should consider it as well since it will give you portability. It's ideal for working at outreach sites and dealing with light-duty projects. Consider cordless models with wheels and carrying handles depending on the type of your project and Jobsite. 
But don't ignore the corded model to accomplish heavy-duty projects that allows you to accomplish heavy-duty projects for a longer time through an uninterrupted power supply. It would be good if you keep both in your tool's collection. 
Motor power
Motor power is one of the most important features. Powerful motors speed the cut of hard materials. You must check a few things about the motor like the saw's RPM (Revolution Per Minute) and rating before choosing the miter saw. The higher the RPM, the faster the blade spin produces accurate cuts.  You can also read a review article to have an idea to grab the best one you are looking for. 
Safety Features
It's always wise to go with a saw having built-in safety features apart from other safety goggles, lights, and workplace compliance to prevent accidents and workplace hazards. 
Dust Extractor
You must consider saws combined with a built-in dust extractor that prevents you from having sawdust in your eyes, nose, mouth, and ears. This incident may cause you breathing problems, eye injury, etc. Fire may also occur from sawdust or accidental falls may occur. A Miter saw combined with a dust collection bag would help you prevent such injuries and workplace hazards.  
Blade Guard
A Miter saw's blade combined with a blade guard will protect your face, hands, and body from laceration during and post-operation of your saw. 
The Best Miter Saw for Cutting Wood
The best type of miter saw for cutting wood is a compound miter saw. This type of saw features both a bevel and miter adjustment, allowing for more precise cutting and creating angled cuts. Compound miter saws are also more versatile, allowing for a wider range of materials to be cut.
Recommendation from Experts
If you are DIYer or beginner just start with a standard miter saw. And successively move on to other types to develop your expertise. Finally, when you are near to the professional, just dare to grab a dual compound sliding miter saw, the most versatile one among all other types.
Final Notes
I hope you are now quite familiar with different types of miter saws and their comparative advantages. If you are DIYer, you must have enough training before trying such a high-tech power tool. You should buy your saw depending on your project's requirements. Don't rush to any new kind of saw without adequate knowledge and practice. 
Always keep yourself updated with the latest knowledge and information related to power tools so that you are able to utilize the different versatile features of advanced version tools. Get associated with professionals and experts in the related field. Maintain safety protocol and workplace compliance to avoid power tool injuries and hazards. 
Read more: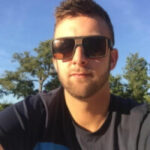 Hello, I am David Rowan. I am a professional contractor with 10 years of experience in home building, different tools used, construction, home remodeling, and other home improvement work. I have already built many custom homes and continued to do several woodworking projects along with how to deal with all categories of tools.