Published on: May 8, 2022
Written by David Rowan / Fact-checked by David Rowan
A cordless drill is considered every DIYer's Holy Grail. Be it a beginner or pro, this power tool is an absolute must to perform any kind of house maintenance task. 
A cordless drill is usable for a wide range of jobs such as house building, repairing, remodeling, maintaining, framing, woodworking, and even heavy-duty construction. 
This tool is quite handy and portable. That is why it is more frequently chosen than a corded drill.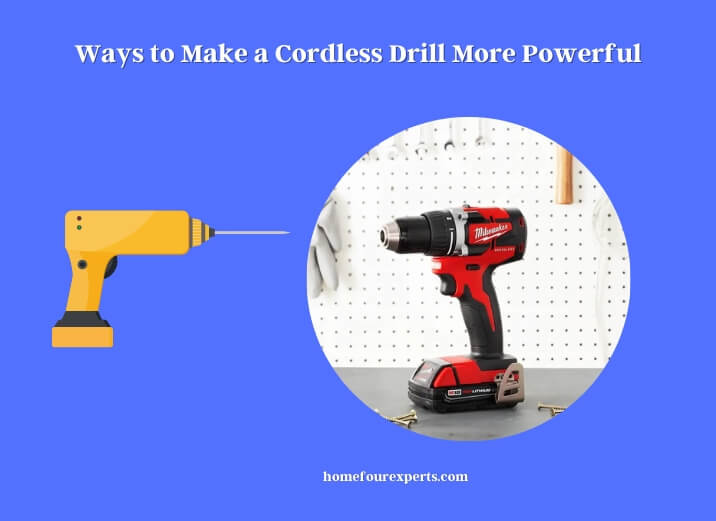 However, things can really go wrong if someone misuses them. So, learning the proper way of using a drill or driver is highly recommended. 
Besides, what can be better if you get to know the way of making a cordless drill more powerful?
Excited? Then please continue reading because I have come up with the three most exclusive ways to add more power to your cordless drill. 
Why Choose a Cordless Drill?
There is always confusion between corded VS cordless drills. Although cordless drills are more expensive, they come really handy as they can be easily transported. You can carry them anywhere based on your requirements without any hassle. 
A cordless drill comes with a powerful Lithium-Ion battery. Modern technological advancement has made it possible to charge the battery in less than an hour. The battery holds power for a pretty long time as well. 
You can even use the battery with the same brand power tools. No more waste to buy a load of batteries for every individual power tool. Isn't that amazing?
Unlike corded drills, the cordless ones are measured in volts. The highly efficient Lithium-Ion battery really makes it bang for your buck in terms of power. 
So, why not choose a cordless drill with so many conveniences?
Learn the Three Simplest Ways to Make a Cordless Drill More Powerful
Today's cordless drills are pretty high voltage. The power has evolved from 9.6V to 18V over the last few years. 
The battery power usually ranges from 12V to 20V for the latest drills. For a more powerful tool, you must rely on the voltage rating. The higher it is, the more power the tool will provide and you will get more torque-spinning strength.
However, there are some effective ways to add some more power to your power tool.  Wondering how? Then keep reading the hacks. 
1. Fully Charge the Battery 
Proper care should be taken from the very beginning to have a satisfying performance from your battery pack. When you first buy a power drill, be sure to fully charge the battery. 
Some people hastily start using the drill just after charging 10-15 minutes. This can be the worst in the long run. It will lower the battery life as the memory of the battery will think this is the limit of full charge. 
So, the battery life can be extended at the very first charge. Charge it to the fullest and it will significantly be more powerful than a drill not fully charged. Of course, it will last longer as well. 
You should fully charge the drill not only for the first time but also after every use. Otherwise, a sudden power failure may happen in the midst of a running project. You don't want that, right?  
So, don't forget to recharge your power drill when it runs out of power. The easiest way to check whether it is completely charged or not is to notice the red and green light. 
If the light on the charger is red, it is still charging. When it turns green, you may unplug your drill from the charger. How easy-peasy!
Only maintaining this simple rule will make a significant difference in the power drill performance. You can figure it out while performing any task with your cordless drill. 
2. Clean the Battery Contacts Regularly 
Yes, you read it right. I know this is basic instruction. But if you don't take it seriously, you will definitely regret it. 
Usually, a battery has two contacts- negative and hot. You should frequently clean them with any piece of a soft cloth. A rag comes in use in this case. This will wipe away any dirt or debris which will multiply the power performance.
Many of us skip this process, I know. As a result, our battery does not perform up to the expectation. Gradually, the drill becomes powerless and we end up buying a new one. 
Why spending again if you can simply add more power by a simple task?
3. Upgrade the Battery
Sometimes the provided battery pack with the drill is not worth it. If you need more power to get your job done, replacing the supplied pack with a new one is the best option. 
To make a cordless drill more powerful, upgrade the battery to a high voltage one. 
Nowadays, Lithium-Ion batteries are the best to improve the power of a powerful appliance. The same method can be followed to turn your portable drill into a more powerful instrument. 
As these batteries consist of standard voltage, they last pretty long. So, you can use them for completing tasks that require high speed and torque. 
In order to upgrade the battery, disassemble it first. Then assemble the new pack carefully. You must use the fusible link that you got with the original one. Then test if it is working smoothly. That's it.  
After a certain period of use, your remaining battery may get affected and some cells may be damaged. So, be sure to check on a regular interval. If some cells are bad, the whole battery pack will be useless. So, you can replace the cells as well instead of replacing the entire battery.
Of course, you need to be careful enough not to cause an accident.  
Frequently Asked Questions
In this section, I am going to answer some relevant questions regarding a cordless power drill. These are the most sought-after queries by the users. 
Is a Cordless Drill Powerful Enough?
Yes, it is conveniently powerful. Though not that much compared to the AC-powered electric ones, it is more than enough for most of the DIY tasks. Because of the high voltage of the Lithium-Ion battery pack, you can rely on the performance of a wireless drilling machine. 
What Makes a Cordless Drill More Powerful?
To choose a more powerful drill, you should prioritize the battery voltage. This is the basic rule of measuring a power tool's power. No exception in the case of a cordless drill as well. 
Typically, a cordless drill machine has a battery range of 12V to 20V.
How a Cordless Drill Is Sold?
A cordless drill is usually sold in the following configurations-
An individual tool with single or double batteries and a charger
A part of an entire cordless tool kit
A bare power tool without any charger and battery
Closing Notes
A cordless drill is the most basic toolset to perform any household activity. Although it is powerful enough to get your tasks done, you can always add some more power to it by following the ways mentioned above. 
Adding some more power to this hand-held device will make it worth doing more difficult tasks that require more power, speed, and torque. 
So, try these three amazing hacks I described above and explore some other usages of this handy power appliance. Increasing the power will let the device improve its torque and speed to overcome all the resistance.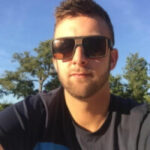 Hello, I am David Rowan. I am a professional contractor with 10 years of experience in home building, different tools used, construction, home remodeling, and other home improvement work. I have already built many custom homes and continued to do several woodworking projects along with how to deal with all categories of tools.