If you need to finish a task efficiently and with less effort, you need to have an accurate tool. Different tools are used for different operations. So you should know about all the tools and also their uses clearly. A belt sander is a very useful tool that can reduce your effort if you can use it for the right purpose.
If you can set an accurate grit paper, a belt sander will help you to strip the wood off the surface and refinish your project within a very short time. A belt sander has many other applications. This article is all about a belt sander and its uses.
What is a Belt Sander?
A belt sander is one of the fastest tools to use for finishing purposes. You can reduce the roughness of a surface within a very short time by using a belt sander. Though this tool is operated at quite high speed, practice is needed before using it for your final project. You need to move it continuously, otherwise, it will remove material more deeply than your need.
In a belt sander, two drums wrapped with abrasive paper. This construction creates a closed loop of abrasive paper that can rotate continuously. To smooth a rough and flat surface is the main application of a belt sander. A belt sander can be portable or stationary. Benchtop belt sander is the example of a stationary model.
Nowadays the demand for portable devices has increased. As a result people now like to use a portable belt sander. While a stationary belt sander is fixed in a specific position, you can take a portable belt sander anywhere you want. You need to carry the portable sander to the stationary workpiece.
What are Belt Sanders Used for?
Suitable for Smoothing and Refinishing the Large Projects
A belt sander is really amazing because it will help you to finish your project easily and quickly. Belt sanders are suitable to use on the large and flat surface of the workpiece. So when you need to smoothly finish your large projects like cabinets, floor, or other furniture, you should use a belt sander.
To Refinish Some Small projects
Not only big projects, but you can also use a belt sander for refinishing some small projects. For example, you can use it to remove the extra material of doors in order to adjust it properly. This tool can make excellent curves on small wooden pieces while it is used as a stationary tool. There can be many other examples of finishing small projects with a belt sander.
When not to Use a Belt Sander
Though a belt sander is a powerful tool and operates at high speed, it is not suitable for the precise task. When more accuracy is required and the task is more delicate, you should not use any belt sander as a finishing tool. 
Pros and Cons of Using a Belt Sander
A belt sander is one of the most powerful tools. So it helps you to do tasks within a very short time. You can remove a lot of material very quickly. You can use it for both a wooden workpiece and a metal workpiece. But this tool is very efficient for large and flat projects.
This high power tool can cause damage to the workpiece elements. So this is one of the major drawbacks of using a belt sander. Not appropriate for finishing purposes and delicate tasks.
Conclusion
A belt sander is a must needed tool in a workshop. This device is not so suitable for finishing work. The final finishing of a product should be more precise and smooth. A belt sander can remove materials very quickly so you may not get a precise result.
Sometimes we need to remove an old layer from a surface or need to sand before final finishing. This is when a belt sander can serve you amazingly. This tool can be the right choice when you need to sand a larger surface within a very short time. So, for the successful finishing of a project, you need to select the right tool for the right purpose. Hopefully, this article will help you to learn what a belt sander is used for.
You may like these also: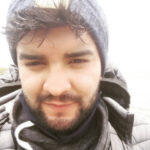 Hi, I am Eric Devin and I am a professional interior architect. Since childhood, I've always enjoyed DIY projects! And, I have loved to solve simple household problems using essential tools and equipment. I have also acquired a lot of information about basic household tools settings by working with contractors.