This article includes affiliate links, which means we may earn a commission if you make a purchase following our link. Please refer to our review guidelines.
Have you ever thought about making your own knife?
I know the answer is negative for most of you because you'll find a number of knives available in different designs in the market.
But the knives available in the market are made only for business purposes, and manufacturers produce them in large quantities. So you never own a unique knife if you buy from the market.
But what if you make your own knife!?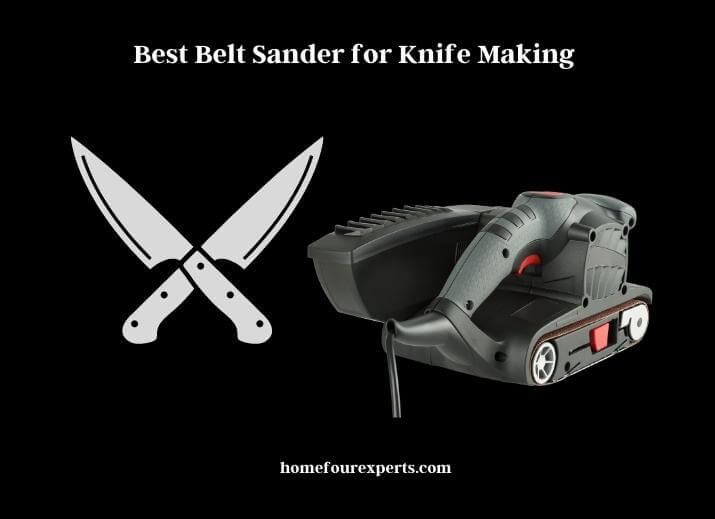 In that case, you can maintain the quality of the material, and the design will be unique from store-bought.
And for making your knife, the tool that can help you most is the belt sander.
You only need to consider some features for choosing a belt sander for making your knife and staying safe while using the machine.
In this guide, I've discussed all these to make the process easy for you.
Why Make Own Knife
You may wonder, why should I bother making a knife when I can buy one easily from the market?
Well, I've some good reasons that explain why making your own knife is different from buying one. And they are-
It is an Art
The knives available in the market are the same, but if you make your own knife, you can design it aesthetically —making your own knife gives you the chance to make it according to your imagination.
Hobby
Making your own knife is a hobby like painting, knitting, singing, etc. You can also make knives for your regular use or for your collection.
Sharpen Your Skill
Suppose you're into metalwork; you need to keep practicing to improve your skill. Making a knife for your personal use or collection will help you to improve your skill.
Cheaper
Making knives for yourself is also cheaper. You need to pay a different amount of money to get your desired knife depending on its size, design, and purpose of use. But if you make your own knife, it'll be cheaper than the one from the market.
Quality
If you're buying a knife from the market, you never know the quality of the material it is made from. But if you make your own, you can make it with the material you want.
Read More: Reciprocating Saw Blades – Top 10 Reviewed
How to Select a Belt Sander for Making a Knife
For making a knife on your own, a belt sander is a great tool to get a nice and smooth finishing. But how do you know which one will be best for you?
Well, there are some points you can check to get the perfect sander, they are-
The Material of Sanders
Typically, it is made of unsalted cast alloy iron or aluminum for perfect use. Ingredients bring longevity and durability to an item. You discover countless devices that become defective, corrosive, unpleasant and break down due to inferior quality materials.
Regularly search for seamless aluminum body sanders or engines made of cast iron, excluding sanding belts. Aluminum is hard, light, strong, and non-rusty. Also, cast iron is a great engine structure.
Sander Size
The size of the sander is the first thing you should consider while buying. It should not be too heavy to install. Or you can select one that can be easily installed in your workspace.
Belt Size
The next thing you need to think about is the belt size. For making knives the best size of the belt is 2 inches/ 74 inches. With this type of belt, you'll be able to do both grinding and sharpening.
Motor
The motor is the most important component of a sander. It helps you to decide the power of the sander while using it. Smaller sanders usually have a motor with ⅓ HP (Horse Power), and large sanders run with a 1 HP motor.
A big motor allows you to use the machine in various projects and easily grind and shape a knife. On the other hand, small motors are suitable for compact spaces with reasonable speed.
Contact Point
The contact point is the part of a knife sander that is like a plate. When you're making a knife, it prevents the knife from hanging from the side. The contact point of a belt sander cannot be changed but you can set a new one on top of the old one whenever needed. If the contact point can be a tilt at 45 degrees or more, you'll be able to sharpen your knife with it.
Speed
The speed of the belt sander is essential for making the best quality knives. If the speed is slow, you need more time to complete a knife. If the speed is high, the possibility is also high that the belt will wear out soon. The sander with variable speed can be the perfect tool to do your job by adjusting its speed.
Dust Collection
Also, consider the dust collection system of the sander. Choose the one with shop vac ports, which can help you to navigate through the dust. You can also choose one with other types of dust collection systems. Just make sure that it can take care of your job.
Ease of Use
Try to get a tool that is easy for you to operate. For example, you don't want to spend several minutes adjusting or changing the belt, when you will get one that allows you to do the same job within a few seconds.
Safety Tips
Here are some notable tips for belt sander clients to work smoother and better:
Put on security glasses and face safeguards prior to beginning an assignment.
Check the force button whether it's on or off.
See the structure of the sanding belt foot. If you think the belt is free, you can change it and fix the movable screw.
Adjust a sanding belt appropriately as per your work standards. On the off chance that you can oversee sanding and cleaning evenly, don't attempt vertically.
Keep your hands off the sanding belt. These are rough and a slight touch of them can cause serious injuries.
Two hands should be moving when working with the belt sander. Strike something lonely.
Clear the work environment dust or sander dust gatherer previously and after work.
Do not cover the air vents of the belt sander (by any means).
Make no difference to the tension on the top of the belts. It will be destroyed.
Maintenance Guide
Overall, this is easy to maintain and investigate. These belt sanders have fewer decorations, parts, and accessories to carry conveniently whenever possible.
In fact, you don't even need modern special powers or information to investigate them. As we have seen so far, it has a solid engine for making knives, customizable rest tables, and bars, shafting wheels, power strings, and decorators.
So it is the least demanding equipment to continue properly. Be that as it may, we have picked up maintenance tips and tricks for our clients.
Switch off the sander prior to eliminating each part to clean.
Now destroy parts like a belt, circle processor cover, belt stand switch, sander plate, rest table, and engine continuously.
Use the brush to eliminate dust from the base.
Use your hands to physically pivot the shaft. This will allow oil to flow appropriately to the environmental factors of the mine.
Wash a belt sander utilizing a harsh brush. Try not to utilize water or fluid on it. Similarly, the plate processor ought to be cleaned with a towel or delicate material fabric.
Check all screws, fasteners, and nuts. Dip them in the greasing oil for 30 minutes. This will remove dust, dirt, and hair from them.
After finishing the collection, switch the sander to turn off anything that doesn't look odd. But often it happens.
View Top 8 Belt Sanders for Knife Making Short Scoring
It is standard to seek out an adequate-sized belt and an identical disc sander to satisfy the requirements of your end knife sizes and materials you're grinding.
The right belt grinder will also sharpen other tools, like axes, buzz saw blades, and gardening trowels. Below described the features of 8 knife making short scoring belt sanders:
1. Grizzly Knife Belt Sander/Buffer (G1015)
Motor: 1 HP, single-phase;
Motor speed: 1725 RPM;
Belt size: 2″ x 72″–76″;
Wheel: 8'';
Belt speed: 3600 FPM;
Weight: 113 lbs.
This one is a great tool to find your taste in knife making. It is not the perfect knife-making sander in the world, but one doesn't need the perfect one for the beginning. This machine comes with compulsory items that you need to start chiseling metal right away, but it can do even better with some moderation.
It does not have a variable speed setting, but with its 1725 RPM, most wood and metal fabricating can be done easily. This sander takes belts of 72 to 76 inches and comes with an 8 inches wheel. From my experience, replacing the wheel with 10 inches one and replacing the workplace with a larger one will be more convenient for knife making.
The price may seem too high for an essential knife-making sander. But that is negligible due to the durability of this machine. Beware that this machine is just for beginners or hobbyists. Don't expect super fine workmanship from this machine as its belt wobbles with slight pressure, and making the symmetrical cut is quite difficult.
Things We Liked
Sander is ready for use, which means less waiting and more work;
Sander is ready for use, which means less waiting and more work;
The motor is strong enough to take care of most work without a single problem.
Things We Didn't Like
For the price, its build quality is no less than the best.
---
2. POWERTEC BD1502 Belt Disc Sander
Motor: 120 V / 1 PH / 60 HZ;
Power Source: AC/DC;
Motor speed: 3160 FPM;
3450 RPM for disc speed;
Dust ports provide a tidy and effective dust collection;
Weight: 18.29 pounds.
This top-notch 2-1 combination sander was intended to enhance your work area while delivering versatile sanding and carpentry applications. Among the top elements, it is equipped with a 1 x 30-inch belt and a 5-inch plate. Both are strategically positioned to offer a grouping of different capacities and can be used in relation to the cast aluminum working table and meter check used for high-precision point conversion.
This machine is stacked with a tough, cast iron base that gives dependability and insignificant vibration while inactivity.
The price is also within an affordable range. So, if you are a beginner, you don't have to break the bank to own a functional knife-making sander, to begin with.
Things We Liked
Works relatively silently and effectively;
2 well-constructed cast aluminum work tables;
Tilts up to 45 degrees;
Designed with 2 dust ports to provide a tidy and effective dust collection.
Things We Didn't Like
---
3. JET Benchtop Belt and Disc Sander (J-41002)
Motor: 3/4  HP, single-phase, 3 amp;
Motor speed: 3450 RPM;
Belt size: 2 x 42″;
Belt speed: 3100 SFPM;
Disk size: 8 inches;
Dust port Diameter: adjustable;
Weight: 60 pounds;
For industrial-grade knife making, nothing can beat the J-41002 sander from JET. It is durable, precise, powerful, and most importantly, it is versatile. Many other sanding machines claim to be versatile but often lack the feature that makes them best for any materials. However, this sander is the best for knife making and is unbeatable for making the wooden grip of knives. 
To make a delicate design, you can remove the platen to polish the inside or outside of a curve. Besides, the worktable is spacious to work comfortably with any metal or wooden pieces. To make sure all your creations are exact, there is a slit on the table to place a miter gauge. Unlike any other tables, the worktable can be tilted to either side with stops at several useful angles. You don't have to flip and turn your workpiece or reposition yourself, just turn the table in the proper ways.
Good things don't come cheap. All the fineness of this machine requires a big fat deal. Hence, I only recommend this for professionals and people who really can afford it and make the most of it.
Things We Liked
Backed by a long warranty;
Perfect for professional use;
Versatile and long-lasting.
Precise operation.
Things We Didn't Like
---
4. Goplus Random Orbital Sander Electrical Dual-Action Polisher Grinder
Motor speed: 2000-6400 RPM;
D-Type Handle Easy Control;
Disk size: 5 inches;
6 variable speed control.
This machine may seem small for the job, but the way it scrapes off metal while making a blade is fascinating. Its belt and disks are small, so it is only suitable for small blade making. But sharing metal and polishing wood materials is a breeze with this tool.
It does not arrive pre-assembled, but putting together the parts is very easy. Explicit instruction really helps. So, to avoid the fuss of assembling a jumbo sander full of intimidating features, this one is quite fit for the job. Changing blades is fast as well. You can swiftly replace a metal scraping belt with a wood polishing blade in a blink of an eye.
I suggest not putting too much tension on the belt, as the machine itself is enough to do the job nicely. Besides, too much stress can ruin the belt or shorten its life. This sander is budget-friendly, so don't think much before purchasing.
Things We Liked
Heavy duty and compact construction;
A detailed system of high-performance dual-action polishers;
Hook and loop polished plate design.
Things We Didn't Like
There is nothing cheap about this except the price.
---
5. Central Machinery Belt Sander
Motor: 1/3  HP;
Motor speed: 3400 RPM;
Belt size: 1 x 30″, 80-grit;
Belt speed: 3100 SFPM;
Disk size: 5 inches;
Dust port Diameter: 1-3/4″ ;
Weight: 18.0  pounds.
Don't keep high expectations from this machine. It is not a miraculous device to deliver some high-end fancy knives for you. It doesn't even arrive with a metal polishing belt, yet we decided to incorporate it into our list because of its usability and the cheap price.
It costs almost half the price of other mid-ranged sanders but does the job of knife-making or sharpening well enough. I suggest you order a 400-grit belt with this unit altogether for cutting blades out of metal.
Don't underestimate this tool for its tiny size and cheap price because it can perfectly stand years of abuse. I don't find any major verdict of this sander; the thing is, it is a belt-only sanding machine. You must have a disk separately for other purposes.
Things We Liked
Cheap;
Comes with a money-back guarantee;
Long-lasting.
Things We Didn't Like
---
6. Kalamazoo 1SM 1″ Belt Sander for Knife Making
Motor: ⅓ HP, 110V, and 1PH;
Motor speed: 1,725 RPM;
Belt size: Uses 1"x42" belts;
Weight: 32.0 pounds.
That most belt sanders are boisterous choices, that is one of those choices that are moderately peaceful and smooth. Changing the belt is simple, and the following change is, as well. This exhibits the Kalamazoo 1SM was made because of usability.
The engine is reversible with inversion lines 5 and 8 outcomes in the heading of the engine turn. Line 5 is the dark wire, and line 8 is the res and can transform to keep running on 220 single stages from the conveyed design.
Things We Liked
Can perform great work;
It is initial and suitable for those who want to gain some experience;
Long-lasting.
Things We Didn't Like
---
7. Shop Fox W1843 Knife Belt Sander/Buffer
Motor: 1 HP, 110V;
Belt size: 2″ x 72″-76″ ;
Belt speed: 4500 FPM;
Weight: 56.5 pounds.
To the extent Sanders goes, the W1843 Knife Belt is one of the more well-regarded brands. Be that as it may, many of the organization's sanders are worked for wood, so this isn't actually made for blade honing or creation. In any case, the power and highlights of this item are better than average enough that you can modify it to meet your requirements, the reason it's on this rundown.
Concerning power, the sander is on the lower end with an rpm speed. It very well may be extraordinary for honing, yet granulating and forming will take somewhat longer in general.
The main real drawback is the contact plate, which is both small and constrained in the amount it can tilt. Honing can be troublesome subsequently. However, you can adjust it to meet your requirements moderately effectively, given that you realize what you are doing.
Things We Liked
It runs smoothly;
Construction of all ball bearing;
The Belt changes are quick and easy.
Things We Didn't Like
---
8. Bucktool Knife Belt Sander/Buffer (BG2600)
Motor: 1/3  HP, single-phase;
Motor speed: 3450 RPM;
Belt size:  2″x42";
Wheel: 6-Inch 60 grit ;
Belt speed::4480 FPM;
Weight: 39.1 pounds.
Bucktool Belt Sander was thought to be an ideal machine for evacuation and profiling. It's additionally incredible for silk and mirror completion work.
The machine was intended for exact detail activities, so on the off chance that you'll make an artful culmination highlighting an ideal shape, consider requesting it. The Belt Sander shows a high caliber. The Belt processor machine is a perfect machine for stock evacuation, profiling, handles completion work, glossy silk, or mirror wrap-up.
Its developed steel edge is emphatically welded at all joints, so the belt grinder machine comes as a truly steady and strong processor.
Things We Liked
A beautiful combination of sander/grinder;
The led light is powered by a battery;
Change the belt quickly;
Heavy-duty construction gives long life;
Things We Didn't Like
Read More: 10 Most Powerful Tile & Stone Diamond Saw Blades
---
FAQs
Would You be Able to Utilize a Belt Sander on Metal?
A wood sander with a moderate belt speed won't do genuine well on steel. A rapid sander, like a requirement for steel, will consume wood. A belt speed of around 5000 feet for every minute is the thing that is needed for steel alongside belts with the coarseness that functions admirably on steel. You're spot on the belts being better for metal or wood.
What is the Difference  Between a Belt Sander And a Belt Grinder?
The mix belt and circle sanders are only that, they're sanders. What's more, one contrast between a belt sander and a belt processor is speed. A "sander" isn't appropriate for metal applications. A grinder will run above 8,000 enormous feet each minute.
What is a Belt Sander Best Utilized for?
Belt sanders can be utilized for an assortment of occupations and can make your tasks quicker and simpler to finish. Since they are intended to be utilized on enormous, level surfaces, belt sanders can restore wood or metal cupboards, tables, and floors rapidly and adequately. Simply make sure to utilize the correct coarse sandpaper.
What is Required for Knife Making?
For a knife maker, we suggest the tools attached as undoubted requirements:
Minimum estimated workbench (square, rectangular).
Grinder or sander.
Circular circle sander.
Sandpapers.
Sanding cushions (three-sided, circle, oval).
Small drill press.
Bench bad habit.
Steel tape.
Tips for Using a Belt Sander
While using a belt sander for making a knife or any other job, following these simple tips can help you to complete your job nicely by avoiding any unwanted accidents-
Wear Heat Resistant Gloves
The blade of the sander gets scalding within a few minutes after starting. So to avoid the risk of burning your finger, you must wear heat-resistant gloves.
Keep Water Near You
As the machine's blade heats up quickly, you need to cool it down repeatedly to protect your sander from damage. Even if the knife is getting hot, you can use the water to cool it down.
Use Your Body
You may think of using only your hands to shape the edge of the knife, but this can give you imperfect lines or even lead you to a potential accident. But if you use your body with a tight elbow to maneuver, you'll get a solid grip that ensures proper control at all times.
Use Your Both Hands
You need to switch the knife on the contact point to shape and sharpen the knife evenly on both sides. Which means you need to use both of your hands.
Other Considerations
In terms of tracking, you would like a strong mechanism. An equivalent thing with the frame construction is as it'll make your machine more reliable. Fortunately, there are many various frames available.
Be sure to urge a machine with ample dust collection in order that you'll prevent clogs and inefficiencies. You'll also want something that's easy to use, especially when it involves switching out the belt.
Be aware that you'll want something which will slot in your garage, and if you're a beginner, something that doesn't require specialized skills or training. Know your needs and what you would like to supply, and learn which specifications you would like to form.
Reliability, simple use, and efficiency are top qualities, but they combat many various forms; for instance, they'll be quick-working belts, heavy-duty grinders, and therefore the ability to shape and smooth with minimal effort.
Consider the kinds of knives you'll be using, also as to how often you'll use the knives in order that you'll make a far better decision regarding belt size, framing, speed, tracking, dust collection, gripping, simple operation, facility of the motor, and price.
Conclusion
Hope you've got an idea about buying a belt sander for making knives. If you follow the criteria for buying a sander I've mentioned above, you'll never get disappointed.
But you must be careful about your safety while using your belt sander. Always use proper safety gear.
There are a number of sanders to choose from. Follow the mentioned features and get the one that meets your requirement. You can also check out the list I've provided; they are the best belt sander available in the market.
Now, be safe and give life to your imagination by making a knife.
You Might Also Like: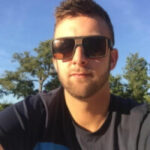 Hello, I am David Rowan. I am a professional contractor with 10 years of experience in home building, different tools used, construction, home remodeling, and other home improvement work. I have already built many custom homes and continued to do several woodworking projects along with how to deal with all categories of tools.