If you're going camping or backpacking, then an axe may be a useful gizmo for you. Generally use it for building a shelter, chopping wood, either for fire and so on. Therefore it is an individual tool for those people who are outdoor traveling. From this article, we try to describe all topics as you need to choose a backpacking axe. So read it top to bottom and make choices as your job purpose.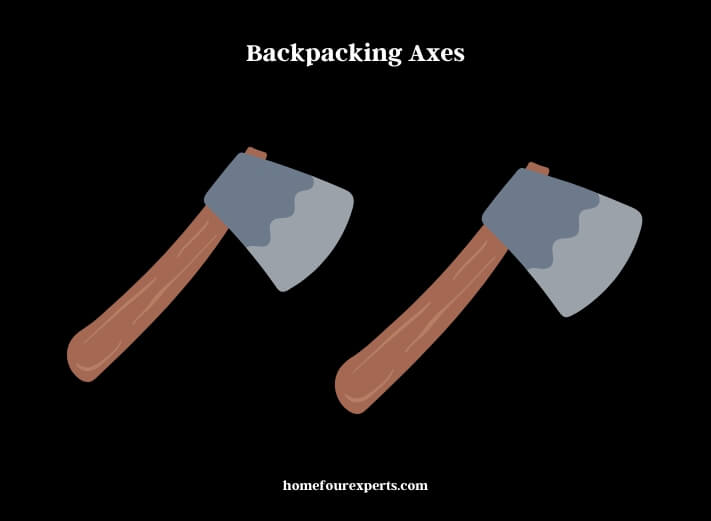 Backpacking is the most crucial thing in our present life. So, before going outdoors, you should consider this situation. When you need fire, then the ideal use of axe is the chopping of wood. When making the long journey, it is an essential item for enjoyable copping the wood. An axe is also needed for self-defense when out in the woods.
Types of Axes
There are three types of axes found in the market- camping, survival, and tactical. For beginner axe, users camping is the most user friendly. It is usually mid-size and easy to handle. Survival axes have multiple features and purposes of opening cars, building shelter, and others. Finally, tactical axes are thinner than other types of axes. For chopping, this kind of ax is worked better with its thinner branches.
Use a Backpacking Axe Safely
An ax is a helpful tool when you go for backpacking or camping. But it would be dangerous if you can't handle it well. When using it, make sure you are not getting off-balanced. Be Careful about your hands and fingers. Keep it sharp and check the handle is well tight with its head. Before using it, always ensure about clearance all around and sharpen your axe. When not in use, always put the sheath back.
Tips for Maintenance
A backpacking axe maintenance is a little bit easy or complicated. Fast identify your axe, is it a wooden handle or not. Put some oil on the wooden handle regularly to keep it metal side dry. Otherwise, you can survive with just a little amount of work with a sharpening stone. Most people like to make serious modifications to their axes.
Benefits of Using a Backpacking Axe
1. Lightweight and Compact: Backpacking axes are designed to be lightweight and compact, making them ideal for packing into a backpack and carrying on long hikes.
2. Versatile: Backpacking axes can be used for a variety of tasks, including chopping wood for a campfire, hammering in tent stakes, and splitting logs for kindling.
3. Multi-Purpose Tool: Backpacking axes can also be used for self-defense in a pinch, making them a great multi-purpose tool to have in the backcountry.
4. Durable: Backpacking axes are made of high-quality materials and are designed to last for many years of use.
5. Cost-Effective: Backpacking axes are a more cost-effective alternative to a full-sized axe, making them a great choice for budget-minded hikers.
Things to Consider for Perfect Backpacking Axes
There are many brands and models in the local market or online shop. So it's hard to make up your mind which one is the ideal axe for your job. If it is your first time buying an axe for your task, there are a few things to consider. Its compact size and lightweight will be the first priority. Let's look at the other features of a backpacking axe when you buy one.
Blade
Many types of blades are available. Most blades are made from steel. Without mild steel, all types of steel are acceptable for axes. Various blade sizes are found. You choose it depending on how you intend to use it. This is more important to consider for backpacking.
Handle
When you think about a backpacking axe, then you must check the handle size, shape, and material. The handle length is dependent on the type of task. The benefits of choosing a shorter handle, use up little space for a backpack. Also, get a lightweight option. Long time hiking for lots of tasks needs a long handle. 
Weight and Length
It is a major thing for gripping a backpacking axe. Because you have to carry it all day while going to your job. Therefore, you need an ax that is lightweight with more force. If it is more substantial than you can't chop wood as well as you need and not deliver the actual force. 
The weightless ax use easier to camp and feel good with your hand. The size really does matter for choosing an axe. A longer bass means, getting more speed for swing. But it is not easy to pack. Shorter bass is perfect for chopping wood into small pieces.
Sharpness and Multi-use
A new ax comes with good sharpness. But when it becomes stingless is easy to sharpen. Must check the material is used before buy. Because blades also need to be made of quality steel. Some axes are designed with more features. A sharp axe is great for carving more pieces and also using it as a big knife for finger cutouts. 
Editor's Speech
Which one is needed for the job that you should purchase? There are many kinds of axes available. This will not be the same for everyone. So there is not one ax that fits all in the entity. Based on your needs, make the final choice. Hope, this article will help you decide on a perfect ax for your camping and backpacking trips. A quality ax will be safe and long-lasting.
View Our Top 8 Backpacking Axes Reviews, Below
1. Schrade Steel Small Ax
Click on the Image >> See on Amazon
Ax length 11.8 inches;
3.8 inches cutting edge;
Glass fiber and rubber handle;
3Cr13 titanium coated stainless steel.
A 3Cr13 stainless steel head makes this survival axe with a hammer pommel. The handle is formed black glass fiber. TPR rubber grip is to make sure you're safe and more comfortable to handle. Its size is perfectly natural to use with both hands when you need more control and power. The head is too heavy but allows chopping small trees and making kindling. The most attractive parts of this axe are the length and shape.
Ferro rod makes it on the bulky side. The axes do not have any lanyard holes. The axe was also added with a thermoplastic belt sheath. This is not very durable, though. That is a well-performed ax for survival and disaster.
Advantage
TRP rubber handle;
Ferro rod;
Grips for safety;
Lightweight.
Disadvantage
2. Damascus Steel Axe DIST AX-56 By Poshland
Click on the Image >> See on Amazon
Stunning wood handle;
17.6 inches Length;
Made By 1095/15N20 ALLOY steels;
Axe Head Length 06.50 Inches.
Damascus steel comes with a gorgeous look. And give sharp edges with sharp cutting ability. The blade is HRC 58 to 60 in the lab, including a beautiful design. Being hand sharpened to a sharp, intense edge. The wood handle is free to work smoothly. If you take care of your knife, cut down the risk of injury, with accessories safety. It will last longer if you are given the right treatment. 
After testing, no one had a problem with it. It's head fits are made of leather. If you are 18+, then you can legally own this item and use it more responsibly. Before buying this, the ax must be confirmed to be a durable leather sheath.
Advantage
Ideal grip;
Intense Edges;
Solid handmade.
Disadvantage
3. Browning Outdoorsman Axe
Click on the Image >> See on Amazon
Black nylon leather sheath;
1055 High carbon steel;
Handle black polypro;
Length of blade 2.25 inches;
Head tapered tail 1/4 inches.
Are you looking for an axe for all kinds of chopping needs? Then the Browning 231 ax is a suitable tool to take the wood. It has a curved blade from 1055 carbon steel, and it has a firmness of HRC 60 to 64. This is so strong and will chop wood easily as well as other materials. The length of the blade is 2.25 inches. It works as hard outdoors as you need. Two pounds of weight is perfect for swinging without a tire.
During transport, the ax can be stored in its black nylon leather sheath. That will secure the sharp blade inside. Also keeping you safe when it is not in use. This is ideal backpacking for those who need a hard-working axe for all of their outdoor needs.
Advantage
good work leverage. 
Hard-working axe;
Weightless.
Disadvantage
4. Tactical SOG Outdoor Backpacking Axe
Click on the Image >> See on Amazon
420 stainless steel;
Textured handle; 
Multifunctional;      
1.5 inch steel blade.
Searching for perfect backpacking. SOG represents the F01TN-CP outdoor hawk. Which has a smart look and solid performance? It should measure 15.75 inches in length. It comes with a lightweight survival hawk and includes multifunction backpacking axes. Its weight is 24 ounces. The 1.5-inch sharp blade does work for small to medium logs.
The ax blade has a safety cover to avoid the risk of injury. The multifunctional axes have a hammering head and nail puller. So that is more effective and flexible working with a longer life. 
This nylon sheath is an ideal tool for the modern man.
Advantage
Sharp blade;
Firestarter rod;
Cost-effective;
Light-weight;
Suitable for a volley.
Disadvantage
For rough use should be a broken-down.
5. Vario 2000 Helko Werk Germany Axe
Click on the Image >> See on Amazon
High carbon steel C50;
Handle length18-inch;
Wood splitting ax.
People like the Vario 2000 for its unique handle curved. It is made by splitting wood and grade-A America hickory. Which makes your work faster and much easier. The blade is made of high-grade C50 carbon steel with 53-56 HRC used. It comes with an attractive design as your needs for any outdoor situation.
The smaller weight and size is difficult for serious firewood cutting. It is still a perfectly acceptable size for survivalist wood chopping. It also comes with an axe guard protective oil.
Advantage
splitting handle curved;
Strong and durable;
Easy to use and comfortable.
Disadvantage
6. CRKT Camping Axe with Hammerhead
Click on the Image >> See on Amazon
Forged in 1055 carbon steel;
Handle is Tennessee hickory;
Blade Length 3.500 inches;
Product length 19 inches;
Curved blade.
If you are crazy about the outdoors, you will know about the importance of tomahawks. This axe is made by American manufacturers Columbia river knife and tool(CRKT). Overall it looks nice and simple. Its head is made from super stronger 1055 carbon steel. Hammerhead is also included on its back. The handle comes from Tennessee hickory. The handle's length is 19 inches, and it's designed to be comfortable with both hands. 
The blade curve allows for deep and big bites. A smart leather sheath is added to protect the blade. It is also portable when you go out. The axe is easy to use and comfortable for its lightweight. Thanks to a lacquer coat, stability is ensured for the product.
Advantage
Comfortable to use;
Head well fitted to the handle;
Wood handle is thick;
included with hammerhead;
Well balanced;
Good cutting face;
Can extract the head.
Disadvantage
7. Fasthawk SOG Tomahawk Throwing Axe
Click on the Image >> See on Amazon
2-inch edge; 
Throwing fast hawks;
Stainless steel 420;
19-ounce product weight;
Blade length 1.5 inches;
12-1/2-inches length overall.
Fasthaw is ideal for survival enthusiasts. A lightweight axe that can easily be thrown for chopping small pieces of wood. This is the updated version of the original item, which provides tools and weapons. The 420 stainless steel head is mounted to the fiberglass nylon handle with heavy-duty. It comes with 15.75 inches overall length and 2 3/4 inches wide blade. 
This tomahawk model is designed for breaching doors and windows, chopping, digging, and throwing. This lightweight axe is naturally working fast and agile. The SOG backpacking's handle is wrapped with paracord and ensures a proper grip with feel upon release. It's made in China.
Advantage
Nylon sheath;
Included belt loops;
The blade is opposite the hammer axe.
Disadvantage
The handle can feel slippery.
8. Estwing 14 inc Sportsman's Axes
Click on the Image >> See on Amazon
Forged in one piece;
Product length 14 inches;
Cutting edge 2.75/ 3.25 inches;
Blade length 3-1/2 inches;
Ballistic nylon-sheath;
Leather handle.
People easily fall in love with the Estwing sportsman. The 14 inches single axe piece of steel, making it extremely durable. This ax is featherweight and easy to use for the small handle. You can use it to quick work cutting, chop small trees, split firewood, and so on with a balanced grate. The leather sheath covered with this axe is very high-quality. You get a smooth feeling grip for ease of work, while you keep control. 
Therefore, the finest American steel is operated for the blade of its axe, and the hand-sharpened edge is well sharp. It offers a ballistic nylon sheath that will take care of your knife, cut down the risk of injury, and protect your accessories. It will last a very long time if you are given the right treatment.
Advantage
Lightweight;
Comfortable and secure hold;
Hand Sharpened Edge;
Solid America Steel;
Well-balanced;
Maid in the USA.
Disadvantage
Need to care for the leather handle;
Handles can feel slippery when wet.
Safety Precautions For Using a Backpacking Axe
1. Always wear protective gloves when using an axe.
2. Ensure that the area around you is free of debris and other obstructions before using an axe.
3. Make sure your axe is sharp and in good working condition.
4. Securely attach the axe to your pack when not in use.
5. Ensure that you are familiar with the proper way to swing an axe before using it.
6. Never use an axe in wet or slippery conditions.
7. Always keep a safe distance from other people when using an axe.
8. Always keep your axe clean and properly stored.
FAQs
What Is the Distinction Between an Axe and a Hatchet?
An axe is a scaled-down adaptation of a hatchet, motivated by a hatchet, sufficiently proficient to be utilized for more than parting and managing shingles. 
A hatchet is to be utilized with two hands to amplify the striking force of the holder, though, with an axe, you just need one hand which makes it remarkably unique.
Are Carbon-fiber Handle Tomahawks Great?
Carbon-fiber tomahawk and axe are both dynamic handles of your Striking Power arm and dynamite progress to manage the weight gain which makes overall weight loss and makes sewing easier, as well as endurance with each swing.
Splitting and Chopping Axes are Same Works Done?
Generally, axes are longer, heavier, durable, and more difficult to carry for your camping. It gives great cutting force and two-hand use. It is an ideal tool for splitting. It is designed to break the fibers apart, not cut them. Wooden handle or composite handle both are good for splitting. You can choose one of them. However, both are fine options for your job. Most of the people still have the crazy feel of an old wooden ax.
Chopping wood offers horizontal cutting logs into segments. It is designed for cutting the wood fibers rather than split them apart. These axe blades come three times more profound when you are chopping. Which makes it easier to chop more wood in minimum time.
How to Sharpening Axe Perfectly
A stingless axe is dangerous and does not give a clean cut. So at first, prepare for sharpening your axe. To avoid any injury, you should wear heavy leather gloves. Protect your eyes, and you can use goggles. Before sharpening, clean your axe with a rust eraser. Clamp the ax horizontally for more comfortable fitting and also get the correct angle. Then the bastard file selects and transfers smoothly to the blade. Use a bevel gauge to measure the edge. 
You may like these also: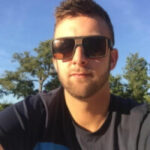 Hello, I am David Rowan. I am a professional contractor with 10 years of experience in home building, different tools used, construction, home remodeling, and other home improvement work. I have already built many custom homes and continued to do several woodworking projects along with how to deal with all categories of tools.