This article includes affiliate links, which means we may earn a commission if you make a purchase following our link. Please refer to our review guidelines.
Do you need to deal with tree trunks, trees, or wooden pieces during most of your working hours?
If yes, a chainsaw can be the best option to deal with this type of material.
But to complete your job properly, you need the perfect tool which is built with the right type of parts or components. Only then you'll be able to get the desired result from your working piece.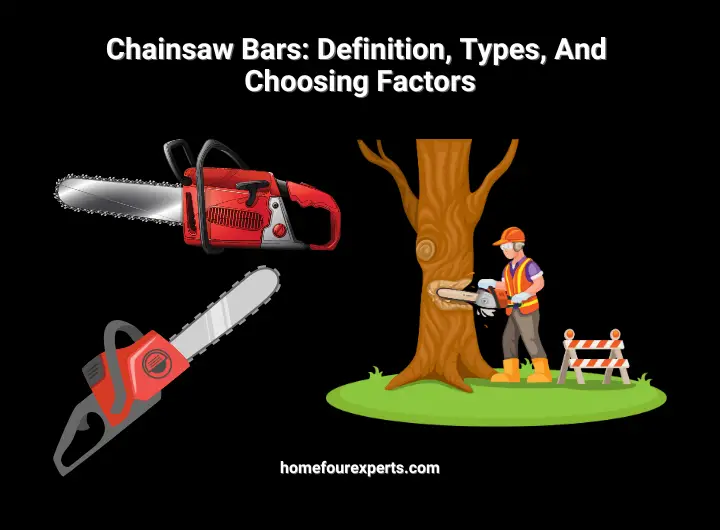 And the chain bar of a chainsaw is one of the crucial parts of the chainsaw which determines the cutting type of the machine.
So you need to be very careful while buying a chain bar after the built-in one wear or tears down.
Oh! Don't get panicked by this.
It is really very easy to choose the perfect bar for your chainsaw. All you need to consider or check are some must-have features in them.
To know about them, just go through the article.
What is Chainsaw Bar
The most important part of a chainsaw is the chainsaw bar. It works as a guide for your chainsaw. The chain of the saw needs to be fixed firmly with the chain bar for having an effective function. It also needs to be fitted by the chain perfectly for safety purposes.
Generally, when you're using your chainsaw, its chain with a set of sharp teeth runs along the bar by creating a looping motion, which helps to cut the wood. The cutting speed of the chainsaw through thin or thick lumber mainly depends on the length of the bar.
Why Should You Change the Bar
You may wonder why you need to change the bar!
Well, the main reason for that is chain bars are pretty much prone to wear and get damaged. And a damaged chain bar can lead your whole machine to a real mess.
Another reason you may need to change your chain bar is it tends to bend, but a bent chain bar will not be able to provide perfect alignment to the chain. It can both ruin your machine and put you in danger.
And the most common reason for changing the chain bar is that it may get chips or dents by constant use, resulting in a bent bar.
Types of Chainsaw Bars
Not all bars are alike. When you're buying a replacement, concentrate on the sort of teeth the blade has and, therefore, the bar design itself.
Semi and Full Chisel
The basic types include semi-chisel and full chisel.
If you always work with softwood, then you'll want to settle on the full chisel. If most of the wood you narrow is dry, dirty, or hard, then you'll need a semi-chisel-style bar. These are the bars that you'll often find on the latest saws. Each type offers its own pros and cons, which is why it's essential to settle on the right type, supporting the fabric you most ordinarily work with.
Scratcher
Scratcher blades have teeth that are almost like the sort of teeth that you'll find available in saws. These teeth are pretty basic and designed to urge most heavy-duty jobs. These bars are often very hard to sharpen.
Chipper
Chipper teeth bars will allow people to chop through tough material with ease because of their deep gauge design, which stops overloading. This is often the sort of blade you would like when you're taking over a bigger job.
Low-Profile
These blades are known for their safe design and simple use. Most models will come equipped with this sort of blade, and they're an excellent choice for heavy-duty jobs. However, their biggest drawback is their sharpening needs, which may be very complicated and time-consuming.
Solid Bars
Solid bars are designed for hard timber, sooty, dusty, or sandy conditions. This sort of bar is coated so as to guard against corrosion and scratches.
Bars with Replacement Tips
Replacement tips should be used on long bars so as to attenuate the load on the bar tip. These bars are coated so as to guard against corrosion and scratches.
Laminated Bars
The small nose and delicate curve of this sort of bar will minimize kickback and improve cutting control. These bars also are protected against corrosion and scratches.
How to Choose the Chainsaw Bar
When you're going to buy a chain bar, it'd be better if you take note of some important facts. This will help you to choose the right one for your chainsaw. Because only with the right bar you'll be able to get the expected result from your chainsaw.
So let's have a look into those factors-
Length of the Chain Bar
The cutting speed of your chainsaw mostly depends on the length of its bar. For example, you'll be able to cut thick wood easily with a chain bar with a big length. Or we can say, if you want to cut a thick wood log, you need a longer chain bar.
But a long chain bar can be dangerous for its low-powered engine, which makes it struggle to work, and it becomes hard for you to control the machine.
Weight of the Bar
You also need to check the weight of the bar before buying. Because the length made the control process hard, a little bit of weight can make the process easier for you.
So choosing a chain bar with a little bit of weight can be a wise decision to work with.
Purpose of the Chain Bar
This is the main thing you should consider while buying a chain bar. Because as we've mentioned above, to cut a thick wood or tree, you need a long and heavy chain bar. But to cut thinner wood or small plunks or just some branches of trees, a short or lightweight bar will work great.
Bar Pitch
You also need to check the bar pitch of the bar you're going to buy. You'll find that in every bar, three successive bolts of it can be divided by 2. And the size is a fractional part of 1/ 1000 of its length, such as 3/8 inches, ¼ inches, .325 inches, etc. so every chainsaw comes with a different pitch, and you are able to set its size accordingly.
Bar Drive Links
Now is the turn to think about the easiest part of the chain bar, the drive link. You need to check the number or count the number of the drive links. You'll find a bar with 44- 91 drive links, or the number can also increase or decrease the chainsaw type.
Bar Gauge
The bar gauge is connected to the drive link of the bar. The bar gauge indicates the width and thickness of the drive link's inner tooth, which fits the bar.
View Our Recommended Chainsaw Bars, Below-
1. Husqvarna Chainsaw Bar, 3/8-Inch by .050-Inch (531300440 FT280-72)
20-Inch bar;
For 55Rancher, 257, 261, 262XP, 357XP, 359, 455Rancher and 460 models;
Pitch 3/8-Inch inches, and gauges 0.050 inches;
2.5 pounds.
Like the superior quality Husqvarna chainsaws, the bars, chain, and other parts they sell separately will never let you down. If you already own a Husqvarna chainsaw, it will be best to pick Husqvarna bars for replacement parts as well. This 20 inches long bar will fit a wide range of chainsaws from Husqvarna. So, match your machine's model number to find whether it fits yours or not.
This high-quality bar produces considerably less vibration than most of the chainsaw bars available in the market—low vibration results in the quieter operation of your saw and more control of the chain. Besides, less vibration also makes using a chainsaw more comfortable and fatigue-free.
This bar is a bit pricier and heavier. Despite that, to complement your Husqvarna saw and to get the best out of your Husqvarna saw, this chair bar is the best choice.
Pros
Fits a wide range of models from Husqvarna;
Low vibration.
Cons
---
2. STIHL Rollomatic E Laminated Chain Saw Bar, 20-Inch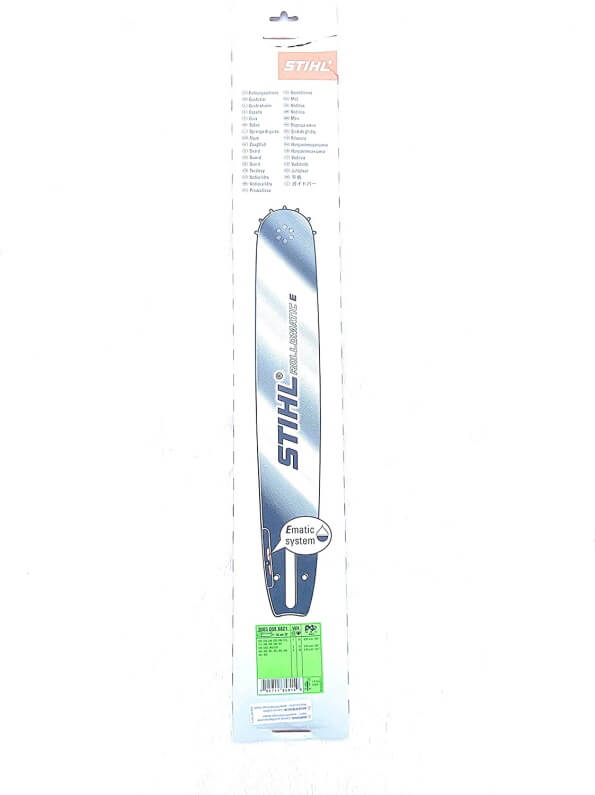 20-Inch bar;
Pitch 0.325 inches, and gauges 0.63 inches;
2.7 pounds.
Three parts of steel sheets are spot welded and laminated to make this bar. There are both good and bad aspects of such construction. The good thing is, laminated guide bars last longer than solid ones if used lightly. The bad thing is, during heavy use, the welding may damage and cause serious injury. However, such a thing has never been reported about this saw by its users. In fact, it is an affordable option for light to medium use.
All the parts and welding make this saw bar a bit heavier than solid ones. But still, the price you pay for it, such an increase in weight should not be mentionable. To prevent injury, you should invest in more reliable models if you intend to use them for tough jobs.
Pros
Long-lasting;
Affordable.
Cons
---
3. Oregon 20-Inch Bar and Blade Combination for Chainsaw (27850)
20-Inch bar and 70-link chain;
For Craftsman, Echo, McCulloch, and Poulan chain saws;
Pitch 3/8-Inch inches, and gauges 0.050 inches;
3 pounds.
This pack involves high-quality Oregon bars and chains. The chain is a 70-link one, and the bar that comes with it is compatible with chainsaws of leading brands. The advertisement states some brands, but you can be sure by calling their customer care and mentioning the model of the chainsaw you own.
The chain and the bar complement one another to create a vibration-free and low kickback operation. These are reversible; so, it goes a long way even applied on hardwoods regularly. Trickey cuts like chiseling will be finer and more controlled with this bar and chain combo. Thanks to its small radius nose. The multi-rivets on the nose make it durable as well.
This combo pack costs less than purchasing chains and bars separately. So, wisely choosing this pack will save your time and wallet.
Pros
Combines both bar and chain;
Low kickback;
Reversible.
Cons
---
4. Oregon 24″ Power Match Bar (240RNDD025 / B002GCV8FG)
24-Inch bar and 11 Tooth Count;
Pitch 3/8-Inch inches, and gauges 0.050 inches.
Longer chain saws require longer bars and chains. As these chainsaws are mostly used to cut thick logs, it is obvious that the chains dull more frequently. Hence, the owner of high-capacity chainsaws always needs to keep extra chains to complete their jobs on time. This pack from Oregon comes with a replaceable sprocket nose.
As Oregon makes both the chain and bar, the performance and quality are obviously beyond expectations. So, there is no point in pointing out how good they are or the negative sides of these parts. Rather, I will suggest making sure this pack fits the saw you are using before ordering it.
The price of the parts included in this pack is economical considering how they when ordered separately. The chains and the bar indicate less vibration and less kickback performance for a longer time.
Pros
Fits saws of widely used brands;
Reasonable price.
Cons
---
5. Husqvarna 18-Inch 72 Pixel Chainsaw Bar (531300438)
18-Inch 72 Pixel bar;
For 41, 45, 49, 51, 55, 336, 339XP, 340, 345, 346 XP, 350, 351, 353, 435, 440, 445 and 450e models chainsaws from Husqvarna;
Pitch .325inches, and gauges 0.050 inches;
2.1 pounds.
We all know, in some serious jobs, 'oil your own machine' is really annoying. For example, they are greasing chainsaw bars. The latest and priciest chainsaws never need to be greased because these come with auto-oiling tanks. But the old ones really need to be greased manually, and sometimes the tank leaks and make a mess. To avoid such hassle, bring this bar from Husqvarna that doesn't need to be greased at all.
This 'no maintenance' bar can be a curse or blessing. When it is paired with a good-quality chain, it runs smoothly with no hiccups. Putting a wrong chain can jam your saw if you don't put grease manually primarily.
However, the decision is yours at last. But I must say, this bar fits best with Husqvarna chainsaws. If you own one, then no need to get confused with it, and order right away!
Pros
Lightweight;
Great compatibility;
Doesn't need to be greased;
Low vibration.
Cons
May jam due to lack of grease if used old chain;
Pricey.
---
FAQs
Why Does My Chainsaw Chain Dull So Quickly?
If your chain dulls quickly, then it might be a few things. Check your user's manual to ensure that you are only using the adequately sized file for your chain. Alternatively, you'll be applying an excessive amount of pressure once you file. This may create cutting edges that are too thin and dull quickly.
What is the Most Uncomplicated Chainsaw Bar Length?
Professional-grade saws have bar lengths greater than 20 inches. Electric saws and little gas saws work for pruning and trimming and may cut small trees. Larger saws with 20-inch or longer bars are suitable for medium and enormous trees and storm cleanup, and cutting firewood.
Why Does My Chainsaw Cut During a Curve?
Most of the time, when a saw will not cut down straight, it's caused by drag with the saw chain. When a saw doesn't cut straight, the primary component most users check out is the bar. Since a saw chain may be a "team" of cutter teeth, the cut will pull within the line leading to the point of the side whose cutter teeth take the essential bites.
Conclusion
In this guideline, we've tried to explain the most important detail about choosing the right chain bar for your chainsaw. Having the perfect bar will enhance the lifetime of your chainsaw and as well as will help you to cut down any type of wooden workpiece or tree very quickly.
For choosing the best one for your tool, you can also check the list we've mentioned above. Because they all are from well-known brands and also they are popular with many woodworkers.
So think about your job type, check the features, match them with your needs and choose your one.
If you also have your own strategy to select your chain bar, you can share those tips with us. Or you can ask us anything about power tools for woodwork or carving. We'll love to hear from you.
You Might Also Like: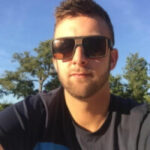 Hello, I am David Rowan. I am a professional contractor with 10 years of experience in home building, different tools used, construction, home remodeling, and other home improvement work. I have already built many custom homes and continued to do several woodworking projects along with how to deal with all categories of tools.