This article includes affiliate links, which means we may earn a commission if you make a purchase following our link. Please refer to our review guidelines.
Curling iron with a brush is the next level hair styling tool that will give you the same result as a curling iron without the brush in half the time. Moreover, it can be used as a regular brush and hair straightener. Meaning, you can literally save money by buying a curling brush as it works as a substitute for other compulsory hair tools.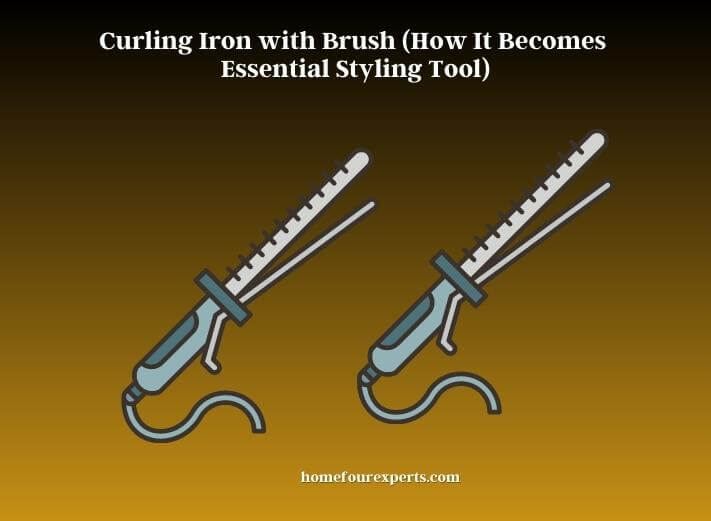 As this item is relatively new in the market and some ladies are not so familiar with it, we decided to make a list of curling irons with a brush of this year. So that anyone can choose from a list prepared by a professional. You will also get to know the benefits of using a curling brush and how to choose one.
How Curling Brush Becomes Essential Styling Tool
If you ask me to name one hair styling tool that one must have, I will recommend a curling iron with a brush. Why? Because why not? It has every feature we look at in a hair straightener, curling irons, blow dryers, and hairbrush. Yes, you don't even need a hairbrush when you have this hot curling brush. 
Another useful article you can see: Which curling wand is best for long hair
Let me explain it to you further. Curling hot brushes are designed in a way that it can be used as a normal hairbrush. The difference is, if you use heat while brushing with it, the hair will look even more glamorous. You can do this on your 'no makeup' days or weekends. 
When applied to high heat, the brush will straighten your hair. No, it won't last for a week like it does when we use hair straighteners, but it is also non-damaging. It is a plus point. 
Now, for curling, simply brush the strand to the end and wrap it around the brush. This way revolutionary body waves and beach waves are made. 
How to Choose a Brush Based on Hair Type
Hair Cut
For up to shoulder-length hair, a thin barrel will give you the curls you want. Big barrels will only work on creating volume, but it won't wrap ​ a beach wave. 
For medium to long hair, the bigger barrel for the curling brush is the better. Body wave, beach wave, or flip can be made in a larger shape to match the hair length. 
Hair Type
Thick and coarse hair needs a large wide toothed curling brush. It easily catches the hair. Make sure the heat is high enough to mend your thick hair. Generally, over 400 degrees is required to style thick and coarse hair. 
For thin hair, a big barrel can't catch the hair due to flatness. A curling brush with 1-inch width is the best choice in this case. You can go even narrower if the hair is short. 
Damage Level
Curling brush is the safest hair tool to use as it doesn't apply direct heat to the hair. If your hair is severely damaged, then this one is the right tool to start with. Just make sure the lower temperature setting is close to 350 degrees. Always use it in this heat. 
If the hair is not so damaged, then there is still room for preventive measures. Choose a curling brush with ceramic coating and cool nylon or silicone bristles. You can also go for an infrared curling brush if you have that budget. These will prevent damage caused by heat to your hair.
See Our Top Rated Curling Iron with Brush, Below-
Conair Instant Heat Styling Brush for Loose Curls
Click on the Image to >> See on Amazon
1 1/4 inch barrel;
Creates medium to loose curls;
Suits all hair types.
Medium to long hair needs longer to style. You need to dry it before styling; but not anymore! This curling iron with a brush from Conair is great to make loose curls that suit long hair better. Yes, you can use it on damp hair to minimize downtime of hairstyling. This barrel is 1.23 inches and recommended for loose curls. For tighter curls, you can check out thinner barrels from Conair. 
You can rely on this model with your eyes closed. No matter your hair type or condition, it is the appropriate solution for your styling problem. There are 25 heat settings to choose from and a useful guide to select the right heat based on hair type. The barrel heats up super fast too!
For your peace of mind, only the barrel conducts the temperature, not the bristles. Meaning, you can get the desired style like using a curling wand without the fear of damage to your hair. Besides, managing hair is easier while using a brush including curling iron rather than the curling wands. This high-quality iron with a brush is right now available at an affordable price. 
---
VASARI Professional Heated Curling Brush for Fine to Medium Hair
Click on the Image to >> See on Amazon
Ceramic coated bristles;
For medium to fine hair;
Non-damaging 180 degrees heat.
Do you have long hair? Does your hair get tangled in the brush while blow-drying or curling? You can save yourself from that mess by using this VASARI heat stylus. The brush included in this curling iron is just like a normal paddle brush. There are nylon bristles with the ceramic coating on one side and a flat side with ridges on the other side. So, there is no chance your long hair gets stuck in the middle of creating waves and curls. 
In fact, the end result is shiny and healthy hair. This is the reason hairstylists at the popular salon rely on this iron for curling the long hair of their clients. 
There are five settings for different hair types. I don't recommend this for ladies with short hair. The paddle brush won't be able to make tight curls or short waves on short-length hair.
---
PHOEBE Curling Iron Brush Anti-Scald Bristles Instant Heat Up
Click on the Image to >> See on Amazon
3 in 1 multifunctional curling iron brush;
Dual voltage (100 to 240V);
Automatically adjusts to the correct voltage.
For salon stylists, this all-in-one air styling kit from PHOEBE is the perfect choice to meet different demands from various clients. This set includes curling wands of two sizes, curling brushes of three different types, and a dryer. This wide collection of tools makes this product versatile. 
The best part of this model is yet to describe. All the curling wands use Coanda air to wrap the hair around it by itself. The brushes also flow the air towards the length of the hair. Besides, there are different brushes for smoothing, volumizing and eliminating frizz. So that you can easily take one that the clients need. 
Needless to say, this whole kit costs a fortune. But the diversity and versatility are totally worth it. The specification of each of the tools only a hairstylist would understand. For a commoner, I don't think one needs all of these accessories on a daily basis. 
---
AmoVee Curling Iron with Ionic Brush for Short Hair
Click on the Image to >> See on Amazon
1 Inch regular size;
266℉-430℉.
For short and fine hair, you will hardly find any curling iron better than AmoVee curling iron with a brush. It gives volume as it curls. You can also use it to straighten your hair, but the result will not be pin-straight sleek hair. The hair will be more relaxed, but naturally straight. 
However, the size of the barrel is 1 inch. This size is suitable to create a curl of waves on short hair. If applied on long hair, the curls will look tight. You can't make loose waves with a thin barrel on long hair. To make beach waves, this one will work great for any hair length. 
This curling wand produces very high heat. This heat won't damage weak hair as the bristles are soft and cool to touch. In fact, the ceramic coating on the bristles will help to seal in moisture and frizz in place. You can see, the barrel is copper made' that's because it conducts heat evenly for longer. No damage from inappropriate heating.
---
Mini Curling Iron PHOEBE Hair Brush for Travel
Click on the Image to >> See on Amazon
Dual voltage 3/4 inch hot curling brush;
Ceramic tourmaline ionic technology for healthier hair.
Looking for an easier option to style hair without deploying an arsenal of hair tools? Or are you on a budget to purchase an all-in-one hair styling tool? Then you are in the right place. This curling wand comes with a soft bristles built-in brush. You can use it to detangle the hair as you normally do with your regular comb. You can also use this iron as a straightener to make hair straighter with a flip at the end or a loose curl. Everything is possible to do at a reasonable price, without compromising the quality. 
This iron heats up super fast and has a set of three adjustable temperatures. The range is high for the heat but the iron is also suitable to use on fine and thin hair as well. There is an auto shut-off feature to make this iron safer to use. 
Moreover, you can use this tool worldwide as it accepts both voltage types available in this world. Make hairstyling affordable, stop investing in a hairstylist, treat you with this awesome hair curling iron.
---
Revlon Heated Silicone Styling Brush, 1″
Click on the Image to >> See on Amazon
Soft silicone bristles;
1-inch size.
The material on the bristle makes a huge difference in user experience when it comes to choosing a curling iron with a brush. Most available bristles-including curling irons use hard plastic to make the bristles. It lasts longer and heat-resistant but it causes burns if not properly handled. 
This Styling Brush from Revlon is made from silicon. It doesn't heat up so there is no risk of burning. Moreover, it is super soft and flexible so your hair will not get a snag or pulled through it. 
The metal part heats up fast but not the bristles. Still, you can finish styling your hair within ten to fifteen minutes. 
Keep in mind that there is no air blower in this styling tool. It can be used only on dry hair. Besides, there is no ceramic coating nor infrared heating offered in it. This is the reason it is one of the cheapest styling tools you can ever have. It saves time and saves hair from damage. So, why not give it a try?
You can read also: How to Choose Accurate Fusion Hair Extensions
---
INFINITIPRO Platinum Hot Curl Brush for Long Hair
Click on the Image to >> See on Amazon
2-inch size;
For long, lasting curls and volume.
Finally, a curling iron brush that can create body waves in long hair. For this, you will need an iron with a large brush. This big 2-inch brush will easily catch long and thick strands and create loose curl or body waves within minutes. 
This curling brush will reach up to 375 degrees, which is enough to make a hairstyle that lasts a couple of days. As the heat is not over 400 degrees, the curl won't last more than that. But the positive side is, it won't damage your hair. I also recommend this for thin, fragile, and flat hair. Because the large brush is helpful to create volume and bounce. 
Don't get deceived for the affordable price point. The lasting finish you get from this brush is comparable to high-end salons. Its produced ions make the hair glossy and eliminate frizz at once. 
---
Alure- Anti-Frizz Styling Heated Iron Brush for All Hair Types
Click on the Image to >> See on Amazon
Heat ranges from 265F to 430F ;
Ceramic-coated barrel for frizz-free curling.
Do you like to change your hair style with your changed outfit or events? You really don't need a closet drawer full of hair tools to do that. Alure has brought this styling brush that can create curl/wave, straighten air or generally brush it with tamed frizz. 
The barrel gets hot upto 430 degrees. Which is pretty high or a curling brush, because most heating brushes stop at 400 degrees. However, that is why I recommend this one for ladies who face trouble finding one for coarse and tightly curled hair. This brush heats up within 30 seconds! You don't have to wait at all for the tools to get your hair done in the morning. 
With one hairstyle done in the morning, you can attend any date or party in the evening as well. The negative ions do a pretty good job to eliminate frizz, create healthy shine and make the curl or wave last long. 
---
LOVANI Mini Hair Curling Iron Brush for Thin Hair
Click on the Image to >> See on Amazon
3/4 Inch Barrel. 
Travel friendly 8.7 Inch compact size.
For fine, short and thin hair, a 1 inch curling brush may not be usable. The long bristles won't be able to grip on the hair, let alone roll it around. So, we decided to keep this mini curling brush in our list. Not only is it suitable for thin hair, it is also travel friendly. When there is no room for loading your suitcase with styling tools, this tiny tool will surely fit it without any room. 
The heat setting is set at 390°F. This heat is okay for all hair types. Besides, this iron brush is compatible with different voltage powers. You will not have any problem powering this tool no matter which continent you are traveling. 
Please note, this is just a styling brush, not a hot brush. You can't use it on wet hair. Besides, the cord is limited to 4 ft. These are the only limitations I found about this brush. 
---
CHI Amplitude 1 1/4″ Heated Round Brush
Click on the Image to >> See on Amazon
1 1/4″ wide tourmaline ceramic barrel;
Far Infrared heat .
This brush is wider, but short in size. I recommend this for long and flat hair who looks for volume and bounce. The wider brush will give you the large curls and loose waves. Whereas the shorter length is suitable to add volume at the roots. The best practice is, first lift up the roots with this brush, then work on the hair tips to get the curl or make the end straight.
The temperature ranges from 180F to 410F, meeting all hair types. The heating mechanism is far infrared. That is why this brush is damage-free and creates static electricity to make the hair smoother than ever before. Along with all these, the ceramic coated barrel makes the hair shiny. 
All these features make this brush extraordinary but expensive. For severely damaged and fragile hair, this one might be the last option to rely on for hair styling.
---
MaikcQ Auto Rotating Curling Iron with Detachable Brush
Click on the Image to >> See on Amazon
105°F to 410°F;
1.25 Inches barrel.
This genius doubles as a curling iron and a brush. The brush is made removable so that you can enjoy this tool both ways. When the brush is on, you can brush your hair with added heat to get a smoother and put together finish. After that, if you want to go even further, just remove the brush and make sexy curls and waves with the curler. 
This machine features an auto rotation barrel. It makes the game of hais styling a lot easier. You don't need to wrap and unwrap your hair a million times, just rotate the wand clock or anticlockwise to get a preferred style. The wide temperature range is a plus with all these advantages. It is good to know that this amazing curling hot brush can meet the needs of any hair type. 
---
Conclusion
Not necessarily a hair tool that works best on others will do the same to you. It also applies to curling iron with brush. There are different varieties of curling iron available in the market with different sizes and features. All of these are great to work with, but do not give the best result on every hair cut all the time. 
You need to know the hair type and hair cut. On our buying guide you will find special tips to use a curling iron with brush in the most possible ways.
Read more: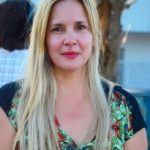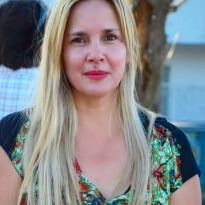 Guys, I am Camila Avery and I love to help my mom to do indoor & outdoor activities. As a lady, I have passed my time on gardening, home improvement, and personal or self-care. I have acquired some degrees in outdoor recreation, beauty, and hair care. It is not easy to work with top-level professional beauty experts. But, I got that opportunity and experimented with different hair extensions, hair colors, and cuts.