This article includes affiliate links, which means we may earn a commission if you make a purchase following our link. Please refer to our review guidelines.
Having trouble listening to your favorite music or receiving phone calls while driving?
An FM transmitter for the car can be the easiest solution for this type of problem. They will help you to transmit your favorite musical content through your MP3 player, iPhone,  Android, or any other device. If you get a Bluetooth transmitter, you'll be able to answer your phone calls by switching to the answering mode of the device. And the most important thing is- you can easily afford a transmitter for your car.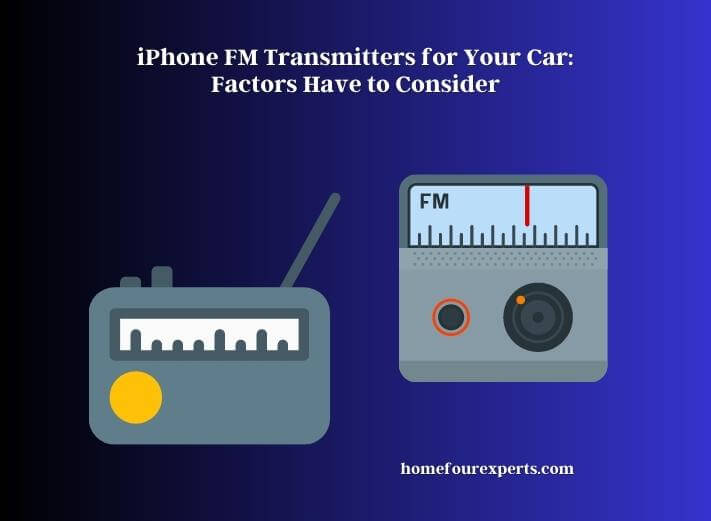 You'll find FM transmitters for iPhones or Androids. They are also available in wired and wireless (Bluetooth) versions.
But it might be difficult to choose one from a lot of variations. If you know properly what you want and which type of transmitter will be compatible with your device, you can easily select one for your car.
You can research the market to know about the available products. Or you can also go through this article because here I've described the features of the top-rated products of the market with other necessary detail you should know about.
Looking for new FM transmitters to install in your car? Here is a list of iPhone FM transmitters for your car.
What is FM Transmitter
FM stands for Frequency Modulation and an FM transmitter allows any type of portable device to connect with FM radio.
Most car radios only broadcast FM stations with lots of ads. And you can't even connect them to any external device to play music. If you want to play music from any external device in your car, you should replace the radio system of your car with a high-tech one, which is pretty expensive, so it's not the cheapest way to solve your problem.
But if you try an FM transmitter, you'll be able to listen to whatever you want from any external source.
The Fm transmitter for cars is a car cigarette lighter-powered device that can transmit signals from a portable digital device, like an MP3 player, to the car radio via a standard FM frequency
This device allows your portable devices to make use of loud or better sound quality of your car stereo without any wired connection.
For their low power, most of the transmitters have a short range of 100 to 300 feet according to the quality of the receiver, elevation, and obstruction.
Types of FM Transmitters
Basic Transmitter
The most basic model of an FM transmitter is a 12-volt plug with a built-in Bluetooth chip. This format allows it to interface with a bright gadget and outline music through an FM iteration. 
Some essential models have a basic LCD screen in addition to some control over FM repeat choices and ensure a network with intelligent gadgets.
Versatile Device
More advanced FM transmitters add a lot of utility to a plan. As well as streaming music, these are transmitters that make it easy to appreciate hands-on calling, music show information, and gadget charging in a hurry. 
Similarly, these transmitters will be quite easy to use, with big shows and controls to change the settings on the fly. Some come as independent items, others as part of a larger vehicle unit.
How Does it Work
FM transmitters for cars are really convenient and compact devices. So operating them is simpler than anything in the world.
All you need to do is plug the transmitter directly into your portable device and the converter will turn the output into an analog audio signal that your transmitter will understand.
Then tune the radio frequency that responds to your FM transmitter and ta. Da… you'll enjoy listening to clear music.
Features of an FM Transmitter for Car
Before buying an FM transmitter for your car, you should check out these basic features-
Functions
The first thing you need to check before buying an FM transmitter is the function of the device. Because the connectivity of the transmitter with other devices is more than important. For example, it would be great if your transmitter has a slot for an SD card and plays music or audiobook from an SD memory card, or allows you to play music in MP3 or WMA format.
And a transmitter with a Bluetooth connection helps you to stream music from any type of portable device, like- your smartphone. Moreover, Bluetooth function enables hands-free connection with your speaker without destructing you from driving.
Control
The control system of the FM transmitter must be easy and convenient for a driver. Most of the transmitters have a control panel with touch. So you should check the location and size of the button and also the backlight for easy navigation in the dark.
A remote control with the transmitter will allow you to have full control over the device at a certain distance.
Design
Before buying, you should also consider the design of the transmitter. The design of the device must be convenient and blend with the car's interior. After connecting with the cigar lighter, the device should not clog the access with other devices in your car, like- the air conditioner or radio.
Also, pay attention to the arrangement of the connection ports of the transmitter because the device you may connect with it should not impede the gear lever or dashboard control.
Power Source
Almost all Bluetooth FM transmitter runs with the power of a 12V cigar lighter. But if you're driving an old car and found that your transmitter isn't working, you need to check the fuse which, is the power source of the cigar lighter.
Hot Key Buttons
Having hotkey buttons on your transmitter can make a great difference using it. They can allow you to switch between music and answering a call. Without hotkeys, you have to use your phone to answer.
Streaming Music
In simple words, the reason you buy an FM transmitter is to tune into any unused station and listen to music while driving. So you may also have the best quality car speaker for quality sound.
But if the transmitter you buy is cheap, the output won't be as good as expected. So try to pay some extra amount of money to enjoy great quality music during your long drive.
Connectivity
The FM transmitters use sound jacks, Bluetooth, and USB to associate with telephones. If you have a fresher iPhone that doesn't have a sound jack, try to get a transmitter that has a USB port or Bluetooth that is viable with the phone.
Display
The most fundamental transmitters don't display, yet units with screens are more straightforward to set up and utilize. Some may have caller IDs or can display other significant data when associated with the iPhone.
Some Perfect Options for FM Transmitter for iPhone
Nulaxy Bluetooth FM Transmitter for Car – KM18
Compatible with: iPhones and most android brands.
Plays via: Bluetooth, AUX, USB, and TF.
There are two versions of Nulaxy transmitters available. The sporty ones come with more advanced functionalities and a compact look compared to the gooseneck one. Once you experience the KM18 transmitter, you will realize, listening to music through a transmitter has never been easier.
KM18 can play music in 4 ways. Other than Bluetooth and AUX, it accepts USB and TF cards. You will have the flexibility to listen to the latest release endlessly with 'repeat' or 'shuffle' your favorite tracks or let the device play in the 'normal' mode; depending on your mood.
Your phone will not drain due to constant playing over Bluetooth, because you can keep it charged with the included charging port. You will also be aware all the time about the condition of your car battery due to the voltmeter of this transmitter. Nulaxy is our top pick due to its availability on a super tiny budget despite all these features.
Things We Liked
3 modes of music playing;
High compatibility;
Economic.
Things We Didn't Like
---
Nulaxy Wireless in-Car Bluetooth FM Transmitter Car Kit
Compatible with: Apple devices Samsung, Xiaomi, Oppo, Sony, and many more.
Plays music via Bluetooth, AUX, and SD card;
This transmitter is highly compatible with almost every brand of smartphone. You can pair several phones without any hassle to this device, and it will remember those pairs forever! However, this device from Nulaxy once can pair one at a time. The best part is, even if you have a phone with defective Bluetooth, you can still play your favorite songs from that using the AUX port. A gooseneck makes rotating this device convenient.
You can also choose to use an SD card instead to avoid using your phone every time you hop in your car. This transmitter does everything it is meant to do in an affordable price range. Like other transmitters, this one also is useful to monitor your car battery voltage and charge USB devices. The drawback is, it can't be turned off. You have to unplug it to turn it off and save your car battery. These are not any major complaints, but if you expect these from your transmitter, this one is surely not for you.
Things We Liked
Highly compatible;
Affordable;
Has caller ID.
Things We Didn't Like
---
Beinhome Audio Adapter Bluetooth FM Transmitter for Car Radio
Want a transmitter that can pair a pair of devices simultaneously? Then flexSMART for GOgroove is the right choice for you. Its multi-point mode enables pairing two devices (say, office and personal phone) at a time. Listening to music and answering a phone has never been easier! It comes with a flexible gooseneck, that can turn this transmitter in any direction possible without a hitch.
Besides, it is made surprisingly user-friendly with its onboard controls. The advantage is, you don't have to press one button several times to reach somewhere; there are several buttons for easy access to different functionalities.
You have to pay a few more bucks to own it, compared to another transmitter on this list. But we always do, to own quality items, don't we? By paying the extra, you will have a device protected by a long warranty, so that it won't give you a headache for years to come.
Things We Liked
Flexible neck
Can pair 2 devices at a time;
Crystal clear sound quality;
Long-lasting;
Covered by a long warranty.
Things We Didn't Like
---
JETech Wireless FM Transmitter Radio Car Kit
Plays via Bluetooth;
Compatible with smartphones;
Basic functions with and less important add-ons, this transmitter has won the hearts of its users. It looks and works like an MP3. hence, it is needless to say that, operating this device is super easy.
It comes with a charging port so that while playing music or a book, your device never drains away all the power you need. Portability is another feature that makes this transmitter popular. Just place it in your pants pocket and travel the world!
What this transmitter can't do is pair to devices through Bluetooth. It does not have any, and works with a headphone jack like an MP3, ensuring a better connection than Bluetooth. To answer calls, you have to receive the calls for your phone manually. Any call-receiving functionality has not been added to this device; that is the only drawback of this transmitter in my opinion.
Things We Liked
Portable;
Economic;
High compatibility;
Easy functions;
Lifetime warranty.
Things We Didn't Like
Answering calls is not hands-free with this.
---
Handsfree Call Car Charger, Wireless Bluetooth FM Transmitter by LIHAN
Plays via Bluetooth, USB & TF;
Compatible with any Bluetooth device.
Affordability has meshed with advancement in this transmitter from LIHAN. It is basically a Bluetooth transmitter, compatible with Bluetooth devices only. The two charging ports are proven to be a lifesaver when you and your partner both want to use the charger from the transmitter.be sure to connect to the correct one, because one port is 3A for the latest phones and another one is 1A, for USB flash drives.
You can switch from Bluetooth to TF card and USB easily just by pressing one button. Tuning to FM is also a breeze with this device. The CVC cancellation technology has proven to be efficient to filter noises from music. So, you get pure and authentic music every time.
It runs only on Bluetooth and once the Bluetooth either your handset or the transmitter wears out, this machine becomes useless. However, the manufacturer of this transmitter is less renowned; hence this quality product with the latest features is available at a reasonable price. This surely is the best deal for your bucks. 
Things We Liked
2 charging ports;
Energy efficient;
Declares power on and voltage level;
Affordable.
Things We Didn't Like
Installation is not easy.
---
Aphaca Wireless Bluetooth FM Transmitter
Plays via Bluetooth and USB;
Compatible with Bluetooth devices;
Most Bluetooth-compatible transmitters don't provide sound quality as good as transmitters with cable connection compatibility. You will never face that problem with Aphasia transmitter. Its wireless connectivity delivers sound quality even better than wired ones.
In addition, the most fascinating feature to me about this transmitter is its smart car locator functions. It works with an app, installed on your handset to let you know the parking position of your car, time, and distance from your location. It is a feature that can only be found in the latest models of AUDI cars. Aphaca transmitter lets you have experience in old model vehicles.
While another transmitter comes with buttoned functions, this one has a handy knob to tune the channel, set the volume and select the songs. When your can battery has a low voltage, this device notifies you by ringing an alarm. For all the features, the price was a bit on the higher side, but seemed reasonable.
Things We Liked
Amazing sound quality;
Comes with a smart car locator;
Easy turn knob control;
Covers up to 108 MHz;
2 charging ports.
Things We Didn't Like
---
AMIR-Criacr Bluetooth FM Transmitter for All Smartphones
Compatible to: all smartphones;
Plays via: Bluetooth and USB;
A call button in the transmitter and a built-in mic with CVC lets you experience ultimate hands-free calling without the interference of wind and noise. With two charging ports, Criacr transmitters ensure the power of your devices is never down.
This transmitter is also awesome as a radio. It covers a wider band compared to other transmitters available on market. It works with USB and Bluetooth; so, you can store your favorite tracks on an SD card for listening to music and use your phone for calls only.
Some users mentioned the bad frequency if you put your phone too far from the transmitter. A few complained about wearing off the device within months. Instead of these matters, it is still a good pick for the budget. It is covered by excellent refund and warranty options.
Things We Liked
Two USB charging ports;
A wider range of radio frequency;
Noise and echo suppression;
Budget-friendly.
Things We Didn't Like
---
ChlorStar Bluetooth Wireless Radio Adapter
Feature Bluetooth V5.0, QC3. 0 Charger, Hands-free call, Siri Assistant, Six LED Light, Hi-Fi Music;
Dual Ports & QC3.0 Charger;
Plays via: Bluetooth and AUX;
6 Color Ring LED Backlit.
This FM transmitter is equipped with 6 colorful LEDs making operating ChlorStar transmitters easy to install and use. It shows everything it works on that including your car battery voltage, called id, song, volume, FM channel, connect information, and many more.
This transmitter has a gooseneck so that you can move the device according to your convenience. The charging port can feed android, I phone, and even power banks.
For a convenient and affordable option for hands-free calling and playing music, the ChlorStar transmitter can be a smart choice for android users.
Things We Liked
LED display shows useful info;
Budget-friendly;
Highly compatible with any Bluetooth phone;
USB charger included.
Things We Didn't Like
---
LENCENT Bluetooth FM Transmitter for Car (Upgraded Version)
Compatible with: iPhones and most android brands.
Support MP3/WMA/Wav, anti-statics design, and enjoy lossless music in your car;
Range from 88.1MHz – 107.9 MHz;
Plays via: Bluetooth, AUX, USB, and TF.
If you truly want to invest in a quality FM transmitter, then LENCENT is the lifesaver for you. It is tested numerous times and is certified by several authoritative institutions. With advanced features, you will get lifetime technical support from customer service.
Its tiny screen shows the channel, song name, and voltage of your car. A port is added to its tiny body for charging your device. This is mainly meant considering the old model cars in mind but works perfectly with any model.
This is a tiny transmitter, that easily fits in a pocket. Its power-off button is truly convenient when this device is not in use and you don't want it to drain your car battery. For me, it is a reasonably priced, high-end transmitter.
Things We Liked
Noise and echo suppression;
Hands-free calling;
Praiseworthy customer service;
Built-in over-current protection.
Things We Didn't Like
---
ENSFOUY FM Transmitter with Cell Phone Holder
Compatible with Bluetooth and non-Bluetooth devices;
Plays via Bluetooth and AUX;
Suit all Qi-enabled phones from 4inch to 6.5inch.
This transmitter comes with the most unique design and functionality among all the transmitters we have reviewed. It is a circular one but has extendable rubber padded clamps on its side to hold devices. You have to place it on the air vent of your car, then you can face your phone to you or any other angle at your convenience. This way, you have your phone screen to see which music is playing or who is calling you over the phone. 
Apart from this, you can use the audio cable (included in the package) to play music. Its power source has two ports, one to power the transmitter up and another one to charge your phone.
When this transmitter is in your can, your precious phone is never going to sit here and there, it has its place on the transmitter. It is a quality transmitter for your quality handset.
Things We Liked
Multiple installation & adjustable viewing;
High-performance microphone;
A phone holder.
Things We Didn't Like
---
Frequently Asked Questions (FAQs)
What is the Range of the Car FM Transmitter?
These are often utilized in cars but can also be in specific places, for example, communicating through all structures from a PC sound card. Due to being less regulated, most transmitters typically have a short range of 100 to 300 feet (30 to 100 meters), depending on the obstructions, receiver, and height of the collector.
Have an FM Transmitter Application?
Some Android phones work on the utility of FM transmitters, in which case you can utilize it locally or through a free application, for example, a fast FM transmitter, and afterward broadcast MP3 and other sound documents on your phone to your car radio.
Tips to Have a Great Experience
If you want to have a clear uninterrupted music experience with your FM transmitter you can follow these simple tips-
To have a clear transmission, always select an unused frequency and avoid using any frequency which is used by a local radio station.
You must have to set up the transmitter in the correct position.
Removing the antenna on the receiver can also help you to have a clear output.
In case of fixing static, you can lower the volume of the music or use the frequency at the lower end of your car's stereo range.
Replace your old transmitter with the upgraded one if you're getting a weak signal.
Conclusion
Only a great device will allow you to listen to your favorite music from your iPhone, iPod, Android, or other portable devices.
But choosing the right device for your car from tons of options can be tough!
This is why I've written this buying guide to lessen your confusion and provide you with some important tips that can help you to make the decision.
An FM transmitter with an easily accessible display, good sound quality, and the other features I've mentioned above can be your great companion while driving.
Read more: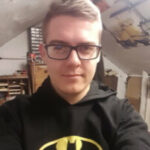 Hi, I am responsible for the 'Homeowners Power Solutions' category. My name is Liam Jaxon and a licensed technician with 7 years of experience in vehicle batteries, electrical gadgets, and home appliances. My working experience in different residential & light commercial electrical sectors and the automobile industry helped to acquire vast knowledge in this industry.