That bearings are one of the most integral parts of the longboard or skateboard is elementary skating information. Bearings can affect and accelerate the skating speed, precision, and motions of a longboard. Both veterans and novices in sports know that very well.
But whenever you are in need of longboard bearings, it is time to go through an in-depth analysis. Thus you can avoid a blundering purchase leading to a nightmarish experience. A little bit of research can help you come out with the required knowledge to single out the good quality bearings from the really poor ones.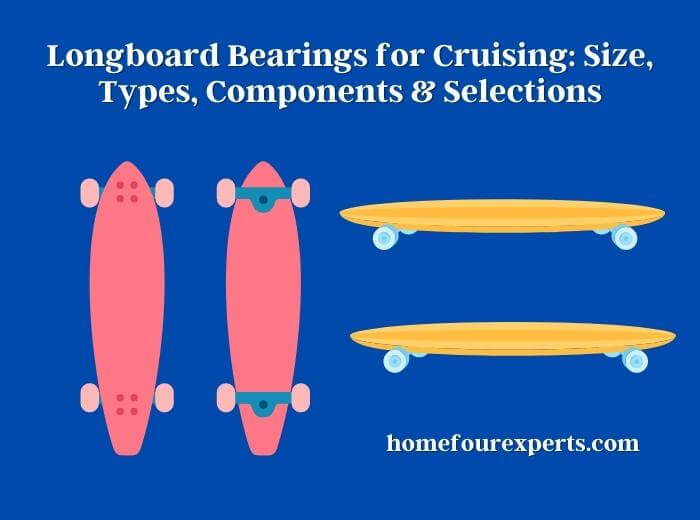 A bearing is a machine that makes the wheel turn up, facilitates motion, reduces or eliminates corrosion, and determines the direction of the motion. But the most crucial job of the bearings of a longboard is to ease friction. Merely the bearing made out of quality materials and rightly assembled components can serve this purpose to the fullest. This wish list of the 5 longboard bearings can come to your aid in running down to the right set of bearings.
Longboard Bearings – Size, Types, and Components
Size
The size of any and every bearing is identical but they vary in quality and materials. The longboard bearing measures 22mm in diameter in the outer race, and 8mm in diameter inner race, and the distance between the races is 7mm.
Types
Skateboards came with roll or ball bearings and it has remained so to date. The first-generation bearings were loose and are obsolete now. Since 1974, this current version and well-knit tight bearings have been reining the wheel spin scene. Types of longboard bearings depend on what materials they are made out of. Judging by the substances they are made by, there are two kinds of bearings – Ceramics Bearings and Steel Bearings. 
Components
Any bearing is an integrated machine of five parts – two (inner and outer) racers, bearing balls 7/8 in numbers, shields, and retainers.
 How to Buy the Best Longboard Bearings?
The premium-grade longboard bearing is the one that selects the quality materials to make every single part of the bearing. Four materials are commonly used to make bearing components.
Steel
Steel is the essential ingredient of a bearing. Races or circular tracks and balls of the bearing are made of stainless steel. When balls are made of steel, we call them steel bearings. Steel bearings are prone to melt if overheated and break or bend under friction. We have reviewed two steel bearings in this guide. 
Ceramics
Manufacturers have found Ceramics to be a superior bearing material and utilize it to produce bearing balls. These balls have proved to be more sustainable than steel bearings. They are not vulnerable to overheating and serious friction. Interestingly enough, ceramics bearings have the ball only made by ceramics. Other parts use the same materials as Steel bearings.
Ceramic bearings are both more exclusive and expensive than steel bearings. Three out of five brands reviewed in this article present ceramic bearings.
Rubber and Nylon
Rubber and Nylon are used to make the shield and retainer of a bearing. Either bearing, steel-built or ceramics-built, take rubber and nylon to make their shield and nylon.
Pre-Lubrication
Pre-lubrication is the go of the skating industry now and so most bearings come lubricated beforehand. Pre-lubricated bearings spin faster than the ones not treated with lubricating cream earlier. But you should not underrate a bearing if not pre-lubricated as you can lubricate your bearings with lubrication cream available at a cheap rate.
It is crystal clear from this buying guide that the higher-end bearings are expensive. But a low price bearing still can serve your purpose as the Yellow Jacket Bearing offers quality performance at a moderate price. The other four products are exclusive to their group. Ceramic bearings tend to be better and pricier than steel bearings.
Quick Solutions
What is the ABEC rating?
ABEC stands for Annular Bearing Engineering Committee. This committee rates a bearing judging by its tolerance level against friction, twist, and pressure. The more the rating numbers, the superior quality, more authentic and precise the machine would be. These rating grades comprise 1,3,5,7 and 9. Nowadays, many manufacturers do not follow this rating. It fails to ratify numerous critical factors – load-hauling capability, materials, smoothness, noise, and so on.
What is The Fastest Bearing?
The foremost responsibility of a bearing is to lessen corrosion. In other words, the best bearing is the fastest spinning bearing. When all the components of a bearing are made of quality materials and that are engineered ably to assemble into the most precise machine, it will run the fastest. This combination is found reportedly in the Bones Swiss Ceramics.
How to Clean and Lube a Bearing?
You can find your own way to clean and lube a bearing. Let me share two well-known cleaning and lubing methods. The first one goes to soak the bearing in a container full of mineral spirits. Then you should shake the jar up and swirl it around. Finally, wipe the components clean and dry them fully out by compressing air. Make sure that they are fully wiped and hot dry.
The second method is to apply a mixture of Teflon and Remington gun oil to coat the balls and two races. The latter protects the components from rust.   
Factors to Consider of Longboard Bearings for Cruising
To make things simpler for you to settle on longboard bearings, here are some tips for finding the best components of an exceptional bearing.
Artistic Ball
Steel may seem like a superior material, however, the clay title refers to the best riding execution. These balls are harder than steel and continue to run for a longer pull-out time frame. 
It additionally looks better than steel courses and can be adapted in a variety of ways, providing even more utility to your longboard.
Design
It highlights special planning elements that are equipped for superior performance. The premium aspect that incorporates elements of the great plan can lead to high-speed and high-speed increases. When contrasted with a different title that highlights the unfortunate plan decisions.
Waterproof Ability
It can similarly protect itself from water damage and add an extra layer of hardness. Waterproof headings are additionally more durable than different aspects that do not have waterproofing capabilities.
Top 5 Longboard Bearings-
1. Bones Swiss Ceramics Bearings
Bones Swiss Ceramics is a top-level skating-grade bearing made out of quality materials – steel races, Cerbec ceramic balls, nylon cages, and rubber shields. The component materials speak volumes for the higher quality bearings Bones Swiss are.
Whenever you glide on the deck, a pair of Bones Swiss Ceramic bearings lets you maneuver up to your wild satisfaction. It boosts up the speed of the wheel freeing it from any friction. You can turn up in any direction at will as those bearings give you a smoother and quieter twist.
 Bones Ceramic stands out for its cleaning convenience which makes the wheels more efficient and effective. It fights dirt backed by the detachable rubber shield and so Bones exclusive bearings are less likely to hold rust. These are the reasons longboards backed by Bones Swiss bearings are spectacularly faster than steel bearings. 
Ceramic bearings are waterproof and keep the rust away and longboards can have a longer span of trouble-free gliding.
What we liked
Waterproof and dustproof;
Less noisy and quiet;
Accelerate faster than most other steel bearings;
Keep the speed on better than most;
Detachable rubber shield bar the debris and dust;
Harder and tougher enough to break under pressure.
What we didn't like
Expensive compared to the average;
Don't take abuse well;
Not suitable for entry-level skaters.
2. Sector 9 Plat Bearings A9 
Sector 9 is comparatively a newcomer in the longboard-bearing industry by the side of the Bones. It doesn't enjoy the long-standing track record like Bones but can very ably challenge the same by virtue of its quality and performance. It has been in the skateboarding industry. And captured sufficient space as they offer precision. Like all other commercial-grade bearings Sector 9 is engineered intelligently to serve with even steel balls and steel races.
These bearings are not only made smooth rather they retain the evenness long after they dive their toe into the skating land. The balls are retained by the nylon cage. Longboard bearing functions simultaneously as a team of races, balls, retainers, and shields and AndaleSwiss has teamed those components with superb craftsmanship. 
So the minimum noise and friction & maximum motion and fun are the gifts of this dark horse.
What more do you want?
Smoother rides are needless to mention.
What we liked
Ceramics-bearing level smoothness;
Swiss-engineered build;
Faster than the other of its kind;
Lesser friction and higher motions than others in this price;
Break in faster and get speedier with time.
What we didn't like
Affordable but pricier than its category.
3. Bronson G3 Steel Bearing
Like AndaleSwiss, Bronson G3 Bearing has come into the popular note in this sports industry very soon after its inception. Skaters credit two of its signature features for this rapid rise to fame – the most sophisticated technology and the awe-inspiring speed. In line with these two, this bearing brand features deeper-than-the-go raceway tracks for guaranteeing stability.
It offers a glass-exclusive nylon cage and ball sockets keep the balls pre-lubricated. Reduced friction is emphasized by the microgrooves set along the race and these microgrooves fight the swell of lubricant contained in the balls socket.
Next comes the durability of Bronson G3. So far the steel bearings are concerned; the durability will certainly be up to the mark. These bearings feature a one-sided rubber shield and a bar on the other side. It will not be a hassle for motion if the shields are removed during installation. Bronson Steel Bearing is new and is becoming a trend-setter as no complaint from the customers' side is yet to emerge.
What we liked
Advanced technology;
Speedier than others in the price group;
Reduced friction leading to longer roll;
Microgrooves set to reduce corrosion;
Removable rubber shield.
What we didn't like
The issue with technology – more can go wrong;
Detaching the sidebar and shield may complicate movement.
4. Yellow Jacket Pro Longboard Bearings
This is a steel-only longboard bearing. The yellow bearing has already stirred up sufficient hype in the skateboarding scene with its durability. It comes with premium chrome steel, pretty high performance, and smoother motions. In addition, this optional performer will not break your wallet.
The stainless steel bearing cage, high-velocity nylon cage, high-speed lubrication, and lower friction are all the strengths the gliders get drawn towards. So when you are planning for a standard bearing set at a cheap price, the Yellow Jacket looks at you with your eyes wide open.
It has a high-speed cream to get pre-lubricated with. And the 10-15 mph speed is ecstasy while running downhill. Some customers have reported that it leaves Bones Reds behind on the same path when brand new.  
The Yellow Jacket fights dirt to extend the roll span. This seal is actually a wild card- easy to remove and professionally sealed. Yellow Jacket has earned the prediction to surpass the nearest rivals with the best precision rating in the market.
What we liked
Fast racing and durability at a cheaper cost;
Best precision by German technology;
Matchless smoothness for the steel bearings;
Multi-color coating protection from dirt, dust, and debris;
Top-grade manufacturing techniques.
What we didn't like
Vulnerable to overheating.
5. Fireball Dragon Skateboard Bearings Set
This is the longboard exclusive bearing among the 5 products reviewed in this guide. The very name tag tells the distinction it enjoys as a ceramic. The balls are made out of silicon nitride which has made the bearing waterproof and dustproof. The ceramic bearings are known for their lesser friction feature. That lets the glider surf over the skating track speedier, smoother, and smarter. The detachable rubber shield contributes to extending the roll life of the bearing.
The removal of the rubber shield makes cleaning easier and keeps dirt, dust, and debris far away leading to long-bearing life. The balls are kept lubricated in the nylon cage that strengthens the speed of the motion and you can maneuver more by twisting directions.
Ceramic balls may seem sticky at first but a spin test or longboard push will give it a convincing speed during the maiden landing. The friction will feel so low that you will enjoy a butter-smooth motion.
What we liked
Balls not vulnerable to breakage and melting by overheating;
Pretty fast and smooth longboard bearings;
Preventive from water and rust decay;
Maintain speed for longer than most;
Fast on a maiden ride and faster in breaking in.
What we didn't like
Wrap Up
Bearings may vary in quality, materials, and performance but they share the same goal. Any type and brand of bearings are out there to assure you of a fun-filled riding experience. In this guide, you will have budget bearings, high-end stainless steel bearings at a moderate price, and ceramics bearings at an expensive cost.
They differ in price, performance, and endurance. Whichever bearing you select, never forget that a longboard bearing requires the best maintenance to derive the best out of it. By the time, you will reach this concluding section; you must have developed an expert opinion to make the right decision.
You Might Also Like: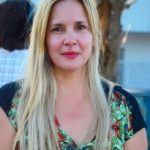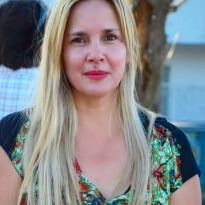 Guys, I am Camila Avery and I love to help my mom to do indoor & outdoor activities. As a lady, I have passed my time on gardening, home improvement, and personal or self-care. I have acquired some degrees in outdoor recreation, beauty, and hair care. It is not easy to work with top-level professional beauty experts. But, I got that opportunity and experimented with different hair extensions, hair colors, and cuts.