This article may contain affiliate links, which means if you make a purchase following our links won't cost you extra, but we may earn a commission. Learn more
In case you are new to the phrase 'Ponytail Extension', it is a kind of hairpiece or hair extensions that are worn on a ponytail. So, basically, you need to have hair at least up to your neck so that you can make a ponytail out of it and wear these types of headpieces. Ponytail Extensions are of numerous types, some are different kinds of hair buns, some are scrunchies and some are simple ponytails with more volume than usual ones. All these hairpieces are made in different solid colors, different combinations of highlights, and different textures.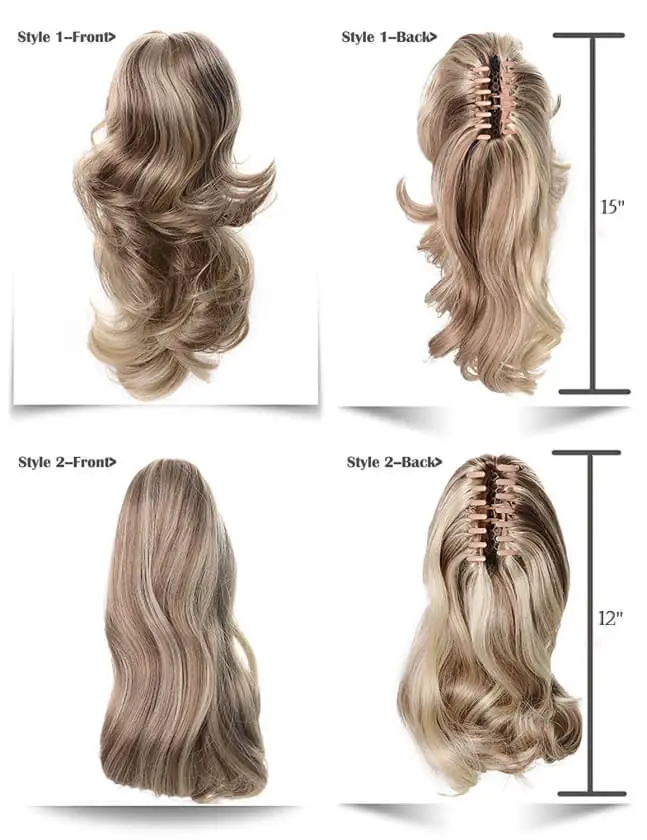 It takes only a minute to change your look with these extensions. They add more volume and sometimes add length to a ponytail. All of the products I have reviewed here are the best imitation of human hair, but made of synthetic fiber, hence heating is not allowed. Besides, the long ponytails require a lot of spraying of conditioners but the bun and scrunchies require no maintenance.
11 Latest Ponytail Hair Extensions
1. AISI BEAUTY- Kinky Curly Wrap Around Clip-in Ponytail Extension
Jet black, kinky curly texture;
22-inch, 100 grams of synthetic hair;
Customization service is available; 
Wrap-around style, with clips attached.
This extension is perfect for a budget-friendly option to give you a long ponytail without compromising the volume. It is kinky curly textured, so girls with curly hair will never go wrong with this. I even recommend ladies with straight hair to try this out so that they can achieve a new look by spending a little money.
The extension is basically a long weft with a comb and clips sewn into it. It is easy and secure to wear. Simply warp the weft around your own ponytail with the comb slipped under the rubber band. Use the extra lock to wrap around the base of the ponytail and use some bobby pins to secure it. Voila! A super long natural looking ponytail is there, out of nowhere!
In the end, I would say, this is not for regular wear as the synthetic fiber gets tangled easily. Even after spraying loads of conditioner, you will not be able to save it from getting tangled. But still, it is a good option because you can make a messy bun out of it when the tangle is beyond repair. If you use it just occasionally, it will serve you for a long time.
---
2. Lydell-Light Brown Synthetic Ponytail Hair Extension
Light Brown synthetic  hair with Highlights; 
12- inch length, weight: 125g;
Jaw Claw Clip attachment.
It is another extension, made of synthetic hair. The loose wave at the end and natural color make it look natural. But it is a bit shiny. If your hair is lifeless, then the added shine can be spotted easily. Applying a leave-in conditioner or witch hazel can add some gloss to your hair and solve the problem.
There is a big jaw claw clip to attach this hairpiece to your ponytail. It is easy to wear but can be a problem if your hair is super thin and can't hold a large clip. Removing the clip and using bobby pins instead also does the same job. 
The advertisement says it can be styled two ways, the curls turned in and the curls turned out. Believe me, the second style looks awful and leaves the attached clip exposed. Considering the ease of wearing this extension, it is one of my favorites.
---
3. rosmile-Synthetic Afro Puff Ponytail Extensions for Natural Hair
Color: Medium Brown #4;
Premium synthetic hair, soft and natural look;
Medium size drawstring curly ponytail diameter is 7″-8″.
It surely doesn't add length but adds a bouncy volume to your hair. The springy curls look more like an afro bun, not a ponytail. It is a perfect option for black women. It takes a minute to achieve a kinky curly look without spending time on your own hair. No one can tell you are wearing something artificial because the curls look natural. 
This afro bun is available in one shade and length only. There are afro buns available in almost any color you want but you have to order from a different seller then. This bun cum ponytail has clips and an elastic attached. 
You can adjust the elastic around the rubber band of your ponytail and use the clips to make it more secure. As it is synthetic and curly, it needs a lot of conditioning to make it usable for longer.
---
4. Sexy_Forever- Messy Bun Updo Scrunchie Synthetic Hairpiece
Messy donut bun;
Color: Dark auburn;
Available in 37 colors.
A nice and neat ponytail may look sophisticated in the office or college but may look overly polished in outing or family gathering. A messy bun is a carefree and girly updo that can be worn even at parties while wearing expensive gowns. The hairpiece I am talking here about is basically a scrunchie, a donut bun that looks like a messy bun. The best thing about this bun is, it is available in all different hair colors, shades and highlights. Even a pricey ponytail extension may look unnatural on you if the texture doesn't match, but with a messy bun scrunchie, you can never go wrong.
For short hairstyles like short bob or long bob, often we have to sacrifice our desire to make an updo. That won't happen anymore because if your hair is long enough to make a ponytail, then you can wear this scrunchie to create a new messy look. It literally needs maintenance and styling. Besides, using this hairpiece will save you from styling your own hair. Supersaver hairpiece under ten bucks!
---
5. SEIKEA Clip in Ponytail Extension Wrap Around Straight Hair
Fiber: Heat friendly synthetic hairpiece;
Weight: 140/160/180 gram;
Length: 20/24/28 Inch;
Style: straight/curly.
This one is an improved version of the synthetic ponytail extensions I previously reviewed. It doesn't need much maintenance like conditioning or moisturizing and doesn't get tangled. All in all, you can apply a straightener and curling iron to make a more enhanced look with it. The fiber used in this extension is heat resistant, so it won't get damaged easily.
To wear it, you have to make a small bun at first and pull the elastic string around the bun. There are small combs sewn into it to make it secure but you need to stick extra bobby pins to keep it in place. This way it lasts all day without any adjustment. 
The only complaint about this hairpiece is, it looks crimpy when it arrives. You have to brush it with a paddle brush to fix it, and it will be fabulous within minutes. The reason is, this way the straight ponytails look relaxed and more natural; not like a pin-straight ponytail that looks artificial.
---
6. SEIKEA-Synthetic Ponytail Hair Extension
18 Inch color dark brown;
Suitable for coily and straight
Natural and soft.
No matter how good it looks in the photo, I can't recommend it for girls who have long thick hair. It is a bun with a tress claw attached to it. The space within the claw is narrow, just a small bun will fit here. However, the flower bouquet style is perfect to wear at weddings and dinner dates. 
There are solid colors and highlight options available to order this bun. The photos are quite accurate and one shouldn't have any problem with color matching. I recommend you pinch out some hair around the hairline to make it look more romantic and use a tail comb to pull your crown hair to make some volume. The bun looks more natural and neat this way.
It is not meant for applying heat and won't need any maintenance. The price is cheap and the shipment is fast too. It can be a great present to older ladies like your mother, aunt, and grandmother who face difficulty making a voluminous updo. This bun is also available in mixed shapes of gray, especially for senior ladies.
---
7. KUKI – Long Curly Ponytail Hair Extension
25-inch long curly ponytail;
Claw clip attachment;
Available in 12 different colors.
Even if the straight ponytail extension you decided to buy looks natural and a true color match to you, everyone around you will be able to spot that, it's fake if you have naturally curly hair. Want to avoid that? It is simple, get one ponytail with a curly texture. Loose natural curls are the best among other curls like kinky curls or spring curls and so on.
This hairpiece is 25 inches long, but it gets 31-inch when stretched. There is a big claw clip underneath the hairpiece; so, you must have the right amount of hair on your scalp to hold the grip of the clip and the weight (220gm) of this extension. Make sure to backcomb before putting this on, it looks growing right from your scalp if you do so.  This piece is washable and heat resistant. But I recommend not to manipulate its curl because the curl makes it so special.
---
8. Onedor Synthetic Hair Bun Extension Donut Chignon Hairpiece
Classic donut hair bun;
Highly heat resistant up to 300 degrees F;
4-inch wide and 2-inch thick, adjustable;
Choose from 13 colors.
When you are running late for work or any event or you are just confused about how to style your hair then this donut bun is the best thing to rescue you. Donut buns are classic and timeless, hence they can be worn anywhere at any time. A donut bun scrunchie is ideal to save your time to make the bun or not being able to make one for thin or short hair. Just use accessories with it to make it less monotonous.
This hairpiece is Korean and highly heat resistant. If the texture does not match your permed hair, you can perm the hairpiece as well. The drawstring underneath makes it adjustable to any length. The size of this bun is also adjustable. You can make it even bigger so that you can create an even more voluminous look for a gala event with the same hairpiece. Choose yours from the thirteen most common colors
---
9. FUT- Womens Claw Ponytail Clip in Hair Extensions 21 inches Long Straight Hairpiece
A mix of ash blonde and beach blonde;
Highly heat resistant up to 300 degrees F;
18-inch long, 150gm wavy ponytail;
Choose from 45 options.
So far, this manufacturer offers the maximum range of color, highlight, and texture for ponytail extensions of different lengths. You can have literally any color in any texture you want! Perfect for cosplayers and cheerleaders. 
This particular piece is a mix of ash blonde and beach blonde. Girls with both hairs can wear it daily or just to create a glamorous look using the highlights. There is a claw clip underneath that makes it secure in place seamlessly within 30 seconds.
Even with proper care, other synthetic long ponytails become useless within a month. But this one has a life of up to a year. So, take proper care to lengthen it to get the most out of it.
---
10. SWACC Easy Stretch Hair Combs Clip in Ponytail Extension
Adjustable curly messy bun;
A pair of combs underneath for attachment;
Can be stretched up to 9 inches;
22 colors available.
What makes this scrunchie different from other models I have discussed here? Obviously, it's stretchability. Other static buns are meant for making one style all the time. With this adjustable messy curly hairpiece, you can be creative and create a whole new look with little effort.
Its high-quality fibers give you the look and feel of natural hair. Tucking it is secure and easy for the plastic combs, without using any bobby pins. You can choose to make a bun with it by placing it on your bun or ponytail, or you can make a half-up style with your hair and stretch it from one side to another to look stylish. Use adornment for special events with this scrunchie and you are ready to take all the compliments without visiting the stylist.
---
11. Aonmg- Short Curly Ponytail Synthetic Blonde Clip In Hair Extensions
Short thick ponytail;
Color: blonde, 6 colors available;
12-inch long, claw clip attached.
Not everyone is a big fan of the long luscious ponytail as they may look abnormal if your own hair is super thin. Girls with super thin hair can't experiment much with their look, as it may look artificial, but this hairpiece with a short ponytail will cover up the lack of hair on your scalp and give a bouncy voluminous look instantly. 
This mix of blonde will match several shades of blonde. There is a small and light clip attached to it and with all the attachments, this hairpiece weighs only 100 grams. So, you will not feel anything heavy on your head. So, get this piece and get ready every day without mopping on not having enough hair to have a good hair day every day.
---
Why Use Ponytail Extensions
When you try this type of extension for once, you will say, why not use it every day? We spend almost five to ten minutes fixing our hair before heading to work and it takes an hour to make an updo for a special event at the salon. Ponytail extensions are there to create the same look within a fraction of a minute and cost a lot less than the salon bill. The best part is, these are reusable and last up to and year if maintained properly. So, why not give it a try and save your wallet? You may never want to visit the salon just for an updo. 
Which Ponytail Extension to Buy
Among different types of ponytail extensions available in the market, which one will best suit you? Apart from hair color and texture, there are other things you need to consider before purchasing these ready-made hairstyles. That is, which one best suits your style? Depending on your style, event, and purpose of wearing these extensions, you may need to use two or three extensions to cover all your needs. 
For example, for a corporate look at the board meeting, a sleek long ponytail is a must. But that may look overly polished and intimidating at the get-together at your cousin's place. For a casual look at the weekend or date nights, a loose messy bun or a wavy short ponytail may look more appropriate. 
What about the social events like marriage or birthday parties where you are loathing for compliments? A romantic and stylish updo will look best at evening parties and weddings. So, having a hair bun that looks neither casual or formal is the best option. Go for the one that will give you a professionally done updo look and get all the compliments you want.
I am not giving any tips regarding how to choose the best quality extensions this time because all the ponytail extensions here are synthetic and the maintenance is quite the same. Take good care of these and these will serve you for a long time
Frequently Asked Questions (FAQ)
Can You Wear Your Hair in a Ponytail With Extensions?
When you plan to wear a ponytail, the most ideal way to utilize a haircut is to cut your hair. Once done with your hair growth ponytail once you do it twice you will see that it looks normal and you will get the look you need.
How Long Does the Ponytail Extension Last?
Luxuries can last anywhere from 3 to 6 months to a year and more, depending on the overall consideration and how they are worn regularly.
Conclusion
By now, you must be considering purchasing all the extensions I have listed here. All of these are beautiful, reusable, and can be worn in various events with different outfits, isn't it? Well, you can choose to buy two different styles of extension at a time and try out the looks. So that you can be more confident to try out even more stylish ones and experiment with your look every day.
Featured image credit: Amazon.com
Relevant Resources: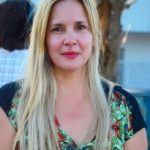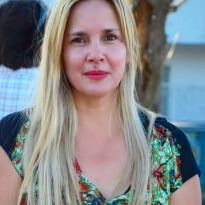 Guys, I am Camila Avery and I love to help my mom to do indoor & outdoor activities. As a lady, I have passed my time on gardening, home improvement, and personal or self-care. I have acquired some degrees in outdoor recreation, beauty, and hair care. It is not easy to work with top-level professional beauty experts. But, I got that opportunity and experimented with different hair extensions, hair colors, and cuts.