Published on: March 22, 2022
Written by David Rowan / Fact-checked by Eric Devin
This article may contain affiliate links, which means if you make a purchase following our links won't cost you extra, but we may earn a commission. Learn more
If you're a workshop guy, sanding is the most common task you need to do to complete your projects. And a power sander can speed up this time-consuming sanding job.
If you have got the right tool, it'll be easy for you to shape, carve, polishing. But the question is, how will you be able to select the right sander for you!!
Hold on!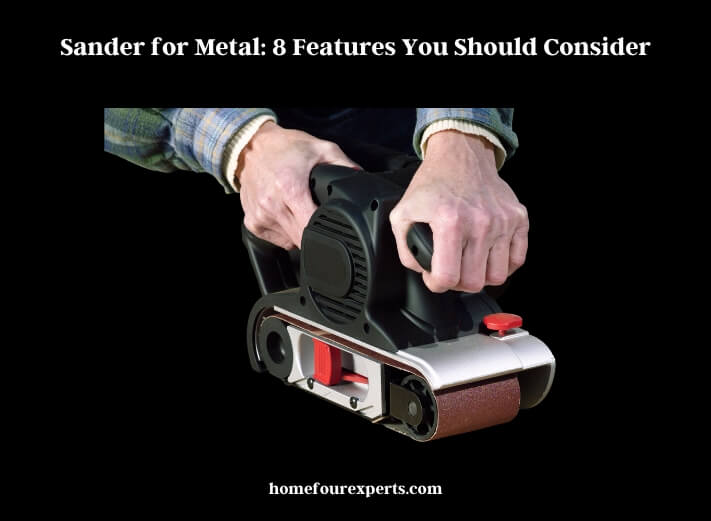 Before buying a sander for your metalwork, you need to consider the type of metal you frequently work with, then find out the features of a good quality sander.
And voila!
You're now ready to pick your metal sander.
Features Have to Consider Sander for Metal
Choosing the right sanding machine for metal would be tough if you don't know which one is suitable to complete your project. Here you'll find some important features that make a sander the best one.
The Material You Sand
As you're working with metal, you know what type of metal you've to deal with every day. Different types of metal need different types of the sander. Such as stainless steel, high carbon steel, cast iron, and aluminum require different types of a belt sander or orbital sander pads.
Some prefer a belt sander to work on carpentry, glassmaking, woodworking along with metalwork. In this case, you need to change the orbital pad before switching the job.
Choose the Type of Sander
For metal work, you choose from belt sander and orbital sander depending on the type of finishing you want on your project.
Belt sanders can give you nice polishing & finishing on edges & corners. You can have control over shaping the edges with a belt sander.
Orbital sanders help you to get smooth finishing on round corners and edges like metal piping or some automotive or aircraft parts which need the finest tool for a perfect fit.
Consider the Sandpaper
Usually, most metal workers prefer 50-grit sandpaper for metal work. But this may vary depending on the type of metal you are working with.
Like, steel tends to be the hardest metal which generates heat quickly, which means you need to cool it down frequently while working.
When you are sanding aluminum, silicon oxide is the best alternative to work with. But you need to prepare water or other cooling agents to reduce the heat.
Many metalworkers prefer cubic zirconia/ industrial diamond sandpaper & orbit pads as they generate minimum heat and require almost no lubrication. And as it is a hard type of sandpaper, it tends to last for a long time.
Read more: Best Bench Grinder – Top 10 Variable Speed Bench Grinder
Power Supply
Before buying the metal sander you must think about your power supply. Because high-end sanders require higher voltage and current than any household electrical system. So check the required voltage of the sander before buying.
Horse Power
Another important feature you should consider for buying a sander is HorsePower aka HP. If you're going to use it for DIY purposes or small-scale home or professional purposes, a sander with ⅓ – ½ HP will be great. But if you're a full-time professional, you should go for a more powerful sander.
Available Space
You also need to consider available space at your workstation for the sander. That means you need to make sure that you've enough space in your workshop to place a bigger, free-standing model of the sander.
Size of the Sanding Platform
If you choose a Belt sander for your project, check the length and width of the sanding platform before buying. A belt sander with a wide and long belt helps you to finish your job quickly.
Dust Collection System
Any type of sanding produces enough dust & debris to mess up your workspace which may affect your breathing. So check if the sander you're going to buy has a good dust collection system. But whatever the method is, it is always better to wear safety glasses and a dust mask while using this type of tool.
Some Perfect Options of Sander for Metal
Minimprover Pneumatic Tool Air Belt Sander
 Power Source Air Powered;
Sander Revolution 14000 RPM;
Belt size 3/8×13-inch; 
Weight: 2.18 pounds;
Most of the users have claimed the versatility to be the best feature of this sander, but for me, its limitless sanding is my favorite. It is a two-in-one sander that can be bolted down on a table to use as a bench sander or flip over and glide through the surface you want to smooth out. There are two handles with a rubber grip on both sides of the sander to make sanding stress free.
Its rotational speed is variable; you can choose within 13 settings depending on the material. The advertisement claims this sander is a jack of all trades; from wood to tile, anything can be polished. However, its slow rotational speed seemed less suitable for soft materials like natural or artificial wood. It is a great weapon to polish harder substances like metal or tile.
To ensure your workshop remains lean, there are two dust ports attached to it. Just lock the machine, do your sanding and empty the dust collector. Sandin has never been easier like this. The price is so low on this machine, that we had to double-check if there is a digit missing!
Things We Liked
Variable speed suitable for different materials
Made of high-quality stainless steel;
It has strong rust resistance;
Corrosion resistance, and stress resistance.
Things We Didn't Like
Astro Tools 3035 Air Belt Sander with 2 Belts
Power Source air-powered;
Included bare-tool, attachments;
Sanding Belt 80 Grit: 3/4″ x 20.5-inch;
Sanding Belt 100 Grit: 3/4″ x 20.5-inch;
Weight: 3.6 pounds.
An air belt sander is the only choice to remove welds from hard-to-reach areas of metal pieces like automobiles and so on. The reason we placed this ASTRO sander on our list is, it is cheap, comes with 3 belts of different grits, and is super easy to use. The most fascinating matter is, with the speed control, placed on the trigger this tiny machine can become a beast.
Usually, sanders meant for metals are made lightweight. But air belt sanders are the lightest. Due to just 1 kg of weight, this sander is going to be your best friend in terms of portability. It will let you expand your territory of working with it, as you can carry this wherever you go. So, mechanics who work on various projects will find removing welding a breeze with this sander.
There are other models available in the air belt category. But most of those cost a lot even if they come with similar features. With a short warranty option, Astro sander can beat the deal and save you from overspending on other options.
Things We Liked
Suitable to polish tight spaces;
Ultra-lightweight;
Affordable;
Variable speed. 
Things We Didn't Like
ZFE Burnishing/Polisher/Sander Set With Burnishing Wheel
Application: polish, tarnish and burnish steel and non-ferrous metal;
Motor: ½ hp;
Rotation: 600 to 3,000 RPM;
Wheels: 80# FLEECE (Nonwoven) wheel;
Weight: 12.35 pounds;
This one serves 'various purposes' of various materials'; others only claim their sander's versatility in serving a lot of purposes, but a few are eligible to do so on various materials. This sander works wonder on cleaning rust, scratch, or just plain dullness on the metals.  
It is not super light because the way it touches the floor requires extra strength. The strength comes from the weight of the machine. Besides, you can choose to use the energy settings to use this sander on materials other than metals. The simplistic construction of this machine makes it convenient to use on large metal pieces very conveniently.
This sander is pricier than its other competitors. However, the performance, additional attachments, and safety measures incorporated by the manufacturer totally deserve it.
Things We Liked
Versatile usage;
Comes with speed settings;
Easy to operate. 
Things We Didn't Like
Read more: Belt Sander for Knife Making
---
Baileigh Combination Belt and Disk Grinder (Model No  DBG-62)
Application: various applications on different materials;
Motor: ½ hp;
Speed: 4400 FPM;
Rotation: 2800 Rpm;
Disk: 6 inches;
Belt: 2×40 inches;
Weight: 75 pounds.
Before heading toward review, I would like to mention that this sander is the most expensive one in this write-up. Despite being a bench-top type sander, we realized that this unit can be great for sending tiny metal pieces of critical shapes. Whilst other sanders are suitable for large surface areas, this one is more appropriate for DIY and crafting.
It comes with a powerful motor that produces sufficient speed for the attached belt and disk. The belt is long, with a detent table and the sanding disk is somewhat small. This machine runs silently. The only bothering thing is its weight. You can't move it very often. If you are here for a portable unit, this one is not meant for you.
Things We Liked
Bench-top style;
Smooth and convenient operation;
Suitable for small pieces. 
Things We Didn't Like
XtremepowerUS Belt / Disc Sanding Machine Work Station (Model No 46000)
Application: various applications on different materials;
Motor: ½ hp;
Speed: 13.5 m/second;
Rotation:3,600 Rpm;
Disk: 5 inches;
Belt: 1×30 inches;
Weight: 18 pounds.
This machine has a different speed on its belt and disk. The disk is suitable for woodwork and the belt is more convenient for polishing metals. This bench-top style machine is super light which increases its portability. Hence, I recommend this one for newbies so that they can test their limits with this before switching to a professional one.
This machine may not be long-lasting, considering the reviews we have got from its long-term users. But for occasional usage, it is absolutely alright. There is no dust bag included with the package, so make sure you own a shop vac before using it properly.
Things We Liked
Portable; 
Suitable for metal and wood.
Things We Didn't Like
No bag attached to the dust port;
Comes with a belt and disk of large grits. 
Conclusion
So, this is all I had to share with you about metal sander. Hope you've got the idea about selecting a sander for your metal work.
But if you ask for my opinion, I'd go for TACKLIFE Variable Speed Belt Sander, as it has a powerful motor, moderately wide belt, and perfect dust port, and moreover, it can be used on metal, glass, tile, and any other material.
Let me know which one you'll get for you and why!
You Might Also Like: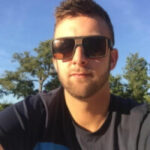 Hello, I am David Rowan. I am a professional contractor with 10 years of experience in home building, different tools used, construction, home remodeling, and other home improvement work. I have already built many custom homes and continued to do several woodworking projects along with how to deal with all categories of tools.