Published on: March 16, 2022
Written by Eric Devin / Fact-checked by David Rowan
This article may contain affiliate links, which means if you make a purchase following our links won't cost you extra, but we may earn a commission. Learn more
I don't know any other project that can be as satisfactory as refinishing old or cheap or leftover furniture and making it a work of art. It is even better than home renovation or making actual furniture. However, refurbishing is tricky and takes a lot of consideration to give the piece a makeover without causing damage.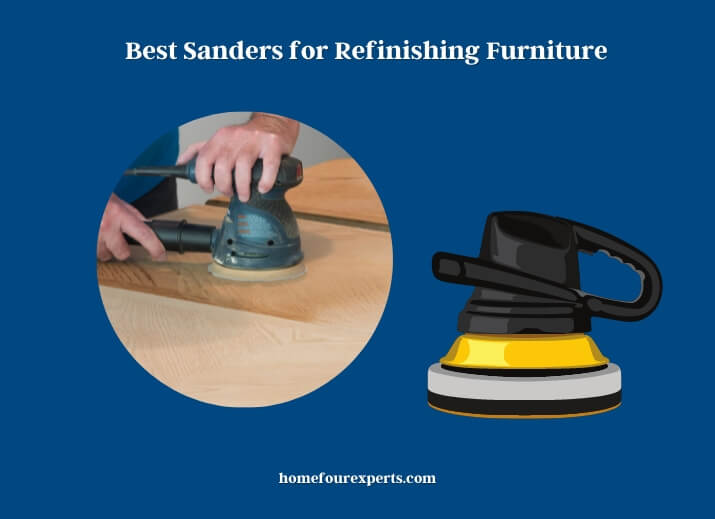 Finding a good quality sander is the first and foremost part of starting a refinishing project. I would say, the success of achieving the result you want out of your workpiece mostly lies in the sander and its proper use.
This article is posted just to give you a hint about which type of sander to use, how to use it, and the finest sanders to use for such projects. Hope this will help you to make your refinishing project more enjoyable.
Quick Comparison
PREVIEW
PRODUCT
DETAILS

Our Top Pick

Our Top Pick

Makita 4-½ -Inch Finishing Sander with Case

Brand:

Makita

Dimensions:

7.21 x 16.7 x 8.07 inches

Voltage:

120 Volts

See on Amazon

Runner Up

Runner Up

Bosch ¼ inch Orbital Finishing Sander

Brand:

BOSCH

Dimensions:

8.66 x 5.69 x 6.68 inches

Voltage:

120 Volts

See on Amazon

Overall Best

Overall Best

DEWALT ¼ Sheet Palm Sander

Brand:

DEWALT

Dimensions:

7 x 6 x 10 inches

Voltage:

120 Volts

See on Amazon
Things to Check Before Buying
Select the Type
Refinishing wooden furniture can be done in many ways with different means. So, when it comes to sanding the furniture, there are several options as well. Broadly, refinishing is done with three types of sanders. Those are Palm Sander, orbital sander, and Detailed Sander.
It is a triangular-shaped sander that is perfect for reaching hard-to-reach areas. It is also great for retaining a smooth finish. This may seem underpowered for stripping paint as its pressure is limited, and its performance is for delicate pieces. Besides, the surface area of the triangular pad is small. So, it takes longer to complete the entire furniture with this alone. 
Orbit sanders are multitaskers. There isn't anything you can't stand with this. But when it comes to refinishing, the circular pad of the orbital sander is less appropriate. If you wish to use your already purchased orbital sander to refinish an old piece of wood, take mental preparation that the corners will need to be sanded manually afterward. However, the orbital motion is best for swirl-free sanding. 
Palm Sander/Finishing Sander
This is a combination of a detailed sander and an orbital sander. It is a square-shaped sander but creates orbital motion. Palm sanders have all the advantages of the former two sanders, minus the disadvantages. Its square shape reaches the corners easily (unless it is too narrow), the larger surface makes the sanding process quick, and the orbital motion ensures a flawless finish. Hence, I chose this for refinishing furniture.
Power and Vibration
The best sanders are those which have moderate power, but the least vibration. The reason is, for refinishing, you won't need to remove a lot of material unless you want to regret it. Only stripping paint and varnish will be required and a decently powered sander is enough for that. 
When it comes to less vibration, it is necessary because refinishing requires time, concentration, and patience. You have to hold that little devil the entire time. The less the vibration, the more comfortable the work will be. 
Ergonomics
Size matters in this case. The palm sander needs to fit in 'your' palm. Our palms are differently sized like our feet. So, take the time to check out the dimension of the sander before ordering. If it doesn't fit in your palm, you may end up returning it or not using it at all.
Pressure Control
Refurnishing is done carefully so that the precious material under the paint is not scored by mistake. That is why a sander with a pressure control mechanism is useful. This rule applies to beginners only. After using the sander for two or three projects, you will get the idea of refinishing and won't need this feature at all. 
Dust Collection
If you already own a shop vac, then congratulations to you! Because most palm sanders can be attached to it to keep the area dust-free. If you don't have one, then consider spending your money on those sanders only, which dust collection is praiseworthy; even if their performance is not up to the mark. 
Others
Before ordering, any power tool needs to be checked for its warranty options and repair/replacement policy. Besides, enlighten yourself with the additional accessories the tool brings to you. This may save you from regret for not knowing the services you could get for free in the long run.
Do's and Don'ts while Refurnishing Using a Sander
Motion
Never ever run the sander in the opposite direction of the wood texture. It applies in the case of sanders that do not run in orbital motion. This mistake can create severe damage to the workpiece by leaving grooves, marks, or scratches.
Pressure
No matter which sander you are using, don't apply pressure during refurnishing. Use the right paper for the right purpose. That is enough. Applying pressure will cause the machine to slow down, and the motor may overheat and damage the sander itself.
Chronology of Sandpapers
The use of sandpaper for the refinishing project starts at coarse and drifts to medium to fine grits. Not the other way around. The coarse one is for removing stains and varnish, the medium one is for smoothing, and the finer grit paper is for fine, refined finishing.
Analysis of Top Choices
In this article, I'll exhibit my list of the simplest sanders for furniture refinishing. Not only that, I will be able to offer you some crucial belongings you should consider when choosing a sander for your furniture project. Let's get started!
1. Makita 4-½ -Inch Finishing Sander with Case
Motor: 2.0 amp;
Pad size:  4-½ "x4" inches;
Model no: BO4556K;
Speed: 14,000 OPM;
Includes case, Dust Bag, Punch Plate, and Abrasive Paper of  #60, #100, #150 size;
weight 2.5 lbs.
No matter how perfectly the furniture is made, the seller will be losing the deal if the finished look is not flattering. In contrast, a piece of furniture can be sold at a reasonable price for its look only, no matter how cheaply it was made. As the importance of finishing sanders in such a business is quite apparent, it is best to invest in one that will serve flawlessly for a long time.  
Our top pick in this list is Makita sander. Along with its workmanship, comfort, and convenience are also considered to make it the winner. Its 2 amp motor creates an oscillation movement of 14,000 OPM to finish its job a lot faster than other competitors. Its soft and contoured grip won't leave any stress on the hand. Besides, you will barely feel any vibration or noise while working with it. 
The included dust bag is not so impressive, but useful for small projects. For large projects where you need to sand for a long time, make sure you use an additional vacuum to keep the workpiece clean. 
Pros
Fast sanding;
Minimal noise and vibration;
Effective dust collection;
Comfortable grip;
Super smooth finish.
Cons
Needs an additional vacuum to collect all the dust.
---
2. Bosch ¼ inch Orbital Finishing Sander
Motor: 2.0 amp;
Sheet size: ¼ " inches;
Model no: GSS20-40;
Speed: 12,000 OPM;
Includes Punchplate, Sandpaper Sheet, Microfilter Dust Canister, and many more;
Weight 2.7 lbs.
Any kind of sandpaper fits this orbital sander. You will not have to stress about what type of paper you need to place and not put on it. Its features are close to our top pick, the Makita sander. The main difference is the paper size and included accessories. This one arrives with less expensive accessories than the Makita one.
The good news is, it is a budget sander, which makes it a top choice for beginners and DIY ers on a budget. The machine provides a very high speed for fast sanding. Even though the speed is not variable, it is beneficial to remove any splinter and sand any surface. 
The dust collection is a lot better than even the pricier models. Anyone can use it, whether a beginner or a professional. But I recommend this one for craft people, and professionals should choose more durable ones.
Pros
Cheap price;
Low vibration;
Easily reaches corners;
Fits different types of sandpapers.
Cons
Read more: Finding Belt Sander for Knife Making
---
3. DEWALT ¼  Sheet Palm Sander
Motor: 2.3 amp;
Sheet size: ¼ " inches;
Model no:  DWE6411K;
Speed: 14,000 OPM;
Includes carry bag;
weight 2.8 lbs.
This Dewalt sander comes with the most powerful motor among all the finishing sanders we have reviewed. However, its highest speed is not higher than the others. The reason I liked this unit is its durability and warranty. No matter how cheap an item is, your hard-earned money should be spent on the more promising ones like this model. It doesn't cost much, but the long warranty makes it more convincing. 
Like any other sander, you will surely have issues with its dust bag because it comes with a design flaw. It does not fit well to hold its content while standing vertically. But the good thing is, its built-in adapter will fit your vac to eliminate the possible issues regarding dust collection.
Pros
Affordable. 
Backed by long warranty;
Built-in adapter for vacuum;
Durable;
Low vibration.
Cons
---
4. SKIL ¼  Sheet Palm Sander with Pressure Control
Motor: 2.0 amp;
Sheet size: ¼ " inches;
Model no: 7292-02;
Includes paper punch plate and 1 sheet of abrasive paper;
weight 3 lbs.
This machine is the best choice for people who work with delicate materials. Its pressure control notifies the user when the applied pressure is too much for the material. Besides, its micro-filter captures even the finest particles and keeps the air clean. A clear dust canister saves your downtime by repeatedly checking whether it is full.
Skil palm sander comes with the most convenient features so far. But the price is so low that you can easily purchase several at a time of the same model. With all the convenient features and an affordable price, I feel that it may not be long-lasting, like the Makita or Dewalt palm sanders.
However, the convenience it provides is absent in other machines. So, there is no harm in ordering one of these for DIY projects. For professional use, you may need to order this item more often. 
Pros
Budget-friendly;
Comes with pressure control;
Transparent dust canister.
Cons
---
5. Milwaukee 1/4 Sheet Orbital Compact Palm Sander
Motor: 3.0 amp;
Sheet size: ¼ " inches;
Model no: 6033-21;
Speed: 14,000 RPM;
Includes 2 Sheets of Sandpaper 100 and 150 grit;
weight 3.68 lbs.
The weight is slightly heavier than that of other palm sanders, but its lock-on button and pressure-free operation are ideal for large projects. Even for several hours of constant operation, your hands will remain fatigue-free.
You can choose to use your shop vac or the attached canister to collect debris depending on your project size. The dust collection adapter is built-in; hence you will get ample options to choose from. No matter what type of dust collector you are choosing, I have some tips to enhance this unit's dust collection capacity. 
After punching holes in the paper, make the holes a bit larger using a screwdriver or pen. This way, the canister will be able to extract dust more effectively, leaving no trails behind. The finishing result of this sander is flawless; it won't leave any mark on the surface.
Pros
Lock-on button;
Various dust collection solutions;
Flawless finish.
Cons
Sandpaper clips can be flimsy. 
Read more: Sanders for Kitchen Cabinets Reviews
---
Tips for Sanding Furniture
When it comes to sanding furniture, following the right techniques is crucial for achieving a smooth and flawless finish. Here are some tips to keep in mind:
Start with a Coarse Grit Sandpaper:
Always begin sanding with coarse grit sandpaper, such as 80 or 120 grit, to remove any old finishes, stains, or imperfections. As you progress to finer grits, you'll be able to create a smoother and more even surface. However, be careful not to skip grits as this can result in uneven sanding marks.
Use Light to Moderate Pressure:
Using too much pressure can cause visible marks or grooves on the surface. Instead, apply light to moderate pressure, letting the sandpaper do the work. Also, avoid tilting the sander or pressing it down too hard on one side as this can create uneven pressure on the surface.
Sand in the Direction of the Grain:
Sanding against the grain can create scratches and marks that will be visible after finishing. Therefore, always sand in the direction of the wood grain. This will help create a smoother and more uniform finish.
Sand Between Coats of Finish:
After applying a coat of finish, sanding with fine grit sandpaper can help remove any dust, bubbles, or imperfections, and create a smooth surface for the next coat. Be sure to clean the surface thoroughly after sanding to remove any dust particles.
Be Patient:
Sanding can be a time-consuming process, especially when working with large pieces of furniture or intricate details. Take your time and avoid rushing as this can result in an uneven or incomplete finish. Remember, patience and attention to detail are key to achieving a flawless finish.
Sandpaper for Refinishing
You will want to refill on a spread of sandpaper products to ensure that you simply have the foremost possibilities covered. While many DIYs are conversant in wet/dry sandpaper, you ought to really think about using products designed for wood grains.
Many users will begin to figure with sandpaper within the 120-grit range but keep some rougher paper available for thicker coatings. you'll probably be ready to work your way right down to 220-grit before you notice diminishing returns.
Frequently Asked Questions
What's the Best Sander to Use for Furniture?
It relies upon the sort of furniture, yet for the most part, a palm sander or detail sander is the most ideal choice for resurfacing furniture on the grounds that their more modest shape obliges both little and enormous tasks. 
Rotating,  belt sanders and random orbital are likewise appropriate for medium and enormous carpentry projects.
What Type of Sandpaper Is Used to Refinish Furniture?
Grades of sandpaper are most commonly utilized for finishing furniture and fall into the finer and more subtle categories from 120 thick to 220 thick; 320, 400, and 600 obesity have been utilized for specific purposes. For "hard to finish" wood, completing the sanding process with 120 thicknesses will usually force the problem.
Would You Be Able to Utilize an Orbital Sander to Refinish Furniture?
Not at all like a belt sander, an orbital finishing sander turns "aimlessly" which limits scratches and sanding marks. Albeit best for compliment surfaces, random orbital sanders are incredible for huge bits of wood and provide you with the choice of sanding on furnishings, as well as wood floors and aiming.
Do You Need to Remove the Old Stain Before Restaining the Furniture?
Lacquer. You do not get to remove all of the old stains to use a darker stain. But you are doing to remove all of the lacquer, varnish, or anything that will prevent new stains from absorbing into the wood. Your sanding block will glide over the old lacquer before it commences to chop into it and take it away.
What Happens if You Don't Sand Before Staining?
Many parents make sanding errors to either be too fine of grit or not fine enough before applying the stain. Too fine, and therefore the wood won't be ready to accept the stain. Too rough, and consequently, the wood will be very dark almost to the purpose of being black.
Conclusion
In my opinion, all the sanders we have mentioned here are best for refinishing projects. You just need to discover which one is the best for you. I believe the buyer's guide will help you find the best one for your project. Applying the sander properly will finally ensure its performance. However, over time you and your finishing sander will get to work along with each other and make amazingly artistic furniture in the future.
You may like these also: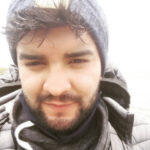 Hi, I am Eric Devin and I am a professional interior architect. Since childhood, I've always enjoyed DIY projects! And, I have loved to solve simple household problems using essential tools and equipment. I have also acquired a lot of information about basic household tools settings by working with contractors.