If you need a saw blade to cut tile, granite, marble, or other types of stone, you definitely need a tile saw blade. Which type of tile saw blade you need mainly depends on the project you're working on.
For buying a new diamond blade, you need to know a few important details about it. There is tons of information about tile saw blades on the internet.
But for buying the right one for your tile saw, you need the proper information that saves you time and money!
So here I am with my knowledge of working with tile saw blades for a long time.
In this buying guide, I've shortlisted the top-rated blades of these days and other necessary information about tile saw blades.
You can go through it and select the right one for your machine.
Types of Tile Saw Blade
There are mainly two types of tile saw blades available in the market- wet & dry. These are basically diamond blades.
Wet Tile Saw Blade
Wet tile saw can be used for any kind of stone-cutting task. This type of ceramic blade needs to be used with water. So before buying this type of blade, you should be concerned about the source of water you can use.
Wet tile saw blades last for a long time as they use water to keep the saw cool during use. And water helps to make a smooth cut.
They are also safe to use as they do not cut through your skin like other blades.
These blades are perfect for large projects. A multi-purpose diamond wet saw blade is perfect for cutting tile, stone, and fiberglass.
Dry Tile Saw Blade
A dry tile saw blade can't be used to cut every stone. They are handheld so you can't control the cutting quality consistently.
You may have difficulties having smooth edges for some projects.
But they are easy to set up, all you need to plug the saw in.
This type of saw blade is perfect for removing old tile to replace it. They are also great for cutting hard ceramic tiles and other tile jobs.
You can use a diamond masonry blade to cut concrete, stone, or masonry.
But whatever tile saw blade you choose, be sure to wear safety equipment before use.
Read more: Metal Cutting Saw
How to Sharpen Tile Saw Blade
Blades of tile saw use diamond grits to grind the material at high speed. And diamond grits have the tendency to wear out by cutting any hard ceramic or other stone.
So you need to sharpen your saw blade often. Sharpening a tile saw blade is a very easy and simple process if you follow these steps-
Step 1:
First of all, you need to reduce the water flow or coolant of the saw. Then adjust the valve til the flow reaches open half.
Step 2:
Now choose any abrasive item and dress your saw's diamond blade. In that case, a grinding stone, a dressing stick, soft clay, a chunk of concrete or asphalt, or a breeze block can work great.
Step 3:
The next step is to cut your saw blade through the abrasive material 4/ 5 times, now turn off your saw and the coolant flow and wait for the blade to stop spinning.
Step 4:
Now remove the machine from the power source by switching it off or unplugging it from the circuit.
Step 5:
After that check, whether the edge of the blade has become free from diamond grit or not! For this, drag your thumbnail very carefully over the edge of the blade, if it is sharpened properly the edge will feel rough.
Step 6:
Repeat the whole process to get the entire edge of your tile saw blade dressed & sharpened.
How to Change A Tile Saw Blade
Changing a tile saw blade needs a maximum of 5 to 15 minutes. You only need to be careful while handling the blade. Just follow the mentioned tips and your saw will get a new blade.
Loosen the Locking Plate
Firstly, you need to loosen the locking plate using wrenches to the central bolt and backing plate.
Now lock the long wrench against your saw and twist the box wrench towards the right. Once the plate is loosened, remove the old blade.
Mount the Adapter Plate
Now take the adapter ring and push it lightly into the central hole of the new blade. While doing this, make sure that the plate is flat & level.
Mount the New Blade
Now that you have a new diamond blade ready to mount back on your saw, let's do it!
For this, match the direction indicators of the blade with the direction indicators on your saw and place the new blade on the central shaft of your tile saw.
Mount the Plate
After mounting the new diamond blade successfully, place the plate on the central hole, screw in its bolts, and run the saw for testing.
That's it! Your tile saw blade is successfully replaced with the new one!
Features You Should Look for Tile Saw Blade
If you can't decide to choose one blade from the mentioned list, you can also check these features of a good quality tile saw blade. Hope this will help you to pick the one for your tile saw.
Cutting Material
The first thing you need to think about before buying any saw blade is the cutting material.
That means you should choose the blade that your frequently used cutting piece needs. If you get the wrong blade for your cutting material, you'll end up with a mess.
So for optimal performance and long life of the blade, you must select a blade that suits well with your cutting material.
Types of Cuts
In tile cutting, you have two options for cutting- wet and dry. The type depends on the job requirements and Mason.
Some saws strictly prohibit wet cutting as they are electric power tools. Whereas some cutting, like concrete, requires wet cutting for keeping the tool cool.
So before buying your tile saw blade, check what the blade needs. If it says wet you need to use water all the time during the cutting process.
The Speed of the Blade
The speed of the blade plays a vital role in case of finishing and longevity of the blade. If you use the lowest speed, your blade can give you a nice and smooth finish and also it'll last for a long time.
But some materials may need high speed to cut, for these types of materials definitely go with higher speed.
That means the blade you're going to buy must be able to perform at both high and low speeds.
Segments Height
Another important thing you should consider while buying a tile saw blade is segment height. A tile saw blade consists of many different parts that influence its performance like- cutting power, the concentration of diamonds, and the quality of the blade. You should pay attention to every detail of it.
Quick Solutions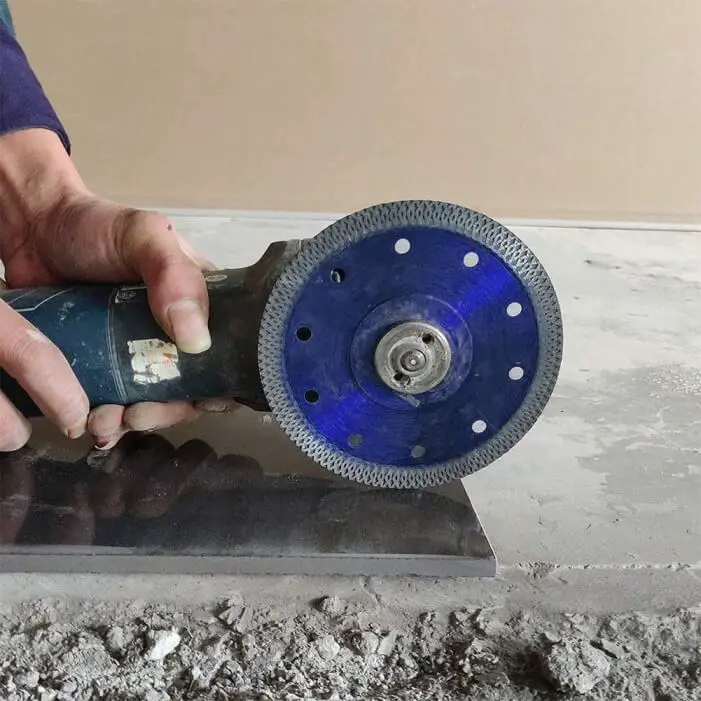 How Long Should a Tile Saw Blade Last?
The lifespan of a tile saw cutting edge depends on the material. You are moving away from the quality of the sharp edges.
Assuming you use it on hard stonework tiles, the sharp edge can last about 10 to 12 hours, depending on the quality of the sharp edge.
Can You Make a Tile Saw Blade at Any Time?
Yes. You can take a knife at sharpening the sharp edge of the tile saw with sandpaper or grating material. 
Nevertheless, the results will not come close to the sharpness of the other tile saw edge.
Could I Put a Wood Cutting Edge on My Tile Saw?
You can take a stab at changing a wood cutting edge on the tile saw, however, the outcomes won't come acceptable. A wood saw cutting edge permits fine cuts provided that you use it on a table saw.
What Is the Best Sharp Edge to Cut Porcelain Tile Saw?
The best edge-to-cut porcelain tile saw is most likely a precious stone cutting edge with X-teeth or an edge plan. Precious stone cutting edges offer you the keenest cutting-edge edges, permitting a margarine-like involvement in the porcelain tile saw.
Our Selected 10 Most Powerful Tile & Stone Diamond Saw Blades-
1. GoYonder 4.5 Inch Super Thin Diamond Saw Blade
Size: 4.5″;
Arbor:7/8″-5/8″;
Suitable for: Wet and dry saw;
Maximum rpm: 8000-11000 RPM;
Application: Porcelain tile, Granite, Marble, Stone, ceramic, and so on. 
This is a must-have for your workshop whether you are a contractor or a DIY hobbyist. Because, this blade can cut tiles, ceramic, marble, and similar hard and delicate materials without a wet saw.
If you don't own a wet saw or just not feeling like setting a wet saw up for a small patch-up, at those times, just replace the blade of any dry saw with this one. As per the advertisement, from glass to granite, everything can be cut just the way you want. But I would recommend using this for softer materials like ceramic only
This blade is super thin (1.2 mm only at the edge) and super affordable. Just be sure you are using this blade with the RPM that is recommended for it; other than that, this blade may chip off faster than you expect.
Things We Liked
Reasonable price;
Can be used for wet and dry saws;
The universal use of cutting ceramic and similar materials.  
Things We Didn't Like
The edge may chip faster if not used properly.
---
2. DEWALT 10 Inch Premium XP4 Tile Blade (Model No DW4764)
Size: 10-Inch by 0.060-Inch;
Arbor:7/8″-5/8″;
Maximum rpm: 6000 RPM;
Suitable for: wet saw;
Application: cuts Porcelain tile, Granite, Marble, Stone, Ceramic, and so on. 
First of all, this blade costs 4 to 5 times the price of nameless tile-cutting blades available in the market. But it is proven to have an extended life of at least 4 times longer than any 10-inch blade of other manufacturers. Besides, to enjoy the advantages of a professional-grade tile saw, you must invest in a blade that will be able to keep up with the pace of your machine. For that purpose, this blade is the best of its kind.
This blade delivers a wonderful performance. It doesn't heat up much and cuts faster and leaves smooth craftsmanship. To get the best result, install this blade in a high-performance wet saw and run it at 6000 RPM (maximum). Don't forget to condition the blade before using it for professional purposes. Many people regret buying this blade at first because they don't know that it needs conditioning to sharpen its edge.
Things We Liked
Suitable for high-performance wet saws;
Superior quality;
Long-lasting. 
Things We Didn't Like
Needs conditioning;
Pricey. 
---
3. QEP 7-Inch Glass Tile Diamond Blade (Model No 6-7006GLQ)
Size: 7-inch;
Arbor: 5/8″;
Suitable for: wet saw;
Maximum rpm: 8730;
Application: Glass Tile only. 
Glass tiles look awesome if used thoughtfully, but can ruin your renovation project if not cut properly. These tiles are different than ceramic ones, and hence need a little extra care to handle. To get the perfect cut on glass tiles, professionals recommend using a blade that is made especially for glass tiles only.
This blade from QEP launched this blade within an affordable range to make small tiling projects flawless. Its 7mm rim leaves no trace of chips after the cut. Moreover, I have noticed, this blade cuts smoother if the tile is placed upside down on the saw table. Several hobbyists left a negative review about this blade after using it for cutting glass bottles.
In my opinion, if you use this blade for cutting glass tiles alone, then you won't regret investing in this blade.
Things We Liked
Suitable for cutting glass tiles;
Perfect for small to medium projects;
Affordable.
Things We Didn't Like
Can chip off if used for cutting anything other than glass tiles.
---
4. SKIL 7-Inch Turbo Rim Diamond Blade for Masonry (Model No 79510C)
Size: 7 inches;
Arbor: 5/8″;
Suitable for: Circular Saws and Grinders;
Maximum rpm: 8500;
Application: Concrete, Concrete Block, Brick, and General Masonry. 
For the majority of masonry works, professionals usually rely on abrasive wheels for cutting brick and concrete. But some parts of such projects may need more finished and smooth cutting of brick or concrete. To serve those purposes only, and for small DIY projects, this masonry blade is there to save your day.
This blade has a unique cutting-edge rim that lasts longer than abrasive wheels as well. But the finishing depends thoroughly on the material you are using. From my practical experience, if you soak your brick or concrete block before cutting, it will be more convenient to cut those as they will form less dust and the cuts will be fast and smooth.
Things We Liked
Long Lasting compared to abrasive wheels;
Economical price;
Good performance. 
Things We Didn't Like
---
5. MK Diamond 7-Inch Supreme Grade Diamond Blade (Model No 156651)
​
Size: 7'' diameter and 0.050-inch thickness;
Arbor: 5/8″;
Suitable for: wet tile saw;
Maximum rpm: 6000;
Application: Cutting Glass Tile, Glass Block, and Fused Glass. 
All those DIY projects you have been dreaming of doing this summer can be accomplished now with this saw from MK diamonds. This saw is good for cutting any form of glass.
Not only are the finished cuts smooth, but they are chip free too; so, you don't have to hurry to clean up your workshop right after the operation. To make all the cuts virtually chip-free, metal bonds and diamonds have been incorporated at the rim, a rare mix that can only be found in an MK blade.
This blade is a bit pricey, but for versatile glass cutting, investing in this blade may save you from purchasing several blades of different glass materials. Besides, its long-wearing performance makes it suitable for production applications.
Things We Liked
Suitable for a variety of glass materials;
Chip-free cutting;
High quality. 
Things We Didn't Like
---
6. Delta Diamond Products-J-Slot 10-inch Tile Saw Blade
Size: 10''x 0.060 inch;
Arbor: 5/8″;
Suitable for: wet tile saw;
Maximum rpm: N/A;
Application: Ceramic Tile, Porcelain Tile, Slate, Granite, Terrazzo, Marble, Engineered Stone, and Similar Materials. 
'Buy once, and get replaced when it expires'-sounds appealing, doesn't it? This blade with 'J' marked slots all around its rim comes with a lifetime warranty and a free replacement offer on any defect or wearing. So, apparently, you will purchase one blade, but can get that replaced with a new one absolutely free; that ensures using the new blade forever.
You are supposed to get less dust from cutting tiles due to their identical slots. Those slots collect the residues as the blade cuts through the material and gets cleaned by the water. It is an excellent blade that easily lasts several large projects. The price is on the higher side, but with a lifetime warranty, that shouldn't be considered.
Things We Liked
Lifetime warranty and free replacement offer;
Creates less dust;
Suitable for demanding jobs. 
Things We Didn't Like
---
7. GOYONDER- 10 Inch Super Thin Diamond Blade
Size: 10 Inch x 1.4 mm thickness;
Arbor: 7/8″-5/8″ (22.23mm-20mm);
Suitable for: wet and dry saw;
Maximum rpm: 12,000;
Application: Ceramic tile, Porcelain Tile, Sandstone, Granite, Quartz, and similar materials. 
Another great addition from GOYONDER is this red universal blade. Its identical 'x' marked rim delivers a smooth finish on whatever materials get on its path. Cuts fast and leave a lot less residue compared to other blades of similar kinds.
It costs twice as much as the blue one, and the performance and wear are twice as good. For cutting any tiles on any dry or wet saw, this is a quality product in the affordable range.
Things We Liked
Compatible with wet and dry saws;
Delivers smooth cuts;
Creates fewer chips. 
Things We Didn't Like
---
8. DEWALT 4-½ Inch High-Performance Diamond Saw Blade
Size: 4-½ inch x 0.5-inch thickness;
Arbor: 5/8″, 7/8;
Suitable for: dry or wet circular saws;
Maximum rpm: 13,300;
Application: for Masonry. 
There is nothing to prove about the quality and performance of DEWALT products, as DEWALT is the leading brand of power tools, supplied worldwide. For this blade, the first thing I want to mention is, its affordability; unlike other DEWALT products, this blade is affordable despite being high quality.
This blade has a satin nickel finish to make it last longer. Compared to abrasive blades, this one lasts 30 to 200 times longer for masonry work. Its diamond rim cuts faster and smoother even in years-old concrete. The dust it creates is very small.
As per the advertisement, this blade is only recommended for masonry work. Some customers have mentioned impressive results in cutting tiles as well, but I don't recommend using a masonry blade for cutting tiles if you want a super fine finish.
Things We Liked
Affordable;
Lasts 30 times longer than abrasive blades;
Less dust. 
Things We Didn't Like
---
9. QEP 7 Inch Continuous Rim Diamond Blade (Model No  6-7003Q)
Size: 7 inch x 0.5 inch thickness;
Arbor: ⅝'';
Suitable for: wet circular saws;
Maximum rpm: 8730;
Application: for ceramic, porcelain & marble tile cutting.
Looking for a budget tile blade just for a re-tiling project of your shower or kitchen backsplash? Then you can bring home this cheap blade from QEP with your eyes closed. Despite the cheap price, it is not cheaply made. People often underestimate its cutting capacity due to its affordability.
For me, it cuts fair for the project, maybe better than some renowned brand blade. Don't expect miracles from this blade, it will not last for years. To get the most of this blade, cut softer tiles like ceramic before cutting harder tiles like porcelain for your DIY project. Because, once it gets dull after cutting harder materials, you will not get a smooth finish on softer materials.
Things We Liked
Cheap; 
Creates a small amount of chip;
Great for small DIY projects.
Things We Didn't Like
Not suitable for large-scale projects.
---
10. 8-Inch Black Widow Micro-Segmented Rim Diamond Blade
Size: 8-inch x 1/16-inch thickness;
Arbor: ⅝'';
Suitable for: wet circular saws;
Maximum rpm: 7640;
Application: for ceramic, granite, porcelain & marble tile cutting.
In youtube tutorials, cutting tiles looks easy for DIY projects. But only professionals know the best about which tiles need to be cut with which blades and how much push is needed or how much water is required for cooling.
This blade from QEP has received the greatest reviews due to its cutting capabilities and affordable range. This blade easily outperforms some of the pricey blades of popular brands. Its super thin 7mm rim cuts seamlessly on soft and hard materials.
The rim has segments with a diamond-shaped hole at the end. This unique design helps to keep the blade cooler throughout the cut; in long term, it extends the blade's life. If not properly used, this blade may give out way earlier than expected. For this reason, I recommend this beauty only to masters who know a lot about tiles and blades.
Things We Liked
Perfect for professionals;
Affordable price;
Cuts faster;
Cuts granite and marble smoothly. 
Things We Didn't Like
May wire out faster if misused.  
---
Conclusion
The list of tile saw blades I've mentioned above is the most popular one these days. You can choose any of them according to your requirements and complete your projects nicely.
Besides, I've tried to give you other necessary information about tile saw blades that will help you to choose and maintain the saw blade properly.
But the most important thing is, you must take your safety issue seriously while handling a tile saw or any other power tool to avoid any unexpected accident.
Hope this helps you.
If you have any ideas to share or want to know about any other tools and equipment, feel free to write to me.
If you want to know about Tile Saw, you can also have a look at my guideline regarding the topic.
You Might Also Like: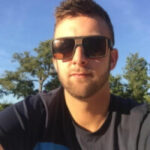 Hello, I am David Rowan. I am a professional contractor with 10 years of experience in home building, different tools used, construction, home remodeling, and other home improvement work. I have already built many custom homes and continued to do several woodworking projects along with how to deal with all categories of tools.