It's critical to know what types of jigsaw blades the jigsaw supports before purchasing it for your varied wood and metal tasks. Most of the delicate working jigsaw works well because of the sturdy blade. So knowing the blade types and their function is crucial before purchasing a new one. Black and Decker is a reputable manufacturer of reliable jigsaws and their blades for a decade. Their jigsaws and blade type is ideal for individuals who are looking for both functional and affordable ones.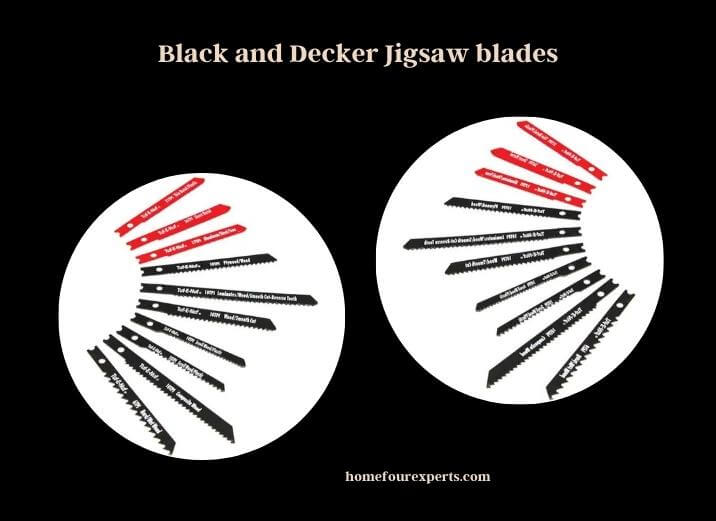 Black and Decker Jigsaws can cut several elements, but each one requires a different blade. So you might be thinking,' What type of blade does a Black and Decker jigsaw use?' Most cutting applications are suited for the Black and Decker jigsaw. Various blades depend on multiple works, like scrolling blades, rough and smooth wood cutting blades, medium and thin metal cutting blades etc. Most of the blades are included with their kit, but you can purchase them separately to replace the older ones. These blades are compatible with all jigsaws with a universal shank.
What Type of Blade Fits the Black & Decker Jigsaw?
It's important to realize that not all Black & Decker jigsaw blades fit every jigsaw clamp. The blades are categorized based on their shanks, which are only compatible with certain Black & Decker jigsaws models. Multiple shank kinds are consistent in some models. Jigsaw blades are divided into two types: T-shank and U-shank. Below are:
T-shank:
The T-shank style is used in the majority of current Black & Decker jigsaw. They have a divide at their end that looks like a letter "T." These blades are securely attached to the saw. These are currently the most famous Black & Decker jigsaw blades for jigsaw users as most jigsaws now have a tool-less blade change to make blade shifting faster and easier. Because of their ease of use, today's Black and Decker jigsaws feature a T-shaped blade shank.
U-shank:
Nowadays, Black & Decker U-shank model blades aren't trendy enough. They feature a semicircle form that looks like the letter "U." Although these blades are pretty flexible, they don't last very long and tend to shake during cutting. Most of the old black and Decker jigsaw blades have U-shank blades. There is a hole in another sort of U-shank blade on the market. Nowadays, Black and Decker jigsaw blades with holes are not popular as the t-shank takes place. When picking U-shank blades, we suggest you choose the ones with more teeth because they last longer. These blades require a wrench to install or remove. 
Are Jigsaw Blades Universal?
We already know that the shank is the portion of the blade that connects to the jigsaw directly. The "U-shank" is also known as the "Universal shank" at times. However, this does not imply that all blades are universal for all jigsaws. Nowadays, most contemporary Black and Decker jigsaw blades are universal and accommodate both T and U shank blade types. We suggest you check the instruction manual to make sure you have the correct shank to attach the blade for your saw. Choose truly universal Black and Decker jigsaw blades, as well as those that include both shanks.
The Black and Decker Jig Saw Kit is suitable for a wide range of cutting tasks. Rough and smooth wood cutting blades, scrolling blades, and medium and thin metal cutting blades are included in most Black and Decker kits. All universal jigsaws can use these (U-shank) blades.
What Are the Black and Decker Jigsaw Blade Material Types?
As you may know, Black and Decker jigsaws can cut a wide range of materials as long as the appropriate blade is used. The use of jigsaw blades depends on the particular tasks. Black and Decker Jigsaws can cut several materials, but each one requires a different blade. Jigsaw blades are typically made of four materials or material combinations:
1) High-speed Steel (HSS):
Metal cutting is the primary application of this blade type. They're tougher than HCS blades, but they're also more rigid, so don't expect to cut curves as effectively as you would with HCS blades. When working with more rigid materials like aluminum, metal, copper, and other non-ferrous metals, use Black and Decker high-speed steel blades.
2) High-carbon Steel (HCS):
These are the most general blade material in most Black and Decker jigsaw blades. They offer a decent balance of price and quality. They're great for woodworking jobs, but they'll also work on soft materials like PVC. If you use them on harder materials, they will quickly wear out.
3) Bi-metal (BiM):
If the material you are going to cut is particularly hard, opt for bi-metal blades, which are more expensive but sustain longer. The lifetime of BiM blades is higher than HCS and HSS blades. The teeth builts of HSS and the base built of HCS. It's almost the best feature as the two blades have been combined. In the long run, we think it's worth seeing whether they work better for you.
4) Tungsten Carbide (Often Just Called Carbide):
They're highly specialized blades that only utilize glass fibre, cutting tiles or cement. They are the most expensive blades, as well as being toothless. Instead of a set of teeth, a thin layer of tungsten carbide is placed on the cutting edge.
So it is wise to choose the blade material depending on your work type. Sometimes changing the blades is tedious and time-consuming. In that case, Black and Decker introduce a tool-less blade change system that allows you to work on your project more swiftly. But old-style black and decker jigsaw blades don't have the option of swift blade change. So before buying a new one, always look out for the interchangeable blade fastening design to ease your work.
How Do You Put a Blade in a Black and Decker Jigsaw?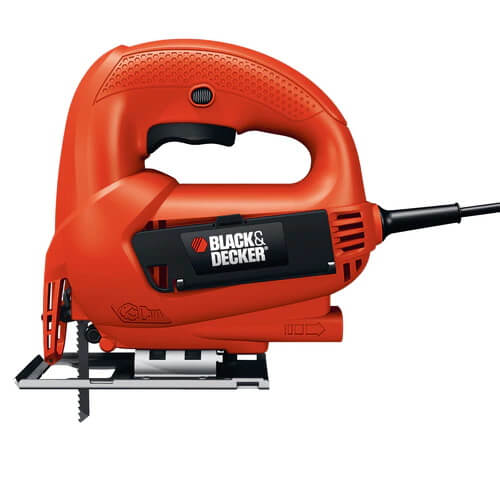 Most Black and Decker jigsaw replacement blades are now available with the Black and Decker jigsaw set. Rough and smooth wood cutting blades, scrolling blades, and medium and thin metal cutting blades are included. These blades are compatible with all jigsaws with a universal shank. 
With contemporary no-tool jigsaws, changing the blade is more convenient. First of all, to change the blade, switch off the jigsaw and disconnect it from the electric line. After that, allow the used blade to cool down before replacing it. Then with a slight shiver, lift the saw-blade locking mechanism and let the used blade fall out. At this time, insert the blade shank into the blade holder as far as it will go, holding the fresh blade with its teeth front. Finally, tighten the screw and you are done.
Importance of Blade Length in Black and Decker Jigsaw
After you've determined that your Black and Decker jigsaw blade is interchangeable and fits with your jigsaw, then you should consider blade length before purchasing replacement blades. Because you don't want to buy a set of blades just to find out later that they aren't long enough for the work you're doing.
4 Inches and Up
A blade should be at least half an inch taller than the depth of the cutting material. Smaller blades are typically operated on laminated material. Smaller blades are also better for curved cuts, as longer blades are more difficult to manage along a curved line. On the other hand, if the blade is too short, it may jump out of the cut when the jigsaw flows up and down.
10 Inches and Up
Whereas on wood, the longer blades are typically utilized for straight and rapid cuts. Black and Decker jigsaw blades for wood are not similar to plastic. Remember that longer blades have fewer teeth than shorter blades, resulting in a faster but less precise cut. Longer blades bend more easily, making it difficult to keep track of a cut line.
Due to varying fitting procedures and tooth length, there may be variations between actual blade length and effective or working length. We suggest you have a large selection of blades in your collection, which is not expensive, and it ensures that the correct length is always available.
The Importance of Tpi (Teeth Per Inch) and the Form of a Blade's Teeth:
When purchasing a Black & Decker jigsaw blade, the number of teeth per inch (TPI) and the form of the teeth are two things to consider. TPI stands for Teeth Per Inch and varies from 6 to 32. The number of teeth per inch (TPI) decides how well a blade performs. In general, fewer teeth indicate a faster and more uneven cut, while more teeth indicate a slower and more constant cut. 
Generally, blades designed for metal cutting have a greater TPI than those meant for softer materials like wood. A TPI of 6 to 10 is recommended for wood, while metal and rough materials necessitate a higher TPI. For example, using an 18 TPI blade in wood will cause the blade to clog. On the other hand, 6 TPI is too low to cut metal since the teeth would simply jump off the surface. Jigsaw blades for plastics and laminates typically have a TPI of 8 to 14, while metal jigsaw blades usually have a TPI of 14 to 24. 
In the term of blade shapes, there are two basic options: milled teeth or ground teeth. Milled teeth are alternately bent on both sides of the blade. It speeds up blade cutting and minimizes blade wear, but cutting is not much smoother. Whereas Ground teeth remain parallel to the blade, and smoother finishing can gain. Black and Decker offer different sorts of jigsaw blades on the market which can complete about 95% of your tasks. If you need to complete various chores, opting for the greater blade count is a good idea.
The Effect of Thickness of a Blade in Cutting
Choosing a blade with higher thickness, which is less likely to wander, is one of the most efficient techniques to assure straight cuts from top to bottom.
Various Black and Decker Jigsaw Blades and Their Applications
You'll need specific blades for each sort of cutting if you wish to continue cutting on different materials. Regular Black and Decker blades will not work in all situations. That's why we've included some examples of different sorts of specialty blades below.:
Plunge Cut Blades
Reverse Tooth Blades
Scrolling Blades
Flush-Cutting Blades
Plunge Cut Blades:
Because of the flat cutting surface, the Plunge cut blades are different from other typical blades. This type of blade can reach those places where a regular blade cannot get. It is readily cut under a door frame when attached to a jigsaw. Beyond that, plunge Cut Blades are typically used for trim and door jam work. It also used to cut vents into a wooden exterior and get close-quarter cuts for notching. Black and Decker produce the best plunge-cut blades for their users.
Reverse Tooth Blades
The blade with the reverse tooth is the one that cuts downstroke—it builds such that the blades are constantly facing the back to make a narrow cut. As a result, the chip-out on the front side of the sheet or piece reduces. Moreover, it has several teeth on the bottom, enabling a smooth cut on both the bottom and top. It's commonly used on materials that have been pre-finished to lessen the chance of scratching. Black and Decker definitely provide the most versatile jigsaw blades for their customer so that you can find it in a blade set together with other kinds of blades. 
Scrolling Blades
Scroll cutting blade is narrower than an ordinary blade, and because of this, it can cut tight bends without bending or breaking. This blade is ideal for delicate cutting, allowing you to make precise, clean, and measured cuts. With more TPI (teeth per inch), a scrolling blade can deliver the most accurate and smooth cut. Black and Decker scrolling blade designs such a way to smoothly complete the internal and external cutting.
Flush-Cutting Blades
Flush cutting blades are used to make a clean flush cut. Typically it cut the edge and difficult-to-reach places of any timber construction. Because it requires speedy force to cut, the teeth of a flush cutting blade are covered to prevent damage. Cutting concrete, sandstone, or limestone flush on the surface is the most significant application for a flush cutting blade. Black and Decker is a reputed manufacturer of these high-end blades who deliberately offer this blade for their jigsaw users.
Will Bosch Jigsaw Blades Fit Black and Decker?
Those who brought Bosch blades or got the blades with the Bosch Jigsaw set can use their old blades with the new Black and Decker Jigsaw. Both T and U shank blades are compatible with most Black and Decker jigsaws. The Bosch set only contains wood and metal blades, although it fits most of the Black and Decker. Both T and U shank blades are compatible with most Black and Decker jigsaws.
The type of metal used in the blade and the geometry of the teeth decide whether or not it will function with Black and Decker jigsaws. You can try with your spare Bosch blade as a novice by joining with Black and Decker jigsaw that it cuts well or not.
Why Do You Choose Black and Decker Jigsaw Blades?
Black and Decker is a well-known manufacturer of carpentry equipment and other gear. Consequently, their jigsaw blades have never failed. Their jigsaw type is also ideal for individuals looking for a model that is both functional and affordable. Some of the advantages of using Black and Decker blades are as follows:
Cut Depth
Before buying a blade, you need to think about how deep of cuts you'll need to make with your jigsaw. The blade size should be at least one inch longer than the thickness of the material. Longer blades are thicker, in general, to prevent the blade from bending. Black and Decker offer a variety of blades for different materials with its Jigsaws. It is wise to buy a blade set where you can get various blades to cut wood, metal, plywood, plastic, soft material, etc.
Building Material
The manufacturer uses many metals and compounds for the production of their jigsaw blades. Because they know the harder blades can cut more rigid materials, according to the general rule. So most of their blades are made of high carbon steel, high-speed steel, bi-metal or tungsten carbide. So they are extra strong to provide any cut.
High TPI
The unit of measurement for the total number of teeth per square inch is the tooth per unit (TPI). Black and Decker's blades offer high TPI for more rigid materials. TPI also determines the cutting speed in addition to the cut. Also, they produce grounded, or milled teeth blades for sharp and sustained cuts.
Easy Cleaning
The jigsaw blades become gummed up with sap, glue or resin while working. So it needs to be clean-up regularly. Some individuals clean their saw blades by dipping them in a solution of laundry detergent, but Black and Decker blades only need a quick wipe down to clean. So blade maintenance is easy to keep it working for the long term.
Frequently Asking Questions About Black and Decker Jigsaw Blade
Below, we try to address some frequent Black and Decker jigsaw blade-related concerns for those with unresolved questions.
1) How Do I Know What Jigsaw Blade I Have?
Ans: If you already have a jigsaw blade, then you may have a specific type of blade called a universal blade or U-shank. Most of the old black and Decker jigsaw blade type is U-shank. You can use any kind of blade with it, but replacing a new blade needs a specific tool to fasten. The difference between U-shank and T-shank is that you can understand what type of jigsaw blade you have.
2) What Types of Layout Does the Black and Decker Jigsaw Blade Have?
Ans: The teeth are designed in a variety of layouts in addition to the type of blade teeth. The following are some examples of typical formats:
Wavy – Teeth are aligned in the shape of a wave in this style, which is excellent for precise straight cuts.
Taper — A straight tooth alignment that is perfect for delicate and gradual cutting.
Side – The offset form makes them perfect for rugged and quick cutting.
Reverse – These look like pointy teeth and are suitable for chipped materials.
3) Is It Possible to Use a U Shank Blade in a Shank Jigsaw?
Ans: As we already mentioned, U-shank is a universal blade, allowing you to replace the blades with a tool with minimal effort easily. T-shank blades are also compatible with several U-shank jigsaws. These blades are consistent with the majority of current jigsaws on the market today. Users may receive additional benefits as a result of their ability to use and save time effectively.
4) Is It True That a Saw Blade With More Teeth Is Better?
Ans: Certainly not. A smoother finish can achieve with more teeth, but a faster cut achieves with fewer teeth. Aspects of the material saw are also important.
5) Do Black and Decker Jigsaw Blades Last Long?
Ans: It's tricky to answer one word because there are so many factors to consider whether the blade lasts long or not. Typically harder blades tend to survive longer, while ground teeth blades wear out more quickly. To extend the life of your blades, be sure you're using the correct blade for each material. You need to replace it when the teeth start to round, and you have to struggle harder to complete the work.
6) Is the Performance of a Jigsaw Determined by Its Blade?
Ans: Of course, a jigsaw's performance is heavily reliant on its blade. Different sorts of jigsaw blades perform different cuts to complete various tasks. A specific type of Black and Decker jigsaw blade in the market can get almost 95% of your work done. The number of teeth and blade material are the most crucial parameters that have an impact on its performance.
Conclusion
In short, picking the proper blade for your application shouldn't be difficult. The blades usually come with a full explanation and easy instructions on how to use them properly. As we've seen, there are numerous factors to consider, including the blade material and length, workpiece material, tooth count and shank type. After reading this little article, we hope you should better understand that What type of blade does a Black and Decker jigsaw use?. 
We hope that Black and Decker jigsaw blades will impress you by working for an extended period. However, how thoroughly your jigsaw blade is cleaned and maintained and how often it is used will determine how long it lasts.
Read more: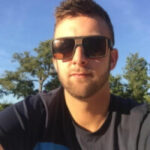 Hello, I am David Rowan. I am a professional contractor with 10 years of experience in home building, different tools used, construction, home remodeling, and other home improvement work. I have already built many custom homes and continued to do several woodworking projects along with how to deal with all categories of tools.