Mostly, a cabinet clamp holds two pieces of solid wood tightly together for joining, but also, it is gentle enough that it won't leave marks on the surface. It can easily apply and adjust inward or outward pressure into the piece of work. 
Besides, it also ensures stability and even forces when you're joining pieces at an angle from the clamp, specially designed to handle corners. Thus, most of the cabinet makers use two common tools one is cabinet table saws​, and another is cabinet clamps when they are building and installing cabinets.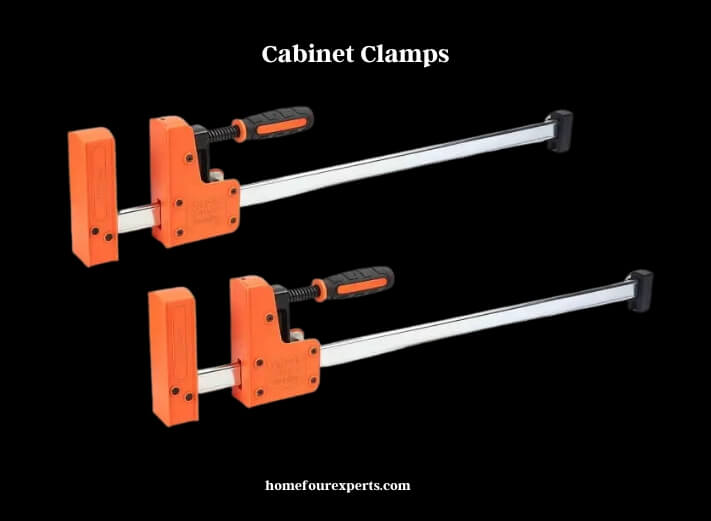 Many high-quality cabinet clamps are available in the store or online, offering both fair and sharp adjustments to provide a more accurate grip. But if you don't gather enough knowledge about it, then there is a chance of picking the wrong clamp. Generally, you need a minimum of two clamps for cabinetwork, but many projects require four or more clamps to ensure that wood is well secured.
Not all clamps can fit with all the requirements and types of woods. So, we create this article about the most suitable clamps with a detailed review of each product for you to select. This article has as well as the buyer's guide so that you can find your own.
Selection Method for Suitable Cabinet Clamp
Each clamp is fit for some brands and sizes of wood. Some have some extra features; some don't have. But the standard features that should be present in a perfect clamp are the following:
Material and Strength
The initial factor that decides the cabinet clamp is durable or not is it's built-in material. When buying a cabinet clamp, you should keep in mind that it should have enough clamping ability to keep your workpiece stable in a particular period.
In this case, you should pick the one which is made of steel with cast-iron sliding T-bars and an aluminum adjustment plate for more sturdy clamping. Simultaneously, an aluminum clamp is only suitable for small projects since it can easily bend.
Type of Clamp
Among various kinds of clamps like cabinetry clamp, C-clamp, miter clamp, strap clamp, bar clamp, edge clamp, hand-screw clam, and so on, cabinetry clamp is ideal specifically for cabinetwork. It designs to join the multiple steps of face frame cabinet fitting into one easy process. This clamp's design allows you to tighten, align, pre-drill, and fasten the cabinet stile, all while the clamp is in place. The hand-screw clamp is also suitable for cabinetwork.
Size and Design
There are different sizes and designs, but most need to be flexible to fit the wood's size. The jaw of a cabinet clamp should be wide enough to hold two cabinets together during installation, or they may be short of applying trim or covers. 
Many quality cabinet clamps have both fine and coarse designs for a more rigid grip. Cabinetmakers mostly use this clamp as it is installing center stiles or when they are applying a trim. Many cabinet clamps come with a rubber cushion grip to hold the wood securely and keep it in place without damaging the finish. So you need to proceed with the exact size based on your cabinet work.
Maneuverability
When it comes to the maneuverability of a cabinet clamp, the material and size matter most; for example, if you always need to work in different places with your tool, the compact size and light material most suit you. And if you only need it for your workshop, you should pick the solid one.
However, the hand screw bearings are the most maneuverable. So, check maneuverability before buying.
We believe that now you get a glimpse of a cabinet clamp after reading the guide. To proceed further, you can select your desired one from our detailed review of different cabinet clamps.
What is the Difference Between a Cabinet Clamp and a Strap Clamp?
A cabinet clamp is a type of clamp specifically designed to hold cabinet doors and drawers together, while a strap clamp is a type of clamp that uses a long, flexible strap to hold two objects together. Cabinet clamps are typically used to hold cabinet doors and drawers together during assembly, while strap clamps are used to hold a wide variety of objects together, including but not limited to woodworking projects, pipes, and furniture.
View Top 8 Cabinet Clamps Reviews, Below
1. Bessey BES8511 Cabinet Clamp
Click on the Image >> See on Amazon
Clamp capacity: 4 inches;
Jaw size: 2; 
Material: Steel;
Clamp force: 300 to 600 lbs.
Bessey face frame cabinetry clamp specially designed to connect the multiple levels of face frame cabinet fitting in one easy process. The package includes two clamps and three non-marring felt pads to protect and cushion the contact points on your cabinets. Moreover, it works on vertical wooden pieces up to 1.1/4 inches thick and has a four-inch clamping capacity. 
The versatile design allows you to align, tight, pre-drill, and fasten the cabinet stile, while the clamp doesn't move at all. The clamp holds the single cabinet edges together while keeping the faces onward with the joint flush. You don't need to reposition or remove the clamp to do that.
This heavy-duty clamp is much popular among professionals. Both body and sliding T-bars are built by steel and alignment plates by aluminum to increase durability. With this durability, it can take the pressure up to 300 to 600 lbs. The acme-threaded screw ensures rustproof service. Overall, this is a suitable cabinet clamp within a reasonable price range.
Pros
It can process the multiple steps of face frame fitting;
Tightly stay in one place;
Have a drilling slot feature;
An integrated pilot-hole on the clamp side;
Professional quality material;
Acme threaded screw and steel body;
It contains two clamps together.
Cons
Suitable only for carpentry jobs;
After clamping, the jaw marks on the cabinet.
2. Jorgensen Cabinet Master Jaw Bar Clamp
Click on the Image >> See on Amazon
Clamp length: 24 inches;
Clamping angle: 90-degree;
Jaw size: 3.3/4-inches; 
Material: Steel and wood.
High quality and reasonable price make Jorgensen a very famous woodworking tool brand among woodworkers. This clamp is such an ideal clamp for every corner of your working area or piece. We mean, a 90-degree clamping angle allows it to clamp the wood bar tips or even more intense performance. It works ideally to keep your cabinet stable in one place.
This set is also excellent for cabinet, flat-panel, box, panel doors, frame attachments, or any other project requiring squareness or equally utilized pressure. A deep 3.3/4 inch steel-reinforced jaws ensure the delivery of clamping force over large areas.
One more important feature is a secure locking system to prevent jaws from slipping. Also, the ergonomic intended two ingredients molded soft-grip handle reduces user's fatigue. A built-in clamp stand permits clamps to stand straight for one-handed use and more precise sliding head alignment. The sliding head can reserve on the bar, and the clamp then acts as a spreader.
Pros
Excellent parallel jaw design for 90-degree angle;
Deep jaw and secure locking system;
Two elements formed soft grip ergonomic handle;
Flexible to most of the material;
Shifting portable jaw allows spreading;
Excellent design for comfortable usability.
Cons
Possibilities of leaving a scratch mark on cabinet;
The wooden part gets dull quickly.
3. Pony 8510BP Cabinet Claw
Click on the Image >> See on Amazon
Throat Depth: 1.1/2 inch;
Maximum opening capacity: 4.7/16 inch;
Jaw size: 2 inches; 
Material: Aluminium and wood.
Pony is a sole cabinet clamp with the combination of multiple steps of face frame cabinet installation in one easy way. Not only it's installation is comfortable, but also it's durable enough to aligned, tighten, fastened, and pre-drilled the wood while the clamp persists in its original situation. So, the professional quality installation saves a lot of time compared to other traditional clamps. 
Besides, the protecting pads secure cabinets from becoming damaged at installation time. Therefore, you get to protect the looks and size of your items. In case you mostly deal with the task of fastening cabinets, then this 1.1/2 inch to 2-inch width stiles provides an outstanding clamping range for the job.
No other clamp is as suited for this role as this one. As you are about to note, it has a 4-inch opening capacity that is needful for cabinet clamping.
Pros
Assists the process of clamping exteriors;
Manages different sizes of stiles;
Extremely durable and easily operated;
Typically lasts longer;
Protective pad secures the cabinet surface;
Arrives a pack of two clamps.
Cons
Can works on the cabinet only;
Easily breakable under heavyweights.
4. Pony 8511 Adjustable Cabinet Claw Clamp
Click on the Image >> See on Amazon
Thickness: 1.1/2 inch;
Opening capacity: 4-inch;
Jaw size: 2 inches; 
Material: Aluminium and wood.
Most of the clamp has some standard features on their own, but this Pony item has some extra features you should look for. It connects the multiple levels of the face frame cabinet to install into one simple method. 
Besides, it works efficiently and pretty well with many other tasks too. It can handle 1.1/2 thickness and 4 inches of opening range easily. The claws and alignment plate is built by aluminum that enhances the durability of the clamp.
The protective pad on the jaw keeps the cabinet surface scratch or mark proof after work. Further, this master quality clamp can tighten, align, pre-drill, and fasten the face frame style while it is in a firm position. Overall, this clamp saves a lot of time for an easy installing system.
Pros
Easy installation method of multiple layer wood;
Professional quality installation saves time;
Opening capacity up to 4 inches;
Protecting rubber pads on clamp faces;
It has aluminum hooks and an alignment plate.
Cons
Without a face frame cabinet, this clamp doesn't work.
5. Kreg Tool Company Premium Face Clamp
Click on the Image >> See on Amazon
Weight: 2.09 pounds;
Can mount single and multi-hole knob;
Material: Steel.
Kreg is a very popular cabinet hardware jig for its affordable and reliable service. You can install cabinets with absolute efficiency, without worrying about anything. It arrives with a drawer slide jig and face clamp. Besides, the built-in measuring scale allows you to measure your work without an external scale.
Further, this clamp can quickly and repeatedly install both single and multi-hole knobs. The weight of the clamp is 4.38 lbs and dimensions 16.2 x 11.1 x 5.3 inches. An adjustable edge guide allows you to position the hole accurately. This unique clamp is designed primarily for securing specific joints while Pocket-Screws drive.
The large clamp face keeps the joint perfectly even. It builds with sturdy yet lightweight metals. Overall with this cabinet clamp, you get repeatable, accurate, and professional-quality results every time. 
Pros
An elastic edge makes positioning easier;
The adjustable guides help to place holes precisely;
Both single and multi-hole knobs installation; 
It has a built-in measuring scales;
Hardened-steel drill guides.
Cons
This clamp is heavier than other similar models;
Locking clamp pliers with it isn't easy.
6. Shop Fox D2269 Face Frame Clamp
Click on the Image >> See on Amazon
Clamp stock: 1/2 inch;
Opening capacity: 3/4 inch;
Jaw rotates: 90-degree angle;
Material: Aluminium.
Shop fox D2269 is a lightweight but rugged clamp which has an automatic gripping jaw. The super-strong construction ensures longevity even in rough usage of years. The jaw works similarly like the right angle clamp only except 90-degree rotation ability. This wide-angle helps a lot in face frame construction.
Moreover, one-handed operation makes it flexible and pressure-free for the user. It enhances attention to work by allowing you to go with just one joint at a time. As it applies pressure in-line with the joint, so there is less chance of glue slipping by using this clamp. 
The unique 3/4-inch stock capacity and thicker structure hold the wooden piece as much as tightly. Not only do the friction jaws hold tightly, but the non-marring pads also ensure a non-slipping setting. To reiterate, it can also be the right choice for smooth cabinet work.
Pros
Shaped thicker for face frame construction;
Automated gripping jaws;
The jaws can turn 90 degrees;
Works similar to the right angle clamp; 
It allows working with just one joint at a time.
Cons
Does not resist too strong forces;
Ideal for only small and light tasks.
7. Bessey EKT55 One-Handed Edge Clamp
Click on the Image >> See on Amazon
Clamps surface: Up to 2.1/8-inches thick;
Clamp panel: From 3/8 to 2 inches;
Pressure capacity: Max 450 to 500 lbs;
Material: Aluminium.
Bessey offerings' main unique feature is their EKT-55 edge clamp that allows you to secure edge banding with one hand. However, a compound screw mechanism allows the top and bottom pressure pads' concurrent action while force applies to the countertop's front edge. 
Furthermore, it builds with a robust aluminum frame of 2.1/8-inches thick. The soft plastic pressure pad caps ensure a gentle and non-slip clamping. You can twist the handle to tighten the clamp and secure the edge. 
Perhaps, it can take a load up to 500 lbs of clamping. It also stays in place when loosened until you can remove it. Unless you turn the handle, it is ready to be applied to the next set of equal parts for those types of operations.
The u-shaped aluminum frame includes the composite handles and bars to apply pressure through non-marring pads. The screw bar has a protected round disk that reaches the banding. Also, the ergonomically designed grip is comfortable to use.
Pros
The complex edge clamping becomes easier;
The turning handle involves both top-to-bottom clamps;
Quality in design, materials, and construction;
A compound screw device;
Blocks materials from slipping and injury;
Secure grip during realignment.
Cons
Excessive cranking may lose some clamping force.
8. Tegg 4001 Latch Catch Cabinet Clamp
Click on the Image >> See on Amazon
Material: Galvanized iron and plastic;
Clamp capacity: Up to 220 lbs;
Length: 4-inches;
Hole diameter: 4mm.
Tegg 4001 is basically a toggle clamp and is mainly used to install jigs, fixture tools, or base moving. However, it performs well in cabinet making too. It is widely used in various sectors like jigging, welding, and repairing. The plastic cover handles with metal latch catch clips provide an easy, secure, and comfortable grip.
The u-shape toggle clamp is carried by the side mount bar. Thus the compact size is easy to carry and install. It just needs to be fixed with the cabinet door or box with screws. It works well with cabinet, boxes, doors, cases with no lock or broken handles. You can find it an excellent widget for a home, restaurant, office, factory, etc.
Pros
Compact and lightweight material;
Easy to install with screws.;
Multi-places usage;
Plastic cover handle;
Apply the exact amount of force for clamping.
Cons
The middle bolt sometimes hurt your finger;
Smaller than other clamps.
FAQs
Will Use Pipe Clamps for Cabinet Doors?
These are a pillar of cabinet creators. As a financial plan amicable clasp, they turn out incredible for bigger activities and deal up a modest method for sticking wood boards.
What Do You Use Pipe Clamps for?
Pipe clamps are available in all ways of family, modern, and open-air settings. These are used as a productive and clean method for controlling, safe and direct pipe or plumbing, heating, and a chance for electrical purposes.
What is the Purpose of a Cabinet Clamp?
A cabinet clamp is used to secure two pieces of wood together while gluing or drilling. It clamps the pieces of wood together securely and evenly, allowing for a strong and uniform joint.
Are Pipe Clamps as Good as Bar Clamps?
These clamps are cheap, so they are an extraordinary device to have in your assortment. They are extraordinary for sticking pieces together, yet you will require a lot of them relying upon the size of the venture you're dealing with.
Bar clamps normally cost more than pipe clamps, however, they give better holding pressure and can hold heavier loads than line clasps can't. On the off chance that you need a superior outcome, you should utilize a bar clasp for collecting bureau boxes or face outlines.
To Conclude
Cabinet clamps help you to align the wood in a 100% exact angle or correctly in a straight line. This great tool can decrease work pressure and improve your working performance and improve your quality and potency, too. Always try to pick the universal clamp that can handle any thickness and size of the cabinet.
We believe that all the following information is enough for you to select the most helpful cabinet clamps for your plan. Just be confident to take your time when picking the right clamp. It will take some time before you find the one that is best satisfied with your job.
Read more: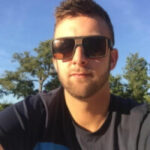 Hello, I am David Rowan. I am a professional contractor with 10 years of experience in home building, different tools used, construction, home remodeling, and other home improvement work. I have already built many custom homes and continued to do several woodworking projects along with how to deal with all categories of tools.