For workers who have to work with bricks and concrete, cutting the bricks into pieces needs to be done every day. But, if you are new to this job, you might be wondering, "Can I Use a Chop Saw to Cut Brick?".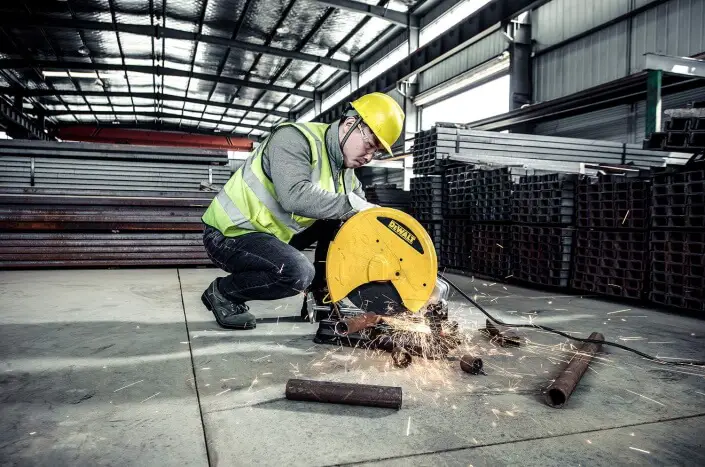 I mean, the chop saw is one of the most common tools used to cut metal sheets and rods. So, what's the problem if you got bricks with chop saws, right?
Well, there is a major issue. Although you can technically cut bricks with chop saws, you just simply shouldn't. Why?
To know the full explanation behind this, you need to go through this discussion till the end. So, without any delay, let's hop in!!
Is It Possible for a Chop Saw to Cut Through a Brick?
Technically speaking, a chop saw has enough mechanical force to cut through a brick. But, the issue does not lie in the mechanical capability. Rather, the problem lies in the comfort and convenience of action.
To cut a brick, you'll most likely need a saw that is flexible enough to be moved and maneuvered easily. But, with a chop saw, you cannot do that. Yes, it also has enough RPM and torque to cut through a brick.
But, if you use regular blades in the chop saws to cut through bricks, the blades will most likely get blunt after only one shot. So, as you can guess, chop saws are not efficient cutters for bricks and concrete.
Rather, a chop saw can easily be cut through lumber, wood, aluminum, silver, other non-ferrous materials, etc. 
How About the Metal Chop Saw Can It Cut Through Bricks?
Although the metal blades of chop saws are powerful enough to cut through bricks, they cannot pull off a neat job at it. Meaning if you cut bricks with a metal chop saw, it will create a lot of dust.
And at the same time, the metal blade will get blunt pretty easily. That's why we recommend not using metal chop saws to cut through bricks. 
To be more specific, the reason metal saws are not fully suited to cut through big is not the material the blade is made with. It's not a problem if the blade is made of metal or not. Rather, the issue lies in the construction of the machine.
Since chop saws are not built to cut concrete and bricks, they'll not be able to cut multiple pieces of bricks with a chop saw proficiently. And, as we can estimate, cutting one or two pieces of bricks will get your metal blade blunt very quickly. As a result, you will no longer be able to cut anything else with that metal chop saw.
What Can Saws Perform Best in Cutting Bricks?
Answer- a circular saw with a masonry blade is perfect for cutting bricks. Or, to cut bricks, you can also use a grinder equipped with a masonry blade.
The main point is that you'll need to use a masonry blade to cut concrete and bricks. And, as any workman would know, masonry blades are not well suited to be paired up with a chop saw.
Therefore, if you pair up a masonry blade with a circular saw, it will be easily able to cut through bricks without getting blunt very easily. And in this process, the dust generation will also be very minimal (but not zero).
Now, you can also use a wet saw to cut through the bricks. Although this would create very little dust in cutting, it is not fully recommended. It's because there are designated sources to cut bricks. These brick-cutter saws are specially manufactured to drive masonry blades.
As you may well know, other saws such as miter saws, chop saws, etc., are not fully compatible with masonry blades. That's why it is not recommended to use these saws to cut bricks.
Is It Possible to Put Masonry Blades on Chop Saws?
Generally speaking, you can't really put a masonry blade on a chop saw. But, if you are a mechanical specialist, you can modify the chop saw to hold a masonry blade (although it's not recommended).
In everyday circumstances, we see masonry blades being fully and efficiently used on circular saws. Also, masonry blades can be installed on grinders as well. But, it is very peculiar to imagine a masonry blade installed on a chop saw.
That's why, if you look in the market, we think you won't be able to find any chop saw that can be equipped with a masonry blade. Rather, you'll find lots of chop saw models that are fully equipped with diamond blades, crosscut blades, etc.
Is There a Dustless Way of Cutting Through Bricks?
The best way to cut your bricks in half without creating any dust is to cut your bricks with your hand. Without using any saw, you can easily cut the bricks into pieces with the help of a hammer and chisel. But, mind you, this manual cutting method is only suitable for cutting a handful of brick pieces (not for bulk cutting).
Is It Possible to Cut Bricks With a Miter Saw?
Yes, it is possible. But, it is not recommendable at all. It's because miter saws are best suited for cutting steel, aluminum, and other thin sheets. But, miter saws are not well suited to cut through solid bricks. 
If you indeed try to cut bricks with a miter saw, you might be successful. But remember, miter saws are not manufactured to cut bricks.
What Precautions Should I Take When Using a Chop Saw to Cut Brick?
1. Use Eye and Face Protection
Goggles or a face shield should always be worn when using a chop saw to cut brick or concrete.
2. Wear a Dust Mask
The dust created by cutting brick or concrete can be hazardous to your health, so it's important to wear a dust mask to protect your lungs.
3. Make Sure the Saw is Properly Secured
Before beginning your cut, make sure the saw is securely attached to the workbench or other surface.
4. Use a Masonry Blade
A masonry blade is specifically designed for cutting brick and concrete and will make the job much easier and safer.
5. Clean Up After Yourself
Once you're finished cutting, be sure to clean up any dust and debris.
Is It Safe to Use a Chop Saw to Cut Brick?
No, it is not safe to use a chop saw to cut brick. A chop saw is designed for cutting wood and metal, not brick. The blade of a chop saw is too thin for cutting brick, and the saw will not be able to generate enough power to cut through the brick.
Conclusion
As you can see, chop saws are essentially unsuitable for cutting through bricks. But, in emergency circumstances, you can use a chop saw to cut through one or two brick pieces. That's why, if you are a workman who needs to cut a lot of brick pieces, we recommend that you get a grinder or circular saw.
Featured image credit: Amazon.com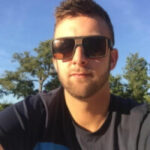 Hello, I am David Rowan. I am a professional contractor with 10 years of experience in home building, different tools used, construction, home remodeling, and other home improvement work. I have already built many custom homes and continued to do several woodworking projects along with how to deal with all categories of tools.