Published on: March 7, 2022
Written by Camila Avery / Fact-checked by David Rowan
Hair extensions are really great for applying and experimenting with new hairstyles. They can change your look by adding volume and length to your hair. But to get the natural look you need to get 100% human hair extension.
But human hair extensions require some extra attention than any other extension. And by taking some special care you'll get an amazing look with naturally shiny, silky hair.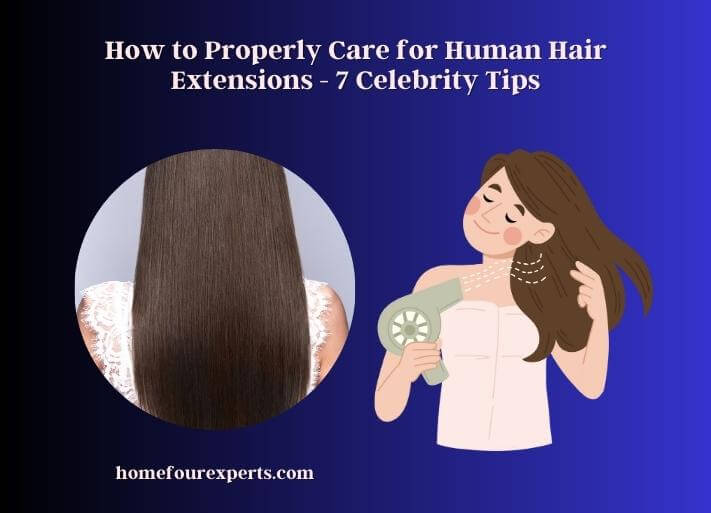 Proper maintenance will also increase the lifetime of the hair extension.
This means you can use your hair extensions for a long time by following some simple but effective tips.
Today I've brought to you 7 celebrity tips for taking care of your lovely hair extensions.
To know more about them, let's start…
Do you buy and worry about choosing the right one? read more about the Top 25 Clip-in Hair Extensions – read more
Expert Advice for Maintaining Human Hair Extension:
So you've successfully chosen 100% human hair extensions for yourself. To ensure the silky and luscious look of your hair extension for a long time, you should take proper care of it. Besides good quality human hair extensions are pretty expensive, with special care you'll be able to lock its beauty and it'll be with you for years.
Though it is crucial to take care of this type of hair extension if you follow the tips I've mentioned here, it'll seem easy to you. Because these tips are collected from expert hair stylists, you can rely on them without any doubt.
1. Washing:
For taking proper care, you need to wash your hair extension regularly. If you buy 100% human hair, you should treat it as your original hair. As your hair builds up dirt during the whole week, your extensions also become dirty, moreover, they get stiff and dirty easily.
To protect your hair extension from getting stiff and keep it moisturized, you must wash them with shampoo and then condition them. While you're washing your weave with shampoo, clean them thoroughly in between the tracks so that no gunks remain there.
Then rinse them properly and apply conditioner throughout the weave. Finally, brush them from tips to root with a wide-toothed comb or brush.
While washing, never bunch up your hair extension or you'll end up with a bundle of tangled hair. And clean them regularly to maintain the flow and lusciousness of the extension.
2. Drying:
After washing your hair extensions, you need to take care of drying them. This can make them dry and vulnerable to breakage. And while you're using a dryer, make sure to use a heat protectant spray before blow drying your hair extension and check that the dryer is in a cool setting. While using a blow dryer, start drying from the root of the weave then move to the end.
But most of the experts/ celebrities prefer air drying whenever or wherever possible. First of all, you can use a microfiber towel because it can remove excess water faster without making your hair rough and won't cause tangles. Then lay them on a flat surface and gently pat them dry.
3. Minimize Heat Styling:
We often need to apply heat to our hair to get some hairstyles. But the problem is, styling hair with heat makes our hair dry, and even this may lead our hair to split ends!  To minimize the damage from applying heat you can try other options to style your hair. Like, by using Flexi- rod, you'll achieve your desired curly look in spite of using any curling iron. Or for straight weaves, you can use a flat iron. These options won't make your hair dry or they won't become stiff. By using these types of alternatives, you'll be able to get the look you want without any kind of damage to your hair extension. Though no-heat hair styling tools are quite expensive, it is better to buy a good quality styling tool than buy expensive hair extensions.
4. Wrap them Well Before Bed:
These are the most important tips that can protect your precious hair extensions from getting damaged too soon. Always try to use a sleeping bonnet while sleeping, this will keep your hair healthy and tamed. By doing this you can maintain your hairstyle and the natural shine of the weave. It also prevents the breakage that is caused by the friction of your hair and the cotton pillow. A satin or silk pillow or scarf can also help you to avoid friction. Investing in such items will help to avoid tangled and dry hair. Moreover, this can enhance the lifetime of your human hair extension.
5. Prevent Tangling:
Like your original hair, 100% human hair extensions get matted and tangled. The reason behind tangled hair is in most cases is not brushing your hair regularly, dryness or weather. This means heat, sweat, and friction are mainly responsible for tangled and matted hair.
So don't forget to brush your hair extension throughout the whole day with a wide-toothed or loop hair extension brush. Also, the hair care products you're using can be responsible for your tangled hair. So before using any hair care product, make sure that they are suitable for your hair and hair extensions. You can also moisturize your hair extension with coconut oil, argan oil, castor oil, etc.
6. Brushing:
You also need to be careful about brushing your hair extension to enhance their lifespan. Expert's Tips for brushing hair extensions is, to stack all of your weaves on top of one another. Now gently brush them from the bottom and slowly move upwards to the root. While brushing, if you find any unpleasant knot, take that particular weft out from the stack and brush it very carefully. Never brush your hair extensions while they are wet. Wait till they are 90% dry then brush them. Most celebrities use loop hair extension brushes for brushing their human hair extensions. You can also use a wide-toothed brush or comb for this job.
7. Storing:
Storing your hair extensions can increase their lifespan. After removing your clip-in hair extensions, make sure that the clips are closed. The expert's advice is to brush the hair extension before storing it. Make sure that you're storing your favorite human hair extension in a dry and cool place, and away from sunlight. Also, make sure that they are completely dry while you're storing them because if you store them wet, the possibility is high that it grows mold and bacteria.
The best option is to store them in the box in which they come in as they are specially designed to reuse them. If you don't get a reusable box with your extension, you can use a shoe box or an airtight container as an alternative.
What Kind of Products Should I Use to Keep My Human Hair Extensions Healthy?
Human hair extensions should be cared for like your own hair. To keep them healthy, use products that are specifically designed for human hair extensions. Look for products that are sulfate-free, alcohol-free, and free of any harsh chemicals. Use a shampoo and conditioner specifically designed for human hair extensions, as well as a leave-in conditioner, detangling spray, and heat protectant spray. Avoid using any styling products, such as mousse, gels, or hairsprays, that contain alcohol as alcohol can cause dryness and damage your extensions.
How Can I Maintain the Color of My Human Hair Extensions?

1. Use a good quality shampoo and conditioner specifically made for human hair extensions.
2. Avoid using any harsh chemicals, such as hair dyes or bleaches, on your extensions.
3. Avoid over-brushing or styling your extensions too often.
4. Use heat protectant sprays before using a curling iron, flat iron, or blowdryer.
5. Try to keep your extensions away from harsh weather conditions, especially extreme heat and humidity.
6. Store your extensions properly when not in use.
Conclusion
By taking proper care you'll be able to use your human hair extension for 3- 12 months or more. But experts recommend not installing them for more than three months. Because if you keep the extension installed for a long time it may become dangerous for your natural hair.
So, remove the hair extensions when you don't need to wear them and store them in a cool and dry place.
Don't worry, if you maintain a proper routine for taking care of them, they won't get dull or damaged by staying in the box and you'll find them ready for your next use.
Hope this article will help you to maintain your hair extensions. If you have something different and effective for taking care of weaves, you can tell us. We will like to hear and learn from you.
You Might Also Like: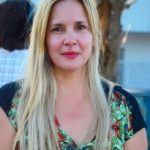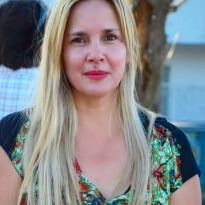 Guys, I am Camila Avery and I love to help my mom to do indoor & outdoor activities. As a lady, I have passed my time on gardening, home improvement, and personal or self-care. I have acquired some degrees in outdoor recreation, beauty, and hair care. It is not easy to work with top-level professional beauty experts. But, I got that opportunity and experimented with different hair extensions, hair colors, and cuts.