Do you want a smooth and perfect finish of your wooden project? Then you must need a sander for a seamless and desired finishing. But there are different types of sanders available in hardware shops. So first, you need to know which type of sander is appropriate for your project.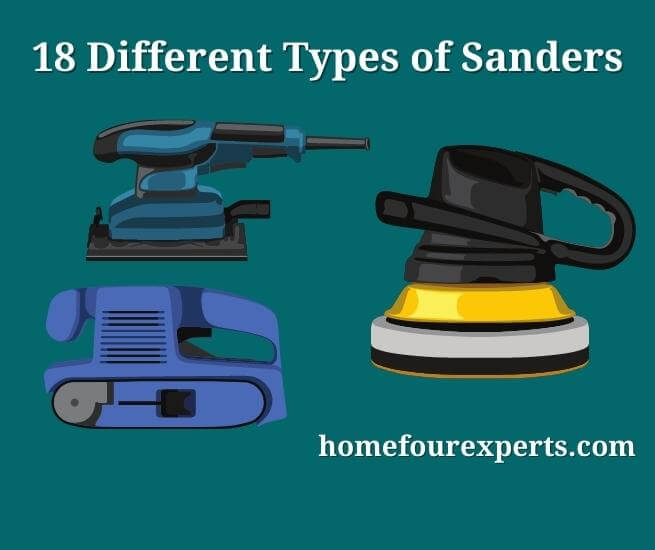 In this article, I will help you to understand the applications of different types of sander so that you can choose the right one.
Learn about the different types of sanders available for your DIY projects. This is a great guide sander. 18 different types of sanders are discussed in detail here.
Different Types of Sanders and Their Uses
1. Orbital Sander: 
An orbital sander is the most common type of sander that is also known as a circular sander, finishing sander, palm sander, rotary sander and so on. This device is very lightweight and so that it can be controlled by using one hand. This is used mainly to get a super smooth finishing. Rounding sharp edges is another common use of it. 
2. Random Orbital Sander: 
The random orbital sander is another type of sander that is used for the perfect finishing of any project. This is used because its blades provide random orbital action. They can sand precisely when a right sandpaper grit is attached. This type of sander is appropriate for fine trim work and for having a super smooth finishing.
3. Belt Sander: 
Belt sanders are used to shape mainly wooden accessories. But it is also appropriate for other materials to improve material quality. Sometimes we have to experience some situations when doors can not smoothly open or close. You can fix this problem with a belt sander.
4. Sender for Refinish Wood and Metal:  
Belt sander is mainly used on wooden furniture to remove coatings and dark blemishes on the surface. The same thing can be done on different metals. But the grit papers are different for wood and metal. A belt sander can restore the glossy fresh look of old wooden furniture.
5. Drywall Sander:
A drywall sander is used for drywall installation. It helps to smooth the plastering compound during the installation process. Though drywall sanding is much time-consuming, a drywall sander can save both our time and money. The sanding process is totally dust-free that ensure a clean and safe working environment. This sander is used to prepare wall or ceiling joints and provide a high-quality finishing with less effort. This device is lightweight and designed ergonomically so that assures less muscle fatigue. 
6. Disc Sander:
This can be an excellent woodworking tool that provides an easy sanding experience. A rotating disc with right sandpaper is used to smoothen the wooden surface. Also used to give a surface an appropriate flatness.
7. Detail Sander:
This sander is used for sanding those areas that are difficult to reach. For example, you can use this device. Too much effort is not necessary to have perfect smooth finishing with this sander.
8. Manual Sanding Block:
This is one kind of drywall sander that is flexible. This is recommended for doing small.jobs. For example, manual sanding block is mostly used for fixing broken drywall or to sand corners or rough edges.
9. Portable Cable Sander:
This is an activist type of sander and normally used for expert jobs. This sander is used to sand ceilings and high walls.
10. Edging Sander:
Edging sander is popular for its versatility. This device is used to contour, bevel, face and edge your workpieces. There is a table that can move vertically, allowing you to place your workpiece at an accurate height. 
11. Drum Sander:
A drum sander is used for sanding wood or plastic. A drum sander is combined with a spinning cylinder that is covered with different sandpaper. There is also a conveyor belt that can feed the workpiece. The main applications of a drum sander are to remove paint or adhesives and any other unwanted substances.
12. Table Sander:
Table sander is a stationary device for woodworking. The table sanders are really more powerful than a portable one. The sanding capacity of this type of sander is also greater than another portable sander like a belt or orbital sander. But the biggest advantage is that you can use both hands at a time while sanding with a tabletop sander. So tasks can be completed more precisely.
13. Oscillating Spindle Sander:
An oscillating spindle sander is a super effective sanding tool. This is a dual motion drum sander. Normally it is placed on a stationary table. The difference between a traditional drum sander and oscillating spindle sander is that a drum sander only spins around but an oscillating spindle sander also oscillates ups and downs frequently. so you can easily sand a curve, contour or any other irregular shape. This device also helps you to sand more precisely.
14. Variable Speed Random Orbital Sander with Polishing Pad:
This type of sander is used for polishing and sanding automobiles, marine and other projects. The polishing pad and special sanding disc provide a perfect finishing.
15. Sheet Palm Sander:
A sheet palm sander is used for giving your project a final finishing touch. Before applying paint or varnish, you should use this sander to ensure perfect finishing. Another big advantage is that a sheet sander is a very cost-effective device.
16. Straight Line Sander:
Straight Line sander is commonly used for tough sanding tasks like shaping and leveling large flat surfaces or smoothing the surface. It takes a very short time to complete a sanding job. This device can be used on different materials like glass fiber, steel, sheet metal and so on.
17. Floor Sander:
A floor sander is used for stripping the upper layer of the large floor surface. You can use floor sander on different materials like wood, cork, or particleboard. A floor drum sander is a very powerful device so that the sanding capacity is more than others. The main advantage is that it can give your floor a perfect refinishing look within a very short time.
18. Palm Sander:
A palm sander is mainly used to sand painted or varnished wooden equipment. A palm sander is normally small in size and so that it's easy to slide it across the surface of a large wooden board. You can sand curves or edges more precisely by using a triangular sanding pad. This type of sander is used to finish sanding and will provide you the desired level of smoothness.
Conclusion
Choosing the right sander is the key to get the desired level of finishing of your project. If you want to finish your project with less cost, time and effort, you need to know which type of sander you have to use. So know the applications at first and ensure a perfect finishing of your woodwork just like an expert.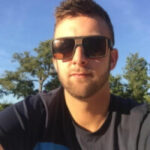 Hello, I am David Rowan. I am a professional contractor with 10 years of experience in home building, different tools used, construction, home remodeling, and other home improvement work. I have already built many custom homes and continued to do several woodworking projects along with how to deal with all categories of tools.