As an outdoor philander, you will be in need of a sleeping bag for sure. While sleeping outdoors this is the most convenient thing you need. 
But before buying one have you ever thought about how to make your investment worth it? What if you don't like the features after purchasing them?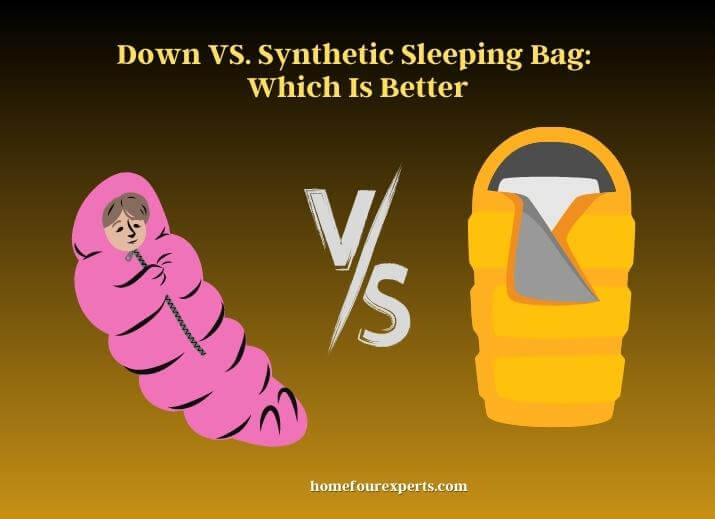 The most effective solution is to think before buying. Here comes the age-old argument- down VS. synthetic: which sleeping bag is better?
If you are madly trying to figure out the best fit for you, this is your place. This is going to be a thorough guideline regarding every aspect of both the sleeping bags. 
Things to Consider to Buy a Sleeping Bag
The most important factor of a sleeping bag is the insulation. This will directly affect all the other variables including price, weight, compressibility, temperature, comfort, performance, water resistance, everything. 
So, while picking one for your next camping, concentrate on the insulating fill. Because this is the material that will trap the emitted heat from the body into a layer of air. 
Based on this physiology of insulation, different types of sleeping bags are decided. Both down and synthetic insulation have their own advantages and disadvantages. 
Below, we will be comparing these two types of sleeping bags along with the driving factors behind their performances.
Down Sleeping Bag
It is commonly assumed that down insulation is made of bird feathers. Actually, it is not the truth. 
The down insulation implies the plumage located under the exterior feather of the waterfowls. Naturally, ducks and geese are the primary sources of it. Undoubtedly, it is one of the finest natural insulators. 
By the 3D structure of the plume, air pockets are created to trap the body heat. 
Fill power is the deciding factor to measure the quality of down. High quality down will naturally be loftier. A 700 fill power down will have a volume of 700 cubic inches per ounce. While an 800 fill power will be as voluminous as 800 cubic inches for every ounce. 
Try to choose a supreme quality down fill as it will hold more heat to keep you warm. Besides, it will be extremely lightweight as well.  
Let's consider the other factors of a down sleeping bag.
Durability 
The elasticity of a down sleeping bag is actually top-notch. You can stuff and re-stuff it several times. If you invest in a proper quality down, it will serve you for at least ten years. Incredible, isn't it?
Compressibility
This is the most user-friendly feature of down. The unthinkable compressibility easily outshines other sleeping bags. Especially when you are backpacking, you will need it the most. You can easily stuff a zero-degree bag at the bottom of your backpack. 
Water Resistance
This is considered the biggest drawback of down. It's a total mess once it gets wet. It loses all the insulating power and takes really long to dry. Even the cleaning process requires special effort. 
However, the latest Dry Down could be a better option though it is not waterproof. But they preserve more insulation properties than regular down fills. 
We would suggest buying a waterproof sack to keep your bag safe from water. 
Moral Issues
As we have already discussed, down fill is produced by the ducks and geese mostly. So, if you are an animal lover, you will find it unethical. 
Making foie gras, live-plucking of the waterfowls, etc. complained before. So, many companies use only verifiable farms' products nowadays.
A little bit of research will help you figure out whether your bag has any ethical issues or not. 
Expensive 
Certainly, down is a bit expensive. It is the finest plumage located right next to the goose or duck's skin. The magical insulating power makes it more demanding. As a result, the price of down sleeping bags is really high nowadays. But a low fill power down of a duck is usually cheaper compared to a goose one. 
Synthetic Sleeping Bag
Now talking about synthetic bags, are considered a viable option for customers who want to spend less.
Synthetic fill is usually made of polyester. Different companies develop it in their own way. But there are two dominant insulators- short-staple and continuous filament. 
The short-staple insulations are most likely the down fills. They feature short strands and are packed compactly to reduce heat loss. Though they are plain and pliable, they are less durable than continuous filaments.
Continuous filament, on the other hand, is less compressible than the previous one. They feature longer and thicker filaments which provide them durability and high loft insulating power, but at the cost of contractility. 
If we analyze the synthetic sleeping bag in general, the following variables are the most noteworthy aspects.
Compressibility 
In terms of compressibility, synthetic insulation has a long way to go to catch up with down. A high-quality down fill will anytime beat any ounce of a synthetic one. 
Durability 
The same goes for durability. Though they try to maintain down's lofting ability, they could not do so. Every time you stuff it into a sack, the insulating power keeps reducing. 
Water Resistance
The most remarkable feature of synthetic fabric is the ability to hold warmth even when it is wet. No worries about drying it up as well. Because it dries quickly.
The ability to insulate even if you soak your bag will keep you warm and comfortable. That is the USP of synthetic insulation.
Budget-Friendly
If somebody is on a tight budget, synthetic insulation should be his exclusive choice. They are way less expensive than the downs and make every penny worth it. That is why it is a total bang for the buck for travelers.
Hypoallergenic
Yet to explore more about synthetic insulation? How could you not know the non allergenic feature?
The hypoallergenic quality immediately draws the attention of consumers who are suffering from any skin issues. So, this feature is a lifesaver for them. 
Down VS. Synthetic: Which Is Better
Considering the features of both, now it's time to decide which you should go for. To be honest, both fabrics are good in their own way. It depends on your personal preference more than anything else. 
Still, as they both have some conveniences and inconveniences, let's compare them head to head.
Down is lightweight and soft. Also, more compressible and durable. If proper care is taken off, a down sleeping bag will accompany you for more than a decade. 
A high-quality down is way more desirable than synthetic insulation because of its cocoon soft warmth. Furthermore, the weight to warmth ratio is incredibly high for down. 
But what will you do in the wet weather? Here comes the urge for a synthetic one. It will insulate even when wet. For a long trip to a random wild forest, synthetic can be your bet. Also, the budget is an important issue to consider. It will be a great choice for those who are on a shoestring budget. 
In terms of maintenance, synthetic wins the race as you can easily wash it by machine. The drying process is quicker as well. 
However, though down is way ahead in terms of longevity, you really need to take very good care. The washing machine will be of no help at all. So, special cleaning is required. 
Weight Differences Between a Down and a Synthetic Sleeping Bag
Down sleeping bags are generally lighter than synthetic sleeping bags. A down sleeping bag typically weighs about 1-2 pounds, while a synthetic sleeping bag may weigh 2-4 pounds.
Final Verdict
After reading a face-to-face confrontation between down VS. synthetic sleeping bag, what is your thought on the topic? Which one do you think is the winner?
Selecting the best bet between these two is not easy, we know. But it is not that difficult as well. You just need to prioritize your necessities. 
Whether you focus on comfort over cost or cost over comfort- that is the deciding factor we guess. 
If you are a regular camper, probably a down will serve you better because of its durability, compressibility, and fabulous weight to warmth ratio.
But as a casual camper, you can choose its synthetic counterpart if you want to save some bucks. Also, the water resistance feature is an issue to consider. 
We hope our manifested disputation helps you decide on the right sleeping bag for your next trip.
Read more: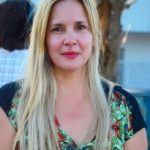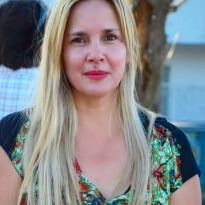 Guys, I am Camila Avery and I love to help my mom to do indoor & outdoor activities. As a lady, I have passed my time on gardening, home improvement, and personal or self-care. I have acquired some degrees in outdoor recreation, beauty, and hair care. It is not easy to work with top-level professional beauty experts. But, I got that opportunity and experimented with different hair extensions, hair colors, and cuts.