Published on: April 8, 2022
Written by Eric Devin / Fact-checked by David Rowan
Is it tough to repair the holes in wood? No, it is relatively easy to join the voids as early as possible. There are multiple ways to do this. But, the question is which is best or which is easy to fill the wood in any successful project. 
It is dependent on the holes type, size, the type of wood fillers, and the quality of the fillers. If you use the right wood filler, you will get fine, considerable, and more accurate fitness in your project. 
In this post, we are going to share five easy ways to fill holes in wood. Our all strategies fit in any woodworking project and are effective in filling holes that you need exactly.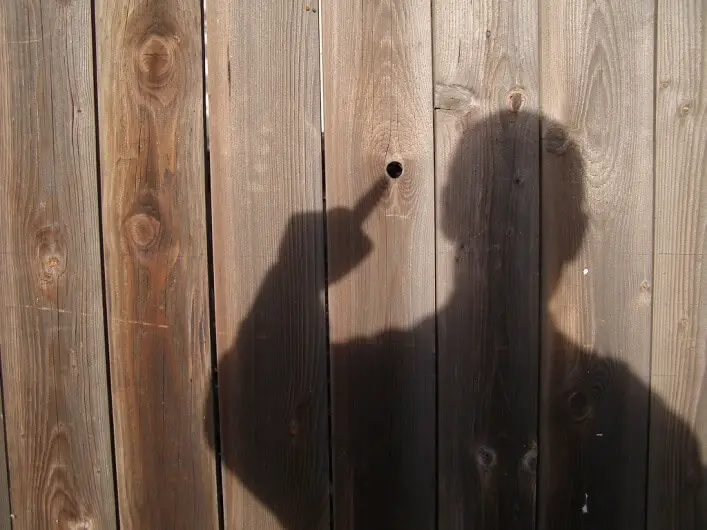 Five Easy Ways to Fill Holes in Wood: Explain
Now, you find here five ways to fill holes in wood that are easy to use & apply. So, read the overall writing and discover the perfect one!
1. Epoxy
Epoxy, one of the most popular names in woodworking projects, is a versatile filler to fill holes in wood. Even it is exceptionally easy to apply for getting a clear end. 
This stuff works better than regular wood glue. Liquid epoxy is used to attach the fiberglass and is thinner than normal epoxy. For this reason, you can not use this liquid epoxy just like glue.
There are different sizes of bottles of epoxy. The most common sizes are from eight oz. to gallon. The basic mixture ratio is probably from the 1:1 ratio to the 1:4 ratio. If you have any confusion, you can see the manufacturer's instructions before using them.
However, epoxy comes in several colors for adjusting clear and specific project designs. If you apply any tint from the wide variety of colors technique. Where black is the better and more usable color nowadays. You can add black iron oxide to make it black. 
You have to check the cure time of epoxy before selection. Try to avoid fast dry epoxy that needs only five minutes of solution time. The best type of epoxy has a solution time of fifteen to thirty minutes. Quite longer provides you better service. 
How to Prepare and Use the Epoxy?
You have to decide how to fill the gap. There are two options for pouring the epoxy. For example, you might start to use it from behind or you can try it in front of the filling. 
When you fill the holes, you see the gap of holes inside. Aluminum foil tape or other types of tape is the best solution to fill the hole properly.  You should wait some time to pour the epoxy. 
2. Sawdust & Glue Filler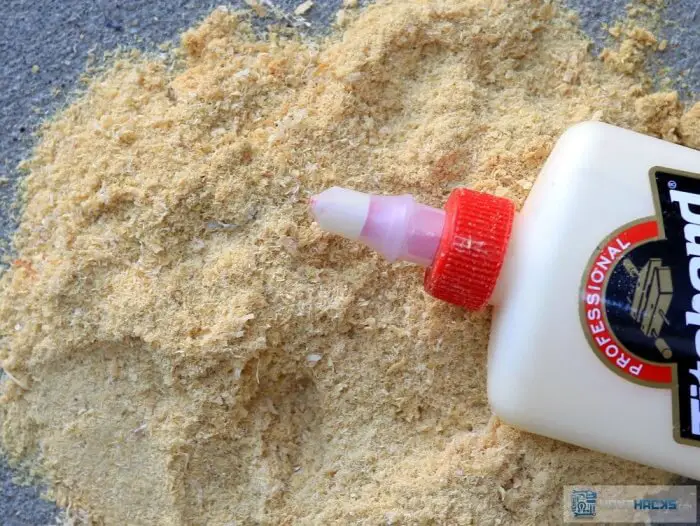 Do you feel trouble filling the holes of your wood?  As an experienced or new woodworker, you can use sawdust and wood glue filler to complete your project work. Most of woodworkers like to use a mixture of wood glue and sawdust to get a good result. In this case, you maintain the ratio of them for creating impromptu filler.
How to Prepare and Use Sawdust & Wood Glue?
First, take some wood glue and sawdust. Mix the two elements according to the container direction. You can use any paper plate to make a ready mixture. All of the woodworkers don't agree to use the sawdust and wood glue filler because it sometimes looks darker than the selected wood. 
There is no problem that you can also include a larger diameter or shaving dust for making a glue mixture. This mixture is not able to absorb the greater finish so the finishing areas might not be darker than the selected wood. 
3. Stainable Wood Filler
This is the most common filler to repair any flaw in woodworking projects. Sometimes woodworkers claim that it doesn't work well. But, it depends on the product's quality. Some stainable wood fillers are good and provide outstanding finishing to fill the hole of wood. 
You can ignore this stainable wood filler for a matching wood grain color. In this case, it doesn't work great. But, remember that this wood filler is a superb choice for doing painted woodworking projects. 
No one can deflect this excellent product for filling small holes as well as seams. It gives you a seamless & smooth surface. 
How to Use a Stainable Wood Filler?
It's extremely easy to use and maintain. Just keep in mind that you have to include more coats of stain than the size of the hole. 
When you apply more wood filler, it helps to darken the wood and you get a similar color stained wood. Another reason to apply extra stainable wood filler, it can reduce while drying. 
So, excess covering supports filling the gaps of drying and smooth finishing. Once dry you can apply the second time for enjoying a strong surface of the wood.
4. Pre-tinted or Tinted Wood Filler
Tinted wood fillers are another tried-and-true method to fill gaps in the wood. These come in several colors and styles that are matched in maximum regular wood colors. You can select the best pre-tinted wood filler from several popular brands. It is a better alternative to creating flour paste by filling the holes.
The manufacturers made these wood fillers from high-quality materials as well as sawdust. You can find these varieties of labels but their works are the same. 
Due to its numerous colors, variations make exceptions to other fillers. Woodworkers who have worries about the perfect match can use this type of filler without any hassle.
How to Use the Pre-tinted Wood Fillers?
To fill the cracks and holes, you have to fill them carefully. If you want to fill the wood's inside part, you need to fill it with small species. Once filling the hole properly, you might press it to remove any gap. It is necessary to wait until the filler dries 100%. Then you get a smooth finish.
5. Wood Filler Putty
This, however, is another great wood filler to fill the hole properly. Woodworkers who don't like to create their fillers by using color outside the line of the hole, feel more comfortable using this old wood filler putty. Most of the putty comes at an affordable price so you don't have to invest much money. 
It works well and provides you with long-lasting features. If you don't use this wood filler putty before, you probably miss its benefits.
How to Use This Stuff?
This method is very easy to use and fills holes. It has no color variation. So, apply the right amount of coverings and press it into the hole of the wood. You need to wait fifteen minutes to complete this job.
Finally, we say that above these 5 Easy Ways to Fill Holes in Wood, you can try other alternatives. Using toothpicks and wood glue is another oldest method of filling holes. Woodworkers can get everything to fill holes by using this stuff. It is also easy to use in any project.
Alternatively, you can try any thin slice of wood according to the hole size to fill it. It is also effective and easy to handle.
Remember, to fill in the toothpick or slice wood piece,  you should apply glue into the hole to attach it. If you are not able to fill it properly, you can use a hammer to press the toothpick or slice of the wood.
Another great choice for repairing the medium-sized gap is acrylic caulk with silicone. It is flexible to handle and water-resistant. Other benefits are easy to apply, multiple color options, and working quickly.
Even you can not avoid spackling paste to patch voids for several purposes like jambs, interior wood, trim, or baseboard. It is also good for repairing drywall. But, you don't use it to fill the largest holes.
Tips and Tricks to Fill Holes
If you have a better idea about filling holes in the wood, you can easily maintain your successful woodworking project. As a smart woodworker, you can follow some tips and tricks on this matter.
First, you should choose the right wood filler according to the size of certain holes in the wood.
Second, fill in the hole by using additional wood fillers. So, overfill enables you to
 get back a little material and provides you with a smooth finish.
Third, if you are a new woodworker, you have to try the simplest method for getting a good result. Always replace the holes properly just like a new one and protect those that have never come back.
Fourth, don't allow for using low-quality glue as well as adhesive to get a poor finish. Keep attention to the finish line. Then, you understand a lot of experience in the field.
Fifth, never touch the filling holes before drying and adjusting the wood glue. It is the most significant part of doing it.
Finally, as a smart woodworker, you have always been alert from starting to ending a woodworking project, especially for furniture.
What Is the Best Way to Fill Large Holes in Wood?
Fortunately, the manufacturer companies deliver different ways to fill the bigger hole. In most cases, two-part epoxy is the best solution to fill the large holes. It works for repairing damage to wood, moldings, baseboard, sills, or door jambs. The worse side is that it expects twenty-four hours to dry.
On the other side, to repair a large hole, you can use polyester filler. It is also suitable for repairing car bodies. The excellent feature is that you have to wait only fifteen minutes to harden it.  
Next, dowel rods and glue is other well-known option to solve this problem. Before applying rods, you have to drill the hole in a certain size. Don't worry, it is not harmful. You can easily fix dowel rods. 
You need to mark its outside length. Then, remove extra rods to use the razor blade knives. Now, it is time to apply glue and wait a few minutes to dry it.
How Long Does Each Method Take to Complete?
The time it takes to complete a method depends on the complexity of the task. Some methods may take only a few milliseconds to run, while others may take several seconds or minutes.
What Types of Wood Can Be Filled With These Methods?
Any type of wood can be filled with these methods, including softwoods such as pine, fir, or cedar, and hardwoods such as oak, walnut, or mahogany.
Frequently Asked Questions (FAQ)
Q: What is the difference between wood filler and wood putty?
Wood filler and wood putty are quite different but are necessary to fill several holes. Wood filler is one kind of wood fiber or sawdust, not plastic. It is stronger and harder than the putty. More suitable for indoor filling holes. Fillers are not waterproof so you can not apply them for outdoor work.
Unlike wood, putty is one type of plastic just like fiberglass, epoxy, or polyurethane. It is more flexible than the filler. You can use it outdoors to fill holes.
Q: Is wood filler as strong as wood?
Wood filler is harder and stronger than wood. Some woods are so soft like pine. Without a strong filler, you are not filling the holes tightly along with cracks or joint gaps. Keep in mind that always apply the wood filler more than the hole size because it decreases automatically while drying.
Q: What time does wood filler take to harden?
Maximum wood fillers require more time to dry and harden although it depends on the depth of filling areas. If you repair the internal areas, you probably need to spend two hours drying them properly. Alternatively, it is essential to wait at least two to six hours to fill the deeper holes.
Read more: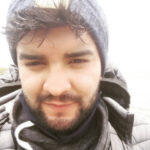 Hi, I am Eric Devin and I am a professional interior architect. Since childhood, I've always enjoyed DIY projects! And, I have loved to solve simple household problems using essential tools and equipment. I have also acquired a lot of information about basic household tools settings by working with contractors.