Published on: January 6, 2022
Written by Eric Devin / Fact-checked by David Rowan
It's great news for the beginners that more than a hundred of Woodworking projects are available to choose from the bunch to start with for learning woodwork. These projects are pretty easy, interesting, minimal cost for the beginners to be tempted to work with. Minimal materials, leftover pieces of wood boards, simple knowhow, and little guidance are enough for the beginners to be bold to try with some projects for learning purposes.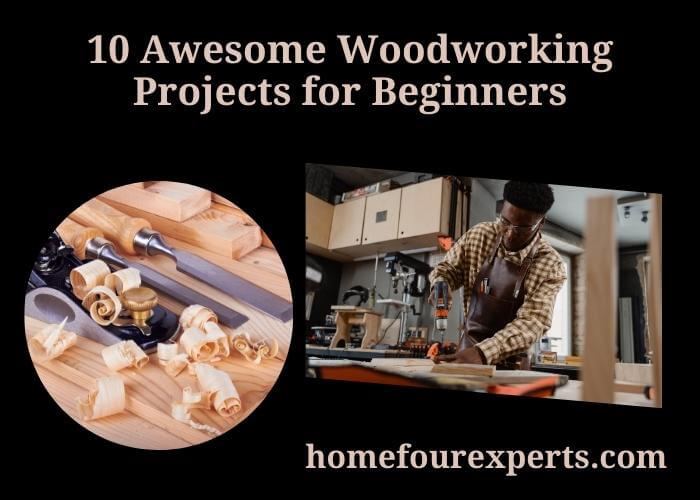 Experts always advise the amateurs to go through the "Learning by doing" process or "On-job training" to be familiar with craftsmanship or particular skill. Similarly, beginners can follow the same technique to learn every aspect of the woodworking projects and prepare themselves to become a full-fledged individual woodworking professional over time. The progressive development process is extremely vital for the beginners to go through to become a successful woodworking professional. 
However, I have compiled a list of 10 awesome woodworking projects for the beginners to discuss through this article. These projects need almost no cost. More interestingly, with the leftover wood pieces and simple accessories, you would be able to make your exciting wooden products.   
1. Chopping Board
Making a chopping board is a pretty easy project for beginners to start with. You just need a piece of hardboard. Cut it into square or oval or round shape as you like. Slightly sand it with sandpaper to have a smooth finish. Finally, you may paint it with a paintbrush and food-safe finish to have your final product. With these materials, you can build similar kinds of products like cheese boards, serving dishes etc.   
2. Wall Piece
Wall piece is another beautiful project choice for the beginners. Simply you need a piece of plywood, some glue, paint, paintbrush to make your artistic wall piece. Sometimes you might need sandpaper to sand the piece to have a smooth touch over it. Finally, you can hang it on the wall to have a beautiful look into your home.  
3. Christmas Tree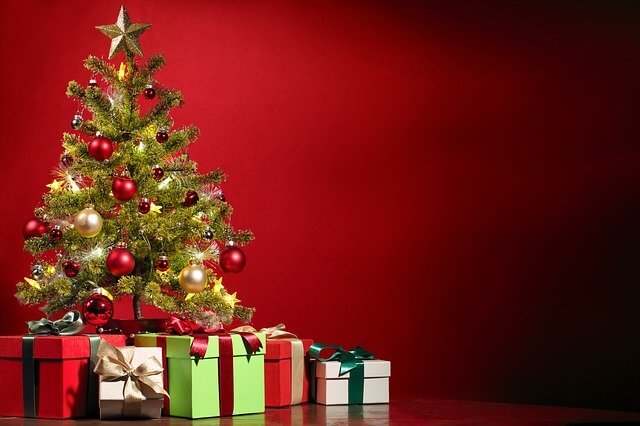 If you have some leftover pieces of wood, making a Christmas tree would be a great choice to learn the woodwork. Making a Christmas tree is a pretty easy project. Get some pieces of wood, cut them into different sizes, and join them vertically to build a Christmas tree. You can leave the tree unpainted. Sometimes natural wood color and grain patterns can even give your tree a great look.   
4. Serving Platter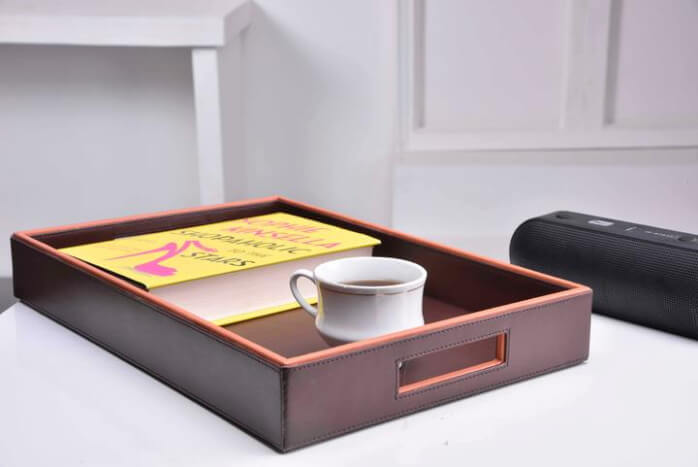 Making a serving platter is another great project for beginners. You need a piece of hardboard, sand paper, screws to make your serving tray. It's one of the easiest project choices but the worth is uncountable. It would give you the highest satisfaction when you see your own hand-made serving platter on your dining table. 
Another project choice is for you to make a wooden tray following the same procedure as you built your serving platter. You need a piece of board or plywood and four thin pieces of plywood to make an edge of the tray. After building your tray, paint it with the paintbrush. If needed, you can sand it with sandpaper before painting.  
5. Themed Sign
Making a themed sign is another great choice for the beginners' projects. You need some pieces of boards, transfer paper, paint, paintbrush, sandpaper, wood stain, tape, and screws etc. Make a variety of decorative themed signs and hang them on attractive visible spots as you like. You may write some of your favorite words on your piece to have a great feeling to look at.    
Similar kinds of themed signs could be like a shabby chic wood heart or something like this to enjoy your learning of woodworking projects. 
6. Basket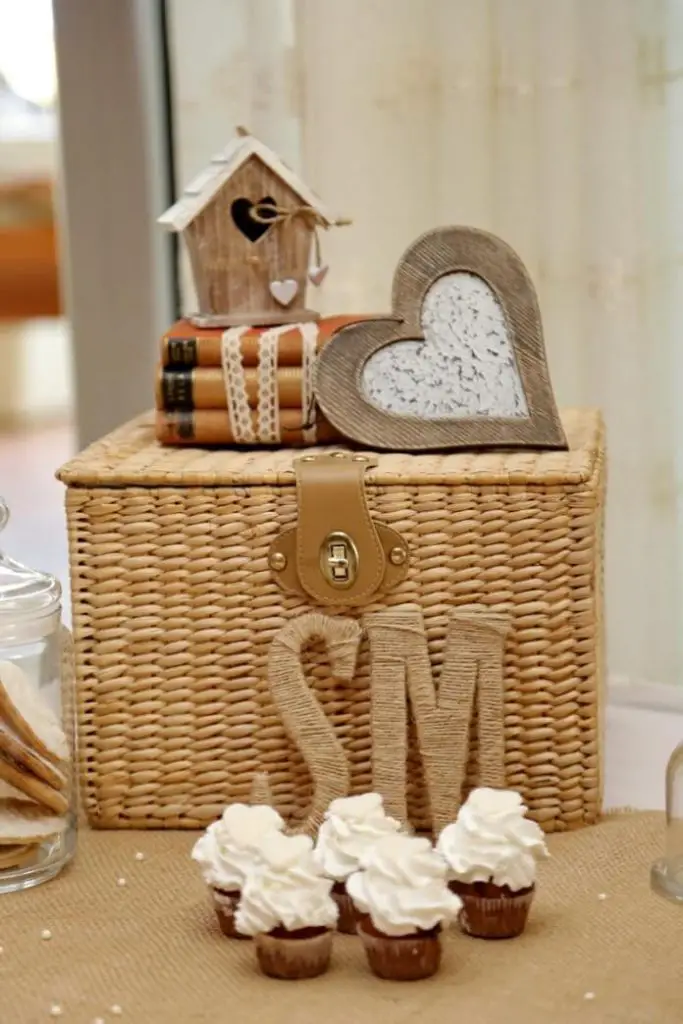 Another great choice is to make a wooden basket of different shapes and sizes. For example, a pumpkin-shaped basket or any other shape you may choose to make your basket. You can store so many small things into your basket and display it in a particular corner of your house to have an amazing look. You can also use it as a base of a planter. 
7. Wooden Shelf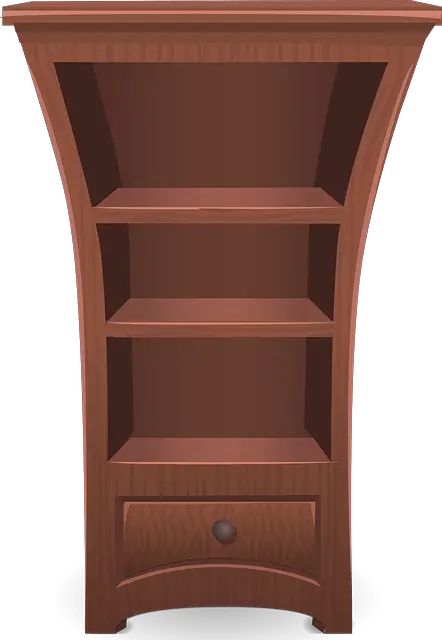 Making a shelf is another great idea for the beginners for the woodworking projects. You just need some wooden pieces, paint, paintbrush, screws, sandpaper, and stain to make a wooden shelf. You can set it at any place you like. It would not only meet your need to store your stuff but also it would give your house a distinct look. Read more: Finding 10 Best Woodworking Chisels
8. Newsletter Holder
It could be another great idea to make one magazine holder as a beginner's project. You need rectangular wooden planks of equal dimensions, a saw, ruler and sandpaper to build your newsletter holder. You may try it out as a beginner. You can keep it in your cozy reading space and some corners of the rooms to store your magazines. 
9. Coat Stand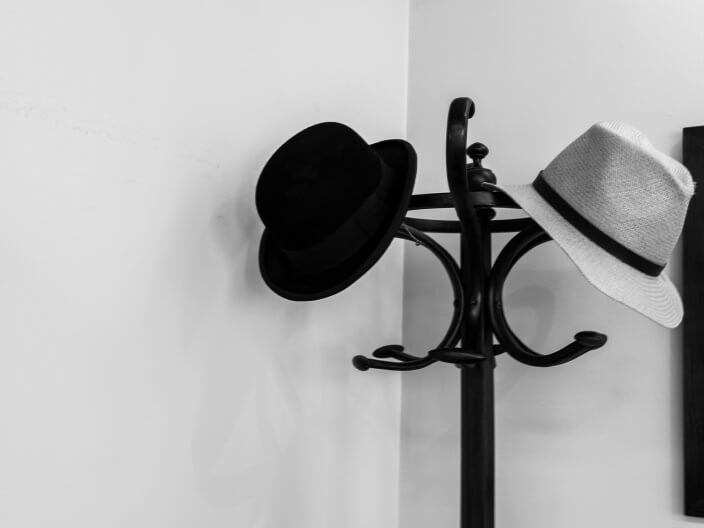 Making a coat rack is another pretty easy project for the beginners. It's one of the best projects for the amateurs. There are a number of options to make this piece. Four wooden boards, glue, and some hooks are enough to build your coat stand. You can place it in any corner of your house as convenient for hanging your coats. It's also called a coat rack. 
10. Pallet Bench
Pallet bench is quite easy to make. It's also complementary to the coffee table. All you need to have wooden boards, paints, paintbrush and sandpaper. It would give your entertainment corner a great look like a coffee corner where you usually like to have your coffee and spend leisure time. 
Final Words
I hope that the compilation of 10 simple woodworking projects would help you choose from the list and start your learning with woodworking projects. For each project, you would need to follow a few simple steps. Amazingly similar kinds of products you can think of making with the idea of your previous projects. For proper learning, you can also watch the videos on those projects, consult with the professional woodworkers near you. Try to gather the required supplies before building your products for successful, happy learning. Start with the simplest one, then proceed to the complex ones while going through the learning process. 
Never neglect to wear safety gears while performing your project tasks to prevent workplace hazards and injuries. Always read the User's Instruction Manual carefully before using your tools.  
If you need more information, you are most welcome to contact us at your earliest convenience. The best way for the beginners is to work with the woodwork professionals to have proper learning and safer operation of the tools. Take care of Dos and Don'ts for your own and others' safety around. 
I would expect you to keep sharing this article with your friends as much as possible so that we could be able to provide our excellent clients' service to more people like you.    
You might also like: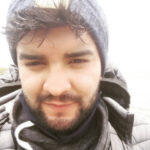 Hi, I am Eric Devin and I am a professional interior architect. Since childhood, I've always enjoyed DIY projects! And, I have loved to solve simple household problems using essential tools and equipment. I have also acquired a lot of information about basic household tools settings by working with contractors.