This article includes affiliate links, which means we may earn a commission if you make a purchase following our link. Please refer to our review guidelines.
In our fast, forward, and modern life, hair damage is a common phenomenon. Most ladies suffer from it due to experimenting on their hair with different products, having little to no knowledge about hair care, not taking proper care to the hair and of course, over-styling the hair. Only a few girls are fortunate enough to have full heads of healthy hair that need no styling at all.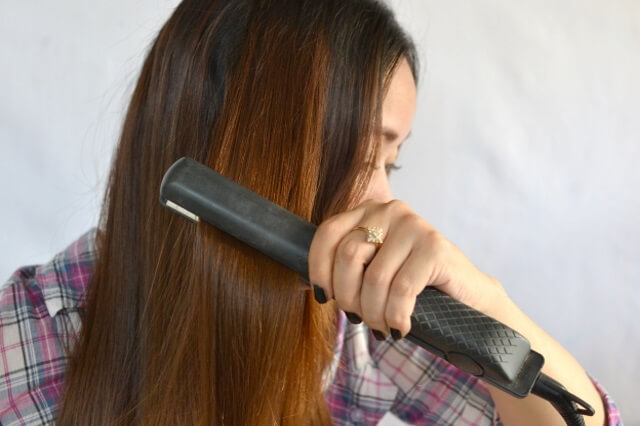 Should hair damage restrain us from styling the hair? Even if I say yes, you are not going to listen, right? We ladies always want to look our best no matter what. So, here are some solutions for you so that you can still style your damaged hair without worrying much. Because we have brought the best flat irons available in the market that in my experience, are not damaging at all. So, I recommend these for using on damaged hair.
Which Flat Iron Will Does Not Damage Hair?
Well, it depends. The damage done by bleaching the hair is different from over styling or using the wrong products. As the type of damage is different, so as the hair tools should be chosen carefully to make it worse. Here, I have discussed how one should select a flat iron based on the type of damage. 
For Bleached Hair
Bleached hair is fragile and prone to break. Using a heat protection spray is a must before using any heating tools on that hair particularly. Now, use the iron on the lowest setting because high heat can fry-up the hair. If you have long hair, try to trim the end regularly to prevent or eliminate split ends. 
As you are using the flat iron in the lowest setting, the result may not be as flattering as using it at the higher temperature. Our goal is to style the hair without making the damage worse. So, choose an iron that needs only one pass to do straightening. The longer or wider heating plate is a better option in this case. 
For Rough and Dry Hair
Some have naturally dry and rough hair, whilst for others, the hair gets rough for using harmful cosmetics and harsh water. In both cases, it is important to keep the hair moisturized enough. Use a mild shampoo and dense conditioner to reduce the roughness. Use a heat protection spray before using the dryer, curling wand or flat iron. Because heat will make the hair even rough. 
Now, we want to make our hair look healthy. A ceramic heating plate is the best option to add shine and life to the lifeless dry hair. It is safe to prevent damage as well. 
Colored Hair
Hair color is damaging for sure, but some women can't skip this due to grey hair and some can't just live without color. Whatever the reason is, if you have a coat of hair dye on your hair, then it becomes risky to do any heat-induced styling. Improper distribution of heat may rip off the color from the surface leaving bare hair in patches. 
Use a Titanium flat iron because these are great heat conductors. It heats up fast, so you have to be careful not to burn the hair. 
Is a Flat Iron the Best Tool for Repairing Damaged Hair?
No, a flat iron is not the best tool for repairing damaged hair. A better tool would be a deep conditioner or hair mask that can help to restore the natural moisture and shine of the hair.
Type of Protection Should Be Used on Damaged Hair Before Using a Flat Iron
Before using a flat iron on damaged hair, it is important to use a heat-protectant product. This will help protect the hair from further damage caused by heat. Look for a product specifically designed to protect hair from heat-styling tools.
Is Titanium More Damaging than Ceramic?
Titanium is good for women who want to save the downtime of heating the flat iron. It produces high heat within seconds, but that heat may not be suitable for damaged hair. In this case, you can reduce the heat and save your hair from frying. These kinds of straightener are suitable for tame frizz and fly-aways and if your hair is not severely damaged. 
The ceramic flat iron is the best choice for hair that looks lifeless. It adds gloss and liveliness to the hair, making it look healthy. High-quality tourmaline ceramic flat irons also help to prevent and heal damage. Other cheaper versions will only work on making the hair look healthy. Read more: 11 Best Curling Wands for Beach Waves
Editor's Note
Fat irons are available in different sizes, features, and prices. Consider your hair type, the level of damage and the result you want from using a flat iron on your hair before actually choosing it. 
I never refrain women from styling their hair, but I do strongly recommend taking proper care of it. No matter how expensive and high quality the straightener is, it is still not the best thing to keep your hair healthy for the long term. So, never underestimate the power of hair care. Choose your hair styling and hair care products carefully because once the hair is overly damaged, it is hard to get it back to its former state.
View Our Selected Flat Irons for Damaged Hair, Below-
HSI Professional Glider -Flat Iron for Fast Straightening
Click on the Image to >> See on Amazon
140-450°F wide temperature range;
Needs less pass to straighten.
For damaged hair, it is important to choose a flat iron with a wide temperature range. It helps you choose the right temperature based on the level of damage you have done to your hair. For example, damage from heat styling is different from the damage that occurred by bleaching. This Glider from HSI professional comes with a temperature gauge ranging from 140 to 450 degrees Fahrenheit. This is an ideal option for girls who can't ditch styling even if the hair is severely damaged. 
The floating heat plates are equipped with micro-sensors that auto-adjust the heat throughout the plates. It results in an even heat distribution throughout the plates as well as your hair. This awesome technology makes this tool so efficient that you only need one or two passes to straighten your hair. Less pass causes less damage. Moreover, the plates are coated with ceramic Tourmaline for damage-free ironing.
Furiden- 2 in 1 Iron for Snag-free Straightening of Damaged Hair
Click on the Image to >> See on Amazon
Eliminates snagging and tugging:
Straightens and curls;
15 sec heating with 5 heat settings.
Furiden has brought salon-grade hair straightening at the comfort of your home without going bankrupt. This super quality hair straightener doubles as a curler, yet it is so affordable that you will doubt its quality. Rest assured, this tool lasts for ages even after accompanying you every day!
The heat setting is precise and easy to change. There are options for every hair type starting from fine, damaged and thin hair to coarse and thick hair. I strongly recommend this for damaged hair, because it adds shine to the hair and makes it more lively. Usually, straightening the hair steals shine and luster from the hair, but it won't happen with this Furiden straightener. 
Another reason for prescribing it for damaged hair is, the heat plates adjust with the hair to eliminate tugging and pulling. I understand how painful this can be for ladies who worry about their weak and damaged hair. However, the best thing is, you can also use this for curling your hair. It saves your money for buying curling wands too.
ghd Platinum Professional Performance Ceramic Hair Straightener
Click on the Image to >> See on Amazon
365ºF consistent heat;
Suitable for color treated damaged hair.
The heat is constant, but it adjusts every second by monitoring the thickness of your hair and the time you are taking to iron it. So, the heat truly is constant and it is well ensured! Trust me, this 365-degree suits all hair types. No matter how thin or thick, healthy or damaged, this iron works on every hair without causing further damage. 
However, I recommend this one for color-treated and bleached hair. These hair types are more prone to breakage due to heat stylings like flat ironing and curling. Besides, the color may fade faster if a cheap quality tool is used. That won't happen with the ghd flat iron. This iron will keep the color intact without breaking the hair. The price may seem too high for a flat iron, but the protection is given to colored and damaged hair worth the money.
NITION Professional Salon Hair Straightener
Click on the Image to >> See on Amazon
265° F-450° F;
2-in-1 curling and straightening iron.
Who doesn't want hi-tech styling tools within affordability? We have enlisted this Nition straightener for its sleek, modern and hassle-free features. There is no button to press in the middle of the ironing process. You only rotate the temp gauge to the desired heat, slide the lock key and voila! You are all set for salon finish hair straightening. 
What makes it different from others is its extra-long heating plate. The 4.1-inch heating plate provides a longer surface area. It works best when you take a thin, but wide lock of hair and place it on the plate sparsely. This way, with only one pass you can complete flattening your hair. 
BIO IONIC Onepass Straightening Iron for Severely Damaged Hair
Click on the Image to >> See on Amazon
30-minute automatic shut-off;
Long-lasting straightening.
Though this item is new and has not been reviewed much online, we still wanted to place this in our list of suitable flat irons for damaged hair. This one is especially suitable for dry, frizzy and damaged hair. Do you struggle with stubborn fly-aways? No matter how many styling products and tools you use, they just won't stop showing up? Then this flat iron from Bio Ionic is the right tool for you. 
Just like the name suggests, this flat iron literally takes one pass to tame all your fly-aways and frizz instantly. Make your damaged hair down to submission using this iron. There are identical silicon strips placed on the plates to make it long-lasting. This strip results in shiny and healthy-looking straight hair too. The iron is somewhat expensive, but its rounded edge makes it suitable for making lustrous waves and spiral curls too.
BIO IONIC 10x Pro Styling Iron
Click on the Image to >> See on Amazon
Temperature: 450F/ 232C;
Vibration technology;
Digital display for temperature accuracy.
Most of the flat irons available in the market come in 1-inch width sizes. For damaged hair, it is better to use a wider flat iron. The added width gives a larger surface area. 
So, with only one pass, your hair gets the chance to stay on the plate for longer. The hair gets super straight in the least amount of time but lasts up to the next shower. 
The heat is adjustable. Changing the setting is not a breeze through, but still, I recommend this for ladies with fragile hair. Just set the temperature at low heat, because you won't need to use high heat for a salon-like result. 
Now, you can use this heat all the time to style your hair. The iron adjusts to the current automatically. You don't need to be confused about the voltage while traveling. 
Just plug it in and the iron will adjust itself. If you are forgetful like me, then don't worry, Kipozi flat iron is designed to shut off itself after 30 minutes of constant running.
CONAIR INFINITI PRO Flat Iron for Damage Prevention
Click on the Image to >> See on Amazon
Extra-long plates;
Prevents damage.
Maybe your hair is not damaged yet, but there is no harm in taking some precautions. This InfinitiPro Flat Iron from Conair has tourmaline ceramic-coated floating plates to prevent damage. For already damaged hair, this flat iron works perfectly to seal in moisture to make it look healthier than ever before. Needless to say, it vanishes frizz and fly-aways instantly 
The highest heat is impressively 455 F, but I recommend styling at the lowest temperature possible, depending on the coarseness of the hair. There are 30 heat settings to choose from so that everyone can find the optimum heat that works best for them to flat iron the hair, without any damage. The plates are considerably longer than other conventional fat irons. This is why this iron makes straightening and curling faster than others. 
FURIDEN  Professional Titanium Hair Straightener for All Hair Types
Click on the Image to >> See on Amazon
4.7″ long Titanium plate;
265-450 degrees Fahrenheit adjustable heat.
There are titanium mirror plates in this straightener for a mirror-like finish on your hair. No matter how damaged the hair is, after ironing the hair with this flat iron from Furiden, the hair must be transformed into healthy, shiny and beautiful looking. 
This iron is thin and long. If you are a fan of hairstyling, then this one will save you from spending on a curling wand or iron. Because the same tool will work as a flat iron and a curling wand. You can make beach waves and spiral curls of medium size.
It takes only 30 seconds to reach the highest 450 degrees Fahrenheit. It will take less if you prefer less heat for ironing. However, this tool saves time and protects hair from getting damaged for over styling. This iron is so reasonably priced that you would want to make straight hair or curls every single day!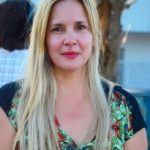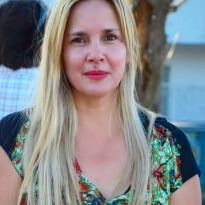 Guys, I am Camila Avery and I love to help my mom to do indoor & outdoor activities. As a lady, I have passed my time on gardening, home improvement, and personal or self-care. I have acquired some degrees in outdoor recreation, beauty, and hair care. It is not easy to work with top-level professional beauty experts. But, I got that opportunity and experimented with different hair extensions, hair colors, and cuts.