Published on: March 8, 2022
Written by David Rowan / Fact-checked by David Rowan
This article may contain affiliate links, which means if you make a purchase following our links won't cost you extra, but we may earn a commission. Learn more
Need to get something from the top shelves or need to organize it? Do the picture frames need some dusting for upcoming events or do the walls need the latest abstract paint?
No matter what the reason is, ladders are one of the most common tools we use at the home, office, shop, garage, repair shop, and even in our trucks. Folding ones just save the space and headache to store this useful tool out of sight.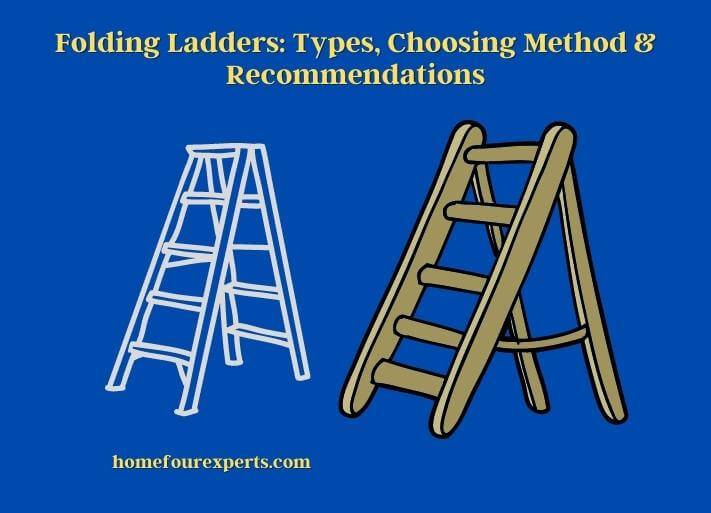 Some hesitate considering the durability and safety measures of the folding ladders. Thankfully, there are many high-quality folding-style ladders and stools available in the market that are even safer than stationary ladders. 
Folding ladders are available in different quality, styles, and colors, and even in different materials as well. Some are so thoughtfully made that, you will instantly decide that you must have one at the first sight. Let's get to know those magic steps that make our daily lives easier than ever.
Which Folding Ladder to Choose?
There are different folding ladders or stools, ranging from one step to five steps. These are also available in different sizes and material types. Let's find out how to pick a ladder depending on your needs. Read more: How to Choose Best Sprayers for Deck Stain
One Step Ladder
These ladders are best to reach a small height. These are also great as indoor or outdoor seats for children and adults. Amongst all the ladders we have discussed, this one is the safest for children to use. Get one so that they can always use it in their room to reach their favorite toy or books from the upper cabinets. 
Two/Three-Step Ladder
These stools/ladders double as chairs, corner shelves, and a ladder, of course. Two and three-step ladders are good for cleaning, changing curtains, or using in the kitchen to get something from the upper shelves. 
Four/Five Step Ladder
These are way too large for doing chores. Preferably, four and five-step ladders are suitable for using wall painting, changing bulbs, cleaning fans, or any other repair, and maintenance jobs. Servicemen and garage owners always need this type of ladder for repair and outdoor use. 
Platform Size
No matter which ladder or stool you are getting, always study the platform size, especially the top shelf. Does it have a non-slip pattern on it? Is it wide enough to make room for both feet comfortably? If not, then this ladder will become a burden rather than a necessity. 
Locking Mechanism
In folding ladders, the locking mechanism ensures safety. Does the ladder auto lock or a manual one? For people who are forgetful and do not like the hassle of always locking the ladder manually, the auto-lock works fine. On the other hand, some prefer the manual lock as it assures them every time they step on it. So, both are fine; it matters on preference. 
Weight Capacity
For jobs like servicing, maintaining, or painting, the weight capacity should be high for the ladder. Alongside the body weight of the user, the weight of the tools and materials they will be holding while stepping on the ladder also should be considered. That is the reason a simple two or three-step ladder should not be used for servicing jobs as those have a weight capacity of only 300 pounds. 
Ladder Weight and Durability
The ladder's weight depends on the material used on it. People prefer a lightweight yet sturdy one. If the weight capacity of the ladder is preferred high for you, the weight of the ladder will also be high. You have to find a balance and get a ladder of the optimum weight that you can bear to carry and also gives you durability if you have been looking for it. Read more: Finding the Best Plate Compactor
Folded Size
The folded size of the ladder matters if you have a tight spot selected already to store it. The folded weight will give you an idea of the ladder fits in. Other than that, the folding ladders can be placed under any bed, behind the dresser, freezer, sofa, cabinet, or almost anywhere you like. 
Tips to Use Folding Ladders
There are no rules for using a folding ladder as you already have been using it without one. But I would like to share some tips that may become useful to use it more safely. 
After purchasing online, check for defects on the ladder. Is the lock working properly? Are the feet and platform non-slip and non-skid? Is it the right height you ordered? 
Every time you step on the ladder, check if the locks are well placed as they should be. 
Never place anything on the ladder beyond its weight capacity. The same goes for the person using it. 
Never use a small ladder to do big jobs for prolonged use. 
Clean the ladder occasionally and put some oil on the locks. It will make the locks last longer.
What Types of Surfaces Can a Folding Ladder Be Used on?
A folding ladder can be used on a variety of surfaces, including flat surfaces such as floors, stairs, and decks, as well as uneven surfaces such as gravel or grass. However, it is important to ensure that the ladder is stable and secure on the surface before climbing it. It is not recommended to use a folding ladder on slippery or unstable surfaces, such as ice or mud. Always follow the manufacturer's instructions and safety guidelines when using a ladder, and inspect the ladder for any damage or wear before each use.
Editors Selected Prime Quality Folding Ladders-
While making the list, we considered safety and quality first. Then the budget of the users and the functionality of the stools and ladders are considered. So, no matter what your budget is, the ladders you are getting here are the most sound and safe ones.
1. Delxo 2-Step Folding Ladder for Multi-Use
Maximum load-bearing capacity: 300 lb;
Ladder weights: 9.1 pounds;
Folding ladders are more popular than non-folding designs because of their portability and storage facilities. This model of the two-step folding ladder from Delxo becomes our top choice because it is very light and easy to store.
This ladder is made from high-quality material to get a high weight-bearing capacity of 300 pounds, but the ladder itself weighs merely 9 pounds. Literally, it is just 'lift the ladder in the left hand and go' when it comes to taking it somewhere remote. 
On the other hand, this ladder becomes a 2-inch thick frame when it is folded. It can be placed even behind the door alongside the wall or behind any medium size furniture. The platform is bigger than any conventional ladder, but not as big as they claim. With the 11.81″ L x7.87″ W x 0.98″ H' dimension, the textures non-slip platform is just the right size for most people but can fall short for big buddies. 
It has a sleek and clean white finish on the frame. It gives the folding ladder an elegant look. For a sturdy folding ladder with high weight capacity, the price is reasonable. 
Positives
Folds super thin, easy to store;
High weight capacity;
Elegant look;
Lightweight.
Things to consider
---
2. XinSunho 2-Step Folding Ladder
Maximum load: 330 pounds.
Large 15″ X 10.25″ X 1.02″ platforms.
When the folding ladder can be disguised as a chair, there is no need to hide it under the bed or in the pantry. Besides serving as a step ladder, this folding ladder can be used as a regular chair for its unique and sleek design. The platforms are so wide and sturdy that it is comfortable as a chair to sit on and as well as a ladder to step on. 
The weight capacity of this Xinsunho folding ladder is impressively 330 pounds. Its weight is slightly higher due to its all-metal construction than our top pick, the Delxo 2-step ladder. Despite that, it is still comfortable enough to carry. 
The one drawback I found in this ladder/stool is that the upper platform touches the shin while stepping on the lower platform. So, it can only be used to stand on the upper platform. It has a metal lock on it to safely lock the ladder in place so that it does not slip.  
Positives
All-metal construction;
Large standing platform;
Comfortable for long use;
Can be used as a chair.
Things to consider
Little distance between steps.
---
3. Cosco Folding Style 2 and 3 Step Ladder with Rubber Hand Grip
Blue, grey, purple, green, platinum, and red color to choose from. 
Height of the ladder: 45″;
Three-step stool.
There are two-step and three-step folding stools and ladders available on this site. All are made equally durable and safe. Two-step stools and three steps stools are available in different colors also.
However, this one is a three-step folding ladder in the shading Platinum. It has three 16-inch wide steps and a rubber grip handle on top. The handle provides a sense of security as using a three-step ladder can be risky for elderly and physically challenged people. 
The most unique thing about this ladder is, it has auto locks that lock in place when the ladder is unfolded. No need to turn any screws and lock the ladder. The rubber pads under the ladder feet make it safe to use on tile and marble floors.
This amazing stool is backed by a 10-year long warranty for its parts. So, the quality of this stool is easily assumed. For all three steps, this ladder weighs almost 13 pounds. The top platform is 29 inches higher than the ground, and the overall height of the ladder is 45 inches. For home, outdoor, garage, or office use, this ladder is a safe one to use. 
Positives
Backed by a long warranty;
Self-locking;
The rubber grip handle on top gives security.
Negatives
---
4. Louisville Ladder W-3215-06 6 ft. Fiberglass Ladder
A-frame ladder,
Weight 15.41 pounds; 
ANSI Type 2 rating for 225 lbs.
Material: aluminum.
Homeowners, contractors, service workers, or motor homes, no matter where you live or work, this A-frame 6 ft folding ladder is your lifesaver. 
It is so space-saving that a regular decorative fence post can be used as a cover for this ladder and hide it in the trailer truck, RV, under the bumper of the motor home, or in the garage of your own home. 
This giant ladder weighs only 15.41 pounds. Thanks to its lightweight and rust-resistant aluminum and steel material. For a 6 ft folding ladder, this one is priced so cheap that people even consider getting two of these, one for home and another for office or Jobsite use. So, do some favor to yourself and get this ladder today. It is going to be an investment you never regret. 
Positives
For professional and home use;
Easy to carry in trucks and vans;
Rust and corrosion-resistant;
Cheap.
Negatives
---
5. MoJack EasyStep – Fence Crosser/Folding Ladder
Ladder weight 40 pounds;
Load-bearing capacity 300 pounds.
Crossing tall fences becomes a breeze with this folding ladder. The top platform of this super-duty ladder is about 56 inches from the ground. So, crossing tall fences without opening the gate or picking fruits from trees, and almost any other chores becomes fun for farmers, ranchers, and hunters. 
This ladder folds into a 24-inch x 34-inch x 8-inch dimension. It is not as portable or easy to store as other models we have reviewed. Besides, 40 pounds of weight also seems very heavy. However, for crossing fences and using outdoors in the farmlands, this folding ladder model is the best one can get. 
It has a spacious top platform of a 17-inch x 14-inch area. The platform is nonslippery as well. The highest load-bearing capacity is up to 300 pounds for this fence crosser comes folding ladder. For all the good causes, this one is a good choice for anyone who needs to cross a tall fence without opening the gates. 
Positives
Large top platform;
Great for crossing tall fences;
Heavy duty.
Negatives
Heavy, not easily portable. 
---
6. Delxo 3-Step Folding Ladder
Three steps ladders/stools;
330 lb weight capacity.
Don't have any idea where to put the folding shelf when not in use? This three-step stool/ladder is an excellent addition as a corner shelf or plant stand when not being used. Some also keep it open as a pet stool. However, this ladder folds super thin, so can be put away under the bed or behind the sofa, out of sight. 
Delxo step ladders or folding stools are great for indoor use. The load-bearing capacity for this ladder is up to 330 pounds, which is quite high for a three-step ladder. Moreover, it auto-locks when opened up, a safe addition for dealing with this unit reliably.
This stool weighs only 10 pounds but is very sturdy to use for prolonged use like cleaning ceiling fans or organizing top shelves. The anti-slip pedals are also wide enough to make room for the heel to toes. You don't even know you already need one unless you get one. So, without any overthinking, get this one for getting done regular household chores. 
Positives
Auto locks;
Convenient handlebar;
Can be used as a pet stool or corner shelf.
Negatives
---
7. EdMaxwell Folding 4-Step Ladder – for Home and Office Use
4-step design;
Material Alloy Steel, Metal, Rubber;
Weight 27.6 Pounds.
500lbs weight capacity.
An extra platform is added to this ladder to make painting/decorating or repair jobs around the home or office more convenient. This is a brilliant design, in my opinion, that is absent in other large-sized folding ladders. There is a long side rail attached to this ladder as well, which is another plus. The handrail makes this ladder more reliable to step on and off. 
This ladder can take up to 500 lbs of weight. Yes, unbelievable, isn't it? The high capacity of weight makes this ladder more suitable for carrying heavy loads on the extra platform. Whilst other ladders only are useful to carry body weight. 
To make this ladder the safest in the market, crossbars are added on both sides. A manual lock is also added to the design for added safety. Just open the ladder and turn the lock to lock the ladder in that position. Likewise, when not in use, turn the lock and keep the ladder aside after folding.
This ladder is great for doing repairs, maintenance, and painting tasks safely. For painters, we have a list of ladders that are especially useful for painting.
Positives
Convenient long side handlebars;
High load-bearing capacity;
Metal crossbars for added safety;
An extra platform for tools/paints.
Negatives
---
8. Delxo White 2/3 Step Folding Step Ladder
2 ft and 3 ft design in white and black;
300 lbs.
The all-over pale white color on this 2-step and 3-step stool is a perfect camouflage to hide in plain sight leaning on a white wall. The stool becomes seamless when folded due to its undetectable white colors on the frame and platform.
However, this one is also available in black. This folding step stool from Delxo is slightly different from the former ones we have reviewed. It has wear-resistant rubber feet. This not only makes the stool anti-slip and anti-skid but also makes it long-lasting. 
All the pedals have built-in textures. These textures ensure a good grip and prevent slipping off the stool. These two and three-step stools are high-quality units and are budget-friendly too. The two-step stool is 2 ft, and the three-step ladder is 3 ft high from the ground, but both have a tall hand railing for extra stability. 
Positives
Wear-resistant anti-slip rubber feet;
Affordable;
High handrail.
Negatives 
---
9. Delxo Lightweight 3-Step Folding Ladder
1-step ladder;
330 pounds weight capacity;
Alloy steel frame, plastic pedal, and rubber ft.
When there are children around the house, a one-step ladder comes more handy compared to a two or three-step folding ladder. This one-step folding ladder can be used as a seat indoors and outdoors for the little one in the family, and occasionally, it is useful to reach nearby objects for children and adults. 
The folded dimension of this ladder is 1.7″H X 15″L X 10.2″W. When fully opened, it adds 6.5 inches to the height. The frame of this ladder is made from alloy steel, and the pedal is thick plastic.
As with any other regular ladder, this one is also equipped with rubber feet for an anti-skid feature. There are handles on both sides to make it easy to carry everywhere. For quality, this one is an affordable one-step folding ladder for every home must-have. 
Positives
For children and adults;
The ladder can be used as a seat;
Suitable for small reach needs.
Negatives
---
10. Aluminum Made One Platform RV Step Ladder
The ladder weighs 6.64 pounds;
440 lbs of weight capacity.
In large four-wheelers, such as motor homes, RVs, vans, trucks, and trailers, step ladders with too many steps are not so convenient. Rather, one-step folding ladders come in handy in many ways, including hopping in the car, using the inside of the car to reach high, and so on. If that is the reason you are looking for one, then the good news is, this step ladder is the lightest in its category. 
Due to all-aluminum construction, this one-step ladder serves its purpose but weighs light, but it never backs away from supporting high weight capacity. The weight capacity for this one-step folding ladder is 440 lbs, which may put the other two and three-step ladders in shame. 
The mechanism for closing and opening the legs is quite simple, and this unit makes its room under the back seat just right. One thing is, it feels still to fold and unfold when it is new. It takes some time to break in, and when it breaks in, it becomes easy to fold and unfold. 
Positives
Easily stores under car seat;
Suitable for use as a step ladder for big vehicles;
Very light, aluminum construction. 
Negatives
Stiff to fold and unfold when new. 
---
FAQs By People
Which Ladder is Better Steel or Aluminum?
Steel ladders are heavier than aluminum, this implies that they are more strong. Steel is the most ideal decision since it is strong. With that amount of strength, aluminum is certainly not a stone-solid material. Although it does not rust since it is a lightweight material, aluminum twist.
How Many Types of Ladders are There?
It is a vertical or diagonal arrangement or step. There are two types: flexible ladders that are self-supporting or can be tilted upwards like a divider, and rolling stepping stools, for example, made of rope or aluminum, which can swing from the top.
How Durable is a Folding Ladder?
The durability of a folding ladder depends on the materials and construction of the ladder. Generally, folding ladders made of aluminum or fiberglass are more durable and long-lasting than those made of plastic or wood. It also depends on how often you use it, how heavy the load and how it is stored and maintained. It's a good idea to check the weight rating and read reviews before purchasing a folding ladder to get an idea of its durability.
Conclusion
Folding ladders has never been an issue of our concern as if it has always been a general utility tool at our home and office. But it can be one possible hazard if not purchasing the right one for the intended job, improperly using one or getting low quality or defective one, and so on. Yes, there are many reasons a simple folding ladder can make things go wrong. 
So, as you are investing your hard-earned money in it, and also your family's safety depends on it, getting the safest and most durable folding ladder is an issue we always overlooked. Choose the ladder wisely and use it smartly. If possible and the situation demands, get separate ladders for home and outdoor use. It might cost a bit extra, but in the long run, it saves your back.   
You might also like: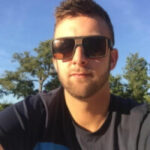 Hello, I am David Rowan. I am a professional contractor with 10 years of experience in home building, different tools used, construction, home remodeling, and other home improvement work. I have already built many custom homes and continued to do several woodworking projects along with how to deal with all categories of tools.