Gardening is the most common and primitive human hobby. It is great for our soul and body, but sometimes excessive manual work while gardening may cause strain in our back and knees.
If you have to spend a lot of time working in your garden, a garden scooter is a must.
It can protect you from any kind of pain by completing the task is to using a garden scooter while gardening.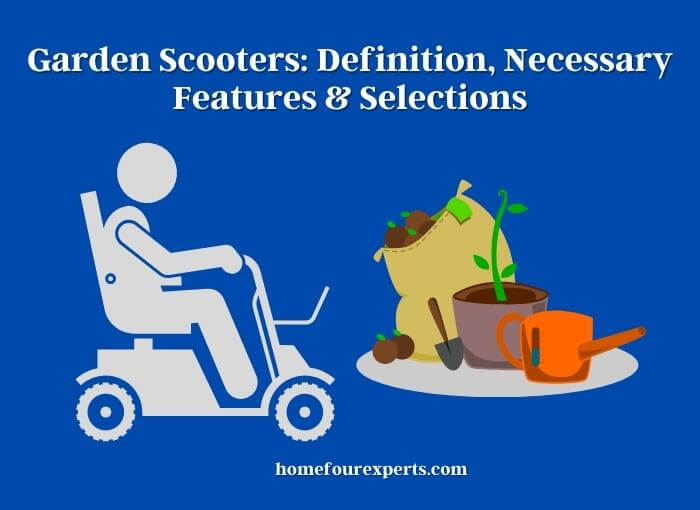 A garden scooter allows you to carry gardening tools and equipment while working. Which lessens your burden to carry them by yourself.
By having a garden scooter planting, weeding and pruning become very easy and comfortable for you.
But you need to pick the right one to do this.
And to pick the right one you should take care of a few things which I've discussed in this buying guide.
What is a Garden Scooter
By garden scooter, we understand the combination of a regular or adjustable seat with a wheeled mechanism to move or swivel around your garden.
If you own a garden scooter, you don't need to bend, crouch, or strain for gardening. You can also store your tools and device easily in it by attaching a storage unit.
You can store them outdoors without being worried about corrosion or rust as they come with weather resistant finish.
The Features of a Good Quality Garden Scooter
Garden scooters are incredibly comfortable and useful devices. But you need to know about the features that make it 'incredible'.
This means you need to know about the features of a good quality garden scooter before buying a garden scooter.
And they are-
Material
Usually, garden scooters are made with rubber, metal, or hard plastic. If you want a heavyweight scooter to carry several garden tools, pick one with a steel frame and large rubber wheels. If you want a lightweight scooter that you can pull easily within the garden, go for a scooter that is made with hard plastic.
Type
Garden scooters are categorized into two types according to design- one type is an enclosed design and another one is an open design. The wheels of the enclosed models are covered with the seat and the seat is also not adjustable in this model.
On the other hand, open-model garden scooters have adjustable seats and they are quite similar to a small tractor.
Storage
The garden scooter you're going to buy must have enough storage capacity for your tools and other necessary things. So check that the utility tray and the rear basket of the scooter are big enough to carry all of your important items.
Size
Another important thing you should consider before buying a garden scooter is its size. If you need to carry around many tools and equipment, pick the one which is a little bit large.
Color
For outdoor equipment, you should choose a color that is easy to clean. The color should also cover the dents and scratches that get during use. For a garden scooter, the preferable colors are black, brown, green, or gray as they blend well with nature.
Durability
Check the durability of the scooter before buying. For this look for the frame material, wheels, and tires. For a durable one, you can choose the steel frame and rubber wheels.
Customizability
All gardens and gardeners are different. That's why a customizable scooter is preferable. A customizable garden scooter allows you to customize it according to your preferences.
Price
Next important thing is to check the price. It is known to all that the price of a device depends on its quality, functionality, and durability. So check your budget and requirements and pick the one that suits them both.
The Benefits of Using a Garden Scooter
Using a garden scooter can provide several benefits, including:
Ease of movement: A garden scooter allows for easy movement around the garden, making it easier to tend to plants and perform other tasks.
Reduced strain on the back and legs: Sitting on a scooter can reduce strain on the back and legs, which can be beneficial for people with mobility issues or chronic pain.
Increased efficiency: A garden scooter can make it quicker and easier to move around the garden, allowing you to get more done in less time.
Increased comfort: Garden scooters often come with a seat and backrest, providing a comfortable place to sit while working in the garden.
Versatility: Some garden scooters come with attachments or accessories, such as a basket or tray, which can be used to transport tools or plants.
Safety Features Included With Garden Scooters
Garden scooters may have a variety of safety features, depending on the specific model and manufacturer. Some common safety features include:
A seatbelt or harness to keep the user securely seated
A brake or locking mechanism to prevent the scooter from rolling away
A sturdy frame and durable construction to support the weight of the user
Handrails or other support bars for stability
Non-slip or anti-tip wheels to prevent the scooter from tipping over
Reflective materials or lights to increase visibility while using the scooter at night
A horn or bell to alert others to the scooter's presence. It's important to check the product's documentation or consult with the manufacturer to see which specific safety features are included with a particular garden scooter.
View Some of Selected Rolling Garden Scooters-
1. Suncast Garden Scooter (Model No GDS200D)
Material: plastic;
Maximum weight limit: 200 pounds;
Storage space:  8.5 gallons;
Includes scooter, foam cushion, bin, and a pull strap.
Weight: 8.91 pounds.
If you are (a) under 200 pounds, (b) own a large yard and (c) looking for a comfortable and spacious garden scooter, then this one is just for you. Unlike most of the other widely used garden scooters, this one is made from plastic, but sturdy ones. It is box-shaped and the entire space under the seat can be used for storage, either garden supplies or the produced goods.
This scooter weighs just several pounds, even a toddler can stroll it around easily. Besides, being plastic, it is rust-free, so you don't have to stress about keeping the scooter safe from sun and rain.
The price is very low as there is no metal used while producing this ride. There is nothing to attach or tighten in this scooter, hence, it comes pre-assembled. This one is a great option as a present to any enthusiastic gardener or just to make your gardening more productive.
Things We Liked
A lot of storage;
Comfortable to sit on;
Pre-assembled and maintenance-free;
Lightweight, easy to move.
Things We Didn't Like
Not for people above 100 kg.
---
2. Gardener's Supply Company- Deluxe Tractor Scoot with Bucket Basket
Material: tubular steel;
Maximum weight limit: 400 pounds;
Storage space:  5 gallons;
Includes scooter only;
Colors: red, blue, and green;
Seat height: 16″ to 19″;
Weight: 37 pounds.
To accomplish any kind of outdoor project stress-free, a durable scooter is a piece of essential equipment. If durability is what you are seeking for meeting your purposes, then this model from Gardener's supply can satisfy you. With its highest weight capacity of up to 400 pounds, it is the most durable one on your list.
The entire scooter is made from 1-inch thick tubular steel and the wheels are 10-inch diameter pneumatic wheels. So that the scooter can withstand years of abuse irrespective of the weather. There is a small tray underneath the seat and at the back of the seat. The trey is suitable for gloves, bird seed, and other smaller items whereas the bucket at the back has 3 gallons of storage space. Using a tub and extending the capacity even more!
The main advantage of this scooter is its adjustable seat and pulling handle. That is a useful feature if this scooter is being used by different people from the same family. Only the weight of the scooter is something you have to deal with, which reduces its portability.
Things We Liked
Durable;
Adjustable seat;
Highest weight capacity.
Things We Didn't Like
Awful-smelling tires;
Heavy. 
---
3. Best Choice Products – Mobile Rolling Garden Work Seat 
Material: steel;
Maximum weight limit: 300 pounds;
Storage space: 3 gallons;
Includes scooter only;
Colors: green;
Seat size: 13.25" X 17";
Seat height: 23";
Weight: 33 pounds.
This one has all the features of a basic garden scooter, with minor flaws. Despite that, we decided to place this scooter on our list because of its durability. Most of the welded joints and paints are done manually, hence the finish is not high-end, but that never affects its performance.
Its storage seemed insufficient for gardening to me if you have an enormous one. For a small to medium garden, this scooter is okay. The construction and painting of this scooter are suitable for rigorous outdoor use. There is less possibility that rust will appear on this very soon.
Its weight is lighter than the Gardener's supply scooter, but that is still pretty heavy to be steered by younger gardeners. But the seat is adjustable and comfortable as well, even without any cushion. Overall, it is a decent garden scooter available at a decent price. The assembling is easy, but you will need a pair of wrenches and a screwdriver to do that on your own.
Things We Liked
Adjustable and comfortable seat;
Strong and sturdy;
Easy to move around. 
Things We Didn't Like
---
4. Ames Lawn- Buddy Lawn Cart – (Model No 1123047100)
Material: plastic;
Maximum weight limit: 200 pounds;
Storage space: 2 cubic feet;
Includes scooter only;
Colors: light brown and dark brown;
Seat size: 26.5''x14'';
Seat height: 15'';
Weight: 9.7 pounds.
Another box cart style garden scooter is on our list, as these are very convenient for storage and come with greater portability. The advantage of this scooter is, you can use it as your gardening toolbox and carry it as you go. No need to waste time choosing and picking your tools. Besides, the features are absolutely minimalistic. There is nothing to assemble. Just flip the seat, hold the handle and go.
The only drawback of this scooter is its smaller and low-quality wheels. These toy-like wheels give out within months. But there is nothing to worry about, just replace these with metallic wheels once they start cracking and your cart cum scooter will be in use for years to come.
Things We Liked
Very light;
Huge storage;
No possibility of tearing or rust-out. 
Things We Didn't Like
Pricey;
Low-quality wheels. 
---
5. YSSOA Rolling Collapsible Garden Cart Camping Wagon
Material: plastic;
Maximum weight limit: 220 pounds;
Collapsible Push Hand Truck with 220 lbs capacity;
Overall size – 21 x 34″ x 24″;
Folding Size: Only 6.5'' Thick".
The folding garden cart folds/unfolds in a flash. It highlights steel development, a folding switch, slides safe, and 360-degree pivoting wheels for better well-being execution, simpler moving, and most extreme strength. The lower part is a storage box with a 2 cubic foot capacity and the wheels let everything roll around the garden.
However, no matter how genius the design is, there are some serious design flaws in this modern-style garden scooter. If you sit on it, the hinges to the sides pop open. Besides, there is no handle or pull strap to move the cart easily. You have to pick it up and carry it, which can be bothersome depending on how dirty and heavy the scooter is.
The plastic material used for the scooter is flimsy, there is less chance that it will make up to several years. Despite all the negativities, it can still be a good one as a storage box if it is used less often by a lean person.
Things We Liked
Anti-slip wheels help prevent the cart from slipping;
Hold up to 220lbs weight capacity;
Easy to move around smoothly.
Things We Didn't Like
Less durable;
---
6. Goplus-Garden Cart Rolling Outdoor/ Lawn/ Yard/ Patio Wagon Scooter
Material: metal;
Maximum weight limit: 330 pounds;
Includes scooter and garden gloves;
Colors: green and black;
Seat size 17.5" x 14",
Seat height: 19.5'' to 21.5'';
Weight: 29 pounds.
In terms of durability, nothing can beat the sturdiness of classic garden scooters. So, here is another basic scooter for your years of stress-free use. It is made from durable metal and powder coated to make it rust-resistant. Like other scooters, it comes with a tray and a square basket for storage.
The wheels are 10 inches in diameter with rubber tires, which is perfect to deal with muddy and stony surfaces. The best thing is, the seat cab swivels 360 degrees and can be adjusted between 19.5" to 21.5". Besides, the scooter is so durable that it can hold people up to 330 pounds!
The main problem with metal garden scooters is, they can't be light. However, this scooter is lighter than other competitors. Another problem is the storage, which is less than the box-shaped plastic scooters. If you are ready to deal with these, then this scooter can be the best buy for you.
Things We Liked
Impressive customer service;
Strong and long-lasting;
360-degree swivel adjustable seat. 
Things We Didn't Like
---
7. Sunnydaze Rolling Garden Cart Scooter 360 Swivel Seat
Material: metal;
Maximum weight limit: 225 pounds;
Colors: green and black;
Seat size 17.5" x 14",
Seat height: 16.5'' to 22'';
Includes scooter only;
Weight: 28 pounds.
I appreciate the adjustment of this scooter. Its seat can be taken as down as 16 inches from the ground or as high as 22 inches. If you are looking for a scooter with a comfortable seating position to do numerous projects including gardening, then picking up this one will save you money. Because not all projects require a lower sitting position, hence you can adjust the seat to the lowest while gardening or the highest while working in the garage.
Though its weight capacity is not the highest, it is durable enough to carry people up to 100 kg. The seat is spacious as well. The included rack and tray keep your supplies and necessary tools at arm's reach.
The warranty offered for this scooter makes it a more promising purchase for your garden. If you have young children living in your house, who may become interested in playing with this scooter, then think twice before ordering. Because the advertisement says not to.
Things We Liked
Comes with a long warranty;
Comfortable seat;
Large seat;
Long-lasting.
Things We Didn't Like
---
8. Peach Tree- Heavy Duty Rolling Garden Carts Work Scooter
Material:  heavy-duty steel;
Maximum weight limit: 300 pounds;
Colors: green, blue, and red;
Seat size 17.32″ x 13.78″,
Seat height: 16.5'' to 22'';
Handle adjustment: 20.08″ to 30.71″
Includes scooter only;
Weight: N/A;
Apart from the seat, the handle is also adjustable in this scooter. The manufacturer understands that everyone is not of the same height or physical condition. Hence, an expandable handle enhances usability when it comes to a garden scooter. If the bottle green color of all other producers seems boring to you, then you can look for other color variations here.
The seat size is smaller than the previously reviewed Sunnydaze one, but compared to the weight capacity, the size is perfect. Because any person below 300 pounds will never need a seat over 17 inches wide. The attached air-filled rubber tires serve you for a really long time without giving up.
This scooter will be a blessing for senior citizens, especially those who desperately seek comfort to ease their physical limitations. The handles help to pull the scooter, but it does not help to steer it. For steering, you have to lift the front wheels up in the air and move the scooter on the rear wheels. It's an easy job as the scooter is not so heavy.
Things We Liked
Has color variation;
Excellent tires;
Comes with an extendable handle;
Things We Didn't Like
No instructions for assembly.
---
9. Sunnydaze Garden Cart Rolling Scooter with Extendable Steering Handle
Material:  heavy-duty steel;
Maximum weight limit: 225 pounds;
Colors: green, blue, and red;
Seat size 17.32″ x 13.78″;
Seat height: 16.5'' to 22'';
Handle adjustment: 42″ to 47″
Includes scooter and assembly tools;
Weight: 30 pounds.
Considering the range of features of this scooter, we have decided to put another Sunnydaze s garden scooter on our list. With a swivel and adjustable seat, this one has an expandable handle, high-quality wheels, and durable storage tray and basket.
Despite the great features, unfortunately, this ride has got several negative reviews because of its poor welding on the front part. Which is responsible for bending or breaking down after first use even if the user is not close to the weight capacity margin.
However, for this reason, I personally don't recommend it to anyone who is over 200 pounds. Like other Sunnydaze products, it is backed by a warranty for any manufacturer malfunctioning. Another positive thing about this scooter is, you don't have to own any screwdriver or wrench to put it together this thing. All equipment for assembly is included in the package.
Things We Liked
Warranty offer;
Comes with tools for assembly;
Handles are highly expandable.
Things We Didn't Like
Not for people over 200 pounds;
Heavy. 
---
10. Fox Valley Traders Rolling Garden Cart Scooter with Seat
Material: durable plastic;
Maximum weight limit: 250 pounds;
Approximately 19 inches long x 19 inches wide x 13 inches high;
Seat height: 14'';
Drink holder size: 12-ounce"
Includes scooter and assembly tools.
It is the smallest and most compact garden scooter on our list. With its under-storage, wheels, cover cum seat, and drink holder it is minimalistic also. You don't have to worry about assembly, disassembly, seat size, storage dimension, or maintenance. Spend on this scooter once and you will be worry-free for years.
It is the lightest scooter also, there is no need to pull this around as you go. There is a built-in handle on the lid cum seat so that you can pick it up and carry it everywhere like a toolbox. Its small size and lightweight increase its portability. Place it in your car and carry it anywhere for the campaign, bbq parties, or any other project.
The size and shape are less like a garden scooter and more like a toy car for toddlers. It will surely enhance the look of your patio or yard even if it is left there without maintenance. Only a mixture of soapy water is enough to clean this scooter occasionally.
Things We Liked
Maintenance-free;
Ultralight;
No assembly is required;
Compact design.
Things We Didn't Like
---
Conclusion
If you love gardening and have a huge garden full of your favorite trees and plants, you need to take proper care of them regularly. But it is quite impossible to take care of a large garden without a motorized vehicle. Because any type of laborious task is nearly impossible when pains and aches become involved.
In that case, a garden scooter can be the savior!
You can complete your gardening properly without any pain or injury with its help of it in a very short time.
For choosing the right scooter to serve your purpose, you can check out the features that make a scooter the best one.
And if you get confused to choose one from a wide range of variations, my top 10 list can help you. Because in this list I've tried to include almost all types of scooters from low-budget to high-budget.
You just need to match your requirements with the scooter and get the best one for you.
So what are you waiting for!!!
Get your one and start gardening…
You Might Also Like: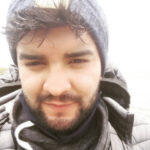 Hi, I am Eric Devin and I am a professional interior architect. Since childhood, I've always enjoyed DIY projects! And, I have loved to solve simple household problems using essential tools and equipment. I have also acquired a lot of information about basic household tools settings by working with contractors.