A pair of hiking poles is an essential thing for a hiking or backpacking trip. There are tons of advantages of using hiking or trekking poles for the person who walks regularly. If you walk a few miles without any hiking poles or even without hiking sticks, your knees will hurt, and you will not be able to walk more comfortably.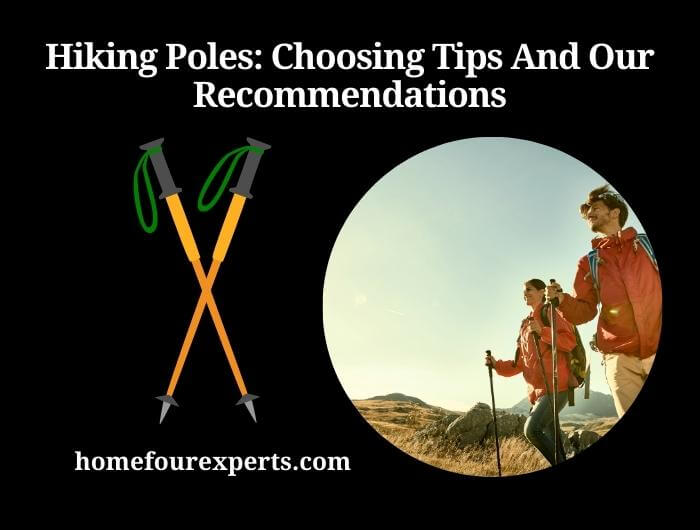 Using poles will improve balance and extra support, and you will not feel any pain in your knees even after walking a long distance. So if you are a hiker and looking for the best hiking poles but don't know how to choose them, then you are in the right place.
How to Choose Your Perfect Hiking Poles
If you want to get the best trekking poles, then you have to consider a few things. There are huge amounts of trekking poles available, and choosing one from them is not so easy. We described the factors that you should consider to get the best one from thousands of hiking poles.
The build material of the pole is an important thing. The durability and stability of the pole depending on the fabric of the pole. Aluminum and carbon fibers are the two major materials, and most hiking poles are made of them. Both are good, but the aluminum pole is less durable and cheaper, the carbon fiber-made pole is light and much more durable.
When you pick a hiking pole, make sure that the pole you are choosing is easily adjustable. You may need to reduce or shorten the pole when you are hiking uphill. Also, sometimes you have to make it taller when you are going downhill.
The hiking pole's shock-absorbing feature is essential for people who have damaged or weak ankles, or knees. So if you have a problem with your knee or hips, then choose the one that is shockingly absorbing.
The locking mechanism is a crucial factor that you should consider when you are buying a hiking pole. You can use an external lever lock to adjust the pole easily.
The hiking poles must be comfortable as you have to use them for a long time. For this reason, the grip of the hiking pole is the most important factor. There are a few types of grip used in the hiking pole. Choose the grip according to your need as every type of grip has different facilities. For instance, the foam grip absorbs moisture, and they are comfortable. On the other hand, the rubber grip keeps your hand from getting cold when you are using it during the winter season.
Packability is another factor that you should consider. When you are taking the hiking pole somewhere or not using it, you should pack it down. So think about the packability when you are picking a trekking pole. "To strengthen your legs and muscles, you might have predetermination to get yourself involved in shooting, usually
in the terrain which makes you grow for hiking. As far as it is concerned to observe rifle scope reviewed which needs to make your
damaged or weak ankles fit for hiking."
Benefits of Using Hiking Poles
Hiking poles can provide several benefits for hikers, such as:
Improved balance and stability: Hiking poles can help you maintain balance on uneven terrain and reduce the risk of falls.
Reduced stress on joints: Hiking poles can take some of the weight off your legs and help distribute it across your upper body, which can reduce the stress on your knees and hips.
Increased endurance: Hiking poles can help you maintain a steady rhythm and can help you hike longer distances with less fatigue.
Better traction: Hiking poles can help you maintain better traction on slippery surfaces and can help you navigate through muddy or snowy terrain.
Additional support for heavy loads: Hiking poles can help support the weight of a heavy backpack, which can reduce strain on your shoulders and back.
Emergency tool: Hiking poles can also serve as an emergency tool, such as in case of crossing a river, or as a tent pole.
Safety Tips Should Be Followed When Using Hiking Poles
When using hiking poles, it is important to:
Use the correct hand position: Hold the poles with your hands at a 90-degree angle, with your wrists straight and your fingers wrapped around the handles.
Plant the poles correctly: Plant the poles on the ground beside your toes, with the tip of the pole pointing slightly behind you.
Keep your arms straight: Keep your arms straight while using the poles, as this helps to take pressure off your joints and improves your balance.
Use the wrist straps: Use the wrist straps to help keep the poles securely in your hands, especially on steep inclines or when going downhill.
Adjust the pole length: Make sure the poles are the right length for you, as this will make it easier to use them correctly and prevent injury.
Be aware of your surroundings: Be aware of your surroundings, especially when hiking in crowded areas.
Keep an eye on the trail: Keep an eye on the trail ahead and watch for obstacles, such as rocks and roots, that could trip you up.
Take breaks: When you get tired, take a break and rest your arms.
Don't overuse it: Poles can be helpful for balance and support, but don't rely on them too much. Overusing them can lead to injuries and muscle strain.
Lastly, always carry a first aid kit and carry a phone with you in case of an emergency.
Quick Solutions
Is It Better to Hike With One Pole or Two?
Hiking sticks make it easy on the knees. Gear has changed tons since many folks started hiking. Hikers often ask how two trekking poles are better than one "regular" walking stick. The only answer to the present question is that poles give symmetrical support that one stick doesn't.
What Size Hiking Pole Do I Need?
If you are taller than about 6 feet, choose a hiking staff or trekking poles that have a maximum length of a minimum of 51-inches. If you're shorter than 6 feet tall, you will be ready to shorten the most adjustable trekking poles and hiking staffs enough to form them work for you.
View Our Top Hiking Poles- That Are Trustable
We selected five top-rated trekking poles and reviewed them in this article. We believe that this article will help you to choose the right hiking poles.
1. Montem Ultra Strong Hiking Poles
These hiking poles are very lightweight and usable in all seasons;
Montem Ultra Strong Hiking Poles have dual flick lock pole locking mechanisms;
These hiking poles are easily and quickly adjustable.
Montem Ultra Strong Hiking Poles are top-rated and high-quality poles. This pole has some outstanding features that indicate that this is a reliable and quality hiking pole. 
First of all, the weight of this is light, but these poles can take 350lbs of weight, which is quite a decent weight. Packability is a crucial thing, and this trekking pole comes in three pieces so you can easily store them. Aluminum used in this hiking pole is used in the airplane which made it sturdy. It has excellent locking mechanisms that will allow you to adjust the length easily. Also, the price of these hiking poles is not very much.
Pros
Come with nylon straps;
Light and can take much weight;
Comfortable and has an extended grip.
Cons
These poles are not so durable.
2. TheFitLife Nordic Walking Trekking Poles
Handle material: rubber;
Strap material: polyester;
Alloy material: aluminum alloy;
Tip material: rubber;
Full Length: 51 inches (130 cm) / Closed Length: 25.6 inches (65 cm);
Net weight: 0.27 kg for each.
These poles are very versatile and designed for four seasons. The entire weight of the pole is low, and the strength is well. It also has a dual flick lock pro pole locking system. You can easily adjust this as it has perfect locking mechanisms. If you have a problem with your knee, then this will also help you by absorbing shock. 
These hiking poles use Shock technology that provides shock absorption in four-stage. It has a comfortable non-slip foam grip. Alongside these features, TheFitLife has low-profile trekking baskets. You can purchase this hiking pole without any hesitation and with full confidence.
Pros
Ultra-light and durable;
Adjustable, easy to use, one size fits all;
Extra-long EVA foam handles with straps;
Easy to compress, small enough to store in your backpack.
Cons
3. Montem Ultralight Carbon Fiber Hiking Poles
Extreme and light carbon fiber hiking poles;
Easily adjustable bolts that will allow you to adjust the length very quickly;
Comes with nylon straps for safety.
If you are looking for an excellent pair of hiking poles that are very light, and durable, then you can go for the Montem Ultralight Carbon Fiber Hiking Poles without thinking twice. 
These poles are made of carbon fiber which made them very strong and extremely lightweight. These poles come in three-piece so you can easily carry them as these poles are using a hundred percent carbon fiber to entertain the strength even in high temperatures. The nylon straps of these hiking poles ensure safety. You can easily adjust the length as these poles have adjustable bolts. Overall this hiking pole is an excellent choice.
Pros
Made of anti-shock material;
Lightweight and durable;
100% Carbon fiber made poles with low vibration.
Cons
The durability could be better.
4. Cascade Mountain Tech Trekking Aluminum Hiking Poles
Shaft Material: Aluminum;
Grip Material: Cork;
Locking Mechanism: Quick-Lock;
Single Pole Weight (no rubber tips): 10.4oz;
Pole Extension Lengths: 26″-54″.
Cascade Mountain Tech Trekking is made of durable material, and the folding design of these poles is awesome. These poles are comfortable, and their length of them can be easily changed. It uses double flick locks, and the carbide tech tips of these poles are interchangeable. Though it has some issues with minimum length but at the price of this.
These are overall perfect trekking/ hiking poles. The shafts are built using aluminum which made them sturdy and long-lasting. It also has a 360 degrees padded strap. This hiking pole is excellent, and you can go for it.
Pros
Very easy to use, and the weight is light;
Lowers the vibration with each step;
Moisture-wicking;
Comfortable cork handles with good grip;
The height is easily adjustable.
Cons
5. Cascade Mountain Tech Carbon Fiber
Cascade Mountain Tech Carbon Fiber is Made of high-quality 100% carbon fiber;
Comes with an adjustable wrist strap and carbide tips;
Two grip options are available (CORK OR EVA).
Cascade Mountain Tech Carbon Fiber Trekking Poles are very durable trekking/ hiking poles that come at an affordable price. The overall quality is excellent, and the durability and design are also good. The locking system of these poles is fast and lever-type. Poles are made of full carbon fiber. The total weight of these poles is very light. You will get rubber covers and hard carbide tips with these hiking poles. 
This hiking pole's twist-lock feature is very good; you can easily adjust the height without less effort. From our perspective, Cascade Mountain Tech Carbon Fiber is excellent quality and reliable hiking pole.
Pros
The price of Cascade Mountain Tech Carbon Fiber  hiking poles is affordable;
Lightweight and compact;
Easy and quick lock mechanisms.
Cons
Too thin and low-quality rubber feet.
6. Hiker Hunger Ultralight & Collapsible with Quick Flip-Lock Pole
Strong, durable & long-lasting;
Lightweight & high quality;
Collapsible.
These poles have all others' features like – lightweight 100% carbon-fiber, with clasp locking segments and cork handles. They also come with a carry bag, rubber feet, snow, and dirt baskets, even as tip covers—these desires they're going to last well.
The flip locks are easy to unfold, adjust, and shut and do not slip or need to be re-adjusted during the hike. The cork handles are comfortable on your hands. The wrist straps are easy to regulate and also don't slip during use. The tungsten tips gripped every rock surface they touched and never slipped once.
Pros
Quick flip-lock;
Cork grips;
Carbon fiber shaft material.
Cons
Final Words
Choosing the perfect poles for hiking is not an easy task as there are lots of hiking poles available on the market from various manufacturers. But if you follow the buying guide of this article and do some research, you will be able to pick the right one. Lightness and durability are key factors of high-quality hiking poles. Also, think about the place where you will use to hike the poles.
We recommend you pick a product from the list that we have reviewed in this article if you don't want to spend time doing research. You can buy hiking poles from the list without any doubt because they are great and have many features. So no more words! Best of luck with your next hiking trip with the newly purchased hiking poles.
Read More: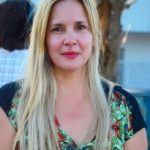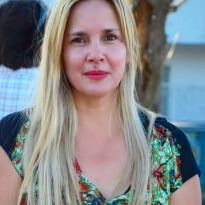 Guys, I am Camila Avery and I love to help my mom to do indoor & outdoor activities. As a lady, I have passed my time on gardening, home improvement, and personal or self-care. I have acquired some degrees in outdoor recreation, beauty, and hair care. It is not easy to work with top-level professional beauty experts. But, I got that opportunity and experimented with different hair extensions, hair colors, and cuts.