Sanding is an important part of woodworking. Before staining or painting, we need to sand the wood's surface, which is boring and tiring work. Staining will be easier if it can be done without sanding.
We use the stain on every wooden thing as required. But today, I am going to discuss how to stain kitchen cabinets without sanding. After reading the article, you can find yourself a good one to work at home.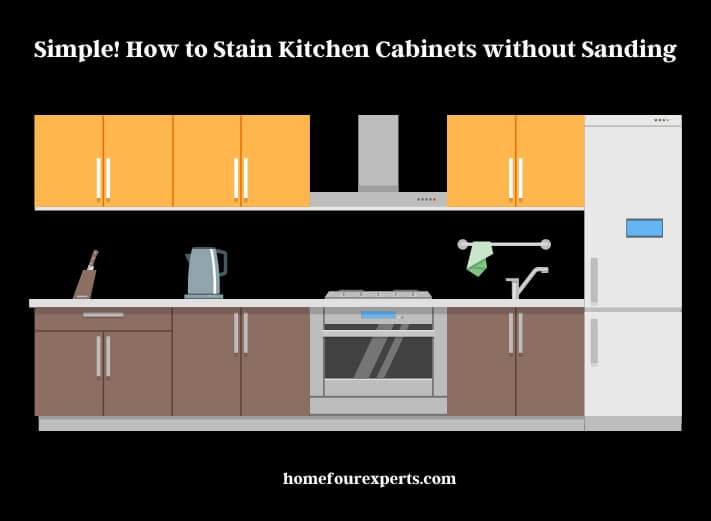 Before starting any work, you need to plan about it because of satisfaction after completing the work. The most important thing is to keep in mind the safety procedures during work. Now, try to learn about the required equipment and the process.
Required Supplies or Equipment
Before starting any project, we need to list the required equipment. As a result, we can complete the project without any problem. Now, I will try to give you a list of equipment needed below:
Paint
As we are working on staining or painting the kitchen cabinet, we need to choose a suitable paint that is difficult. For selecting paint that is good at withstanding heat and moisture, we can use a titanium dioxide pigment formula. But applying cheaper calcium carbonate is less appropriate.
Grease-Cutting Soap
For removing grease in the kitchen, we need grease-cutting soap. We can also make it by mixing vinegar and water in a spray bottle. To clean, harden the grease, and further help, we can apply vinegar directly for five minutes.
Scrubber
We also need a scrubber to trim or scrub the kitchen cabinet, especially the angled one. BY using a scrubber, we can remove grease easily. That's why we must select a microfiber sponge.
Paint Brush or Roller
To choose a paint brush or roller, we need a small size like 2.5 inches angled brush or 4-6" roller. It is suitable for both primer and paint.
The Procedure of Staining the Kitchen Cabinet without Sanding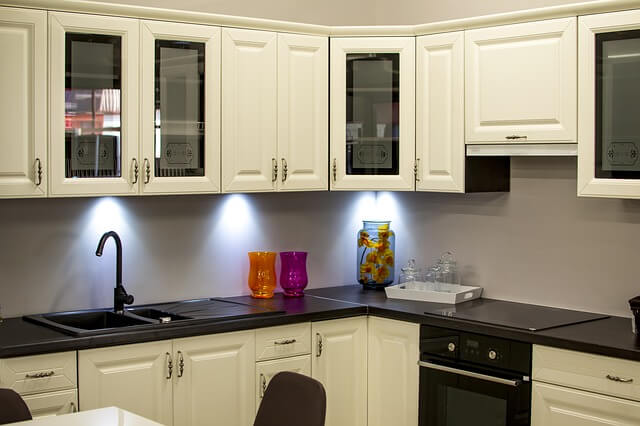 If you want to stain a kitchen cabinet by yourself or you are looking for the answer to how to stain kitchen cabinets without sanding, you need to read properly the below procedure:
Step 1:
First, you need to prepare the area before starting to stain the kitchen cabinet. If you want to stain the new cabinet, it would be better to hang it on the wall after staining. On the other hand, you need to separate the cabinet's drawer or door by using a manual screw for staining an old kitchen cabinet. Then cover the wall and countertop with newspaper.
Step 2:
When you are done removing drawers and doors, you need to clean the dust with the rag. The soft cloth is excellent for wooden furniture.
Step 3:
To remove the old stain, you need to apply a stain or paint stripper on the cabinet's previous stain surface. You must follow the instructions on the container.
After waiting for the proper time, you can remove the stripper from scraping by the scraper tool. You can continue this process until all old stains are removed.
Step 4:
You can clean cabinets with a wood cleaner that contains deglosser. You can use an old rag for applying the cleaner in the exposed area to remove any residue from the chemical stripper and old stain.
Step 5:
After applying the first coat of wood cleaner, let it dry, and use a new wood stain on the old rag to apply in the exposed area. Rub the rag gently in a circle to produce an even color.
Step 6:
After applying the coat, let it dry overnight. You can use another coat if it is required. For applying the coat again, you need to follow the same procedure.
Step 7:
After completing the stain kitchen cabinet, you need to assemble everything. For assembling, you can use a manual screw.
FAQs
Is It Suitable to Stain Over Stain Without Sanding?
Yes, you can stain over stains without sanding. For this process, it is better to use gel stain. Gel stain does not need sanding. You can stain over the stain to bring the glaze.
What Is the Best Way to Apply Stain on the Kitchen Cabinet Without Sanding?
When you are not sanding, you need to find the best options for staining cabinets. You can use a paintbrush or old cloth to apply a stain on the cabinet. Keep in mind that the cloth must be soft.  
Conclusion
After reading the article, you can learn the procedure of how to stain a kitchen cabinet without sanding. You can also learn from the video given below:
Gel stain is a better option in this process. You do not need to worry about sanding when the cabinet is not in a serious condition. If the cabinet has heavy dents and scratches, it needs to be repaired. Otherwise, you can not apply any stain or paint properly.
Read more: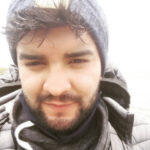 Hi, I am Eric Devin and I am a professional interior architect. Since childhood, I've always enjoyed DIY projects! And, I have loved to solve simple household problems using essential tools and equipment. I have also acquired a lot of information about basic household tools settings by working with contractors.