This article includes affiliate links, which means we may earn a commission if you make a purchase following our link. Please refer to our review guidelines.
From professional woodworkers to DIY people all need a sturdy sander to remove the present finish of furniture to apply a new coat for a shinner and better-looking furniture. 
If you are reading this article, you may know that stripping involves sanding. Stripping is the correct name of removing the existing polish, which is done with the help of a sander. 
On the other hand, we think surface sanding is easier than edge sanding of furniture. The edge sanders can only give shape to a piece of furniture, but striping can give it a final polished look.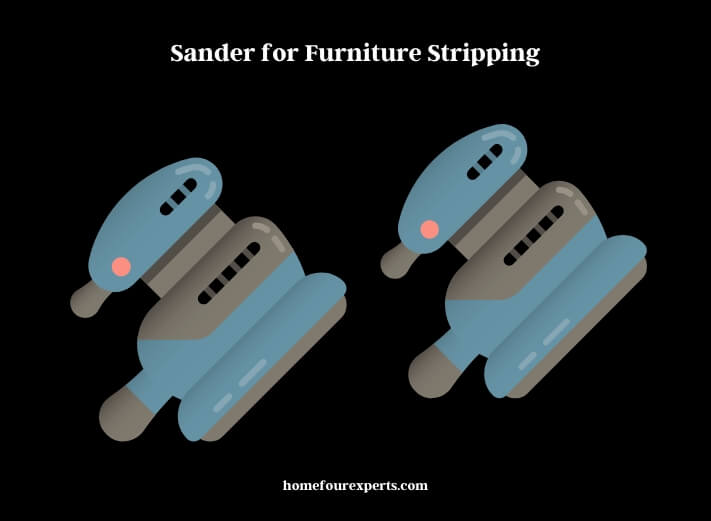 Choosing a good sander might be a hectic task if you don't have enough knowledge about it. So for a better understanding of how sanders work and how to choose one that fits your needs, we suggest staying with us till the end.
Features You Might Consider Before Choosing
To get a smooth uneven surface of furniture, you need to find some general types of sander with some extra features for multipurpose usage.  
We know that it's confusing to choose the perfect sander for furniture stripping from several categories like Orbit sander, Detail sander, Palm sander, and so on. Following are some points you should acknowledge when buying a sander:
Power Level
Sander is a powerful tool, so always try to buy it with more power. But always keep in mind the time and energy you need in the project to discover the power. More power produces more speed. A sander measures with OPM, the more OPM a sander has, the faster rate it provides. Always make sure the sander you buy can provide that much power.
Vibration
Power and vibration are related to each other. More power means to get more vibration. Since you'll be holding the sander in your hand, probably for quite some time, less vibration will be way more relaxed. It will help if you are concerned about this fact because too much vibration can be harmful to health. 
Sander Types
There are different ways of furniture stripping. If you are using a sander, you need to know the types and features for smooth operation. You'll have to choose from these three types – an orbital (aka sheet or palm) sander, a detail (aka mouse) sander, and a random orbital sander.
An orbital sander is a multitasker; a detail sander is perfect for reaching steep angles that you can't reach with any other sander. A random orbital sander is a combination of the orbit and detail sander, causing lesser scratches.
Dust Collection
Furniture stripping is messy work, and a built-in dust bag plays a vital role in getting your workplace less dirty. The sanding work creates lots of flying trash that can be dangerous for eyes. So make sure the sander comes with an integrated dust bag.  
User Friendly And Safety
When using any power tool, safety always comes first. Before buying a sander, check if it has a pad brake, ergonomic handle, and duct collection bag to keep yourself safe. Even if you have a low budget, try to purchase a sander with an ergonomic design, appropriately placed buttons and switches, and low weight. All these features make a sander user-friendly too.
What Techniques Do You Use to Ensure the Best Results?
1. Research: Researching the client's industry, competitors, and target audience is key to understanding the objectives of the project and achieving the best possible results.
2. Planning: Creating detailed plans for the project to ensure that the end result meets the expectations of the client. This includes understanding the scope of the project, determining the timeline, and outlining the steps needed to complete it.
3. Communication: Open and frequent communication with the client is essential for understanding the needs of the project and making sure all expectations are met.
4. Testing: Testing the project throughout the process to ensure that it meets the quality standards of the client.
5. Collaboration: Collaborating with other professionals, such as designers, writers, and developers, to ensure that the project is completed in an efficient and timely manner.
6. Feedback: Incorporating feedback from the client throughout the project to make sure that the results meet their expectations and standards.
What Safety Measures Do You Take When Stripping Furniture?
1. Wear protective gear such as safety glasses, gloves, and a dust mask.
2. Ensure that the room is well-ventilated.
3. Avoid using harsh chemicals and abrasives.
4. Work in a well-lit area.
5. Dispose of hazardous materials properly.
6. Use a putty knife for scraping off finishes.
7. Remove hardware with a screwdriver or nut driver. 8. Sand the surface with an orbital sander.
9. Avoid stripping furniture with a blowtorch or other open flame.
10. Be careful when dealing with lead-based finishes.
Editor's Speech
We hope after reading these detailed features, pros, and cons, it'll be easier for you to choose a perfect sander for your furniture stripping.
Before choosing one of the sanders from below, we suggest checking their speed and power and seeing if it fits your needs. All of them are high-quality sanders with unique specialties that will do an excellent job of refinishing furniture.
View Top 7 Sanders for Furniture Stripping, Below
1. Black+Decker BDER0100 Furniture Stripping Orbit Sander
Click on the Image >> See on Amazon
Weight: 3.16 pounds;
Power: Corded 120 volts;
Capacity: 2 AMP;
Disc size: 5 inches.
The famous manufacturer Black+Decker introduces this 5-inch orbital sander to us that takes care of all material removal needs conveniently. The sanding blade's rotatory action gives wooden or other objects a high-quality polish. 
It works faster and efficiently with a high removal rate by its 2 AMP motor. It comes with a hook and loop system that makes the sanding paper change super fast and easy. 
This tool contains a sander, sanding sheet, and dust bag. It has a dust-sealed switch to keep all dust and debris out to increase tool life. The random orbit action of the sander provides fast removal of waste.
The compact size allows the user to control the sander easily. Further, it balances power and control to get into tiny spaces, especially with the added finger attachment. The power of the sander is directly equal to the weight you apply to it, which is excellent for any significant projects.
Pros
Great balance in power and control;
Give a smooth finish;
It comes with a sandpaper and dust collector;
Compact and easy to store;
Perfect for small and medium-sized projects.
Cons
Can not press against the other materials;
The hook and loop are curved.
2. Makita BO4556K Furniture Finishing Sander with Case
Click on the Image >> See on Amazon
Weight: 2.5 pounds;
Power: Corded 120 volts;
Capacity: 2 AMP;
Speed: 14,000 OPM.
Makita's BO4556K sander designed faster and smoother execution for furniture striping with an ergonomically designed contoured rubberized palm grip and easy to use features. It is an ideal sander for woodworkers and carpenters who need a best-in-class sander. 
The lightweight body(2.6 pounds) and 2 AMP motor produce 14,000 OPM speeds for quick, smooth finishing. Furthermore, it is designed with all ball-bearing structures that significantly lessens vibration and noise. 
There is an on/off switch on the upper side of the body to start, work, and shut down the sander by only using one hand. Additionally, the rubber-sealed switch protects the tool from dust pollution and increases the longevity of the device.
The active pad dust collection system with the fabric dust bag with an extra-wide mouth helps collect the dust faster to manage a clean work atmosphere. The large paper clamps help the user to install the paper quickly and efficiently.
This device includes abrasive paper, punch plate, dust bag, and tool case. Lastly, we want to say this sander is ideal for a wide range of finish sanding purposes. 
Pros
Comfortable ergonomic design;
Quick and easy sandpaper changing;
Powerful motor but low vibration;
One-handed operation option;
Sound dust collection system.
Cons
One speed setting;
The rubber seal switch is hard to press.
3. Hyperikon Furniture Stripping Cordless Orbital Sander
Click on the Image >> See on Amazon
Weight: 4.06 pounds;
Charging: 2.8Amp;
Pad Size: 5" (125mm);
8 hole direct vacuum base;
Various speeds:12000 RPM .
Hypericon acquaints the random orbit sander with the assistance you accelerate your projects. The Hyperikon 5″ random orbit sander is a minimal power apparatus that includes a 2.8A engine delivering up to 12,000 RPM while giving you an agreeable and strong grasp, so you can take care of your responsibilities effortlessly.
The compact construction combines the functionality of a belt sander and orbital finishing sander with a powerful tool with a lightweight, portable design. It includes a 75-inch plug-and-play power cord.
This palm sander allows a replaceable 8-hole hook and loop system for fast and easy paper change, which is time-saving. The ergonomic designed body and grip reduce user fatigue to enhance working time and comfortability.
It also has a dust-sealed switch and bearing to keep all dust and debris out that extend tool life. The dust bag has a detachable option for efficient dust collection to get a clean work environment. You will get a cordless orbit sander, a charger, and 5-inch sandpaper in the package.
Pros
Compact size allows close to the work surface;
Motor vent;
Dust collection box with filter;
Higher performance brushless motor;
Replaceable hook-and-loop sanding pad;
Ergonomic palm grip;
Adjustable speed;
Orbit peephole.
Cons
The dust collection tool can come loose during operation;
The battery doesn't include.
4. Skil Random Orbital Sander for Furniture Stripping
Click on the Image >> See on Amazon
Weight: 3.44 pounds;
Power: Corded 120 volts;
Motor Capacity: 2.8 Amp;
Pad Size: 6" (128mm);
Variable speed: 7,000-13,000 OPM.
Skil is a powerful random orbital sander with a 2.8 AMP motor that can generate 13, 000 OPM to achieve a smooth appearance over a variety of sanding uses. Additionally, changeable speed control gives the right amount of power and control over different materials.
But one of the essential features is its ergonomic design and a soft rubber handle so that the operator can stay relaxed. At the same time, the counterweight balance lessens hand fatigue from vibration to work extended periods.
To keep the working environment clean, it has a dust container. The x-flow dust collector uses a storm force to collect dust in it's an easy-to-clean transparent container. This sander can quickly get into tight spaces where sanding is quite hard because of its compact size and ergonomic design. The lightweight body maximizes user control and comfortability.
Pros
Counterweight balance reduces hand fatigue;
Less vibration;
Ergonomic design;
Dust collector;
Shifting speed control.
Cons
Hook and loop is not easy;
Clams are thinner than other models.
5. Craftsman CMEW231 Corded Random Orbit Sander
Click on the Image >> See on Amazon
Weight: 3.5 pounds;
Power: Corded 120 volts;
Motor Capacity: 3 Amp;
Pad Size: 5 inches;
Speed: 12,000 OPM.
The Craftsman CMEW231 is a powerful sander. It is equipped with a powerful 3.0 AMP motor that delivers 12,000 OPM with 5 inches diameter. It is perfect for refinishing furniture, because it has an aluminum sanding plate that gives you the perfect refinish quality.
This sander has fewer vibrations compared to other models, which means you can control it more manageable to enhance the tool's longevity. Additionally, the high performing dust collection system with bags efficiently collects almost everything with its 11/4 inches vacuum hose. 
The dust-sealed switch provides added durability and safety during work time. It also works great at surface preparation, removing blemishes, stain, paint, and even varnish. It is also compatible with different peg hooks, which is a useful feature for those who already have another sander model at home.
Pros
Low profile design combined control;
Hose and dust proof switch;
Fit with another peg hook;
High performing dust collection system,
Low vibration.
Cons
One speed setting;
Sound full operation.
6. Makita BO5041 D-Handle Furniture Stripping Random Orbit Sander
Click on the Image >> See on Amazon
Weight: 2.1 pounds;
Power: Corded 110 volts;
Motor Capacity: 3 Amp;
Pad Size: 5 inches;
Variable Speed: 4,000-12,000 OPM.
If you want to refinish old furniture, you need a sander that combines power and speed. Makita BO5041 is that kind of sander with a powerful 3.0 AMP motor with a sealed ball-bearing system that gives the tool a longer life.
This model allows you to change the speed from 4,000 to 12,000 OPM based on your project need. It has a pad control system that controls the pad when you start the tool. The adjustable front handle allows you to sand in corners areas that are hard to reach by other sanders. 
The palm grip is rubberized and comfortable to help you to control the tool easily. Besides, a large two-finger trigger switch with a conveniently located lock-on button helps the user continuously operate the device without any fatigue. 
The significant 1/8-inch random orbit action gives a fast and smooth swirl-free finish. The additional new adjustable front handle allows sanding in corners and confined areas. 
It comes with a quick-change five-inch eight-hole hook-and-loop cutting disc. Also, it has an efficient through-the-pad dust collection system that provides a cleaner work environment. The high capacity dust collection system with a built-in vacuum port adapter improved dust collection. 
Pros
Pad control system for controlled speed;
Pad dust collection system;
Large 1/8″ random orbit action;
Built-in vacuum port adapter;
Quick-changeable 5 inch 8-hole hook-and-loop;
Uses abrasive paper;
Oversized sealed-ball bearing system.
Cons
Expensive than other models;
Dust collection hose can get clogged easily.
7. Dewalt DCW200B Palm Sander for Furniture Stripping
Click on the Image >> See on Amazon
Weight: 2.9 pounds;
Power: 20V MAX* XR brushless cordless;
Speed: 8, 000 – 14, 000  OPM.
The Dewalt DCW200B palm sander has a 20V motor, which allows it to reach the speed of 14 thousand OPM. Its dust-collection system has secure locks that ensure the dust does not leak out and safely arrives in the dust-bag.
 The rubberized texture provides a smooth and satisfactory control while sanding. As it has a lower height than other sanders, this feature helps the user come closer to their work for the right balance.
The revised paper clamp features for better paper holding, and it works with a ¼ sheet of sandpaper of any grit. To flatter the sanding level, it has a foam pad that separates counterweight for lessened vibration. 
It has a rubber dust protector over the button to ensure that no dust gets inside the button and causes problems for longer switch life. The package comes, including a sander, dust bag, paper punch, and a carrying bag.
Pros
Separate counterweight for diminished vibration;
Allow to connect a vacuum cleaner;
Clamp to hold sandpaper;
Lightweight and ergonomically designed.
Cons
Frequently Questioned Answers By People
What Sander Is Best for Sanding Furniture?
The best sander for furniture is reasonable a palm sander. It will hold a quarter to half sheet of sandpaper. It's utilized for wide, level surfaces. 
Detail Sanders: If you're seeking to buy a sander for furniture reclamation, it is the one you'll need to anticipate purchasing.
What Kind of Sander Does a Dresser Need to Re-finish?
It depends on the arrangement of the furniture, but for the most part, a palm sander or detail sander is the most ideal choice for restoring furniture because their more modest size compels work both small and large. Random orbital, rotating, or belt sanders are extra suitable for medium and large carpenter projects.
Read more: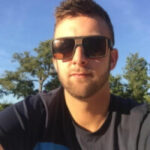 Hello, I am David Rowan. I am a professional contractor with 10 years of experience in home building, different tools used, construction, home remodeling, and other home improvement work. I have already built many custom homes and continued to do several woodworking projects along with how to deal with all categories of tools.