One basic question is frequently asked by the people "What cutting device should be considered as the most versatile for cutting hard, inflexible metal at this point of time"? In one word, I just would love to name the Angle Grinder as I found it the most powerful multipurpose cutting device in this era compared to many other different saws which are available in the market. An Angle Grinder fitted with an abrasive metal-cutting disc works incredibly to cut all kinds of metal, including bolts, angle iron, rebar and even sheet metal. Most home and commercial workshops prefer an Angle Grinder for its wide range of precise cutting features.
In this article, I will outline all the steps to inform you in detail how to use an Angle Grinder to cut metal while maintaining safety instructions. Besides, I would strongly recommend you to read the manual carefully to have thorough knowledge regarding how the machine functions. It would certainly help you have insight about each of the steps and get you well prepared for commencing your project.    
Key Feature of Angle Grinder 
Angle grinder is an enormously useful tool and its wide range of features offer the whole lot of cutting tasks in a precise manner. Its capacity to handle different wheels and accessories brands Angle Grinder an easy-going tool among the operators. It consists of a comfortable handle, a spindle washer, and a protective blade or disc cover. 
Angle Grinder includes a spindle washer and spindle nut that are connected in different alignments to accommodate thicker or thinner wheels or removed altogether when you screw wire wheels and cups onto the threaded spindle.
Anyone can quickly and easily perform a variety of tasks by simply changing the disc such as cutting metal, stripping rust and paint, debarring, preparing metal for welding tasks, scoring and cutting stone, tiles, and concrete, and cutting out mortar. 
Organize Safety Equipment
Before commencing your project, make sure you wear all  safety equipment for your personal protection and preventing workplace hazards and injuries. Angle Grinder may spark flame while in operation that could cause injuries and hazards. 
Safety eye goggles;
Helmet;
Safety Footwear; 
Protective clothing;
Secure floor –dry and free from litters, water leakages;
Organize Essential Tools
Before you initiate your project, accumulate all the necessary tools to work with. The set of tools you would require are:
Angle Grinder;
Appropriate power source;
Power cable;
Earmuffs;
Metal cutoff disc;
Metal material you intend to cut;
C-clamp – to clamp project metal
Work template/sample;
Prepare Your Grinder
Attach an appropriate metal cutoff disc into the grinder and fasten the spindle nut in the right place securely. Make sure you have all your protective gadgets in place and the machine is unplugged out of a power source.
Draw Outline for the Cut 
Place the metal and clamp it with the workbench. Now outline the design on the metal with a permanent marker you intend to cut off.  
For straight cutting, mark the two ends of the line, sketch scratch along the line.  For pattern or zigzag cut, outline the different curves, sketch out the straight points with an awl and highlight the entire pattern.
Plug the Machine in to Power Source to Start Cutting 
Now it is the time to begin the cutting work. Switch on the angle grinder to begin to cut your metal. Hold the angle grinder with both of your hands firmly and start cutting with steady precision. Follow the outline that you have drawn earlier and control the kickback to make sure the tool doesn't fly off your hand as well as it follows the fixed alignment accurately. 
Stay Vigilant While Grinder Rotates
If your hand fails to rotate the tool along the outline, there is a possibility that the grinder may turn offline. To avoid this, move your grinder back and forth along the set line. As you load more pressure on the grinder to breach the metal plate or rod, you may experience that the grinding isn't as instant as it was in the initial stage. 
However, continue the procedure until it breaches the entire thickness of the plate. Continue with this movement until it reaches the other end of the outline. It is strongly recommended to avoid sudden changes of the grinder direction. If there is a need for changing direction you should do it very carefully without any intense or sudden moves. Thus, you can ensure the precise cut and protect yourself from any abnormal shock as well.
Finishing Task
Once you are done, check thoroughly if there are any rough edges and use a flipper to correct them. The grinder can still make good on the rough cut. For this, simply remove the disc and insert a 40-grit flapper on the wheeler lock instead. Run the accessory along the edge of the newly cut line. It would level  the sharp edges precisely.
I would strongly recommend you to finish any cut entirely. Because, 2nd round grinding for the half-done or left over job may increase the chances of an inaccurate and unpleasant cut. When you undertake thicker metal or steel materials to grind, stay calm and patient in order to get the job done efficiently. 
Few Tips for Safer Operation
Once the work is finished, unplug the machine from the power source, allow hours for your tool to cool down completely and get stable for further use; 
When you undertake hard metal cut, it needs secure fastening of all accessories; 
Note that an angle grinder certainly is powerful but extremely hazardous. You need to maintain all safety precautions while go for operation;
Conclusion
With the above note, I would again reiterate if you detect any abnormality in your appliance, you are always welcome to consult with us at any time. In addition, check with the manufacturer's instructions further to deal with the problem in a proficient manner. 
I am sure if you strictly adhere to all the steps to implement your project, it would give you the worthwhile experience about the Angel Grinder and its versatile ability as a cutting tool. We, your professional experts, always love to have your valuable comments, feedback which would allow us to respond to your needs more promptly and efficiently. 
Relevant Resources: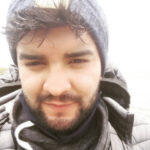 Hi, I am Eric Devin and I am a professional interior architect. Since childhood, I've always enjoyed DIY projects! And, I have loved to solve simple household problems using essential tools and equipment. I have also acquired a lot of information about basic household tools settings by working with contractors.